Could we have gotten the game of the year in the PUL already?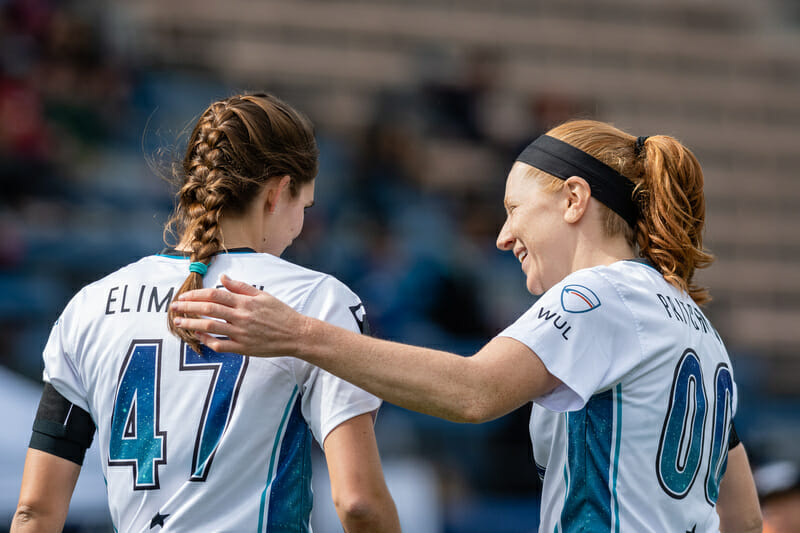 This is it, folks; this is not a test. Both the Western Ultimate League and the Premier Ultimate League are both in season, simultaneously. Get ready for a lot of women-matching semi-pro action! A light weekend on schedule turned out to be pretty exciting when it played out. It sets us up for a big weekend with seven games across the two leagues, including some juicy matchups.
Be sure to catch up on this week's Double Overtime, where Jenna Weiner and Sascha Vogel chat with WUL big wig Felicia Yang and recap the week's games in both leagues and make a few picks.
Results & Standings
WUL Results

WUL Standings

PUL Results
PUL Standings
East
Medellin 0-0
New York 0-0
Portland 0-0
Washington DC 0-1
Midwest
Mikwaukee 1-0
Minnesota 0-0
Indy 1-0
Columbus 0-1
South
Raleigh 2-0
Nashville 0-1
Austin 0-0
Atlanta 0-1
Weekly Storylines
Raleigh Downs DC in Instant Classic
One of the most anticipated matchups on the Premier Ultimate League calendar did not disappoint when DC Shadow traveled to take on Raleigh Radiance, with the home team gritting out a 17-16 victory. It was well played and tense matchup that had the air of a postseason affair, with breathtaking plays, especially from the two hard-working defenses. Most notably, both clubs showed fantastic resilience in a heavyweight bout, trading strikes and responses, breaks and counters, as the lead teetered between them until the game's final few points.
The visiting team got on top first, finding Claire Trop, but Raleigh responded, soon gaining a lead of their own after an Alex Barnett block became a sharp Sarah Meckstroth forehand assist to a 5-4 edge early in the second quarter. It was that sort of game throughout. Erica Baken caught a diving hammer score and followed that up catching a tough break throw from Trop, only for Raleigh to swing back in the form of blocks by Jenny Wei on back-to-back points, plus a bookend score to put the home side in front with 1:37 remaining in the first half. The second half began like the first half had — a DC hold and a break, courtesy of a Natalie Bova and Blaise Sevier combo-block that setup a short field break to tie the game at 10-10. In a moment that was almost a reflection of Wei's first half heroics, Kami Groom registered back-to-back blocks and went to ground for a break catch to give DC a 14-13 lead with about 10 minutes to go in the game.
From there, however, the defenses really sank their teeth in, grinding the game's pace down. The offenses looked worn out from three quarters of heavy defensive resistance and the points grew in length and number of possessions. Raleigh survived the extended 15-15 point, going up 16-15. DC could not match, their high-wire red zone act becoming shaky and their lack of efficiency finally showing they were succumbing to the Radiance defense. Raleigh found Emma Peaslee to go up 17-15, claiming a lead that gave them much needed breathing room to close out. There was some drama on the final point, as Sevier nearly got a huge layout block and it looked like Lindsay McKenna might have found success where Sevier was just short, but a foul call on the throw kept Raleigh in possession and they milked the clock.
If the variety of names mentioned above didn't make it clear, it was a really diverse set of contributors on both sides, including a number of players yet unmentioned. Bridget Mizener, Lindsay Soo, and Dawn Culton were all key for Raleigh; Carolyn Normile was a vital presence for DC, as were Annelise Peters and Kat Ritzmann. Talent-wise, the teams looked fairly evenly matched, nearly all the way up and down the roster.
But it felt like DC got away with a few narrow windows and high-stall hits in the first half, and with margins as small as the ones in this game, a few misses here and there could mean all the difference.
Astra Upset Wild To Keep Postseason Hopes Alive
LA got a had-to-have-it victory when the Wild came to town, an 11-7 win that was far from picturesque but counts all the same. The game was heavily affected by outside forces. Some intense winds made for a tilted field and a possession-unfriendly match. Cancelled flights made the Wild's Kyra Khoroujnikova a late scratch.
Despite that, Astra needed a second half comeback to get their first win. They trailed 6-5 before beginning a four-goal run that included two upwind scores. The Wild didn't fade, scoring upwind as well, but a layout block by Dena Elimelech — one of her game-high four, to go with a goal and two assists — and an unreal grab by Audrey Brown helped secure the W in the game's late stages.
Los Angeles travels to San Diego for what's been dubbed the Super Bloom Beach Bowl, where they'll play a road game and a neutral site game against Arizona.
Power Rankings
WUL
PUL
Highlight of the Weekend
The aforementioned catch by Audrey Brown has to be this weekend's pick, despite some outstanding playmaking between the Shadow and Radiance.
WUL Fantasy Updates
Standings
It's a big weekend, but already, we are coming down the pipe towards the postseason:
Spencer T. (427)
Keith R. (400)
Cassie B. (390)
Venu M. (389)
Fred (379)
Jomskylark (376)
Jarred C. (375)
Jesse C. (373)
Joseph M. (369)
Kat T (367)
With only one game, this past week was as much about who has Wild and Astra players as anybody else. While it looks good now to have gotten those points, stats did seem a bit muted by the wind. One game plus low scoring equals the lowest scoring week thus far.
The top four remained the same, as all three had Dena Elimelech as a captain, the week's leading scoring player.
Top Scorers in Week 5
Here are the top-scoring players for the week1
Dena Elimelech (Los Angeles) – 21 [80% rostered]
Connie Wang (Los Angeles) – 18 [3%]
Paige Kercher (Utah) – 15 [16%]
Maggie O'Connor (Los Angeles) – 15 [9%]
Kaitlyn Weaver (Los Angeles) – 12 [3%]
Stephanie Pritchard (Los Angeles) – 9 [6%]
Vespera Aragon (Utah) – 9 [1%]
Genesea Meha (Utah) – 9 [6%]
Jess Olsen (Utah) – 9 [1%]
Blocks were the secret sauce this week, as Elimelech piled up four and Wang tallied three, and most players in the top had them.
Top Scorers Overall
Morgan Zajonc (Oregon) – 60 [1% rostered]
Dena Elimelech (Los Angeles) – 60 [80%]
Jade McLaughlin (Arizona) – 51 [12%]
Lindsey Doyle (Arizona) – 48 [2%]
Qxhna Titcomb (Seattle) – 42 [54%]
Sam Rodenberg (Seattle) – 42 [1%]
Ari Nelson (Arizona) – 42 [12%]
Claire Toth (San Francisco) – 42 [3%]
Han Chen (San Francisco) – 42 [26%]
The list stayed the same except Dena Elimelech shot to the top with Morgan Zajonc! Expect a lot more of that if she's headed to San Diego for an LA double-header. Four games this weekend means we could see a whole bunch of movement here.
Up Next
Western Ultimate League
Los Angeles (1-2) at San Diego (1-1)
Arizona (2-2) at San Diego (1-1)
San Francisco (1-3) at Seattle (3-0)
Los Angeles (1-2) vs. Arizona (2-2)
Premier Ultimate League
Milwaukee (1-0) at Medellin (0-0)
Portland (0-0) at Austin (0-0)
New York (0-0) at Washington DC (0-1)
---
Does not include players who were not rostered. ↩