Who is in the best position to win our college awards as we approach Nationals?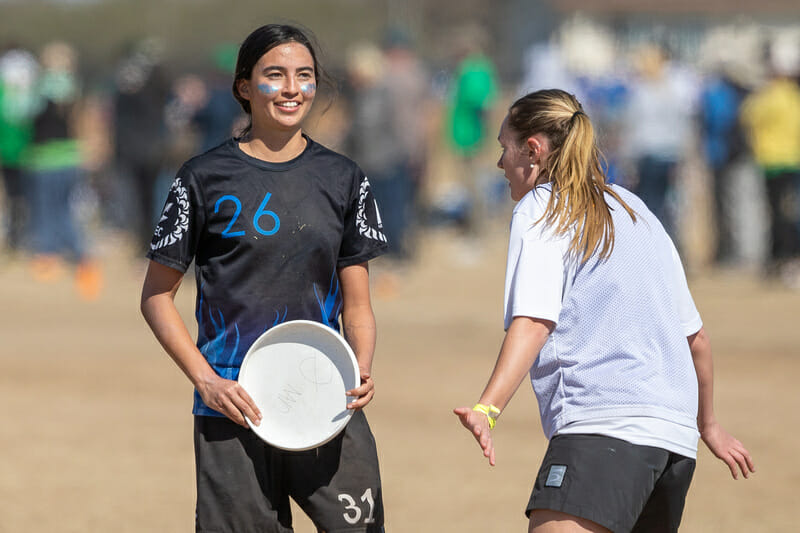 Ultiworld's 2022 College Awards are presented by the National Ultimate Training Camp; all opinions are those of the author(s). NUTC helps young players become better athletes and community members.
Ultiworld's annual college awards recognize the game's most talented and exciting players, the ones who helped define the awesome college season that was. As we blast forward towards the College Championships in late May, our staff has already been collecting our thoughts on who is in the best position going into Nationals to claim some of the coveted prizes. While the performance of players at Nationals is a large part of our consideration, what happens prior to that event does matter.
We've highlighted some of the top candidates for each award — excluding Coach of the Year, which is very much defined by Nationals performance — as well as others in consideration, in non-exhaustive lists. Players may move around, drop off, or enter the fray between now and when the final staff votes are tallied, but here's where we sit less than a month away from Nationals.
Player of the Year
Ava Hanna (UC San Diego)
The UC San Diego handler has an ability to attack from the backfield that puts defenses under unrelenting pressure, and she plays well above her size on defense, conquering bigger opponents in the deep space. The playmaking may be spectacular, but it is the consistency with which she shoulders her sizable burden that has made her POTY case.
Dawn Culton (North Carolina)
Culton's defensive prowess is well known, though she lives up to the hype with her displays of acrobatic disc denial. But it is what she can do when her team has the disc that has allowed her dominion to spread, a hard-charging cutter with a penchant for dusting receivers on the way to big gains. After nearly winning the award in 2021, she has an unsurprising but still very realistic shot is taking it home this time.
Elsa Winslow (UC Santa Barbara)
Over the past few seasons, it has been tradition for the top end of the Burning Skirts to find a way into awards conversations, a product of both the program's ability to develop and utilize top talent, as well as the showcase opportunities of the West Coast tournament slate. Winslow is one of the division's premier downfield weapons, whose poise has grown to match her aggressiveness and reliable hands.
Also in consideration:
Kennedy McCarthy (Vermont)
Abby Hecko (Washington)
Carly Campana (Carleton)
Stacy Gaskill (Colorado)
Ella Juengst (North Carolina)
Offensive Player of the Year
Carly Campana (Carleton)
The size and speed combination has long made Campana a lethal downfield option, and she entered college with enough deep throwing game to keep defenses honest. However, she's become a decisive break thrower and her hucks are some of the best in the division. With so many different ways to make an offensive impact, Campana is difficult to subdue.
Kennedy McCarthy (Vermont)
Few players entered the season with the offensive renown of McCarthy, but her play has supported, if not surpassed, the hype. She's a forceful cutter who demands defensive attention, lest the opposition be content to watch her march the Vermont offense to the end zone. Her midrange game is improving to match her powerful hucks and devastating deep game.
Cami Lamont (Florida State)
On the other end of the spectrum from McCarthy is Lamont, a name few knew entering the 2022 spring. Once more people are exposed to their talent, they'll come around. Lamont is a classic archetype of heavy-usage handler: carrying a big load for a small roster, asked to use a sharp sense of how to create options, and to play through difficult matchups, conditions, and situations.
Also in consideration:
Ella Juengst (North Carolina)
Steph Phillips (Washington)
Hazel Ostrowski (Tufts)
Akane Kleinkopf (Colorado)
Ally Constantino (Western Washington)
Defensive Player of the Year
Lauren Yamasaki-Liske (Carleton)
A great pull can help set up a defense for success, and while Lauren Yamasaki-Liske's pulls are some of the best in the division, they're not all she brings to the Carleton defense. She's fantastic in the air, aided by her size, and as the deep in Syzygy's zone has demonstrated her ability to snuff out danger before the opposition get going. In terms of all-around defensive contributions, Yamasaki-Liske is one of the best.
Kristen Reed (Colorado)
Reed emerged at Northwest Challenge as a serious playmaker for Colorado, perhaps a role unforseen for the new recruit after her goal-scoring bonanza at Club Nationals. Reed had a couple of early eye-popping blocks while covering Abby Hecko that set the tone for Quandary's dominant victory over Washington in semifinals. The speed is can't miss, but she also knows how to apply pressure and jump lanes to force turnovers.
Rani Shah (UC Davis)
Davis' foot-blocking extraordinaire Rani Shah has continued to put her stamp on the division this season just as she did in 2021. While Rogue's results haven't been up to expectations in 2022, Shah's defensive versatility and heads up field awareness helps her generate block after block as part of the solid Davis defense.
Also in consideration:
Stacy Gaskill (Colorado)
Grace Conerly (North Carolina)
Beth Manturuk (Pitttsburgh)
Alexa Yadama (Washington)
Madison Ong (British Columbia)
Rookie of the Year
After expanding our definition of Rookie beyond just the class of 2025 for the fall of 2021 to include all players competing in their first college series, we are again restricting this award to players who are either first-year college students or are competing in their first-ever college series this spring.
Abbi Shilts (UC San Diego)
While productivity is important, she generates more than her fair share, it is Shilts' playmaking that has set her apart. She's the type of player UltiPhotos has to keep tabs on, as any moment could blow up into a highlight. Splashy bids, emphatic skies, spacious deep runs, and even hucks of her own are all par for the course for the burgeoning UCSD star.
Emily Pozzy (Vermont)
It took just one tournament for Pozzy to confirm what the preseason buzz was: that she could be one of the most effective players in the country out of the box. Pozzy's game as a thrower is solid and rapidly growing, but she has incredibly secure hands and a great sense of how to open up space for her sharp cuts.
Mia Beeman-Weber (Carleton)
It has been said about many of Carleton's previous ROTY candidates, but Beeman-Weber plays with poise beyond their age. It is always visible when a player with their physical range has such comfort around the disc, allowing them to be effective in so many areas of the field. Beeman-Weber is not content to let the game pass them by.
Abbie Gillach (Colorado)
Colorado shot up the Power Rankings after a strong performance at Northwest Challenge, of which Gillach was a major part. The first year handler has impressive confidence and burst, but what has set her apart from other talented players in her class is her effectiveness as a two-way player. She can also be sent out on tough matchups or help get the disc back after turnovers.
Also in consideration:
Lia Schwartz (Tufts)
Devin Quinn (UCSB)
Emma Williamson (Colorado)
McKinley McQuaid (Stanford)
Mae Browning (Washington)
Breakout Player of the Year
Players who have competed in a college series already and are eligible to return for their second, third, or fourth year of college ultimate are considered for our BPOTY award.
Lylah Bannister (Vermont)
The Vermont cutter has emerged as a real downfield threat. She's capable of setting up her own play as an initiator, but she's at her best when playing off her teammates. Bannister has effective timing and is attentive to the offensive details that let her capitalize on premium attacking opportunities.
Kate Barry (BYU)
CHI's strong handler core benefits greatly from Barry's workhorse playstyle. She can outrun and outmuscle players on either side of the disc, and is comfortable being assigned difficult matchups on defense or a primary cutting role on offense. That's a sizable responsibility for a young player on a breakout team.
Vienna Lee (UC Santa Barbara)
Santa Barbara's next generation is really intriguing, with Julia Hasbrook and Devin Quinn meriting mention. Lee has claimed space of her own with sharp backfield prowess, collecting resets and confidently keeping the disc moving to high value positions on the field.
Also in consideration:
Liana Bradley (Colorado)
Theresa Yu (North Carolina)
Maggie Pierce (UC San Diego)
Olympia Walker (Texas)
Marina Godley-Fisher (Vermont)