The 72 teams heading to Milwaukee are locked in.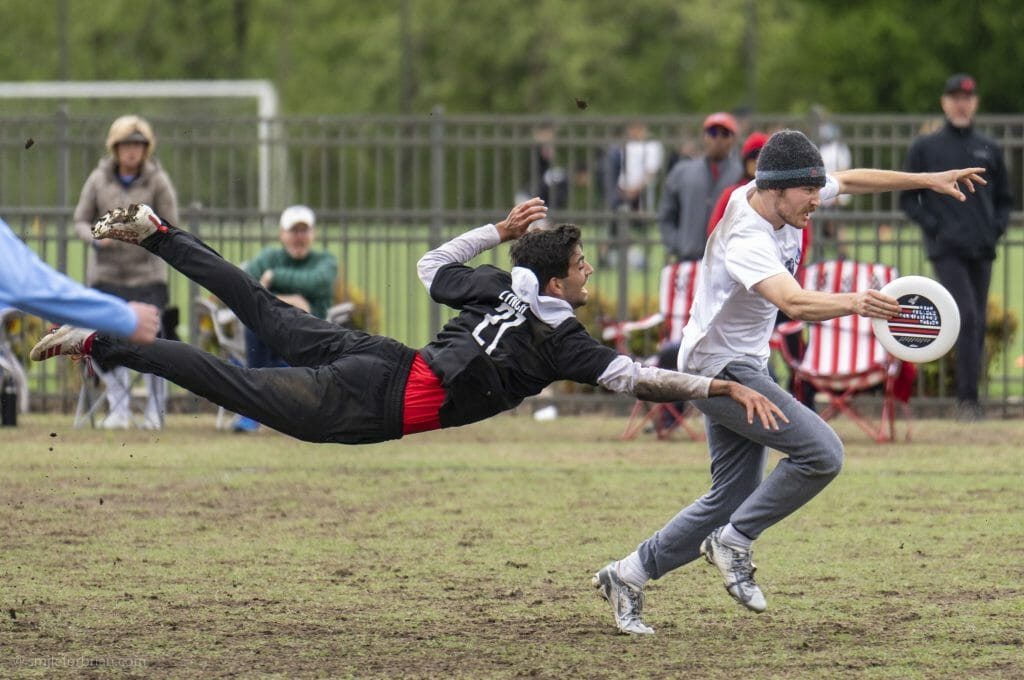 The College Nationals Field is Set!
The final weekend of College Regionals is now behind us, firming up the 72 teams that will compete at the D-I and D-III College Championships in Milwaukee later this month! The full qualifier list is up on Ultiworld.
Wild weather was a story of the weekend, with heavy wind buffeting the New England and Northwest regional tournaments: in NE women's, Northeastern earned the final bid to Nationals with a 5-4 win over Brown!
Stay tuned for comprehensive coverage of both tournaments on Ultiworld, including live video, extensive on-the-ground reporting, forthcoming previews, and more! Pool predictions will be out on the website later today.
Callahan and Donovan Videos are Dropping
It's Callahan and Donovan video season! You can find every video that gets posted all in one place on our 2022 Callahan and Donovan Video Tracker.
Georgia's Marie Perivier is the most prominent player to get a Callahan reel released so far. Check out her video:
Marie Perivier UGA Athena 2022 Callahan Video
AUDL Betting is Back
If you're in a state with legalized sports betting, DraftKings has AUDL game lines and futures up in select states. Our column, Bets Perspective, made a return last week. Our Best Bets went 7-1!
High School National Invite Field Taking Shape
The top high school teams in the country will take the field a month from tomorrow in Richmond, VA, for the 2022 High School National Invite. Many of the top 10 teams in both the boys and girls divisions have already accepted invitations – more invites went out last week, and next week's rankings will serve as the final baseline for the full slate of invitations.
Coming Up
The Western Ultimate League's Championship Weekend will unfold in San Diego, CA, on May 14-15. The Seattle Tempest, Oregon Onyx, San Diego Superbloom, and Arizona Sidewinders will vie for the first WUL championship title!
College Nationals seeding and pools should be coming soon!