The 2021 national champions have taken another step toward defending their title.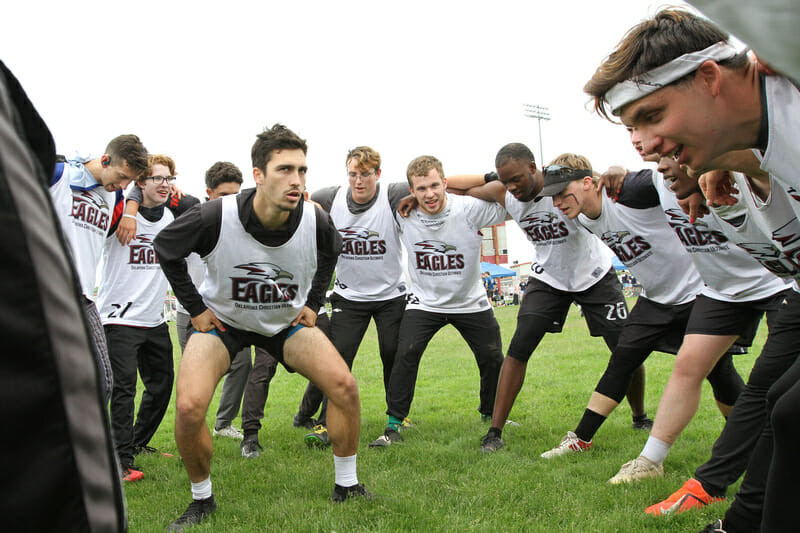 Our coverage of the 2022 College Series is presented by Spin Ultimate. Please support the brands that make Ultiworld possible and shop at Spin Ultimate!
Sometimes, a game is as simple as solving just one puzzle your opponent throws at you. For #5 Oklahoma Christian, this puzzle was the Grace 3-3-1 zone, and as soon as it was solved, the Eagles ran away with a convincing 15-7 quarterfinal win.
Oklahoma Christian broke on the first two points of the game and opened up a 6-3 lead, but it was far from easy for the Eagles to score those six points. The Lancers zone was doing what it had done all weekend, closing any windows for throws into the middle and funneling the disc laterally. Tensions were high on the OC sideline, as the team tried to communicate instructions to each other for beating the zone.
"It was windy, which forced us to yell from the sideline in order to be heard," said OC coach Garrett Taylor with a grin. "Sometimes, that yelling can feel like anger towards each other."
Frustrations peaked when Grace broke to narrow the deficit to 6-5, but that would be their only break of the game. The Eagles O-line showed supreme confidence in working through the zone, and as soon as their D-line figured it out, the floodgates were opened.
"They swung the disc more than any team we played this weekend," said Lancers captain Ben Close when asked what made the Eagles so effective against their zone. "Where other teams swung the disc and tried to force it through the middle, they just kept swinging and striking."
The Lancers small roster finally caught up to them, as their top players just looked too tired to switch to matchup defense. Ben Close played every point in the Lancers' prequarters game this morning; he and his brother Joel had pushed themselves to the brink. Grace opened up their lines in the second half to make sure everyone on the team got to experience Nationals to the fullest. This paid off with their last hold of the game going to Olivia Bottorff, her first goal of the weekend.
For Oklahoma Christian, this was business as usual. Their eyes are now on to a rematch of the fall national final against Middlebury, although Taylor insists they're treating it just like any other game. "It's just another game. We just play who's in front of us. They're talented, and we're looking forward to the challenge."