The reigning champs have no problem cruising through pool play.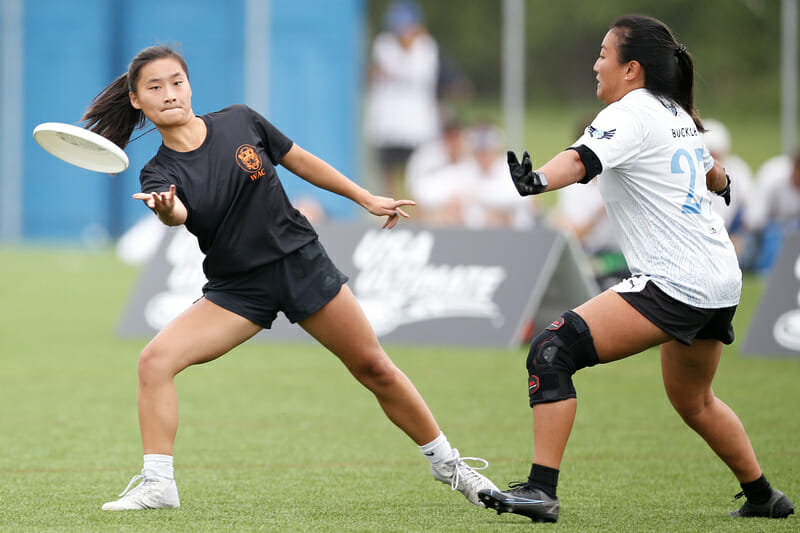 Our coverage of the 2022 College Series is presented by Spin Ultimate. Please support the brands that make Ultiworld possible and shop at Spin Ultimate!
The top seed in the tournament rolled as we expected, but tight games between the other three teams in the pool resulted in some seeding-based upsets. Let's take a look at how pool A shook out in the women's division.
Defending Champion Middlebury Look the Part
After winning a championship in the fall and returning all but four players from that title team, the #1 Middlebury Pranksters look every bit like a team that's ready to repeat their title, dominating the other three teams in their pool and setting themselves up with fresh legs for the bracket on Sunday.
The Pranksters actually started their day a bit slow, going down a break to SUNY Geneseo early and trailing 3-1. However, the champions responded with a three-point run to take a 4-3 lead, and they never trailed again the rest of the day. They steadily extended their lead before closing out a 15-10 win, and no other opponent even sniffed double-digit goals the rest of the day.
While we've discussed at length the star power on Middlebury, what makes their dominance today so impressive is that it came from their depth. 26 members of the Pranksters' 27-player roster notched a positive stat contribution today. Middlebury's stars still shined, as Claire Babbott-Bryan led the team in both goals and assists with six and eight, respectively, but others stepped up in their opportunity to shine. Perhaps nobody had a better day than junior Mady Lander, who finished with five goals and a staggering 12 blocks.
Middlebury took care of business today. They won the pool without putting heavy mileage on any of their players, priming them for a bracket run to defend their crown.
Slow and Steady Escargot Make Bracket
Despite a strong regular season, no.12 SUNY Geneseo Escargot entered this weekend with doubts after getting crushed in the final of Metro East Regionals. However, Escargot silenced those doubts right away, giving Middlebury their toughest match of the day before dispatching the other two teams in the pool en route to a spot in the bracket.
Geneseo's first win of the day came in a resilient effort against the two seed in the pool, Berry. The Valkyries jumped out to two different two-point leads in the first half, going up 3-1 and 5-3, before Geneseo battled back to tie the game at 6-6. From there, Escargot ramped up the pressure and went on a run of their own, opening up a three-point lead at 9-6. Berry battled back to make it 9-8, but Geneseo weren't to be denied, finishing the game 12-9. Senior Kate Flynn was a monster in this game, filling the stat sheet with four goals, two assists, and an incredible five blocks.
Escargot got off to another slow start in their final game against Occidental, but as the saying goes, slow and steady wins the race. Geneseo got their feet under them after going down 2-0 and rattled off five straight to take a commanding lead. Occidental never got the deficit to less than two, and Escargot stretched their lead to an 11-6 victory. Flynn was again impressive in this game, finishing with seven goals and two blocks.
Flynn's numbers for the entire day almost don't look real. The senior finished the day with 15 goals, five assists, nine blocks, and maybe most impressively for a player of her usage, just three turnovers. Other standout performers for Geneseo included Katelyn Church with 15 assists and freshman Olivia Petsos with six goals.
Escargot open their Sunday with a prequarter matchup against a Lehigh team that struggled on Day 1. There's a history of double-digit seeds making a run to the semifinals in D-III, particularly in the women's division. Could SUNY-Geneseo be this year's upset team?
Valkyries Ride Contiues
The fairytale first spring Series for the #9 Berry Valkyries marches on. After formalizing their program only in February 2020, it's been an understandably tough coupe of years to get the team up and running. Yet despite their newness to the scene, they still made it their goal to make Nationals this year. That they did, and now their season has extended into the championship bracket.
They started the day out on a good note, picking up an early win against no.13 seed Occidental. Trading holds until they were down 4-3, the Valkyries notched seven goals in a row to blow the game open, making it extremely difficult for their opponents to catch them. Occidental made a spectacular effort to make a comeback, but the game ended 12-10, which ultimately proved to be enough to see Berry through to the prequarters.
Berry was not as fortuitous in their other two games. As the day went on, their small roster grew weary and the fight they put up could not match their competitors. They built an early lead against SUNY Geneseo in the second round, but burnt out as Escargot went on a slew of breaks in the second half, losing 12-9. Their last game was against defending champs Middlebury. Despite a valiant effort, going hard on defense, they were not able to reel in many points, losing 13-3
Hannah Tritschler absolutely balled out for the Valkyries all day, posting a seven goal, nine assist, six block line on the opening day of her Nationals debut. Malia Busenitz and Rosemari Hill were capable deputies, also posting stuffed stat lines from contributing in all facets of the game. None of the Valkyries look out of their depth on this stage, and they'll look to keep their run going on Sunday.
Women's Air Corps Crash Out of Pool Play
A solid run to fifth place at Fall Nationals was a big step forward for the Occidental program, setting a new high water mark for the Women's Air Corps. Unfortunately, they weren't able to build on that performance with nationals a bit further from home this time around, as they crashed out of contention with a winless day one in Milwaukee.
Things started well enough for Occidental, playing to within two points of pool second seed Berry. They were summarily but unsurprisingly drubbed by tournament top seed Middlebury, but then couldn't get out of first gear in their final game of the day, going down 5-2 in their bracket-deciding matchup with Geneseo, running out of legs to mount a major comeback challenge.
2021 Breakout star Sophie Havranek did her best to bend games to her will and notched a solid stat line through day one. She shared a lot of the playmaking responsibility with Jaya Duckworth — who led the team with seven assists on Saturday — and Lily Hue, who also contributed goals, assists, and blocks but with an unfortunately high turnover total to match.
In the end, the SoCal squad couldn't repeat the magic that brought them to the quarterfinals in Norco, but will have consolation play to set the groundwork for future seasons with a number of strong underclassman hoping to build for another bracket run at some point.