A upset-free pool sees just one game finish within three goals.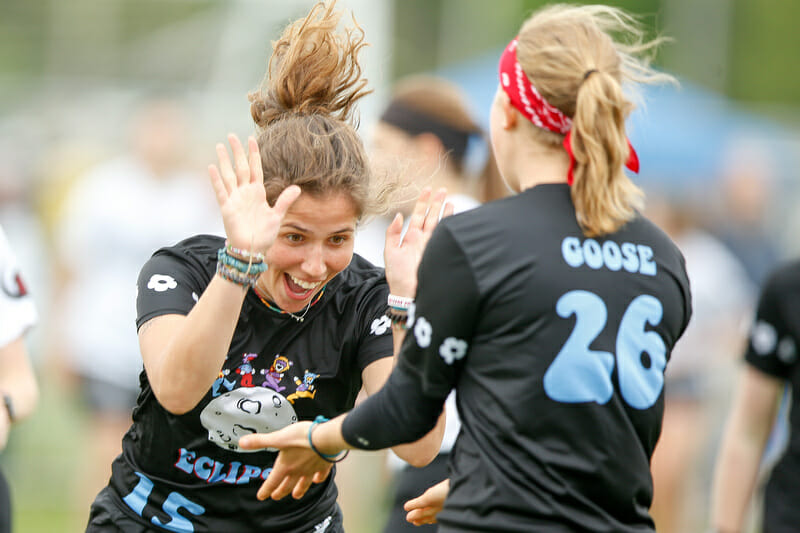 Our coverage of the 2022 College Series is presented by Spin Ultimate. Please support the brands that make Ultiworld possible and shop at Spin Ultimate!
There was a clear stratification in women's Pool B, with every game going to seed and only one finishing closer than a four-point margin. Title contenders Carleton Eclipse took care of business to earn their bye into quarters, while Haverford and Skidmore stayed in contention by finishing ahead of Mary Washington.
Carleton Eclipse All Competition
Once again, #2 Carleton Eclipse finds themselves situated at the top of Pool B after their first three games at the College Championships.
As was the case at the December 2021 Nationals in Norco, Carleton thoroughly dominated the rest of their pool en route to a bye to the quarterfinals. Though many in the ultimate community expected this result from Eclipse, coaches Cameron Barton and Emma Nicosia said they aren't trying to put too much weight on expectations. Despite a lot of lopsided scores, admitted Barton, the coaches were really stressed out for a lot of the day because as a team, they treat every point like its universe. Every team in Milwaukee earned their spot at this tournament through strong play and winning tough games at Regionals, so Eclipse prepared for every point to be tightly contested.
But during pool play today, they were often able to get anything they wanted. The handler corps dominated all day, especially against the Haverford Sneetches' zone. Alex Rowell, Harper Brooks-Kahn, and Maya Kalmus expertly worked the disc around and through opposing zones, playing lots of small-ball, resetting the stall count with a flurry of give-and-gos. The most impressive thing about this Eclipse team today, though, was their depth. Even when the games were close, the coaches sent out numerous rookie lines and more often than not, the rookies pulled through — including the line that won the game against Haverford. Grace Prince, Kyla Christie, Helena Squires Mosher, Molly Schwartz, Hazel DeHarpporte, Liza Swanson, and Natalie Lang-Ree made up the impressive Eclipse rookie line, and the group should definitely be prepared when their number gets called tomorrow.
Eclipse gets a bye to quarters and will face the winner of Lehigh and SUNY Geneseo. The expectation tomorrow is for much of the same; while Eclipse are hoping for an easy game, the assumption is that nothing will be given and that they're going to have to work for every single throw of every single point.
Haverford's Position in Pool Pecking Order Clear
Coming into pool play with 19 wins, you have to think #8 Haverford is a little bit disappointed in how their last-round game against Carleton turned out. Though they easily defeated Mary Washington (15-7) and Skidmore (11-7), they got blown out 15-3 by Eclipse, the worst loss of any team in the Women's division today. While it might have been ambitious to expect a Sneetches win over Carleton, many people, myself included, were expecting a much tighter game.
Despite the result against the Pool B winners, Haverford picked up their two wins fairly convincingly to secure their place in the bracket. The Sneetches doubled up Mary Washington in their Round 1 game, then, though they started slow against the seven-player Skidmore team — more on that below — they finished in style, breaking three straight times to close out their second game. The tandem of Lindsey Hua and Julia Smeltzer led the way for the Sneetches, combining for nine goals, seven assists, and seven blocks on the day. Also making big plays on both sides of the disc was Donovan nominee Riah Newfront, who leads her team in goals, assists, and blocks. Newfront would often be assigned the toughest matchup on the other team, meaning she couldn't take a break when the Sneetches were on defense.
If the Sneetches are going to pull out a win against Rice in prequarters Sunday morning, Newfront will have to be at her best. The winner of that game earns the unenviable task of a matchup against the defending champs and Pool A winners, Middlebury.
Seven-Strong Skidmore Survive and Advance
What #14 Skidmore did on Saturday is nothing short of incredible. Despite all of their seniors absent while attending their graduation and playing Day 1 of Nationals with just seven players, the Thoroughbears managed to make the bracket, finishing third in their pool. Every healthy Skidmore player in Milwaukee played every point of the day, which is an incredible feat in and of itself. But the fact that they were able to win their last game of the day after playing every point is mind-boggling.
Skidmore was carried by Rose Gordon, who had 14 assists on the 19 Skidmore goals today. To go along with her crazy assist total, she also led the team in blocks with 12. Helping Gordon carry the load was Marley Schmidt and Elayna Bennett.
In discussing what went well for her team, coach Karoline Hart emphasized how much these handlers helped control the pace of play, saving legs and also making sure Skidmore converted when they got a break chance. In their last game against Mary Washington, an 8-7 universe point thriller with multiple break runs by both teams and windy conditions which made stringing passes together a challenge, Skidmore really slowed the pace, which made it difficult for Mary Wash's athletes to take over.
An absolutely herculean effort by the seven Skidmore players gives their seniors a chance to play in the bracket tomorrow. The Thoroughbears will take on Mount Holyoke in prequarters first thing tomorrow morning, with the winner advancing to play St. Olaf.
Mary Washington Struggle to Find Offensive Efficiency
It was a tough day at the office for #19 Mary Washington Massacre. Despite generating numerous blocks with their athletic ability, Massacre had trouble converting offensive possessions into goals, or even red zone opportunities.
Windy conditions and better defense than they had previously faced caused Mary Washington's deep game to not be as effective as they would have liked. Donovan nominee Ellie Heil was fairly quiet by her standards, which means that the rest of the pool's plan to neutralize her impact worked. Ayumi Yuzawa led the team in goals with seven, while Natalie Brennan matched that number in assists.
Though the Virginians went 0-3 on the day, they put forth the best effort of anyone in the pool against Carleton Eclipse, going down big before fighting back to within two points late in the second half. Mary Massacre was the only team that seemed to slow down Eclipse's polished handlers, which is definitely something to build on for the rest of the tournament and going into next season.