Portland looked like one of the best teams in the country in topping the pool.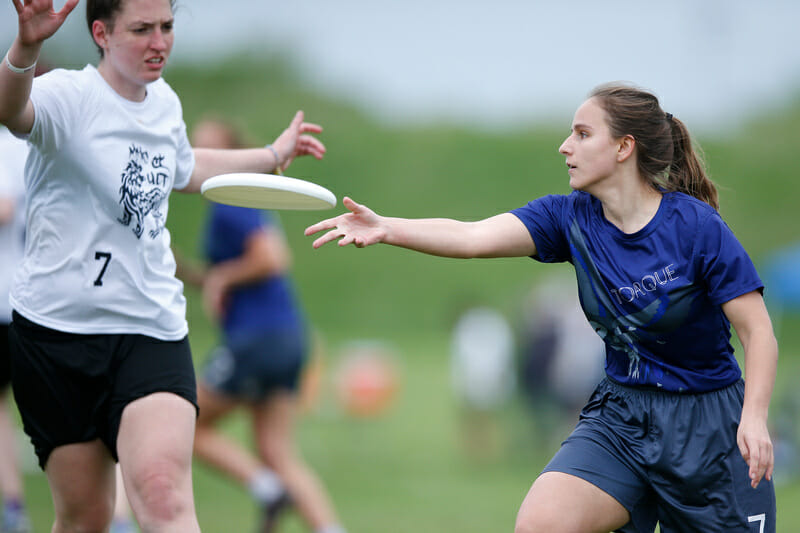 Our coverage of the 2022 College Series is presented by Spin Ultimate. Please support the brands that make Ultiworld possible and shop at Spin Ultimate!
Even in a pool that ended up going to seed, Pool C provided more than enough drama to keep spectators interested. Let's take a look at how things shook out.
Portland Reassert  Title Credentials
Unsurprisingly, #3 Portland UPRoar looked like the best team in the pool, if not the country. Against Rice and Knox, Portland won 15-5 and 15-6, respectively, for the most part looking unchallenged. Then they found a way to win in a much closer game, holding off Mount Holyoke 15-13 to complete an undefeated Saturday and ensure their spot in the quarterfinals.
Jaclyn Wataoka was the best player on the field every time she was on a line, racking up an absurd 22 assists in three games. Along with handing out the most helpers in the tournament, Wataoka has absolutely shredded opposing teams' zones and played lockdown D on opposing handlers. Wataoka wasn't alone in helping Portland dominate the competition; Makaley Krueger put up 11 goals and 6 assists, Julianna (JJ) Galian had 6 goals, 5 assists, and 6 blocks, and 2021 breakout star Julia Hanly had 9 goals and 6 assists.
The Portland coaches were incredibly pleased with how their team played today, especially in their last game against Daisy Chain. Based on their scouting, they knew their last game was going to be a fight. Not that they were overlooking their other opponents, but they knew their skilled, experienced team would have more of a margin of error.
Heading into their quarters tomorrow, coaches Dan Young and Elise Hollowell say they're going to tell their team "let's just play our game." Despite the advantage of sleeping in later, they won't know who they're playing until right before game time. The coaches aren't going to worry too much about scouting, choosing instead to have the team enjoy their time together, and just focus on doing the things they know they can control.
Mount Holyoke Let the Good Vibes Roll
The only team to give Portland any trouble today was #5 Mount Holyoke Daisy Chain, even without coach Evan Johnson, whose flight was canceled last night. In one of the best games of the day, Daisy Chain traded blows with Portland, coming up just short in their bid for an upset. Chain struck early, going up 4-2 on the back of their aggressive zone, forcing numerous turnovers from the Portland offense. Though Portland eventually figured out Holyoke's zone, Holyoke continued to battle back, taking Portland punches and returning with some of their own.
Starring for Daisy Chain, not just in this game but all day, was Gigi Downey and Sydney Zobel. Zobel was a major presence in the back of the Daisy Chain zone, racking up five blocks, while also distributing four assists. But the only player on the field that rivaled Wataoka was Downey, who was constantly guarded by her Portland counterpart, but still managed to put up an incredible stat line of three goals, six assists, and three blocks.
Despite finishing second in the pool, Chain's mentality isn't going to change between now and their games tomorrow. Captain Maggie Sullivan says that one of the best parts about their team is that they're playing without the weight of expectations. They see this tournament as an added bonus for their season, something they weren't expecting to take part in, but now that they're here, they want to work hard for and have fun with one another. Emblematic of this mentality, says Downey, is the team's favorite cheer and de facto slogan: good vibes only.
Mount Holyoke will look to continue the good vibes tomorrow morning against Skidmore in prequarters, with the winner playing against St. Olaf.
High-Energy Rice Hang On
No team worked harder in any individual game than #16 Rice Torque did against Mount Holyoke. Though Rice got broken twice in a row to lose on universe, they did everything they could to frustrate the Holyoke handler group of Zobel, Downey, and freshman Jamie Eldridge. The main agitator for Rice was sophomore Sandy Wu, who did absolutely everything for her team today. She put on a downfield defensive clinic, getting multiple full extension layout blocks. But her biggest contribution came on the offensive side, where she would routinely go every other against Daisy Chain's zone, and then break the cup with a difficult high-release flick that she made look easy. Wu should definitely be on the shortlist for Breakout Player of the Year after her performance today and because she's only a sophomore, perhaps bigger awards are in her future. The Sandy Wu hype train is leaving the station, and tickets are going fast, so climb aboard while you still can.
Along with Wu, captain Heather Szczesniak was masterful all day, controlling the pace for the Rice offense, and finishing the day with 12 assists. The two formed a handler duo that most teams won't be able to match up on, especially in a zone.
The best moments for the experienced Torque team came in their pool play finale against Knox. Down for most of the first half — perhaps recovering after their universe point slugfest with Daisy Chain — Rice staged a furious comeback in the second to help clinch their spot in the bracket. Excellent downfield play from freshman Alice Owens also contributed to the comeback win. Coach Ashley Shelor has to be proud of the effort her team gave in the second half in order to extend their season, which bodes well for the rest of the tournament.
Rice will play Haverford in prequarters tomorrow morning, with the winner going on to face the defending champs in Middlebury.
Knox Outclassed But Still Frisky
It was a tough day for the Knox Alley Cats, who went 0-3 and were eliminated from bracket contention after their third-round loss against Rice.
For much of the morning, Knox looked very much like a team that hadn't been to nationals before, competing against a group of seasoned nationals contenders. But as the day went on, the Great Lakes champs started to gain confidence, with every game being closer than the last. In their last game of the day, Knox had a major opportunity to make the bracket, taking half up 6-4 against Rice. The Alley Cats got their lead with an effective zone defense, forcing their opponents to make mistakes all day. This strategy certainly worked on Rice, as Torque was clearly still gassed from their universe point loss to Mount Holyoke. Unfortunately for Knox, experience often wins out at nationals, and they were playing one of the more experienced programs in the division. Rice slowed the pace, took an extra second before their throws, and dared the Knox defense to make a play.
The only Knox players that were able to consistently win their matchups were Tegan Doherty, who finished with six assists and seven blocks, and Morgan Hopkins, who scored five goals. The two of them carried much of the weight for an overmatched Alley Cat team. Knox should hold their head high though — they played hard and made some of the best teams in the division work to get anything against their zone. Definitely a successful first trip to the big dance for the Great Lakes qualifier.