St. Olaf overpowered Berry's stars in their semifinal.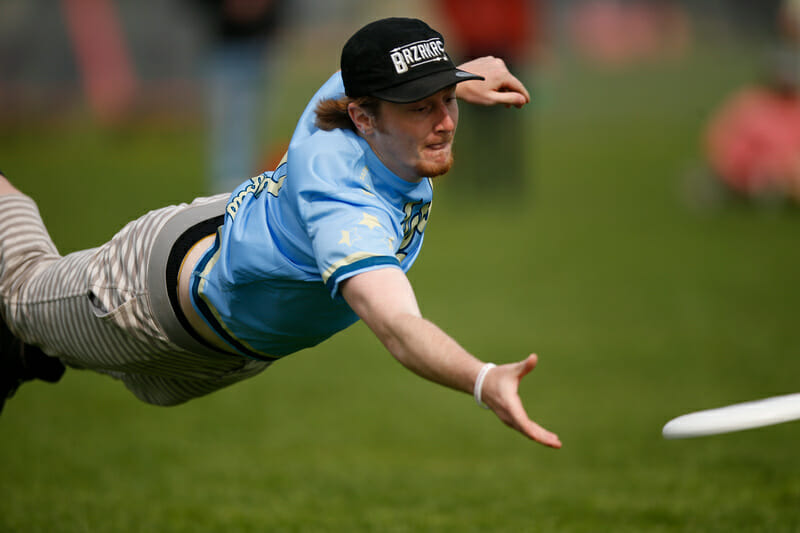 Our coverage of the 2022 College Series is presented by Spin Ultimate. Please support the brands that make Ultiworld possible and shop at Spin Ultimate!
The first semifinal of the day went upset free, with the no.1 St. Olaf Berzerkers dominating the no.3 Berry Bucks 15-10. St. Olaf went up early, relying on their starters to churn out points against the Berry zone. Berry, on the other hand, struggled to get the flow building with their top players. Whether Olaf came down in matchup or zone defense, Berry's top end were just overwhelmed and could not put anything together for the first points of the game. At one point, Berry was able to ramp up the intensity and bring the game back within less than five goals. But even when the gap shrunk, Olaf kept the lead and won a spot in the final.
All pistons were firing for the Berzerkers today in both the quarter and semifinal. Will Brandt, the standout player for St. Olaf, talked about some players that had a big impact on their performance in bracket. "Gordon Larson, he gets no love by Ultiworld. Guy is a certified baller. Guys like Ryan Harvey, Gabe Weigel, Matt Komplelien, they don't get enough love. Very solid players," Brandt said. The other standout players form the semifinal include captain Gordon Larson, offensive handler Ben Fjetland Souza, and Noah Johnson.
The story for the Bucks was not as bright. Berry struggled in pool play. They dropped into prequarters with a universe point loss yesterday over now finalist Oklahoma Christian in the last round of pool play. In their prequarter game, they struggled against Grinnell, failing to put away their opponent despite a talent mismatch. In quarterfinals, they had a very difficult game against Colorado College. Once again, they had a big lead (8-2), but then let Wasabi back in to end the game 15-12. This wasn't the story against St. Olaf. The Berzerkers went up big early in the first half to take a 5-1 lead. The Berry offense couldn't compete with Olaf's defense. Eventually, their usually consistent offensive unit was able to string some holds together to keep Berry in the game.
On defense, Berry struggled to slow down St. Olaf's talented players. All the best defenders on Berry switched on to Will Brandt at some point throughout the game. Then on the turn, Walter Ellard, Caleb Enright, and Collin Hill had to deal with the top players on Olaf's defense prowess. The fatigue set in during some of these long break chances for Berry. The mental lapses started to happen with missed hucks and dropped passes.
Ellard had an impressive performance for the Bucks this weekend—he'll be in the discussion for many of the individual awards this postseason. Ellard was a captain of the Bucks and discussed his approach to entering the tournament as a top seed. He told the team to take the tournament one game at a time. "It's easy to lose sight when you have high hopes, easy to lose sight and say, 'what are we going to do after this game.'" Ellard said.
But even as a main cog in the Berry offense, Ellard praised his teammates for making him look so good. "I'm a facilitator for my downfield cutters, our handler sets, our whole O-line. My job is to just throw it, they're the ones who are getting open," said Ellard. "I attribute a lot of success—what shows up on the stat sheet—is because I have guys that are open, guys that are working hard to clear space. I'm good in that role because my team makes it easy to fill."
The Bucks can hold their head high after a successful season and run at Nationals. Looking forward to next season, Ellard is optimistic Berry can overcome big personnel losses and remain competitive at a national level. "I want to see (Berry) come back to Nationals. I'm really excited about our underclassmen. They're a huge part of this team—a team that just tied for third at nationals has underclassmen on their o-line. It gives me hope for our team. I'm excited to see what they do," he said.
The Berzerkers will go on tomorrow to face the Oklahoma Christian Eagles in the final. The tale of the tape for these two teams sets the stage for an interesting final. Both teams have struggled in some games throughout the weekend, with but St. Olaf has been able to avoid any universe point games. If they hope to win a national title, they'll have to make sure their offense is more consistent than it was today versus Berry. OC is much more conservative after the turn then the Bucks, so the chances to earn the disc back will be much more limited.
But the Berzerkers are motivated to win a gold medal. The universe point loss in the 2021 national semifinal motivated the entire team to work towards greatness this season. As of now, the Berzerkers are one game away from realizing their goals. And, if they come out hot like they did in their pool play games, quarterfinal, and semifinal, they have a very good chance.