Middlebury and Wellesley will meet for the third time in a month, with the Pranksters aiming for a clean sweep to retain their crown.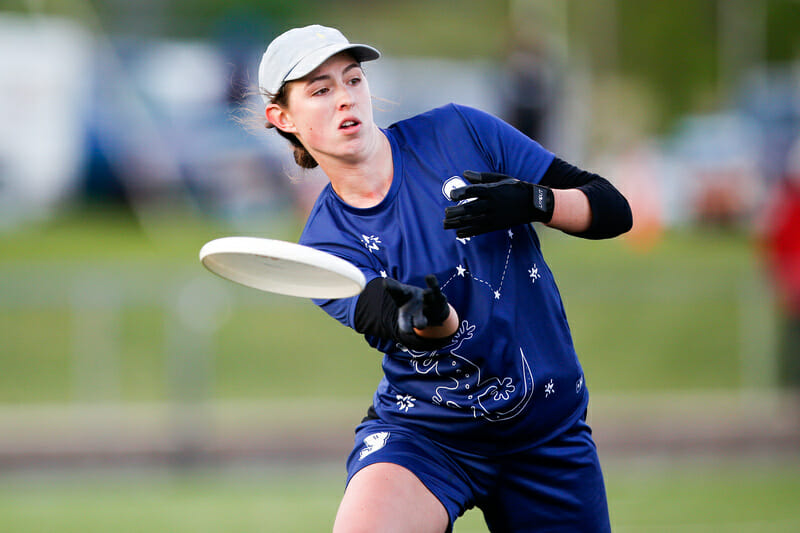 Our coverage of the 2022 College Series is presented by Spin Ultimate. Please support the brands that make Ultiworld possible and shop at Spin Ultimate!
MILWAUKEE, Wisc. — Despite 16 teams traveling from all corners of the country to play in this tournament, the two finalists are familiar foes from the New England region. The national final will be the third matchup between #1 Middlebury and #4 Wellesley in a month, and is a rematch of the New England regional final, which the Pranksters won 11-9 in a back-and-forth affair.
The teams took very different paths through the weekend to get to the championship game: Middlebury has dominated, winning every game by at least five goals, while Wellesley dropped a game in pool play, and then won a universe point thriller in semis.
These teams have no shortage of star power. Middlebury boasts some of the best players in the division. Claire Babbott-Bryan, the 2021 Player of the Year, has been as good as advertised, leading the Middlebury offense in almost every major category. Alongside CBB, 2021 First Team All-American Keziah Wilde has been a rock, hitting open cutters deep and slinging inside shots through the opposing cups. Madelyn Lander has been a block machine as the deep in the Middlebury zone; she's been eating up opposing deep shots and helping run the show on a turn for the Pranksters. For Wellesley, Barbara "Roo" Dolan has been a revelation. Though she is often the shortest player on the field, Roo has used her leaping ability and quickness to own opposing defenders. Also starring for Wellesley has been Savannah Cary, who made a number of momentum-shifting plays in the semifinal against St. Olaf. Cary has 11 goals, 8 assists, and 8 blocks on the weekend.
The biggest story for Wellesley is the health of star handler Josie "Butter" Ku, who hurt her leg towards the end of the Whiptails semifinal against Carleton. According to coach Marshall Goff, it's "hopefully not serious damage but [Butter] will be a game-time decision after trying to warm up." Without Ku, Wellesley would face an even steeper road in an already uphill battle against the domineering defending champs. Butter has proved that she is the heart and soul of this team, leading the team emotionally to their comeback win against Vortex.
Beyond their star players, both teams have credited their systems for their success in the tournament thus far. For Wellesley, understanding their limitations and playing within themselves has been a big focus. They are far and away the less experienced group on this stage, but you wouldn't know it from watching them play; they make smart decisions and utilize their deep shots well. Middlebury's systems are more built around trust and reps. Star player/coach Babbott-Bryan emphasized that every player on the roster has earned the trust of the team, and their depth has allowed them to keep fresh legs heading into this game. Middlebury hasn't felt the need to cross players over to help out their D-line offense much, so it will be interesting to see if they move players around more and if they do, what kind of toll the added points will have on their top players.
Middlebury is the presumptive favorite heading into the championship game, but it would be unwise to discount the scrappy team from Wellesley, MA. They were the underdogs in their last two games and came out victorious in each.
Expect some rain and wind for the final, so whichever team is able to play fewer points every point (i.e. keeping points to one or two possessions) — a favorite saying of Wellesley coach Goff — should come out on top. No matter the outcome of the game, viewers are certainly in for a heck of a conclusion to the D-III women's division season.
Tune in live on Ultiworld.com/live or watch below:
Middlebury vs. Wellesley | D-III College Championships