A late run showed incredible resilience as Wellesley upset Carleton.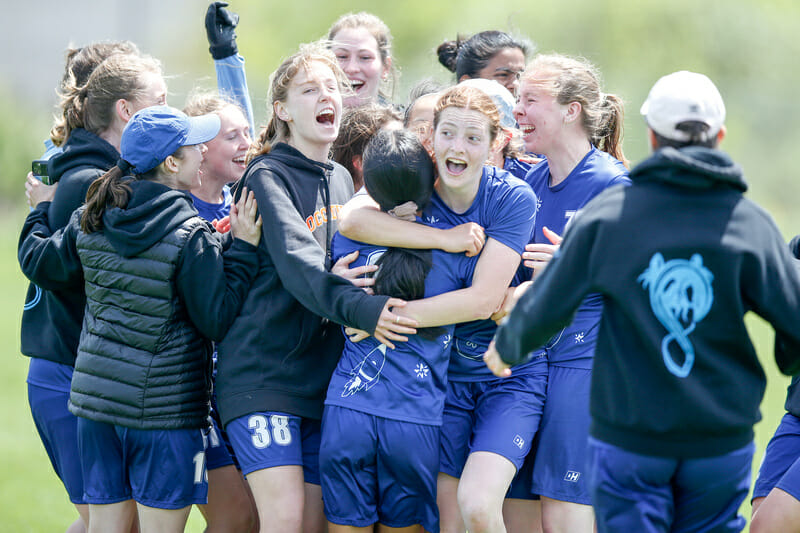 Our coverage of the 2022 College Series is presented by Spin Ultimate. Please support the brands that make Ultiworld possible and shop at Spin Ultimate!
MILWAUKEE, Wisc. — It was set to be a story we've all heard before: Carleton College ultimate competes in yet another national championship final. But everyone loves a good comeback. Wellesley provided a dramatic one, winning 15-14 after trailing 13-10 late.
#2 Carleton Eclipse went undefeated in all of their prior games, rolling their competition through pool play and Sunday morning. They pulled out a 15-5 game in their quarterfinal game against Lehigh and were riding high going into the semis. Eclipse came in confident, aiming to play their best game; their own game.
"The strategy develops as the game goes on, so we need to adjust what we can take away for them. We'll do that as much as we can," said Carleton coach Cameron Barton. "Going in, we just need to have a clear head and get excited. If we can win the energy game, we have a good shot."
In the first half of the semifinal, the difference in Nationals experience showed. Carleton outplayed Wellesley throughout the half, making big plays, including a massive bid for a disc that was five feet in the air by Harper Brooks-Kahn, who came out of nowhere to score a highlight goal, the most spectacular of her team-leading four endzone catches. But Wellesley stayed in the fight, remaining within striking distance. Eclipse carried an 8-6 advantage at the midpoint.
Unlike Carleton, Wellesley rode a different route to semis. Their tournament started with a tough loss against St. Olaf Vortex in their first game on double game point. They rolled through the rest of their pool. They comfortably won their prequarter against Berry and staged a spectacular upset against Portland in the quarter.
Facing a halftime deficit, Wellesley knew they had to step things up. Whiptails coach Marshall Goff also gave one hell of a halftime speech.
"I read aloud a post from a former Whiptail online (one of the first captains I'd worked with) about how there were alums from years ago watching the livestream and 'cheering with their whole hearts,'" he said.
After half, both teams continued their style of play for several points, keeping the game in the same rhythm from the first half. Carleton put another highlight on tape, major bid  by Tess Barton coming straight out of half, who pulled a deflected disc out of the air just prior to it touching the turf to land a break. It was one of four points for Barton, split evenly between assists and goals. After Wellesley scored their eighth point of the game, their star player Josie "Butter" Ku took a misstep and called herself off for an injury. She was out for the rest of the game, ending early but with two goals, three assists, and a block. Instead, Ku threw herself into helping the team on the sidelines, allowing other players to step up in her stead.
Wellesley started making highlights of their own, led by Barbara "Rue" Dolan, who did not let her small stature stop her from growing twice her size on her vertical. She made two amazing catches to try and save possession. Savannah "Scary" Cary also looked great on the field, as she has all weekend. Cary ran the board in team stats, with four goals, two assists, and a block, and effortlessly balled out on offense. Bella Steedly and Leah Black were forced to carry much of the offense's throwing load, and the pair notched six assists and an astounding eight blocks blocks to go with two goals.
As the game went on, the energy intensified. The sidelines and crowd of spectators were electric, getting hyped up whenever action happened on the field. Carleton didn't let their style of play wane, but Wellesley's rising energy began to take over, seizing every opportunity they were given to get critical blocks and big snags against their defenders. After being down 13-10, Wellesley started racking up the breaks, tying the score at 13-13, and then going up a point for the first time by winning a lengthy grinding point. That's when Carleton matched the Whiptails' ferocity, pressuring the opponent in back-to-back defensive possessions to fight for a hold, leading to double game point. Neither team had many open options, forcing high stall punts, but Wellesley settled in to attack the open side, and Cary found Annalise Paul at the open side front cone for the game-winner.
Utter shock filled the stadium. Wellesley themselves could not believe what had just happened. As a team that battled through from the prequarter round, they made their way to the final. Despite facing a 13-10 deficit and with their Donovan nominee sidelined, they rallied back. The crowd was speechless.
"The Whiptails have always been a team that plays so hard for each other. They love each other, and that's what gives them this mental resiliency," said Wellesley head coach, Marshall Goff. "It's a player-led and player-driven team and that's part of what makes them mentally strong. I don't think they realized how strong they could be until they got here."