OC becomes the first D-III men's team to win in consecutive seasons.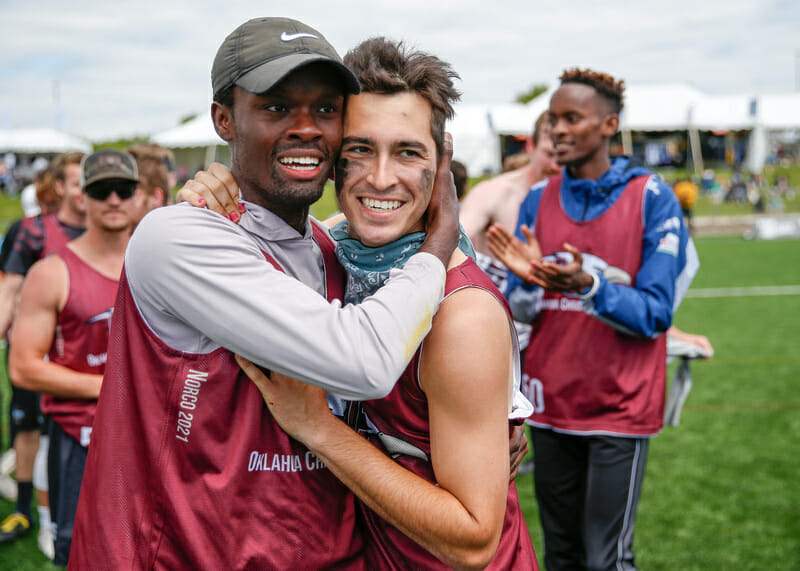 Our coverage of the 2022 College Series is presented by Spin Ultimate. Please support the brands that make Ultiworld possible and shop at Spin Ultimate!
MILWAUKEE, Wisc. — The #5 Oklahoma Christian Eagles defeated the #1 St. Olaf Berzerkers 15-11 to win their second consecutive national championship and become the first men's program in the history of Division III to claim back-to-back titles.
OC played an excellent defensive game, while St. Olaf struggled to convert break chances. While OC was not favored coming into the matchup based on either seeding or goal differential for the weekend, it was clear their experience playing in the 2021 final last December gave them a leg up over the Berzerkers. St. Olaf was shaky at times, missing easy throws, failing to adjust to inside forehand turnovers in the red zone, and struggling with some drops. The pressure of the big stage showed — but what was tougher was a well-prepared Eagles team ready to defend their title.
The St. Olaf offense looked confident in the first half. The usual suspects were playing well. Ben Fjetland-Souza continued in his role as the center handler for the Berzerkers. He along with Will Brandt challenged the OC defense early. In the semifinals against Berry, the Bucks could not find a matchup that worked against Brandt, and the Eagles struggled in a similar manner in the final. The sophomore came out early and skied for the first hold of the game, the first of his team-high three goals in the game.
"Our O-line was absolutely dominant all weekend, very regularly scoring in 3-4 throws," said Berzerkers captain Gordon Larson. "Even against top teams, we loved our matchups on both sides of the disc."
The St. Olaf D-line was also able to generate turns against the OC offense and earned a break on their first opportunity in the game's second point. They applied heavy pressure right off the pull and forced a turnover on OC's first upfield pass; three quick, short throws later, Olaf had jumped out to an immediate 2-0 lead. Unfortunately for the Berzerkers, it was not an omen of things to come. From that moment forward, St. Olaf struggled to convert after turnovers. They went just 3-for-12 on break chances in the final, although they forced 21 blocks in total against Oklahoma Christian. A D-line that can generate blocks but not convert is good for the stat sheet but bad on the scoreboard.
"I think we showed that we had the strongest defensive unit in the division, forcing multiple turns on almost every offensive point," said Larson. The unit, though, went 3/16 on break chances. Oklahoma Christian's went 6/11.
The Eagles offense answered the early break immediately on the backs of Elliott Moore and Jonathan Costello, who were stellar all game. Moore had two goals and five assists in the final. As with other games this weekend, they calmly distributed the disc around to cutters downfield. Costello was a tough cover for the Berzerkers' defense. He led the team in goals with 15 on the weekend. He's a big player, so he could body some of the smaller defenders on St. Olaf when his handlers lofted hucks. If Costello was short of the goal line, he would move his mark with big pivots, before making the right decision and hitting the open receiver.
OC came into the game well prepared. Coach Garrett Taylor talked some strategy after their second championship win. "We came in with a defensive strategy that included a junky look for two to three throws, and we anticipated by doing that we wouldn't be able to control the matchups," Taylor said.
"It was working," he continued, "but after a couple of points we realized that having a good matchup on Brandt was more important."
Brandt had a big game — 3 goals, 3 assists, and 3 blocks on just 2 turnovers — but he was less impactful in the second half, when OC went on a 5-0 run to blow the game open.
That run came on the back of some strong play from the team's role players. Thomas Maguire played himself into conversation for DPOTY: he had five goals in the final, a feat Coach Taylor described as "one of the most impressive championship performances of all time." Emmanuel Kameri also had a great game against St. Olaf—he had a goal and three blocks. Kameri was often tasked with the tough Brandt matchup. While Brandt was still able to get the disc on occasion, it was clear Kameri's pressure slowed him down enough for other defenders on the line to force blocks on their matchup.
And it's impossible to talk OC's success without mentioning Sammy Roberts. Roberts was a two-way player throughout the final, throwing five assists and forcing one block against the Berzerkers. Roberts will be in discussion for many individual awards post-championship, including but not limited to Rookie of the Year.
St. Olaf, though, may come away feeling that they missed out on opportunities. Fjetland-Souza favored a high release flick to the inside lane. He turned this throw over on three different occasions throughout the game. OC played heads up defense, making that throwing window smaller than St. Olaf was used to. They couldn't rely on some of the shots over the stack that brought them success. "Our shortcomings came from a lack of execution and patience," said Larson. In the previous round, teams let these shots go off. The looks weren't there against OC.
All and all, St. Olaf was happy with how their tournament wrapped out. The big names on St. Olaf have already received lots of recognition: Will Brandt, Benjamin Fjetland-Souza, and Luke Bleers. But captain Gordon Larson named a few standout players after their loss in the finals. "Some individuals: Gabe Weigel roofed someone every game. Eric Crosby-Lehmann and Trevor Laugen are absolute dogs on the D-line. Noah Johnson is probably our most patient and composed player, providing incredible value to our d-line offense." Next season, the Berzerkers should look to have another successful postseason. As is always the case with college ultimate, the Berzerkers will suffer big losses from their graduating class. But if the past can predict the future, they will return to college championships hungry to avenge their loss in the finals, just as they avenged their semifinals loss in Fall 2021.
For the Oklahoma Christian Eagles, you cannot ask for a better result to a season. The team was tested at each tournament they played in, leading them to peak at the right time: Monday in the national final. OC will not be immune to departures. But that was the case with this season as well: they will be able to fill the absences. Their recruitment scholarships will keep attracting talent from all around the country–and globe–to Oklahoma City. Emmanuel Kameri and Sammy Roberts are freshman. Thomas Maguire is a sophomore. Their top talent (Moore and Costello) may return for the next year depending on their eligibility and availability, but even without those stars, the Eagles will be a favorite for the national championship in 2023.