The POTY, OPOTY, DPOTY, and BPOTY.
The first full season of the Western Ultimate League is in the books, and by all accounts, it was a resounding success. An undefeated run by the deep Seattle Tempest set the bar for the league's future. Along the way, a number of players took advantage of the new stage and its spotlight to make their abilities known. Some were names fans already knew, adding to their trophy cases and legacies, while others are lesser known players building their own story for a wider audience.
Our staff sat down to create our list of the top performers in many of our traditional categories: Player of the Year, Offensive Player of the Year, Defensive Player of the Year, and "know it when you see it" Breakout Player of the Year. We've tapped into our own advanced EDGE analytics. Here, we honor the stars of the 2022 Western Ultimate League season, with First Team All-WUL and Second Team All-WUL to come.
Player of the Year
Kaela Helton (San Diego Super Bloom)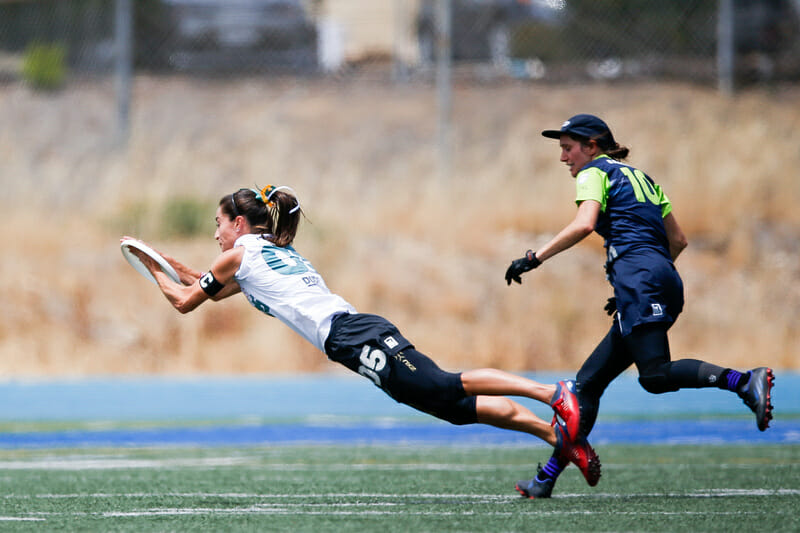 Few teams have the luxury of having one of the best players in the world on their roster. Kaela Helton, one of only 14 players chosen to represent Team USA at the World Games in Alabama later this year, was just that for San Diego. So naturally, they… put her on the D-line? Super Bloom gambled on their belief in their offense to allow Helton to swing any given game in their favor with break opportunities, and it brought them all the way to the championship game.
When Helton was on the field, San Diego's defense was elite. She was the first person down on the pull, was always in the right position to clog throwing lanes or pester the reset. Beyond that, a highlight reel could be made of her handblocks alone. When Super Bloom got the turn, there was Helton sprinting downfield, creating fastbreak opportunities, or setting up the break with a well-timed throw. It was as if she was optimized to make a play on every point. When she stepped on the field, she was the Roadrunner, boundlessly energetic as the Wile E. Coyote opposition slowly wore down after throwing everything in their arsenal to stop her. That energy and commitment to giving every point her all was what helped her team get as far as they did, and made Super Bloom games appointment viewing whenever they played.
While Helton's defense proved to be pivotal to their run to the final, it was her offense that was most visibly a step above the competition. Helton could create separation with any defender, no matter how skilled. While a defense could take away her first option, it left them well behind her when she created another opportunity. Her change of direction and first-step burst made her an unsolved problem all season long. Even against Seattle in the final, the gameplan for Tempest seemed to be allowing Helton to move freely back into the handler space — anything to avoid her beating her defenders deep for the goal.
1st Runner-Up:

Morgan Zajonc (Oregon Onyx)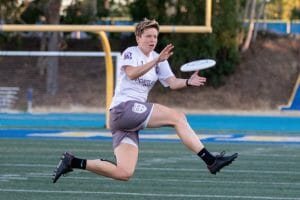 By the end of the regular season, Morgan Zajonc led the league in goals scored. That's already an impressive stat, but it doesn't paint the whole picture. Along with being the leagues top goal scorer, Zajonc was only one block and one assist away from a triple double in the regular season — something she quickly rectified at Championship Weekend. Ask any participant in WUL Fantasy and they'll tell you one fact: you want Zajonc on your team.
Zajonc was impressive by every metric, but no more so than by the eye test. Oregon was already calm with the disc but Zajonc was almost serene. You could see the team settle when Zajonc was marshalling the line, no matter what position they were on the field, they had full trust that the point was going to go in their favor. For the most part, they were right. Zajonc was never stalled out once, and had only five turnovers, by far the lowest of any high-usage star. Very little could faze the Onyx star, despite how often the opposition tried. Assuming Zajonc can maintain this level of productivity, the entire league will be on notice for years to come.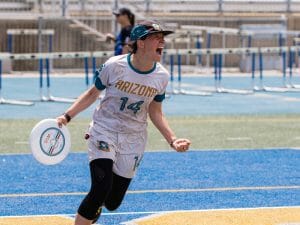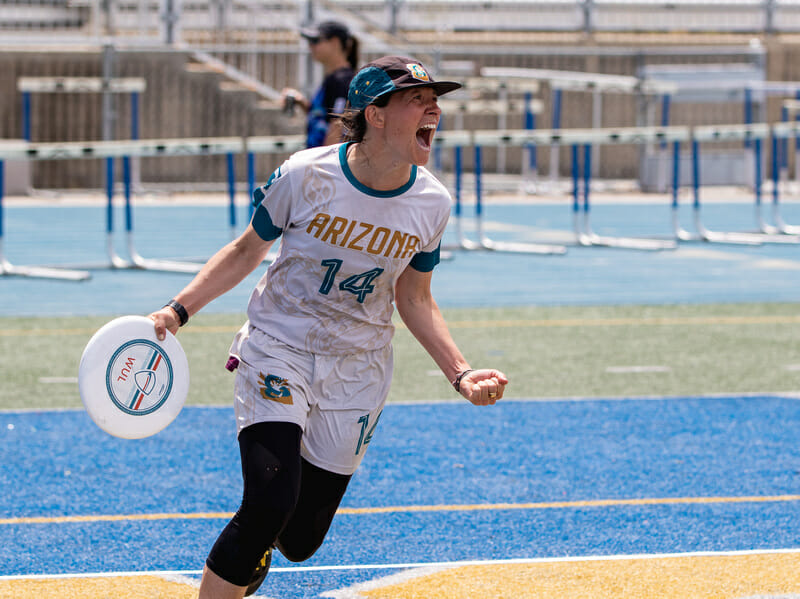 2nd Runner-Up:

Jade McLaughlin (Arizona Sidewinders)

McLaughlin's another advanced stats hero — sorry, is the advanced stats hero, leading the league in EDGE metrics. She can claim the league record in receiving yards, making her a standout cutter immediately, and somehow did it all without a single drop or receiving error! If McLaughlin had a play on the disc, it was going to be a completion.

Arizona was very much a run and gun team, which suited McLaughlin perfectly. She could stretch the field better than most could, but her true talent was in blitzing past defenders who thought they were preventing her from getting an easy under, only to get spun around as she blew by. With 12 goals and 12 assists in the regular season, McLaughlin was a closer, and it's safe to say that she played an outsized role in her team's third place finish at Championship Weekend.
Offensive Player of the Year
Aly Steinfeld (Oregon Onyx)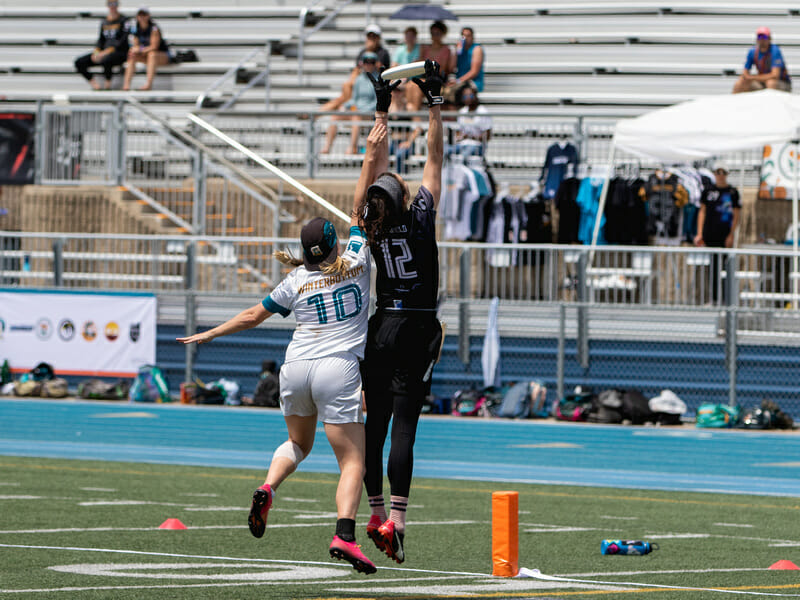 Thanks to the stratification between 'handler' and 'cutter' roles in our sport, we rarely see a player who can command both positions with equal effectiveness. There are many who may claim to be a hybrid, by few can live up to the standard set by Aly Steinfeld this season. Looking at total yards alone, Steinfeld would be an above average handler, thanks to 923 total throwing yards in the regular season, and an above average cutter, with 1049 total receiving yards. Combine that together, and you have the second highest total yards produced by any player this season.1 Aly Steinfeld didn't just play as a true hybrid: she may have perfected it.
It's not just yards gained that favor Steinfeld. She racked up 12 goals and 14 assists, further promoting the narrative of her becoming the hybrid blueprint. She's also a mother, which isn't included on the stat sheet but may explain just how she became so good at juggling multiple responsibilities on the field. Oregon frequently turned to Steinfeld to be the answer they needed on offense, she delivered time and time again. It turns out when you have a player who is 5'11″, has elite club experience at the highest level, and isn't afraid to fire off the occasional huck, good things can happen.
Oregon's semifinal was a perfect example of how the team relied on Steinfeld. San Diego did their scouting, and came out with a disciplined defense that shut down most options Onyx tried to establish early on, so they turned to Steinfeld. She had half the team's assist in the first quarter and a little shy of that by halftime. This happened time and again throughout the season, including in Oregon's tight game against Seattle, where Tempest barely pulled away with a win despite Steinfeld's four goals and three assists. These games weren't anomalies for Steinfeld; they were the norm. For that reason, she's the perfect OPOTY winner for the first full season of the WUL.
1st Runner-Up:

Maggie O'Connor (Los Angeles Astra)

Los Angeles was only a few goals shy of making it to Championship Weekend, and that was largely thanks to the work of Maggie O'Connor on their O-line. O'Connor was an almost guaranteed three-goals-a-game player. In the games where she wasn't scoring three goals, she was racking up assists instead. Her productivity put her in the top 10 in total yardage, and she was one of the few to do so primarily due to her cutting.2

With how much talent was highlighted in the league as a whole, few players were able to stand out like O'Connor. Her blend of athleticism and pure heart set the tone for Astra, keeping them in fighting distance of Championship Weekend despite a tough start to their season. While drawing the oppositions toughest matchups and shouldering the responsibility of initiating the offense on most points, O'Connor still was one of the most clutch players in the league when switched over to the D-line. Her team converted on an incredible 75% of the break chances they had when she was on the field, and while she did end the season with three blocks, the majority of her impact was felt after the turn when she was able to run with her defensive line to punch in that break. Yes, even when playing defense, O'Connor was still an offensive powerhouse.
2nd Runner-Up:

Paige Kercher (Utah Wild)

Kercher was the league's preeminent high-volume handler, and the numbers she stacked up are remarkable. She led the league in throwing yards, edging the Sidewinders' LP Aragon by 15 yards, despite playing fewer points after missing some early season action. Yet she also added another 400 or so receiving yards, becoming the only player to eclipse 2000 yards total, her 2275 over 300 yards more than the next player (Onyx's Tajima, playing 35 more points). As you can imagine, she also had quite a few completions (232, fourth in the league) and assists (14, tied for third) to go along with all of those yards. It wasn't efficient, but output is output.

It doesn't take a mathematician to create a function to describe Kercher's effectiveness from the backfield. Her ability to stretch the field with raw power showed up plenty on the tape and it was clear upon her arrival with the Wild that she could spark their offense with unflappable handler talent.
Defensive Player of the Year
Kristen Pojunis (San Diego Super Bloom)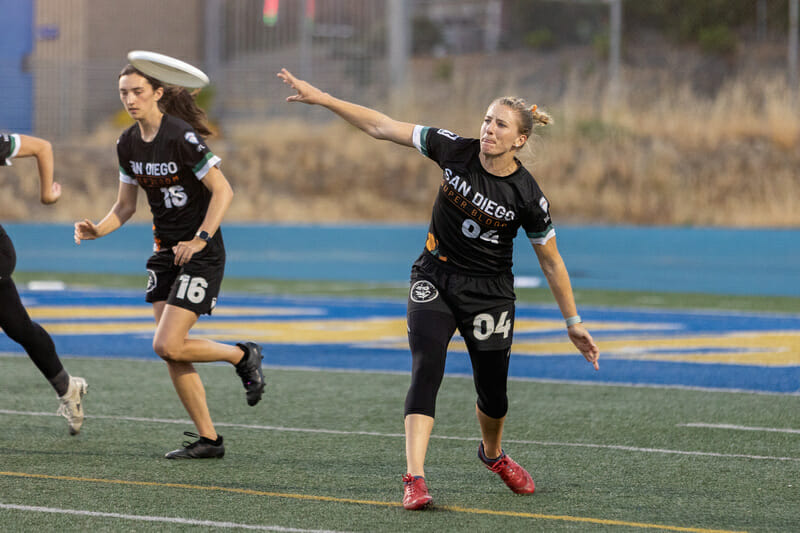 No award was more of a lock than this one. Anyone watching the WUL games — which were all accessibly available and streamed on YouTube — could have seen Pojunis get block after block after block on a near weekly basis. The statement of Pojunis' season was when she effectively hushed Astra one Saturday in April, notching seven blocks and forcing a further two high stall hucks from LA before capping the night with the game winning goal. In that game alone, Pojunis may have set a defensive record that may never be broken.
As everyone is aware, it wasn't just a single game for Pojunis. She led the league in blocks for the regular season at 17, the next closest had 12.3 According to our EDGE advanced analytics, Pojunis was the fourth most valuable player in the entire league, and had a legitimate MVP-quality campaign. Aside from Kaela Helton and Qxhna Titcomb, no other D-line player made it in the top 10. She's always been known for her defense, but Pojunis seemed to level up in this league in a way that few other player could.
Watching Pojunis play defense in a zone is like watching a sheepdog corral a herd. None of her opponents really want to test her by ranging too far from the center of the field, and those that do are quickly brought back into line. Words like 'relentless' and 'gritty' are often used to describe defensive players, but for Pojunis, they don't go far enough. There's a desperation with her effort that always gives her that last little bit of vertical reach or lateral burst to get in front of her opponent. It's maddening to play against and a joy to watch. She's set the standard for defense in the WUL, it remains to be seen if others will be able to match it next year.
1st Runner-Up:

Shae Wallen (Utah Wild)

Some players are born to play defense, and Utah's Shae Wallen is one of them. On a team known for being stocked with athletes, Wallen towered over the rest on defense, largely thanks to her ability to show up in big games. Utah's first win of the season against San Francisco was a statement win for the program — Wallen had four blocks that led to two breaks in that game. Utah won by two. In Week 7, Utah was playing for their chance to make Championship Weekend against a tough Seattle team –Wallen had 4 blocks that game and helped her team give Seattle the closest game all season. Every time Utah needed a statement, Wallen was there to help them make it.

Unsurprisingly, Wallen ended the season with Utah's second-highest +/- at a staggering +17, which is good for sixth in the league as a whole.4 Utah has a promising future in the league, especially if they can build around stars like Wallen, who know how to compete on the biggest stage.
2nd Runner-Up:

Lexy Roy (Los Angeles Astra)

Let's be honest with ourselves: outside of maybe a few LA insiders, no one saw Lexy Roy coming this season. Even her opponents barely did. Roy was responsible for so many run-through blocks that left the intended receiver in a moment of stunned silence you'd think she had cast a spell over them. Her quiet demeanor quickly turned to speed demon when she had a chance to attack upline throws or handlers trying to break Astra's cup. Roy might not have been a part of any scouting reports before the 2022 season, but she'll be on the radar now.

Roy was one of only five players to notch 10 blocks or more. That list that includes fellow DPOTY nods in Pojunis and Wallen, along with Helton and Dena Elimelech. Roy outshines all of them in blocks per point, as the defensive specialist hardly ever crossed over to the offensive unit when compared to the rest. Every 4.5 points Roy played, she earned a stop. That's incredible.5 Roy doesn't normally have the height advantage on her side, but underestimate her at your own peril.
Breakout Player of the Year
Julia Salvacion (San Diego Super Bloom)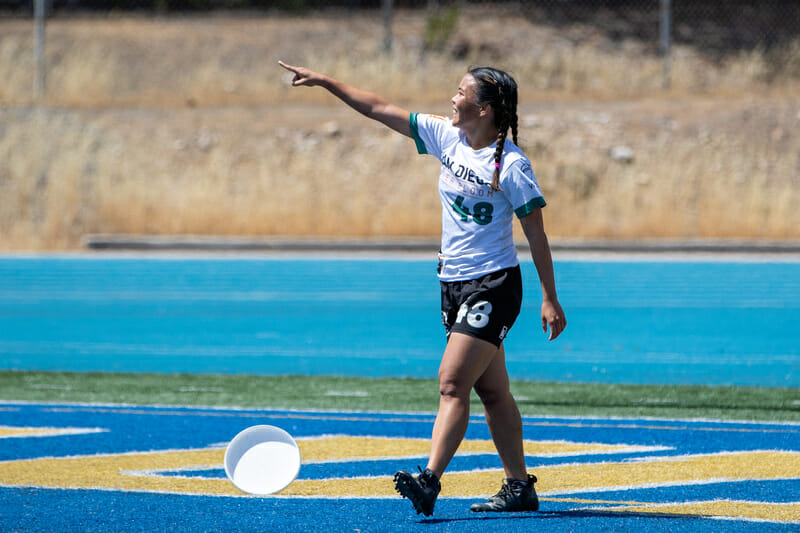 There's plenty to be said about Salvacion's regular season performance, but if you want a clear reason for her win, watch the Super Bloom vs. Onyx semifinal again. Do it. It's a good game. Salvacion also did this. And this. Oh yeah, and she also caught six goals in the final, just to cap off the weekend. On a team with bonafide stars like Alex Diaz and Kaela Helton, Salvacion still made a name for herself by playing beyond anyone's expectations to help lead her team in scoring during the regular season, and making one big play after another in the postseason, too.
It might go overlooked, but leading San Diego in scoring for the regular season is no easy feat. Super Bloom trailed on Seattle in points per game, despite playing in some nailbiters. The team also loved to throw hucks, and Salvacion was the favored receiver. It might be because she doesn't cut the tallest figure on the field or because she didn't have as much name recognition, but Salvacion was often underestimated with her deep cuts, leading to valuable goals that left dejected defenders walking off the field. She was among the top 10 goal scorers in the league and forced opponents to reorient who their top defenders were marking.
This season wasn't the first time Salvacion has been on a team that reached a nationally televised final – she was on Mischief in 2019 when they lost in the USAU Mixed final to AMP – but this season has been one where she has announced her presence as a threat in the league. Considering how many highlight plays she had in 2022 alone, it wouldn't be surprising if she's coming for the OPOTY award next.
1st Runner-Up:

Jennifer Ricaurte (Seattle Tempest)

Balance was a big part of what made the Tempest the class of the league, and Ricaurte was emblematic of that team-wide attribute. Her six goals, 10 assists, and three blocks came with 365 throwing yards and 756 receiving yards. She was able to get involved in the Seattle attack using her legs, but kept defenses honest with her throws. Despite playing on lines with bigger names with impressive resumes, Ricaurte stepped up to meet their level.

Ricaurte was also a big contributor to another characteristic that defined Tempest in 2022: efficiency. That healthy production she provided came with a stingy five turnovers. She hit on all three of her hucks. And those individual stats helped lead to team success, evidenced by her 87.5% hold rate, one of Tempest's and the league's (which are basically one in the same in this category, where the entire top of the list are Seattleites) best marks.
2nd Runner-Up:

 Greta Eisenbrey (Oregon Onyx)

Eisenbrey revealed themselves to be a brick house in the Onyx backfield this season. She provided solid and confident reset options, a necessity next to the aggressive throwers that populated the Oregon lines. But more than sheer sturdiness in the offense's foundation, Eisenbrey showed off skillful break throws and even flashed some dynamism in one-on-one cutting settings.

On top of their success in an unheralded offensive role, Eisenbrey jumped on an equal number of defensive points, tallying four blocks. When adjusting for environment with EDGE-B, the block-based EDGE stat, Eisenbrey gets a number tied for second highest on the Onyx (1.36), showing their ability to generate turnovers for her defense when the opportunity arose. With imposing range, Eisenbrey could profile as an increasingly versatile and problematic defender next season.
---