Kennedy McCarthy powers Ruckus past Superfly with a performance for the ages.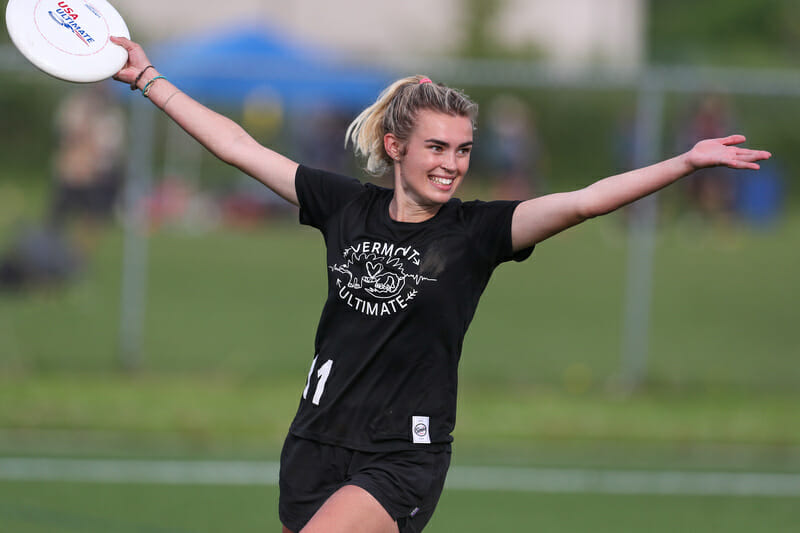 Our coverage of the 2022 College Series is presented by Spin Ultimate. Please support the brands that make Ultiworld possible and shop at Spin Ultimate!
We've pretty much all known just how good #9 Vermont Ruckus' Kennedy McCarthy has been for years now, but if you somehow weren't aware, well, now you should be. The do-it-all Vermont superstar took a sledgehammer to the typically stout #10 Stanford Superfly defense, dominating en route to piling up a mind-blowing 6G/6A line in a game that Ruckus eked out in the end 15-13.
After a stuttering opening two points from Vermont, McCarthy took over and from there it was simply a matter of whether Stanford as a team would be able to match McCarthy's individual output. Summed up shortly by senior staff writer Graham Gerhart in Ultiworld's Top 25 Players discussion: "Postseason McCarthy is gonna burn your takes to the ground," and in this game, postseason McCarthy absolutely lived up to that billing.
If you stopped watching this game after the first two points, you might have come away thinking that Stanford would roll over Vermont. Superfly's often suffocating zone defense was shutting down seemingly each and every option Ruckus was looking for as the California squad opened with a 2-0 lead and the game's first break on an assist from Elena Kamas. That lead didn't last long though, as Vermont realized that simply throwing over the zone with immediate hucks solved the whole "zone defense" problem, and McCarthy was the obvious linchpin to that solution. Even when matched up against Xinzhi Zou, one of Superfly's best defenders, the Ruckus veteran out-read and out-jumped her competition on the way to scoring Vermont's first three goals of the game to snatch the lead away from Stanford.
While Superfly were able to get two goals back of their own to bring the game back on serve at 4-3, their red-zone execution left much to be desired throughout the game, regularly turning the disc over on what could have been a final scoring pass. Still, Zou, McKinley McQuaide, and company kept the game close through the first half even as Vermont built back a two-break lead, McCarthy adding four assists to her initial three-goal burst as Ruckus took an 8-6 lead into half.
In the first half, three of McCarthy's four assists went to Lylah Bannister, and although they were all perfectly fine scores, the best was yet to come. Out of the break, Vermont started on offense, looking to build on their two-goal advantage, and build on it they did. Their first throw was to center the disc, the second went to McCarthy cutting under, the third an inside-out backhand huck boosted to Bannister, who turned past her defender, saw the disc come over her right shoulder, and then made what might possibly be the play of the tournament with an incredible layout snag for the goal and the game's first three-goal lead.
"We like to encourage our best players to do what they're best at," shared Ruckus coach Sara Jacobi after the game. "Right now, the composition of this team is that we have amazing throwers and we have amazing receivers, [so] let's continue to use them and continue to stretch the field. If we can get them to cover us deep, we can work under, so let's keep setting that threat, and if they don't meet us, we're going to keep doing it, and if they do meet us, we're going to beat them the other way."
Just taking what the defense gives you so often feels like an overly simplistic way to talk about how to best play offense in ultimate, but for Vermont in this game against the vaunted Stanford defense, it worked wonders. Bannister and McCarthy continued to connect to the tune of six goals by the end of the game, Ruckus pulled out their own zone looks to match Superfly's, and they withstood a late push from Stanford that tightened the game from 14-10 to 14-13. In that run, McQuaide came up huge for the Southwest stalwarts, laying out for everything everywhere for a standout stat line of 3G/2A/4B that included an incredible layout block on the third point of the game. Zou did what she could as well with 2G/3A on the day as she directed traffic for the Superfly offense, but in the end it could only be McCarthy who closed out the show, getting the final assist to Bannister to send Vermont on their way to the quarterfinal round for the first time since 1987.