An opening frame to forget gives way to a redemptive conclusion.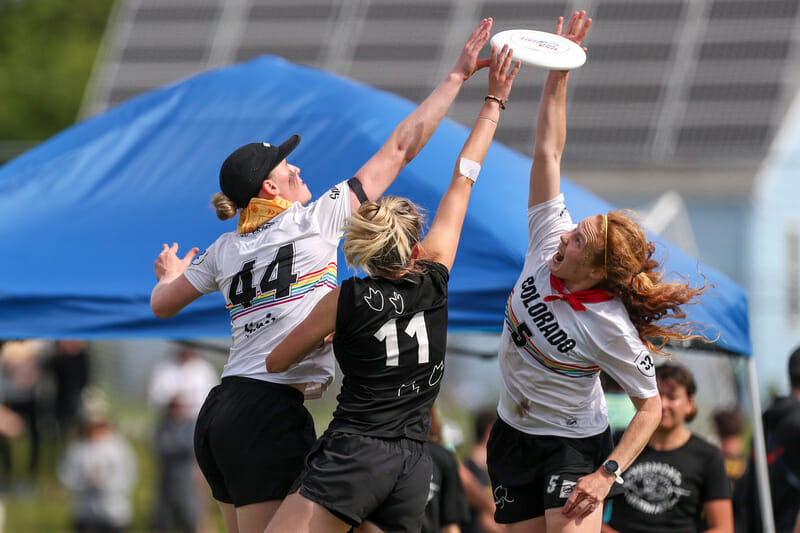 Our coverage of the 2022 College Series is presented by Spin Ultimate. Please support the brands that make Ultiworld possible and shop at Spin Ultimate!
MILWAUKEE, Wisc. — Even in a tournament that has been defined by runs, a break run still found a way to surprise us on Day 3.
Through the first half of the showcase quarterfinal between Vermont and Colorado, a Ruckus program that hadn't been at Nationals in more than 30 years looked plenty comfortable on the big stage. A roster packed with rising stars who to this point in the weekend only enhanced their burgeoning national reputations took an 8-5 lead into halftime on the #2 team in the country. Somehow, impossibly, they did not score again.
Both teams entered the game fired up and ready to show what they could do. Vermont in particular looked determined to prove that they belonged at this stage of Nationals. They came into the quarterfinal with a "shock and awe game plan" according to Coach Daron Byerly, and it didn't take long to deliver on the shock.
A zone defense on the first point made downfield looks nearly impossible, pressuring Colorado farther and farther back toward their end zone. Many throws were being made, which increased the chance of failure by a large margin — and that tactic succeeded. Colorado tried a high-release throw to pop over the cup, and Vermont was able to snag it in the end zone for a callahan. 1-0 Vermont, and Ruckus was elated.
The wind is generally not a frisbee player's friend, but Vermont felt differently in the first half. "We definitely know how to play in the wind, we say thank you to the wind for the opportunity to be ready for these types of situations," said Vermont coach Sara Jacobi. Experience made all the difference in being able to read the disc and steal it from the opposing team — which Vermont capitalized on, snagging blocks and quickly swinging the disc, prompting downfield movement for more easy scores.
The wind made the passes extra zippy, but Vermont was able to run down the throws and secure the points. Ruckus were taking advantage of their big athletes and dynamic throwers — even against an opponent who had similar strengths. Their primary move was to send the disc deep after the first pass in power position, though they had the patience to work it down the field and hold it right on their end zone line until a player was able to get open as well. Ruckus's team speed was more than Quandary could keep up with; in the early going they were chasing the game, struggling to get close enough to even set meaningful marks.
"It was breathtaking," Byerly commented about his offense's first-half execution.
As good as the offense was, Vermont's defense was what really allowed them to flourish. Their zone delivered and their energy only grew as the breaks continued to stack.
Halftime arrived with a score of 8-5 in favor of Vermont. Colorado was feeling the pressure to redeem themselves, and bring the score to what they felt it should have been. "We talked about continuing our defensive intensity," their coach said. "We're getting blocks, now it's just about putting some pieces together and believing in ourselves."
Whatever was said in the halftime huddle deserves to be recreated and enshrined in amber. Rarely has a game turned so dramatically.
Quandary's defense locked in and started producing blocks and preventing any easy movement. Vermont's deep looks were taken away, and the midfield movement was stifled. Ruckus were shooting high-stall hucks that no longer found receivers, and Colorado's D-line offense were finally converting their opportunities. Their first in a string of breaks was a comfortable offensive play, picking up the disc from a failed deep throw and patiently working it 70 yards to their attacking end zone with exactly the kind of confidence that was missing in the first half.
Colorado's stars stepped up after the intermission. Clil Phillips worked hard in both the handler and downfield space, sending hucks to her teammates, to the tune of a game-high five assists. Kristen Reed reeled in discs right on the end zone line, and was tough on Vermont when on defense. Stacy Gaskill showcased the type of competitiveness that made her a medal threat at the Olympics and Rachel Wilmoth also got in on the act. Between those four, at least one of them was involved in eight of the ten consecutive second-half breaks Colorado converted.
For all their first-half success, Vermont could not move the disc between their players, despite putting in 100 percent of their effort. "Kennedy McCarthy and Sarah VonDoepp played with so much heart; they were dead tired and they kept grinding as hard as they could," said their coach.
Ruckus fought to the very end, but the momentum had shifted so thoroughly that there was only so much they could do with the energy and mental resources they had left. It wasn't enough to convert a single hold, nevermind pick up where they left off in the first half.
The goalless second frame made for an ignominious end to an otherwise solid performance from Ruckus in Milwaukee. The first Nationals exposure for everyone currently involved with the program was no doubt a learning experience and one that, in time, may feel like the start of something big, especially as the sting of this particular defeat fades. With as much talent as exists on the Vermont roster, it feels plausible that this best-ever finish becomes a new baseline expectation moving forward.
For Colorado, the comeback is both a relief and a rallying point. This remains one of the most talented rosters in the division this spring and they'll have the opportunity to demonstrate whether the first or second half of this quarterfinal was more reflective of who they truly are. Either way, their second half was a performance for the ages, and one that won't be soon forgotten.