John Randolph, Liam Searles-Bohs face off as the leaders of their programs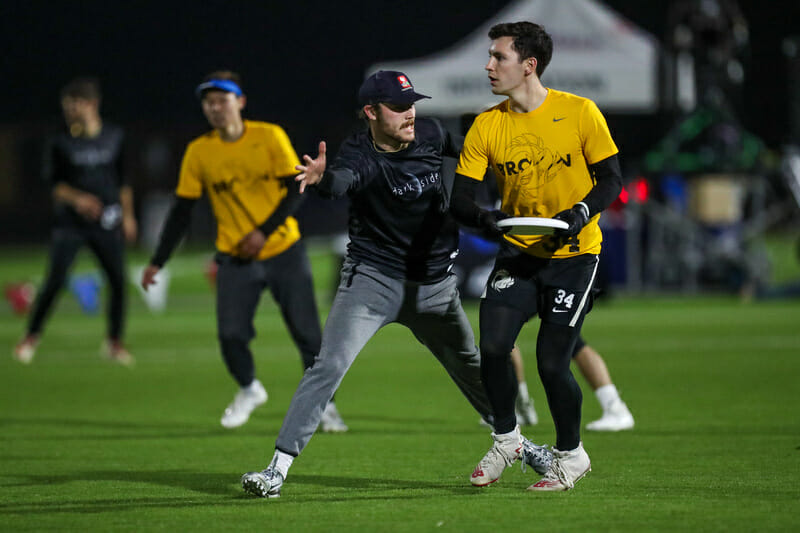 Our coverage of the 2022 College Series is presented by Spin Ultimate. Please support the brands that make Ultiworld possible and shop at Spin Ultimate!
Both Brown and UNC romped their quarterfinal and semifinal opponents, setting up another bracket showdown in the men's final to cap off a stellar weekend for both title contenders. This will be the third consecutive meeting between the teams in the bracket at Nationals: Brown defeated UNC 14-8 in the 2019 final and UNC turned the tables, 15-11, in last December's semifinal round.
Both teams play intelligent defense that is able to switch matchups and effectively slow down if not halt opposing offenses. The game could come down to which team's offense makes fewer mistakes against opportunistic defensive lines that like to fast break and push the pace whenever possible.
On the offensive side, both teams employ possession-oriented, small ball approaches that are difficult to generate turnovers against. UNC has rotated through their entire starting offense in the handler space this weekend and has not yet seen a defense that it cannot attack. Brown is very effective running dominator sets between John Randolph, Jacques Nissen, Leo Gordon, and Cal Nightingale. Randolph, in particular, has an uncanny ability to get open in the reset space. Even when his first move gets stopped, his is so adept at managing space to make second and third moves that it appears his mistakes are purposeful setup opportunities. UNC handler defenders Kevin Pignone, Andrew Li, and Seth Lee have given opposing teams fits throughout this tournament, but they haven't faced a talent like Randolph yet.
UNC's answer to Randolph is Liam Searles-Bohs, a powerful cutter and pace-setting thrower that entered college in the same season as Randolph. LSB finished as the runner-up to Randolph in the 2018 Rookie of the Year race after both came into the division with great fanfare. Randolph also beat him out for this year's Callahan Award. LSB is not the kind of every-other weapon for UNC that Randolph is for Brown, but he is closer to that than the rest of the pack. The two have been implicitly compared to one another since entering college in 2017. Randolph and Brown won the first meaningful matchup between them in the 2019 final: can Searles-Bohs step up to return the favor this time around?
While neither team's stars have had to play so many points that fatigue is unlikely to become a major factor, Brown does tend to ride its top players more than UNC, which has a level of throwing depth unmatched in the college division. Searles-Bohs is essentially the one offensive starter who will play big minutes on defense, while Randolph, Nissen, Gorden, Nightingale, and Dylan Villenueve have been known to play both ways.
Brown defeated all comers during the 2022 regular season, taking an undefeated record in sanctioned games to Nationals. That run included tournament wins at Smoky Mountain Invite (SMI) and Easterns, including a 15-13 victory over UNC in early March at SMI.1 All season, Brown relied on its stars Randolph, Nissen, and Gordon to move the disc either through dominator sets or with quicker, deep-strike set plays. Despite a loud and clear game plan, none of their regular season opponents had the answers to slow down the most potent attack in the division.
At Nationals, the team has faced tougher tests, getting good games from Cal Poly SLO in pool play and a Minnesota team that beat them back in February to advance to the semifinal round. Any thought that Brown was vulnerable or that their depth could not match up with the top teams was put to rest with a 15-9 semifinals drubbing of a Pittsburgh team that had looked like the best at the field site to that point. With fewer games in a day than at a standard tournament, Brown has been liberal about crossing over Randolph and Gordon to defensive lines to shore up the team's offense after a turn. Though Brown has more depth than is commonly acknowledged, with just one game left its possible that their stars will simply carry the load.
Though they ended up in the same place, UNC took a different road than Brown to get here. After playing the fall season with graduated players who contributed to the team's 2021 title, Darkside had to rebuild on the fly this spring with young players stepping into key roles. Rutledge Smith and Josh Singleton are both important contributors in their first school year playing with the team. UNC won early season home tournaments in Carolina Kickoff and Queen City Tune Up but did have some lapses once the competition got heavier. Losses to UMass and Brown at SMI seemingly knocked the team down a peg in the championship contention pecking order. An additional loss to Georgia at Easterns added to the questions surrounding the team.
At this tournament, UNC has answered most of them. On day one, Darkside efficiently put away a rising Vermont team and weathered a passionate Wisconsin comeback to stay in the driver's seat in the pool. Since then, nobody has scored more than nine points on Darkside, including a 7-2 blitz of a second half against Colorado in the semifinal and a revenge win over Georgia in the quarterfinal. UNC has a chance to avenge their other loss to a nationals team tomorrow against Brown.2
With each team's top talent gearing up for a career-defining showdown, this game is sure to be a must-watch. If you are not in Milwaukee to watch live, you can catch the game on ESPN3 at 6:30 PM Eastern. It will air on tape delay on ESPNU at 9 PM Central
---
Brown also has an unsanctioned tournament win at Florida Warm Up, but they dropped a game to Minnesota there. ↩

UMass, while certainly a nationals quality team, did not qualify for this year's D-I College Championships. ↩