One of the division's brightest talents throughout his entire college career.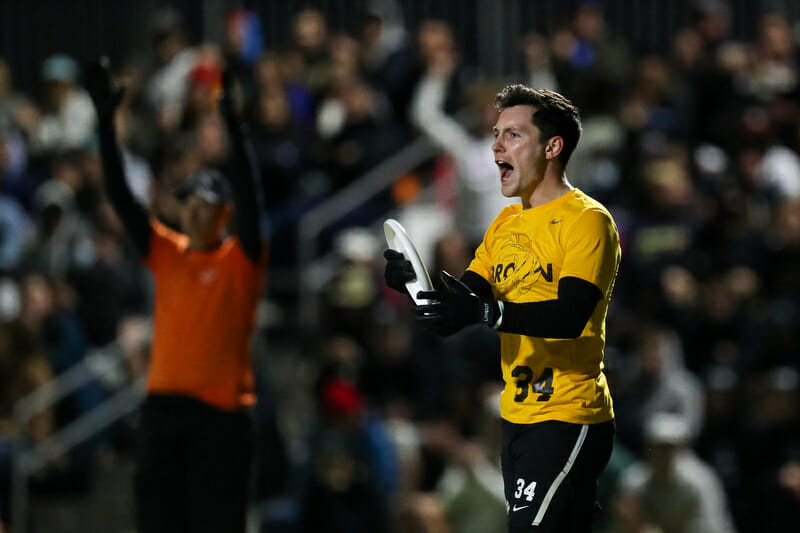 Brown's John Randolph was named the winner of the 2022 Callahan Award Sunday evening during the semifinal round of Nationals. He is the second consecutive member of Brownian Motion to win the Callahan, following Azeez Adeyemi in 2021. The team also has produced three prior winners (Josh Ziperstein, Justin Safdie, and Fortunat Mueller), making for a greater total than any school in either division.
After a strong youth career including a turn with the U20 US National Team, Randolph was a top flight recruit when he joined Brown. But few could have predicted exactly how impactful his presence would be for the program. He was the first D-I player to be named to an All-American team as a freshman, earning 2nd team honors while also winning Rookie of the Year in 2018. He was also an All-American in 2019 and 2021, the former a 1st team appearance along with a second place runner-up for Player of the Year while starring on Brown's national title team.
"John is the most worthy Callahan nominee our sport has seen in years," said former Brown teammate Mac Hecht, with whom Randolph won that college title.
Randolph's elite first step is the signature he has signed on many a scoring highlight, with his 10-goal semifinal performance in 2019 fully announcing him as one of the college game's biggest names. But "JR," as he is often called, is an intense competitor who can be a dogged defender and is one of the toughest covers in any small space, making him an offensive engine for Brown throughout his career.
Randolph and Brown have a chance at another title and will face off with Pittsburgh in a men's semifinal following his Callahan Award announcement.