Our selections for Offensive, Defensive, and Breakout Players of the Year, and Rookie and Coach of the Year.
Ultiworld's 2018 Men's College Awards are presented by Spin Ultimate and the National Ultimate Training Camp. All opinions are those of the authors. Thanks for supporting the brands that make Ultiworld possible!
Ultiworld is pleased to announced our fifth annual College Awards. The criteria for each award can be found here—we consider both regular season and postseason performance in our selection of awards. Though the input of Ultiworld reporters is weighed heavily, final decisions for awards are made by the editors.
To see the D-I Men's 2018 Player of the Year Award, go here.
Offensive Player Of The Year
Tannor Johnson (Massachusetts)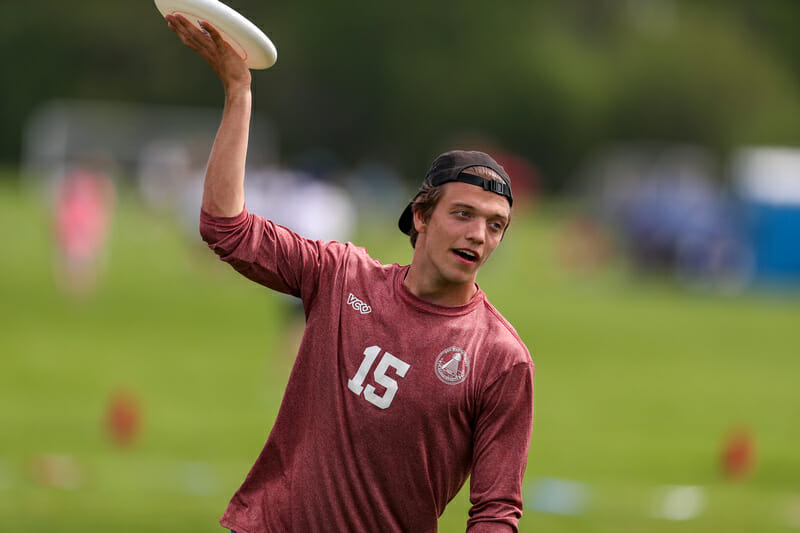 A profile of UMass junior cutter Tannor Johnson's offensive game reads like a freshmen's description of their captain in an all-region stump speech: "he can sky anybody, he consistently shoots full-field hucks, I've never seen anybody layout D him, he shreds every mark he sees." Though no player can truly live up to that kind of hyperbole, Tannor Johnson is about as close as you can come. It's on the strength of that well-rounded skillset that the reigning Mixed Club OPOTY adds the 2018 College OPOTY award to his trophy case.1
There are simply no holes in Johnson's game; he is truly a pick-your-poison matchup. At 6'4″, he stocks the highlight reel with posterizing skies over the other team's best defender, and if you try to force him under, he'll happily punish you with a well-placed, beautifully edged huck for his teammates to run on to. Johnson falls squarely in the category of a player you can only hope to contain, rather than stop.
His skills extend beyond beating matchup defense. When ZooDisc faced zone and junk looks this season, it was frequently Johnson who worked his way into the backfield and took over control from the regular handlers, comfortably breaking open the defense with upside throws and blades. Auburn, Northwestern, and Washington all tried zone sets against UMass at Nationals, but the Johnson-led offense was equal to them all.
Though he was a force all year for UMass, Johnson's prequarter performance against Washington was perhaps the best representation of his diverse skill set. He put on a bonafide hucking clinic, while also acquitting himself well in the deep space and coolly guiding ZooDisc through UW's junk sets. He finished that game with a gaudy three goals and six assists, part of the fourth most efficient stat line put up by any male player in Milwaukee at 9G/15A/5D against only eight turnovers.
For someone with two more years of eligibility left to further hone his skills for UMass, Johnson's stock is already sky high.
1st Runner Up: Steven Benaloh (Washington)
Let the record show that when Steven Benaloh—Washington Sundodgers senior, captain, and Callahan nominee—wasn't throwing a Nationals-leading 24 assists, he spent a good portion of the championship weekend inside an inflatable donut. "Benny" thrived in coach Mark Burton's new offensive looks, taking his talents downfield to catch hucks when he wasn't busy doing lateral sprints between the sidelines to keep the O-line moving. In his fourth and final year with Washington, Benaloh took his already considerable offensive talent, increased the amplitude of his performance, and left it all on the field.
2nd Runner Up: Mac Hecht (Brown)
In 2016 and 2017, we saw flashes of what Brown Brownian Motion could be with Mac Hecht at the helm. In 2018, surrounded by a wealth of both mature and malleable talent, Hecht's spurts of brilliance turned into one long season of sustained excellence. The junior used his size and strength downfield to get the offense moving and slotted easily into the backfield to play an efficient three-man game with his teammates. With both the O-line and D-line offense running through him in Milwaukee, Hecht posted 22 assists and five goals. Together with first-year firework John Randolph, Hecht formed a scoring engine that brought Brown back to the front of the national stage.
Defensive Player Of The Year
Nathan Kwon (North Carolina)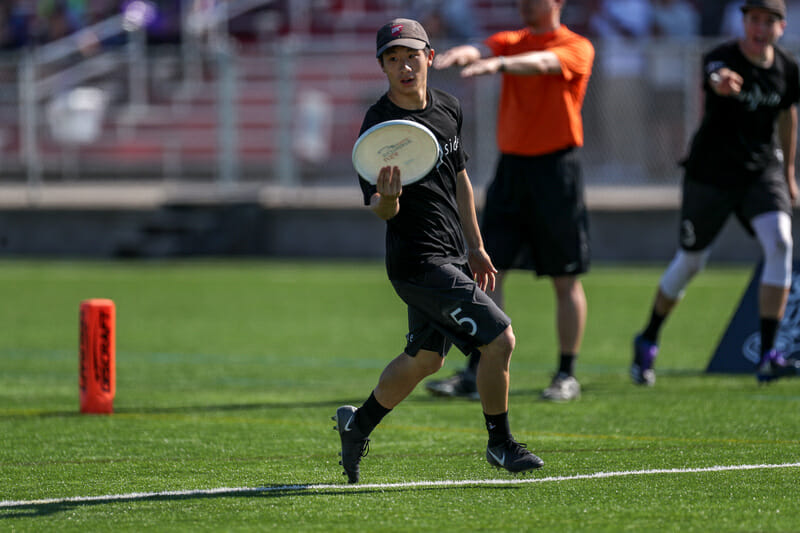 Good defenders usually fit into one of two molds. They either shut down their matchup, or they get blocks and clog lanes. The best players, a rare breed, can do both. Perhaps no one was able to play both of those roles as effectively as Nathan Kwon this season, and certainly no one did so on a bigger stage.
North Carolina built their defense around Kwon's ability to control everything happening in the handler space and rode it to a championship. He was able to effectively shut down a reset handler while simultaneously poaching throwing lanes, choking off backfield movement, and denying throwers downfield openings.
Of course, Kwon didn't just limit options for offenses; he took the disc away as well. His Callahan video is replete with the spectacular layout blocks he sprang on opponents, popping up out of nowhere to snare the rock and kickstart a fast break. It takes a combination of supreme athleticism and a brilliant mind to have that kind of defensive impact, and Kwon showed off both all season for Darkside.
In addition to those eye-popping plays, Kwon does the little things perfectly: Always right back on his feet mere milliseconds after hitting the ground on a layout attempt so that he is never out of position. Taking the perfect route to a space, so that even when a cutter is able to create separation, Kwon still seems to beat him to where he wants to be. All of this makes his presence feel ubiquitous, while still allowing him to suddenly appear out of the ether for a block. He is able to be everywhere and nowhere at once, and that's just about the highest compliment you can give to a defender.
1st Runner Up: Ethan Bloodworth (Carleton)
At times overlooked in the sea of sophomore stars on Carleton CUT, Ethan Bloodworth more than earned his place as a bright light in that constellation this spring. While the official stat line from Nationals shows only two blocks from Bloodworth in Milwaukee, he disrupted opposing offenses far more than that number might imply, just as he had done throughout the season. His incredible agility and positioning allow him to bottle up many of the division's premier handlers, frequently discouraging a throw from even going up in his direction. If one does, his speed and athleticism mean he can gobble them up. One of CUT's most consistent contributors throughout 2018, Bloodworth turned heads at Florida Warm Up and earned a spot on the all-tournament team at Easterns. You can expect him to continue terrorizing opposing offenses for years to come.
2nd Runner Up: Leandro Marx (Oregon)
Oregon Ego coach Jay Janin fiddled with his lineups in 2018, but he didn't have to move his D-line ace Leandro Marx. The Oregon junior has naturally grown into a defensive leader for his team. His pulls became a critical piece of Ego's improved defense; his excellent placement and hang-time allowed teammates Braedon Petrus and Colby Chuck to fly down the field for an absurd number of contested or blocked centering passes. Marx's game has absorbed some of the best characteristics from his teammates: he defends with Adam Rees's quiet intensity, breaks free for goals like Will Lohre, and celebrates with a fire like Connor Matthews. The resulting style, however, is all his own.
Breakout Player Of The Year
Derek Mourad (Washington)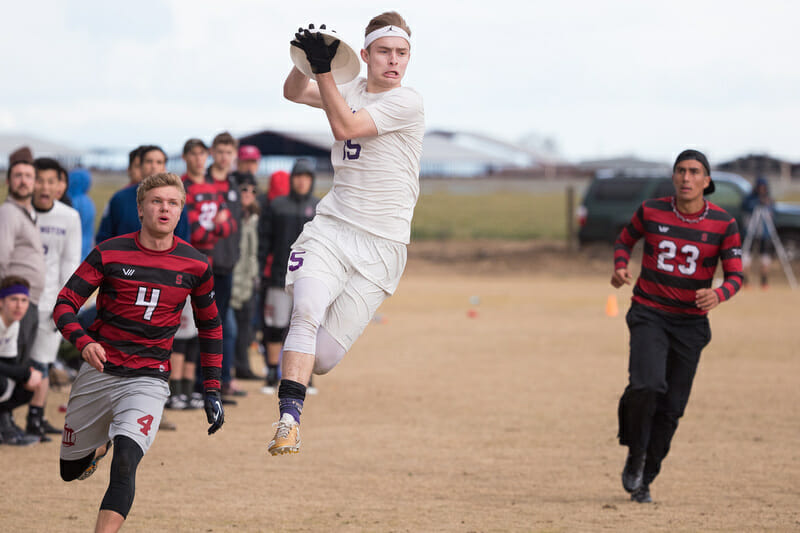 As soon as the Washington Sundodgers took the field in 2018, they looked and felt like a different team from recent seasons. By now, you know about Mark Burton's offensive tricks, the team's pool-floaty-powered culture, and the standout play from their seniors and transfer students. But Washington's defense also took a leap forward this season, and sophomore Derek Mourad provided the spring action for it to happen.
Burton told Ultiworld early on this season that Mourad's voracity on the field may have been eclipsed by his scouting. It showed. Mourad's athleticism and high IQ made him a nightmare matchup for opponents. His field sense and knowledge of opponents combined for handblocks and shutdown defense.
Early on in 2018, Mourad's pulls were at the tip of the spear for Washington's D-line. As the Sundodgers mowed down the competition at their first tournament, Santa Barbara Invite, the defense was getting it done with Mourad's pulls pinning O-lines deep in their own endzone. As the season progressed, Khoi Nguyen and Noah Kregenow began to share pulling duties, and Mourad settled into his role as top backfield defender and on-field strategist with great success.
Mourad's flexibility also made him a standout this season. In a pinch, the Washington coaching staff could count on Mourad to settle into a backfield set on either line—he provided precision hucking to hit receivers in stride, whether it was Jake Steen or Michael Buyco on the O-line or Reed Hendrickson on the D-line.
Perhaps most importantly, Mourad showed the potential for growth that defines this award. As brilliant as he was in 2018, he will improve.
1st Runner Up: Noah Robinson (Pittsburgh)
Noah Robinson has been unlucky with injuries throughout his college career, keeping the talented cutter off the national radar. Fortunately for Pittsburgh, he was available for the semifinal of Nationals against Carleton. This was Robinson's coming out party. The 6'5" junior tortured CUT defenders in the air and showed he's more than capable as a thrower, finishing the game with a staggering four goals and three assists against the top-ranked team in the country. Robinson had been putting together a strong tournament all weekend, but the CUT game was a true breakout performance, the kind that had fans leafing through their programs to find number 21. Pitt hasn't had an elite big man since 2013 with Tyler DeGirolamo; hopefully Robinson can stay healthy and on the field for Pittsburgh in 2019 to change that.
2nd Runner Up: Kyle Rutledge (Northwestern)
When Northwestern entered Nationals as an unexpected qualifier out of the Great Lakes region, few on Ultiworld's staff had seen much of their star junior Kyle Rutledge. But given the chance to ply his skills on the biggest stage, Rutledge did not disappoint. He led the no. 17 overall seed to a 2-2 finish in pool play and a spot in prequarters at their first-ever Nationals. Though Rutledge didn't set the stat sheet on fire (4G/11A/4D), he was incredibly efficient, accounting for only two turns despite being a primary option for NUT. He was consistently the initiating cutter for Northwestern and would make the hardest throws for them after that, whether or not they went directly for goals. He was the clear driver of the offense, often receiving the disc every other throw. The decision to play Rutledge as much as possible in the second half of NUT's final pool play game against Auburn helped drive the team to a come-from-behind victory and their spot in the bracket.
Rookie Of The Year
John Randolph (Brown)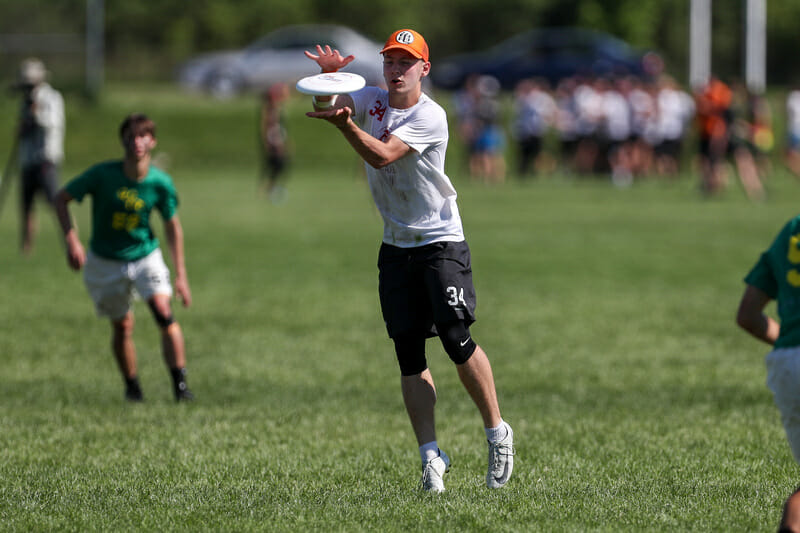 Though Darkside's Liam Searles-Bohs gobbled up all the preseason headlines as the country's top recruit, John Randolph went about his business and put the rest of the country on notice tournament after tournament throughout the 2018 regular season and Championship Series. The Brownian Motion rising star, who was recruited by CUT head coach Phil Bowen as early as ninth grade, performed with confidence and ability beyond his years all season long.
In any given game, Randolph could function as a primary initiating hybrid for Brown's offense while also anchoring their defensive unit with Eli Motycka. He displayed not just the lateral quickness to frustrate and evade his handler peers, but also the straight-line speed to threaten and patrol the deep cutting lanes. And that says nothing of his decision making with the disc, which could earn him a spot on almost any elite club roster without any refinement. Opposing coaches were forced to make a weighty choice reserved for the division's most versatile offensive threats (but not many freshmen): do we force him under and let him beat us with his throws, or do we force him out and let him beat us with his speed?
What's more, Randolph raised his performance and output when his team needed him most. He dominated national-team-level matchups in Brown's regional championship victory over Massachusetts and led the entire men's division at Nationals by catching 25 goals and averaging the highest +/- per game (4.83).
Whereas the typical incoming freshman with some high school experience needs extensive development before being trusted to start or play on the offensive line, Randolph proved to be a generational exception. It's hard to identify another freshman in the Men's Division who'd arguably be the star or focal point of his team's double game point line at Nationals, and Randolph was that player for Brown in 2018.
1st Runner Up: Liam Searles-Bohs (North Carolina)
While that preseason hype didn't give way to a projected ROTY award for LSB, the highly-touted recruit put together an impressive campaign befitting of his talent and role. Those two things allowed him to be a key cog on the National Champion UNC, where he was one of the team's top players in both touches and points played. As an O-line stalwart for one of the best units in the division, Searles-Bohs showed off the consistency and versatility that make Darkside's offense hum, attacking off the catch with his size and skill while making few mistakes. His relatively meager stat line is more reflective of his team's depth than his lack of ability to impact the game. Expect that impact to rise in the years to come.
2nd Runner Up: Johnny Malks (William & Mary)
Coming into his freshman year of college with a season playing for Truck Stop already under his belt, people were expecting big things from Jonny Malks. Despite the hype, Malks managed to exceed expectations in 2018, turning William and Mary into a Nationals-caliber team in his first season. Entrusted with a dominant role from the get-go, he was the fulcrum of the team's attack, putting up an insane usage rate as the primary playmaker for Darkhorse. While his season was tragically cut short–he suffered a broken wrist in the game-to-go at Regionals–his presence was still felt at Nationals in absentia. William and Mary's offense sputtered without him, only underscoring how valuable this freshman was to his team.
Coach Of The Year
Nick Kaczmarek (Pittsburgh)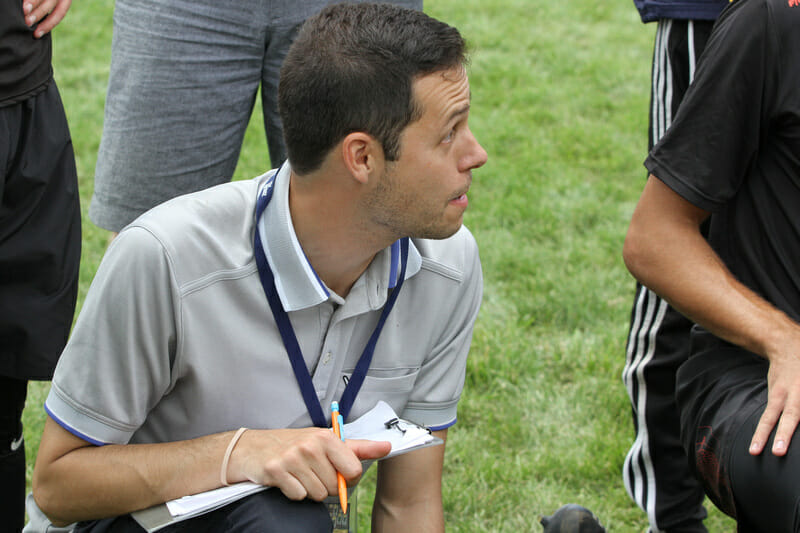 Let's be honest, did anyone have Pitt in the national final?
In his seventh season as Pittsburgh's head coach, Nick Kaczmarek probably faced his biggest challenge in 2018. Pitt had to replace seven starters, including five veterans from 2017's formidable defensive unit. They kicked off the spring with a subpar performance at Queen City Tune Up. The potential for a bleak, forgettable year seemed possible. Yet somehow Pitt rode the ninth seed at Nationals all the way to the final. Kaczmarek created the right conditions for an unusually long growing season, producing The Program's third trip to the national championship game.
Pitt had slowly rounded into some semblance of their classic form by regular season's end. But much of what got them to the level we saw at Nationals had to do with Kaczmarek's institutional knowledge of how to maximize the layoff between Regionals and Nationals. During a tricky time of year when school is out of session, he knows how to maintain quality practices and ramp up for the culminating event.
At Nationals, Pittsburgh was unmatched in terms of their preparation. Kaczmarek is a known film junkie, and tape study is a critical part of his players' game planning. You can hear Pitt's sideline helping their D-line, not just with pointing out the "shooters" but in unison calling out the preferred break of the player with the disc. In a college ultimate world of clichés and coaching platitudes about being "only focused on ourselves," Pitt's coaching staff embraced opponent-specific adjustments. The starting lines–both offensively and defensively–varied game to game depending on matchups.
That preparedness was on display as Pitt made their Cinderella run to the final. The offense didn't surrender a break in two critical games, against Washington to take the pool and against Wisconsin in quarterfinals. Their once gutted D-line was one of the most cohesive units in the country at season's end, as they put the screws to #1 Carleton and some of the most polished players in the division. It all came together in the end–Pitt peaked at exactly the right time.
They had their work cut out for them this spring, but Kaczmarek and assistants Marcus Ranii-Dropcho and Colin Conner took what could have been a year to forget and made it one of the program's most memorable. For that, Kaczmarek earns his second consecutive College Coach of the Year award.
1st Runner Up: Darryl Stanley (Maryland)
It's no surprise that the head coach of Truck Stop and the DC Breeze would have an immediate impact on a mid-tier collegiate program, but thanks to Darryl Stanley, Maryland far exceeded expectations this year. They notched upsets over NC State and UNC-Wilmington at Regionals thanks to a strong gameplan in the wind that picked apart the favorites. Maryland managed a gutsy pool play performance in Milwaukee; despite going only 1-3, their losses were by a combined four points. That tenacity in the postseason is a testament to Stanley's coaching, as Maryland pushes to become a power in the Atlantic Coast. This is Stanley's second recognition for coaching from Ultiworld, after earning runner-up honors in 2017 in the Club Division with DC Truck Stop.
2nd Runner Up: Mark Burton (Washington)
As silly as the Washington Sundodgers were this season, there was beauty in the way the team embraced The Weird. At the same time, they absorbed new offensive tricks and sets that highlighted their players and brought their talent floor up. Each of these changes is an accomplishment in its own right; doing them all at once is like repairing an airplane mid-flight. Mark Burton's mix of competitive and strategic know-how, along with his nose for strong team culture, worked wonders in his first year as Washington's head coach. Even though the final standing will look a lot like 2017, Burton's leadership and guidance helped the team return to quarters, behind a voracious defense and well-spaced offense. If previous Washington teams succeeded with precision, no-splash dives, Burton's Sundodgers got there with multiple cannonballs.
---
To go along with a U24 Mixed Gold Medal and a 2016 Mixed Club Championship with Boston Slow White. ↩