The top stories and players from Friday.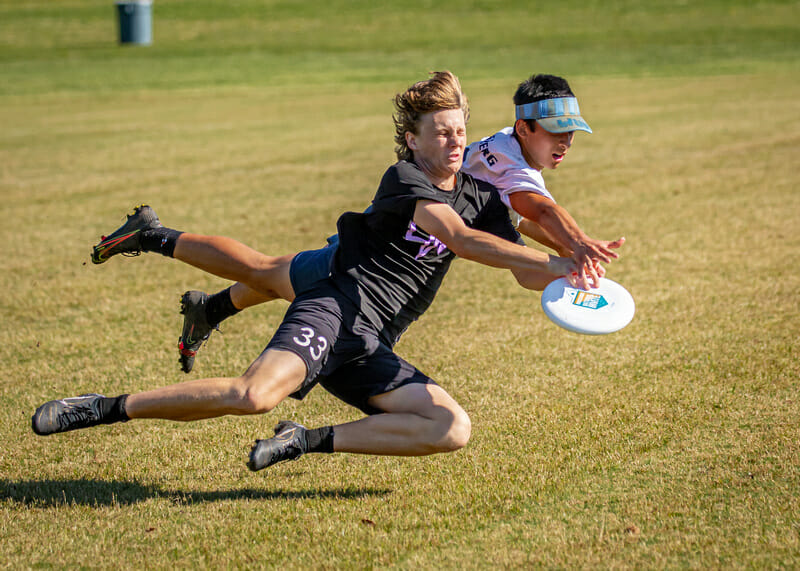 This article was co-authored by Tyler Byrum.
RICHMOND — High School National Invite 2022 commenced with Boys Division play Friday, as teams dealt not only with some of their toughest competition to date but challenging conditions and a new level of pressure. Some rose to the occasion while others wilted. Most kids were joyous to be taking the fields with their teammates, in front of parents and fans, to play against strong and spirited competition. While the fans got some thrills, there were some narratives that emerged from the day's three pool play rounds.
The Saturday Bracket
Pool play results can be found here.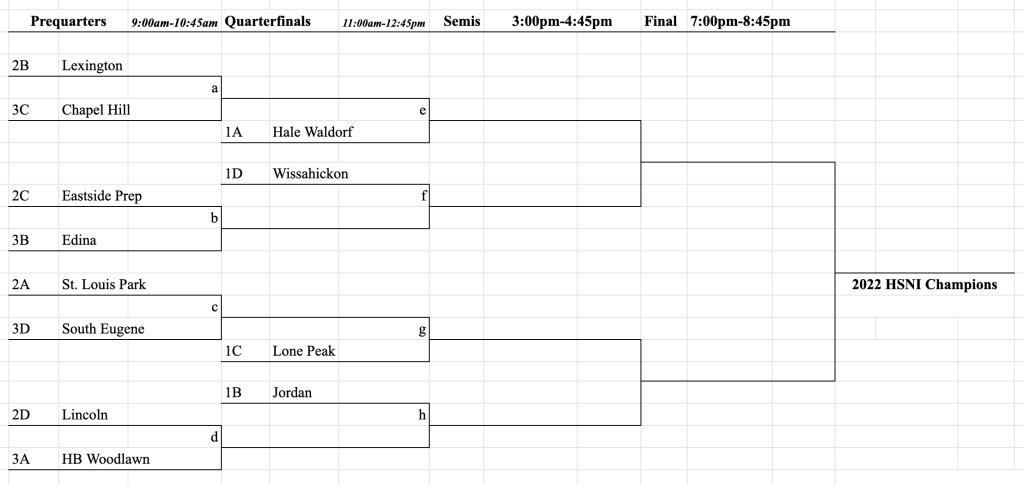 North Carolina Teams Struggle
Aside from Jordan, if you hailed from the Tar Heel state, fortune was not kind to you on Friday. East Chapel Hill — #9 in Ultiworld's power rankings entering the event — went a disappointing 0-3 in Pool A with results that were well in hand by the second half. The schedule was not too kind to East Chapel Hill as the day started against St. Louis Park (MN), who didn't have many results this season to best gauge their seed. Crush came out with a zone defense on the first point and took a commanding 8-4 lead at half. HB Woodlawn then jumped out with three straight goals to start their second game and cruised from there.
Those same struggles can be said for CFS out of a competitive Pool D, who finished with a -21 point differential. When their deep game was working, they could punch defenses, but when pressed to work the disc with discipline, they had difficulty maintaining extended possession. In their tournament opener against a strong Lincoln squad, they looked like a worthy challenger, hanging tough at 9-7. But their attack short-circuited and they couldn't find the end zone again as Lincoln pulled away.
Chapel Hill was able to break seed thanks to their final round win over Lexington Pi, but they struggled for much of the day. They opened their day getting outrun by Lone Peak, registering just a single second-half score. But they bounced back with a competitive effort against Eastside that was surely disappointing to come away from empty-handed. Pi was nearing empty when CHUF found them, but it wasn't much consolation for a team that has to feel like they could have done more.
Depth Is Key
The hot and sunny conditions were certainly a factor, especially for teams from the Pacific Northwest. The high temperature was 82, mostly sunny with 70% humidity. Nathan Hale/Waldorf in particular were noting how the heat was something they simply weren't accustomed to and was worried about maintaining a high level of play throughout the tournament.
Only five boys teams actually reached the 15-point cap. Part of that is due to the competitiveness for a majority of the pools but also how some teams were forced to grind out long points. The abundance of zone sets also contributed.
As the day went on, this became evident for teams with shorter rosters like Chapel Hill, CFS, and Washington-Liberty.
Regional Rulers On the National Stage
One of the elements of this tournament is that it is hard to know how teams from different areas will compare, without many connective results from the season to tie things together. Edina and Wissahickon turned heads in the regular season but had different results today.
Edina left the fields on Friday disappointed with their overall results. They came in with high aspirations as the no. 7 seed but only managed one victory over Washington-Liberty. Edina's losses, however, were in close games — by one and three points, respectively. This tournament was some of the stiffest competition they've faced this year. Edina and St. Louis Park laid claim to Minnesota without many close games.
The same was true for Wissahickon, who had a dominant season in Pennsylvania. They showed up to Richmond ready to play, with a ton of energy and strong red zone execution. When their defense was locked in, Wiss started to show the signs of being one of the elite teams, but those moments were sporadic. Their clutch time performance against Lincoln was one of the brightest moments of the tournament, but they had a tough time with South Eugene in the final round.
Are Nathan Hale and Lone Peak the Standalone Favorites?
The merged team of Nathan Hale/Waldorf showed why they were regarded as the tournament favorites. While Declan Miller and Tucker Kalmus certainly asserted their presence in pool play, it was a great opportunity to see the breadth of their roster with contributors up and down both lines. Senior Ocean Hines had some monster pulls. Julian Walston and Gavin Leahy had solid days as well.
It was rare to see Hale/Waldorf O-line get broken, if they did at all. Two Seattle Cascades on the offensive unit will certainly help in that regard. But for a high school tournament, you didn't even see them turn the disc over, and they posted a number of clean holds.
Their closest threat was their second game of day against the impressive St. Louis Park (MN) – who is one win away from breaking seed – but Nathan Hale/Waldorf had a three-point break train to take control at the half. For the most part, the two traded points the rest of the game. Whales ended the day with a +21 point-differential, the second highest of all boys teams.
A ton of action across the open division overshadowed Lone Peak's dominance in Pool C. The pool went pretty much as expected without many close contests. Lone Peak won their games by 12, 11, and 7 to waltz into the quarterfinal round. Eastside Prep was seeded as their toughest competition, and through eight points, they were trading goals with one another. The Utah team then rattled off an 11-4 run to close out the game in convincing fashion. They're athletic and disciplined and will be a real handful in the bracket Saturday.
Zone O Required
There was wind, especially in the morning rounds, but there was an overabundance of zone being thrown out by teams up and down the division. Nathan Hale/Waldorf mixed it into their repertoire, so did St. Louis Park, Lone Peak, Edina, and several others. Occasionally, you saw teams force middle and there were multiple teams with trap sets on the sideline.
Lexington had a easy time carving through opponents zone and perhaps were most prepared with senior Andreas Padilla running the show. He seemingly was able to rip the disc wherever he wanted and in particular shredded Edina's zone while the rest of his team had trouble with resets. Padilla's hucks would reset the field and often lead to a score or force the opposition to break into person-defense.
If a team is going to want to advance deep into the championship bracket, you're going to face some zone throughout the day. It's more of a philosophy at this point rather than necessity with the wind.
Ultiworld subscribers, read on to hear about some of the most notable standout performers of day one.
High School National Invite 2022: Day One Recap (Boys) is only available to Ultiworld Subscribers
Already have a subscription? Log in
Whether you visit Ultiworld for our reporting, our podcasts, or our video coverage, you can help us continue to provide high quality content with a subscription. By becoming a subscriber, not only do you receive benefits like exclusive articles and full article RSS feeds, you also help fund all of Ultiworld's coverage in general. We appreciate your support!