Another championship for Revolution Pro.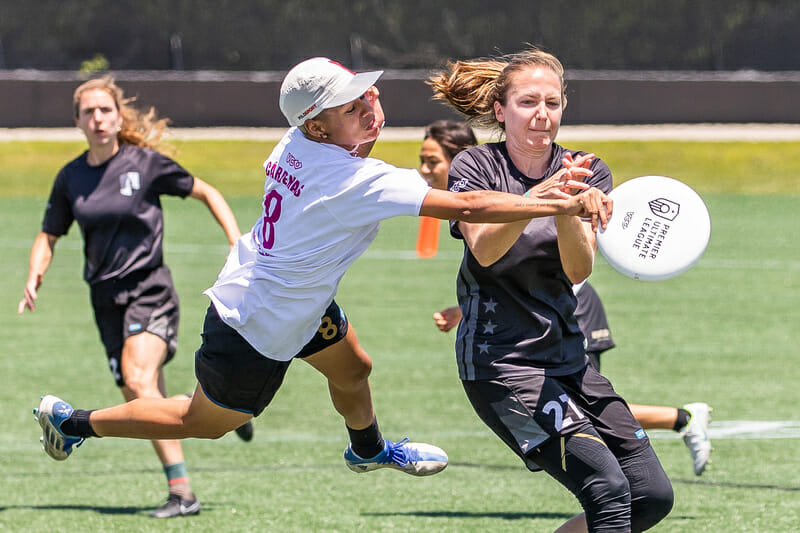 The Premier Ultimate League Championship Weekend put a bow on the end of the league's second season and a crown onto the heads of Medellín Revolution Pro. It must fit quite comfortably, as they have been its figurative caretaker since they earned the league's first title in 2019. They emerged atop the pile of the league's regional representatives that made their way to Obetz, OH to hash out precisely who should be champion through two rounds of play.
Revolution Repeat, Hold Off Steadfast Shadow
As coined by Ultiworld Editor Keith Raynor, "Revolution has become the establishment."
Indeed, Medellín Revolution Pro are now your unbeaten1 back-to-back champions, who seem unstoppable regardless of injury, illness, or fatigue. This time around they took down top seeded wild cards DC Shadow 17-15, the final score flattering the emergent Shadow as Revo Pro's eventual victory never really looked in doubt. Their short roster powered by a superstar core, Medellín maintained their pressure and execution throughout the game against a DC team that has relied on its depth and defense this season, and in the end did just enough to preserve their spot at the top once again.
In contrast to the two semifinal games, the conditions for the final were hot, humid, with just the touch of a breeze—classic summer in the Midwest weather. That didn't slow either team down in the early going, though, as DC got their first break of the game on the opening point of the game. Jackie Wang threw the final angled pass to Claire Trop for the quick 1-0 Shadow lead after a heads-up layout block created the initial break opportunity. However, that proved to be the last time DC led all game, as Medellín immediately responded with four straight scores, Elizabeth Mosquera catching three of them including a clean layout from a cross-field Manuela Cardenas forehand. The tables had turned quickly on Shadow as they now trailed Revo Pro 4-1, and they took a timeout to settle and figure out a response.
And respond DC did, picking up their first hold of the game via a pass between two former Boston Brute Squad teammates Caitlyn Lee and Trop, before breaking Medellín for the second time courtesy of an incredible play from Erin McCann. It came on the ensuing point, Shadow looking to shave the deficit back down to one and pulling out a zone look to try and stymie the Revolution offense.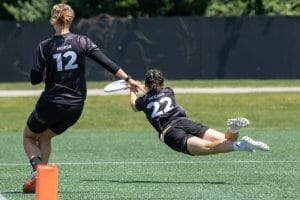 Whether because of the zone, a slip in concentration, or just simple miscommunication, Medellín then turned it on the very first reset throw of the point, and Annelise Peters moved quickly to put the disc back into play. She lofted a huck toward the end zone aiming for a streaking receiver, only for the disc to sail over the heads of both her intended target and the Medellín defender but right into the hands of a diving McCann who snared the disc mere moments before it hit the turf. She had covered 40 yards in a dead sprint in order to follow the play, and then hit the ground with perfect layout form. DC's deep sideline exploded as they trimmed Medellín's lead down to one 4-3, the game seemingly well back in play.
As great teams often do, however, Revo Pro bounced back, and just as they had after Shadow's opening break of the game, scored a flurry of points to push their lead back out to 9-3. Yina Cartagena, Cardenas sisters Valeria and Manuela, along with the aforementioned Mosquera, continued to dominate for Medellín, and were able to cover for the absences of Laura Ospina, who had been injured in Revo Pro's semifinal game, and Alejandra Uribe, who was out due to illness. Medellín's success wasn't only due to their star players, though, and the chemistry that all of the Revolution players had developed over the years was on full display as they carved apart what had been the league's leading defense. To their credit, DC were able to make a bit of a run at the end of the first half, Kami Groom, Ashleigh Buch, and Lisi Lohre some of the key contributors, but that simply brought the deficit down to three as Revolution remained up 12-9 holding the advantage going into the second half.
The third quarter was a battle as the teams exchanged outstanding block after outstanding block. Manuela Cardenas came up with the block of the game on the second point out of half, getting an incredible layout-catch block out of seemingly nowhere that eventually led to a Revolution break.
Back the other way and Buch earned a critical block for DC on a deep throw to prevent yet another Medellín break chance, and Shadow converted to take the score to 14-10. The next point seesawed, with both teams getting blocks and chances to score, but neither proved able to and the third quarter closed with Revolution holding onto that four goal lead, Shadow desperately needing breaks in the fourth.
Those breaks didn't come in time for DC, as Medellín were able to hold on each of their first three offensive points of the quarter to keep Shadow at arm's length. Cartagena picked up two more assists as Revo Pro kept their composure while DC were unable to convert on most of the break chances they did have in the final quarter. An amazing catch from Shadow veteran Raha Mozafarri off of a tipped near full-field huck thrown by Buch did give DC one final break that brought the game within two with just under three and half minutes left, but Revolution did just enough to ensure that was the final score of the season. It did take a massive, and ruled clean, Manuela Cardenas full-extension layout block on a deep throw to Buch to keep the Medellín lead at two, but in the end Revolution made it over the line. They retain their undefeated mantle for at least another offseason, singular champions once again of the Premier Ultimate League.
DC Dominate, Roll Red
In the first semifinal of the Premier Ultimate League Championship Weekend, DC Shadow demonstrated exactly why they deserved the top seed as the wild card team blew past Indy Red 21-5 in a game that was never really in doubt. Shadow led wire-to-wire, opening with an upwind break-downwind break combination before reeling off eleven straight points in the second half to cruise into the final. Following a regular season during which they held teams to just over nine points scored per game on average, DC put on yet another defensive clinic against Indy.
Windy conditions out at Fortress Obetz made for a slow start to the game. Shadow edged ahead initially 2-0 before Red were able to get on the board on their first downwind offensive possession to take it to 2-1, with Tracey Lo, one of Indy's most pivotal players, finishing the point off. The teams combined for four holds going downwind in the first quarter and although both teams were able to generate break chances, neither could generate enough momentum going upwind in the early going to create much separation. Nonetheless, with two breaks in their pocket DC held a slim two point lead 4-2 as the first quarter neared its end.
Ahead of the conclusion of the quarter, though, Annelise Peters pulled upwind for Shadow just short of midfield, giving Red a fantastic opportunity to get an easy hold downwind to shave the deficit back down to one. All Indy had to do was maintain possession to ensure that they would be the only team capable of scoring once time ran down and then finish the point off just as they had done on their last two offensive points.
Instead, a Red reset throw floated, went off the receiver's hands, and suddenly it was Shadow with the quick break chance to extend their lead to three to wrap up the first quarter. Ashleigh Buch tracked down DC's initial floated throw, and then hucked it to two Shadow cutters angling for the end zone. While the deep throw wasn't initially caught, an uncontested foul call gave DC the disc on the goal line, and a reset and a dish throw later Peters had the goal, giving Shadow their second upwind break of the game and a decisive three break, three goal lead after one up 5-2.
Indy did fight back as the second quarter got underway, earning their first break of the game as their zone largely stifled DC's upwind offense, Gabriella Enders getting the crucial run-through block and Tess McGrew toeing the sideline for the score. That brought the deficit down to two, but that was the closest it would be the rest of the game. Shadow quickly settled and held downwind, and then they and Red went to war. Going downwind, Indy got chance after chance to hold but could never find the final pass, with the wind and the DC defense combining to deny Red time after time. To their credit, Indy did pin Shadow back and earned their fair share of blocks, but eventually DC were able to work it up the field and an angled pass from Natalie Bova was ripped out of the sky by Linda Morse and Shadow broke back. The final point of the half went much the same way, the two teams battling back and forth, although this time neither could find the end zone and the first half finished with DC leading Indy 8-3.
Shadow opened the second half back on defense and like the first half, started with a break, Jackie Wang scoring the goal after DC's zone shut down Red's offense. While Indy were able to hold on the ensuing point to bring the score to 9-4, Julia Hill throwing the assist to Kelly Kerker, from there it was one-way traffic. DC reeled off the next eleven points, their defense putting immense pressure on the Indy offense point after point and Shadow's offense finding its footing after an unspectacular first half by their standards. That run, which spanned all but the first and last few minutes of the second half, was a pure display of the defensive excellence and offensive execution that had earned DC the top seed at Championship Weekend, and which had once again propelled them to victory and a place in the final.
Throughout that 11-0 run, and the entire game, Shadow got contributions from up and down their roster: no one player scored more than two goals or more than three assists. It was as complete a performance as DC had put together all season, and Indy just happened to be their opponent when it occurred. To Red's credit, they had a solid opening and battled Shadow fairly evenly in the first half after the opening two breaks, but seemed to wear down in the face of the relentless pressure from DC in the second half. Many might have written the Red off prior to the season, but they delivered the wins necessary on an admittedly oddball path to Championship Weekend and earned a valuable learning experience in doing so. That Shadow moved on to the final for what promised to be a barnburner of a rematch against either Medellín Revolution Pro or Raleigh Radiance.
Wire to Wire Semifinal Victory for Revo Pro
PUL fans were expecting a heavyweight bout in the second semifinal, where the regular season's top-two teams met for the chance to face Shadow for the Championship. If there was one team who seemed like a potential contender to end the dominance of Medellín Revo Pro, it was Raleigh Radiance, who added World Games player Sarah Meckstroth to a roster that already made the final in 2019 and gritted out an East Championship against a tough field in 2021. But the titanic battle was not to be. By halfway through the first quarter, Revolution had built up a multi-break lead that they did not relinquish on the way to a comfortable 18-11 victory.
The first quarter featured a mix of tone-setting and errant throws as both Raleigh and Medellín tried to establish their game plans and come to terms with a stiff wind all at once. Raleigh looked their best when handler motion from Tyler Smith and Bridget Mizener created big throwing windows for downfield cutters like Meckstroth, Jenny Wei, and Heather Zimmerman (who early on made one of the game's highlight-reel plays with a big layout catch). Revo Pro, meanwhile, worked their trademark tight resets until their big throwers – namely, Yina Cartagena and Valeria Cardenas – saw an opportunity to break open the defense.
Both teams were somewhat loose with the disc in the conditions, but Raleigh found the wind a touch more troublesome and found themselves down 7-4 heading into the second quarter, a score that could have been worse if it weren't for a perfect possession after time ran out in the first. To open the next quarter, Alejandra Torres knifed a long crossfield inside forehand against the wind to unlock a staunch Raleigh defensive effort. At that point, the game went from turnover-friendly to turnover-dominant. The teams combined for just two goals in the second quarter of play. Unfortunately for Radiance, both points went to Revo Pro.
Trailing 9-4 to open the second half, Raleigh found their footing on offense using a well-orchestrated side stack for a quick hold. Two points later, Ashley Powell found Meckstroth from flow: it was, finally, the kind of sound, assertive ultimate the Radiance had played during the regular season. Revo Pro matched their brilliance, however, and kept the lead. Lien Hoffmann – an major American pickup for Championship Weekend – was characteristically poised and athletic downfield for Medellín, giving them another long-range option next to Laura Ospina and Elizabeth Mosquera.
When Grace Conerly dove ahead of Cartagena for a block, it looked as though Raleigh might mount a comeback. They took a timeout to put their O-line on the field, but tight Revo Pro defense ensured that they did not complete a single throw on the counter. Given Conerly's ability to huck in transition – a skill she displayed on a (too little, too late) fourth quarter break – it might not have been an optimal strategy to stop the attack with the disc on the sideline. But the way Revo Pro played, it likely would not have mattered much. Medellín moved on to the final, and Raleigh will have to wait for next season to take another shot at them.
---
In the PUL ↩