The best defenders of the 2022 spring season.
Ultiworld's 2022 College Awards are presented by the National Ultimate Training Camp; all opinions are those of the author(s). NUTC helps young players become better athletes and community members.
Each year, Ultiworld presents our annual College Awards. Our staff evaluates the individual performances of players from throughout the season, talking to folks around college ultimate, watching film, and look at statistics, voting upon the awards to decide those to be honored. The regular season and the college Series are both considered, with extra emphasis for performances in the competitive and high-stakes environment at Nationals.
Our awards continue with the Defensive Player of the Year, recognizing the individual, and two runners-up, who we felt were the top defensive performers this spring.1 Whether through generating blocks, shutting down options, helping out teammates, or all of the above, these defenders stood out doing the tough work that too often go unrecognized.
---
D-III Men's 2022 Defensive Player Of The Year
Winner: Gordon Larson (St. Olaf)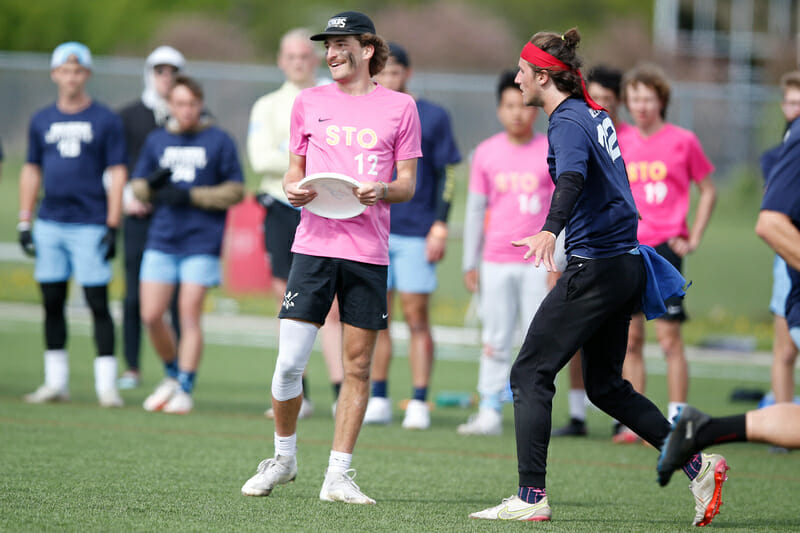 As a coach, it's a luxury to have the kind of defender who can be left on an island and hold their own with the best players on opposing teams. When that player not only holds their own, but also gets blocks, it's almost unfair. St. Olaf had the best defense in the country this season, and Gordon Larson was their best defender, making him a clear-cut choice for Defensive Player of the Year.
Larson is fast and quick, and while already decently tall, his athleticism allows him to play even bigger than his size. This combination of size and speed gives Larson the ability to take a wide variety of matchups, and he most often found himself matched up on hybrids and initiating cutters. Perhaps the most understated part of his game is his marking; even when his matchup managed to get the disc, Larson applied tremendous pressure on the mark, forcing players into turnovers that don't show up on his stat sheet.
Perhaps Larson's best performance of the year came in the semifinals against Berry, where he matched up against 1st Team All-American Caleb Enright. After torching defenders all season, Larson had Enright in hell, relentlessly applying pressure and keeping Enright out of rhythm. Larson had two blocks and forced Enright into six turnovers, frustrating Berry's star into his worst game of the tournament.
Larson is a player who we wrongly described as a role player earlier this season. Larson is a defensive star, and we can't wait to watch him continue to frustrate opposing offenses for Sub Zero, the Wind Chill, and anywhere else his career takes him.
First Runner-Up
Emmanuel Kameri (Oklahoma Christian)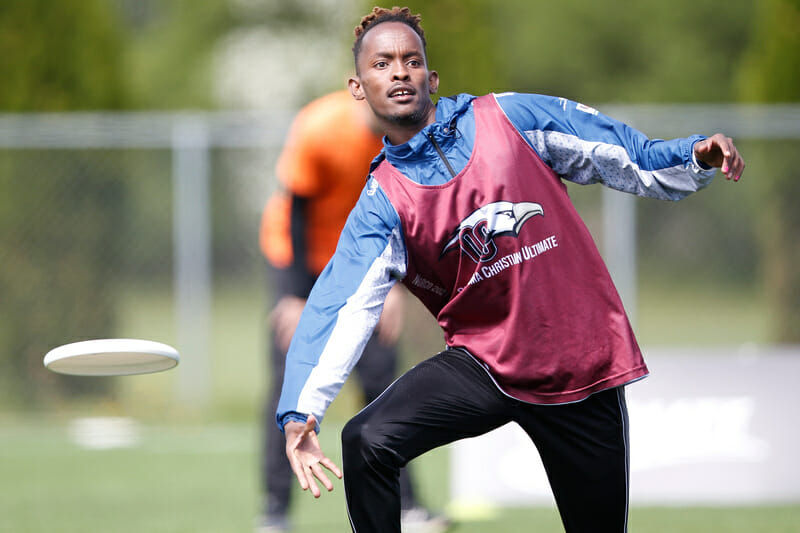 After a less-than-convincing performance in the fall, the Oklahoma Christian D-line looked like a totally different unit this spring, and a lot of that is due to the performance of Emmanuel Kameri. The Eagles' average margin of victory in Norco was 2.5 goals; in Milwaukee, it was 4.83. Kameri led a defensive unit that looked more in sync and aggressive than they did in the fall. While above-average as a defender in 1v1 situations, Kameri's biggest strength is as a help defender. Many of his blocks appeared to come so easily that they seemed like gifts from opposition, but watching the film shows that Kameri's awareness and positioning is what make these blocks look so easy. Just a freshman this year, the scary thing for the rest of the division is that Kameri was this good despite still having room for growth. It will be shocking if he doesn't win this award at some point in his career.
Second Runner-Up
Chris Gmeiner (Berry)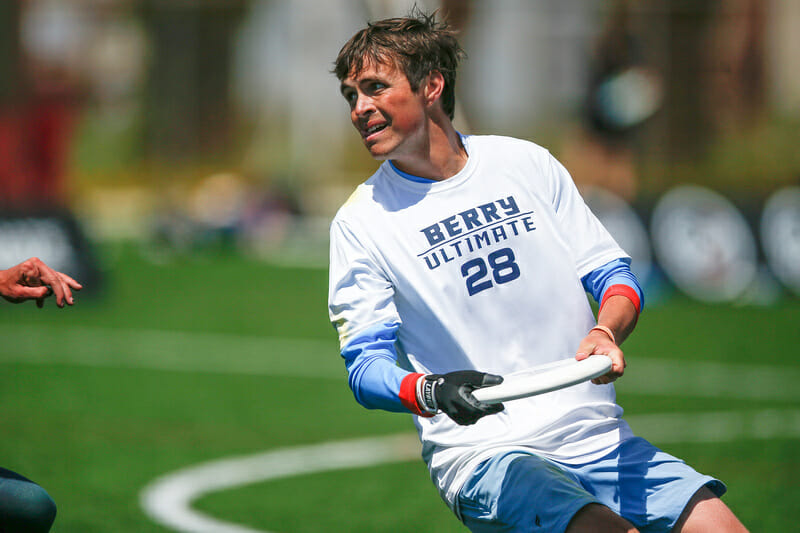 After flying under the radar for the fall season, Chris Gmeiner announced himself with layout blocks on unders on the first two points against Richmond at FCS D-III Tune Up in early March; there would be no missing him this season. Gmeiner had a phenomenal season for the Bucks, and while his offense was nothing to sneeze at, his defense was his calling card. The senior consistently took the opposing team's best cutter and racked up numerous highlight blocks. Despite usually having the toughest matchup, Gmeiner tied for the most blocks for Berry at Nationals, and the anxiety his matchups felt from his narrowly-missed bids and constant pressure led to countless other mistakes. Berry is going to have a lot of offensive production to replace next season, but they will miss what Gmeiner brought on defense just as much.
---
Excluding the Player of the Year, who is not eligible for this award. ↩