Highlighting players who took a leap toward stardom in the division this spring.
Ultiworld's 2022 College Awards are presented by the National Ultimate Training Camp; all opinions are those of the author(s). NUTC helps young players become better athletes and community members.
Each year, Ultiworld presents our annual College Awards. Our staff evaluates the individual performances of players from throughout the season, talking to folks around college ultimate, watching film, and look at statistics, voting upon the awards to decide those to be honored. The regular season and the college Series are both considered, with extra emphasis for performances in the competitive and high-stakes environment at Nationals.
The Breakout Player of the Year recognizes rising juniors and seniors who made themselves known in a new light this season. While our nebulous definition of "breakout" reflects an evolving set of criteria, rather than celebrating the improvement of those from whom big things were already expected, we aim to use this award to celebrate the emergence of those who previously have not been on the national radar. Whether it be through growth in ability, role, or both, the Breakout Player of the Year and runners-up honor those who rose to the occasion with improved and high-impact performance on a new level this season — putting them squarely in the spotlight moving forward.
---
D-III Men's 2022 Breakout Player Of The Year
Winner: Jacob Cowan (Grinnell)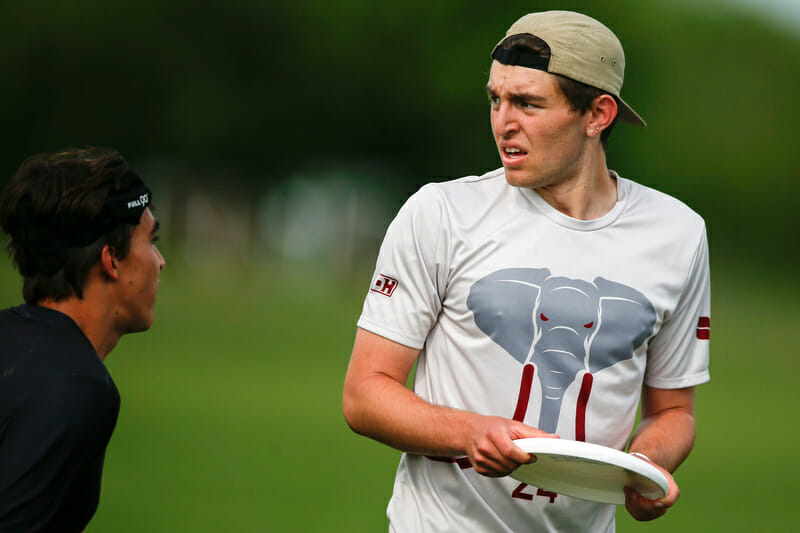 This is my favorite award to give out each year. Despite our best efforts, it's impossible to get a look at every D-III team during the regular season; as a result, there's always a handful of players that catch our eye at Nationals who we've previously never heard of. No player captured our attention like Jacob Cowan, and he was a unanimous choice for our Breakout Player of the Year.
You know those people who are good at everything they touch? Cowan looks like one of those people while playing ultimate. Tall, lean, and athletic, everything the junior does on the field looks smooth and effortless. Cowan was omnipresent for the Grinnellephants offense, starting most possessions downfield but confidently stepping into the handler space against zones and near the goal line. Cowan's stat line from Nationals was wildly impressive, finishing with 7 goals, 18 assists, and 9 blocks, and somehow his performance felt even more impactful than the numbers suggest.
Grinnell were surprise qualifiers for Nationals, and they exceeded expectations with a tenth-place finish. Cowan's breakout performance was one of the keys to their success; with another season of development for Cowan and the rest of the Grinnellephants, we should see them at Nationals again next spring.
First Runner-Up
Matt Pindilli (Scranton)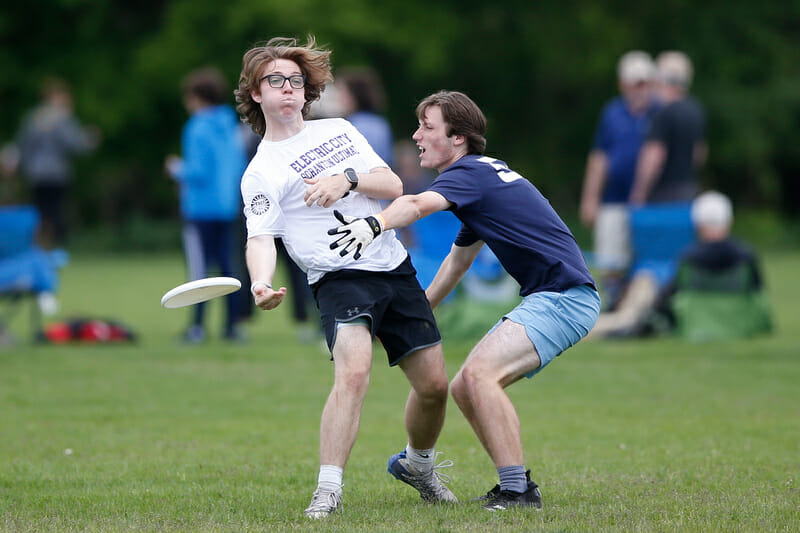 One of the many cliches that you'll often hear in ultimate discourse is describing a handler as the "quarterback" of an offense; no player at D-III Nationals was more fitting of this cliché than Matt Pindilli.
Having not seen any footage of Scranton before Nationals, we wondered what brought about their meteoric rise to relevance in the division. The answer is Pindilli's right arm. The junior handler led the tournament with 31 assists, including 9 in Electric City's prequarters upset over Claremont, and the range of throws displayed over the course of the weekend were unparalleled by anyone else at the tournament. Pindilli's confidence in his abilities wasn't without drawbacks, as he also tallied 35 turnovers, but that number is more indicative of the workload on his shoulders than anything else.
Scranton finished T-5th with a roster of all underclassmen: expect Pindilli to lead Electric City back to Nationals in 2023.
Second Runner-Up
Thomas Maguire (Oklahoma Christian)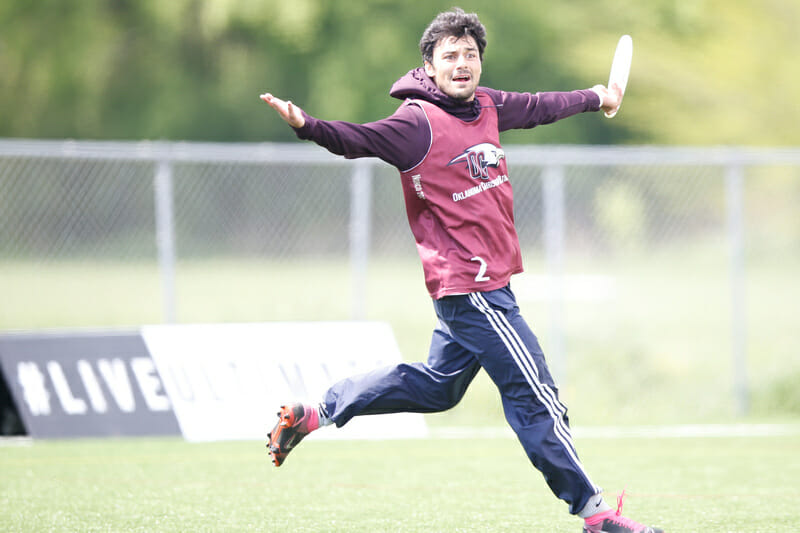 Thomas Maguire is one of the cooler stories in the division. The 22-year-old sophomore was a late comer to ultimate, and after playing with Messiah this fall and witnessing Oklahoma Christian's championship run, reached out about joining the team. Maguire acclimated himself to the bigger stage right away, shining for the Eagles and staking his claim as a future star of the division.
One of the top producers on the Eagles defense all spring, Maguire saved his best performance for the championship game. He caught five goals, all for breaks, and in a variety of ways: deep goals in traffic, timed cuts to the break side, and isolation cutting in the end zone. His athletic background is obvious in his feel for timing and space, and as he continues to learn the nuances of ultimate, Maguire is only going to become more dangerous.
A summer of playing pro with the Austin Sol and club on Austin Gamble will only accelerate Maguire's growth. If OC defend their title again next spring, Maguire will surely be a huge reason why.