Rounding out the 14 best performances of the 2022 college season.
Ultiworld's 2022 College Awards are presented by the National Ultimate Training Camp; all opinions are those of the author(s). NUTC helps young players become better athletes and community members.
Each year, Ultiworld presents our annual College Awards. Our staff evaluates the individual performances of players from throughout the season, talking to folks around college ultimate, watching film, and look at statistics, voting upon the awards to decide those to be honored. The regular season and the college Series are both considered, with extra emphasis for performances in the competitive and high-stakes environment at Nationals.
Our All-American teams recognize the top performers across the division. While previously we have closed our Awards with our First Team and Second Team, displaying the top seven and next seven players who had the best seasons, they have been moved up in the schedule. As our voting process is ordered, the top vote-getters for All-American honors function as the ordered list in our Player of the Year voting — our highest individual award.
---
D-III Men's All-American Second Team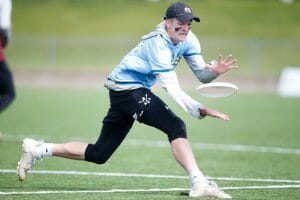 Luke Bleers (St. Olaf)
The St. Olaf Berzerkers had the best D-line in the division this season. They were big, physical, and intelligent, and on a turn, they were aggressive and direct. The player who most embodied that unit's identity was junior Luke Bleers, and his leadership on that line earned him a spot on our All-American 2nd Team.
Bleers put on a handler defense masterclass in Milwaukee, harassing and pressuring the best throwers on every team the Berzerkers faced. There's a balance to be had between physicality and fouling, and while Bleers occasionally crossed that line, more often than not he was reading his opponents and using superior positioning to muscle them out of their desired spots.
After a turn, Bleers was fearless and ambitious, using a large array of throws to guide the St. Olaf D-line to breaks. There were times when his decision-making and execution were inconsistent (see the final against OC), but when he caught fire, Bleers was as effective on offense as any player in the division. If he dials back some of the turnovers next season, he'll have a real shot at a spot on the 1st team.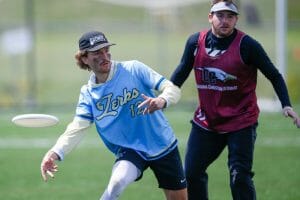 Gordon Larson (St. Olaf)
While Bleers might have been the embodiment of St. Olaf's D-line identity, it was Gordon Larson who was the best individual defender on that unit. While also more than capable on the offensive side of the disc, it's primarily Larson's defense that earned him a spot on our All-American 2nd team.
St. Olaf had handler defender specialists and bigger players to take away deep threats on opposing teams, but it was Larson who was capable of taking away opposing versatile threats, expertly mirroring their movements and shutting down initiating cuts. His defense resulted in plenty of blocks, with 10 recorded at Nationals, but the best defense often doesn't show up on a stat sheet, with Larson shutting down his matchup to the extent that no throw went up to be blocked.
While his defense is certainly the strongest part of his game, Larson was also an asset on the turn for the Berzerkers, notching 5 goals and 9 assists in Milwaukee. While his career at St. Olaf is over, we'll continue to get to see Larson play at the club and semi-pro level for Sub Zero and the Wind Chill, respectively.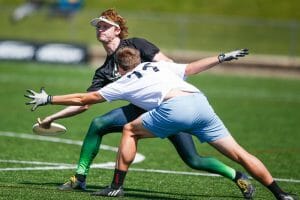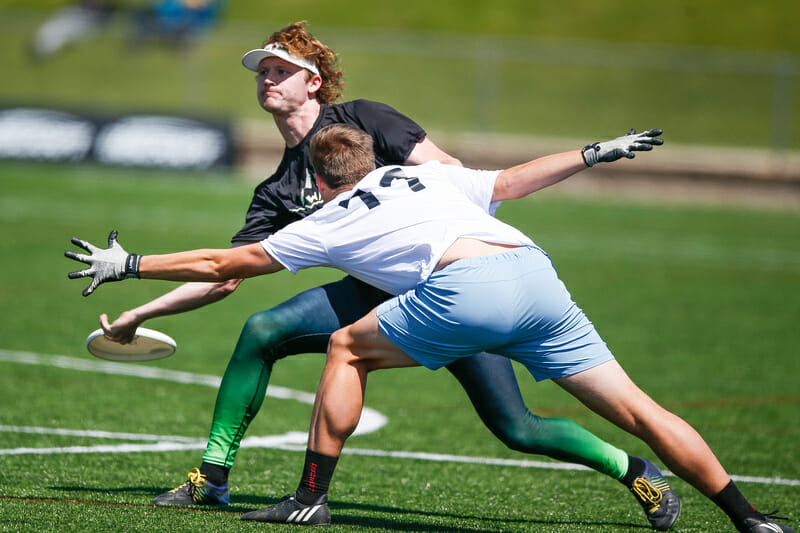 Lincoln Grench (Colorado College)
Being the best player on the team that won the toughest region in the division, leading that team to a quarterfinals finish at Nationals, and landing a spot on the All-American 2nd team is a pretty damn good season.
Lincoln Grench was the best player on Wasabi this season, playing a variety of roles and on both sides of the disc. On offense, Grench primarily served as Wasabi's center handler, using his size to break the mark and launch powerful throws in any conditions. On defense, Grench was solid in 1v1 situations, but his best work came as a help defender, using his IQ and awareness to sniff out opportunities to swoop in for a block.
Grench didn't play his best in Milwaukee. With a few key players missing for Wasabi, it looked like he was asked to do too much, and he wore down over the course of the tournament. But Grench showed 1st team level talent all season; don't be surprised to see him in contention for a 1st team spot next season.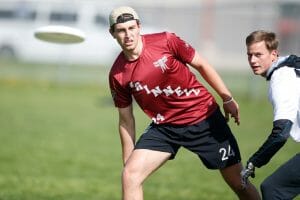 Jacob Cowan (Grinnell)
There are a lot of great players in ultimate, but not all of them make the game look easy while being great. Jacob Cowan plays as if he was born to be an ultimate player, looking smooth and confident in everything he does.
The tall, athletic junior cutter did it all for the Grinnellephants. Despite being a team that unexpectedly made Nationals after COVID doomed Carleton CHOP, Grinnell certainly looked like they belonged in Milwaukee, and a large reason for that was the outstanding play of Cowan. His play filled the stat sheet, but it was also the way he elevated his teammates that brought success to the Grinnellephants. Despite being tasked with the toughest matchup each game, Cowan was unphased and able to exert his will on each opponent.
Regardless of how they got there, getting to experience Nationals is invaluable for the development of both Cowan and Grinnell as a whole. Don't be surprised to see Cowan lead the Grinnellephants back to Nationals next season.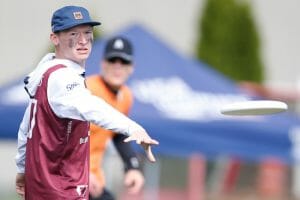 Sammy Roberts (Oklahoma Christian)
Making an All-American team as a freshman is no small feat and something that hasn't been done since 2019,1 but Sammy Roberts was that good this season.
No player improved more from fall Nationals to Milwaukee than Roberts. In December, Roberts was almost purely a deep thrower on the D-line; his range made it useful, but his game lacked maturity and nuance. The player that we saw this spring was much more composed and confident, and the result was an OC defense that scored more breaks. Compare the two championship games as an example: the Eagles scored just two breaks in the final in Norco, and they scored six in the final in Milwaukee. Roberts had no assists in the former and five in the latter.
With the departures of first teamers Elliott Moore and Jonathan Costello, OC will be counting on Roberts' maturation to continue if they're to return to the top of the division next season.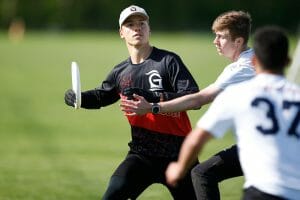 Ben Close (Grace)
In the last decade, D-III ultimate has grown up. Most of the best teams at Nationals have designated lines for offense and defense, with large enough rosters to allow for specialization and players to fill specific roles.
Ben Close and the Grace Lancers were a harkening back to days of old in D-III, with Close doing everything and playing as many points as possible for the Lancers on their way to a surprise quarterfinals run in Milwaukee, and his Herculean effort this season earned him a spot on our All-American 2nd team.
The Lancers' offensive system was simple: if you could get open, Close could get you the disc. Once you get the disc, get it back to Close so he can find the next open target. There was no reset system, no cutting trees, no progressions; there was Ben Close and six receivers. This simplification of their attack is in no way a slight to the other players on Grace, but rather an attempt to portray just how dominant Close was. Opponents struggled to game plan against him because there was no real plan, just one player exerting his will on the opposition.
The only thing keeping Close from the 1st team is his gaudy turnover numbers. These turnovers are mostly an indicator of the sheer number of touches he saw, but regardless, they're a blemish on his otherwise excellent resume. What Close did this season in leading a first-year program like Grace to Nationals was spectacular; hopefully we get to see him play at the club or semi-pro level soon.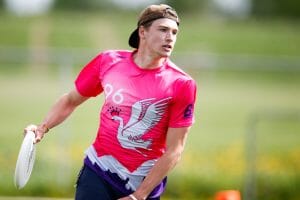 Max Hanscom (Middlebury)
In the fall, Max Hanscom made our All-American 2nd team largely on the back of an incredible statistical performance at Nationals, highlighted by 7 goals in the championship game. While his performance in Milwaukee wasn't as glamorous in the box score, Hanscom was just as important for the Pranksters and thoroughly deserving of this spot once again.
We discussed previously how Walker Frankenberg was able to diversify his role on the Pranksters' offense this spring; the elevated contributions of players like Hanscom is what allowed him to do so. Whereas Hanscom was almost purely a goal scorer in the fall, he was much more of an all-around contributor this spring, doing more work as an initiating cutter and facilitator. Hanscom's strongest trait might have been his reliability, often serving as a high-stall bailout option and rarely turning the disc over.
Just a junior this season, Hanscom will be back next year and asked to play an even bigger role for the Pranksters. His play this season indicates that he'll be up for the task.
---
Middlebury's Leo Sovell-Fernandez. ↩