Celebrating some of the top players in Europe ahead of WUCC.
The 2021 season in Europe was a strange one. The ongoing pandemic meant that there was really only one European tournament that counted and meant that preparations for the 2022 season were pushed back slightly. So far this season it's been back to something like normality, but in the rush to get back to that normality we missed the opportunity to recognize the best players on the continent in 2021. With WUCC around the corner and many of these players preparing to face the best in the world, let's go back and hand out some flowers.
Player of the Year
WINNER: Justin Foord, Clapham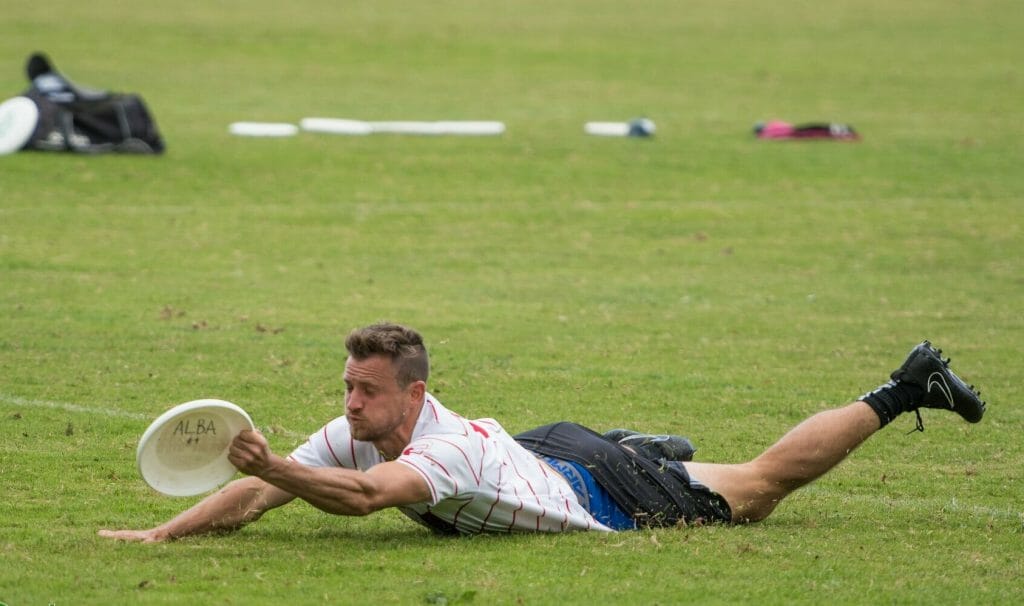 It's difficult to write more in praise of Foord's game than has been written before. If this award had been running for 10 years, he would have had at least a handful at this point. He has been the player that male European players have measured themselves against for at least that long, winning European and UK titles with Clapham and dominating Europe with Great Britain. His athleticism once defined his game, but he has become a brilliant thrower and playmaker to go alongside the still-elite ability to make huge plays as his time at the top has continued. Clapham's offense features plenty of the best players in Europe but Foord still manages to regularly stand out. He's now a threat to change the game wherever he is on the field, all the more remarkable when you consider he's the top player on the whiteboard when teams are game-planning against the Bullfrogs.
He's been on the podium before but, after a season where he delivered pretty much every time Clapham needed a lift on its quest to regain the European title and then this year starred for the Great Britain World Games team, he takes home a richly deserved first POTY mantle.
Clapham captain Josh Briggs said of his longtime teammate: "Justin has been the gold standard for elite European ultimate for a decade. Quite literally. Off the top of my head, he has eight EUCF golds with Clapham as well as two EUC golds, two EBUC golds, and one EMUC gold with Great Britain. The fact that I may be missing others1 is testament to his ability and longevity. Frankly he could win European POTY every year and no one would bat an eyelid. It has been an honor to play alongside him for the last eight seasons."
Runner-up: Ferdia Rogers, Ranelagh
It is Rogers's determination to control a game on both sides of the disc that has earned him his place as our POTY runner-up and a player to watch heading into WUCC with Ranelagh.
He is a non-Newtonian presence on the pitch, moving with the flow of the game before squaring himself resolutely and enveloping opponents in his rich, custardy embrace. It is a firm but fair brand of coverage, taught on the pitches of University College Dublin and mastered deep in the heart of Texas.
In the biggest moments of Ranelagh's 2021 campaign he brought it to bear against the strongest handlers in their opponent's armories. His EUCF quarterfinal clash with 2019 Offensive Player of the Year and breakout World Games star Nico Muller of Bad Skid felt like two generals had challenged each other to single combat for a spot in the final four.
Control is the mark of power. Whether being or breaking the force, the ability to dictate terms and influence outcomes is essential to being considered the best. Welcome to the conversation, Ferdia Rogers.
Offensive Player of the Year
WINNER: Ferdia Rogers, Ranelagh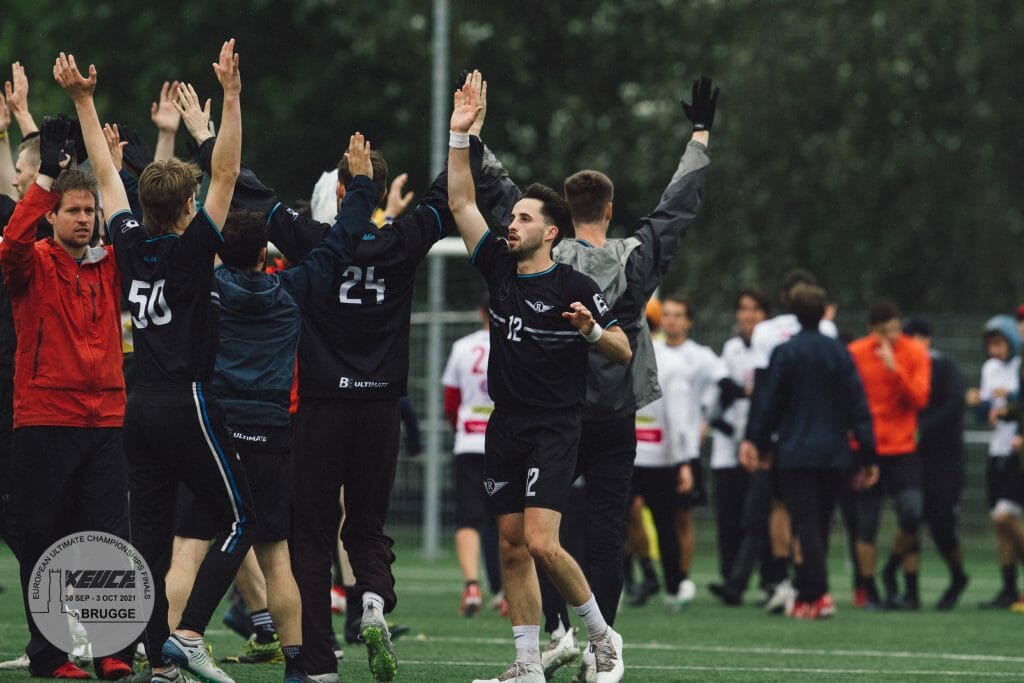 In European Ultimate offense usually follows defense at an elite level. We have seen several teams unexpectedly break into the upper echelons of our sport at EUCF, borne by the strength of their defense and surviving through the ambition of their offense.2
What defines these sparks as ash or ember is their ability to establish an offense at the highest level, to move from highlight plays and flashes of desperate brilliance into a steady, relentless force that crushes all opponents before it. That is the Irish sea change we believe Rogers represents.
He stands at the center of Ranelagh's O-line, a creature of devastating habit, attacking opponent's break side constantly with throws and movement that defies defensive game planning and infuriates opposing marks. The system in Dublin has been over a decade in the making, receivers like Stephen Jones, Tadhg Deevy, and Sam Murphy an interchangeable array of cogs all rotating around Rogers in a well-oiled strategy.
Ranelagh and Ireland teammate Jones said: "I've been playing with Ferdia for the better part of 10 years now, but last year was, without doubt, the biggest step up I've seen him make and I'm glad the rest of Europe got to see it too. I've seen first-hand how much time and effort has gone into the development of his game and it's clear that getting to this level was no accident.
"Having Ferdia on the field makes everyone else's job a lot easier. There's a confidence as a cutter that he'll get the disc to you when you make the right move and that he in turn will always be free for a reset to keep the offense flowing. He's a nightmare to mark in small spaces and won't hesitate to open up his legs to provide deep options as well.
"Ferdia is building a reputation for himself as one of Europe's elite handlers. His determination to be the best and to further Ranelagh's growth on this new stage will be integral to the future of this club."
Runner-up: Tobe Decraene, Gentle
Decraene is still growing into his game, a young player learning how to play at the most elite level in Europe after playing with Belgium's under-20 team in 2019. Any uninformed observer wouldn't really have been able to tell that from his performance at xEUCF last season, though. Decraene was dominant downfield against every opponent Gentle came up against in its surprise run to a bronze medal. Against eventual winners Clapham in the semifinal, Decraene drew the toughest matchups throughout and still managed to haul in five goals and throw two assists, accounting for seven of his team's ten points. In an interview after that game, he said: "In a couple of years I would like to be at their level of play." Based on his performances at xEUCF, the future could come more quickly than even he expects, especially after testing himself against the best in the world.
Defensive Player of the Year
WINNER: Connor McHale, Clapham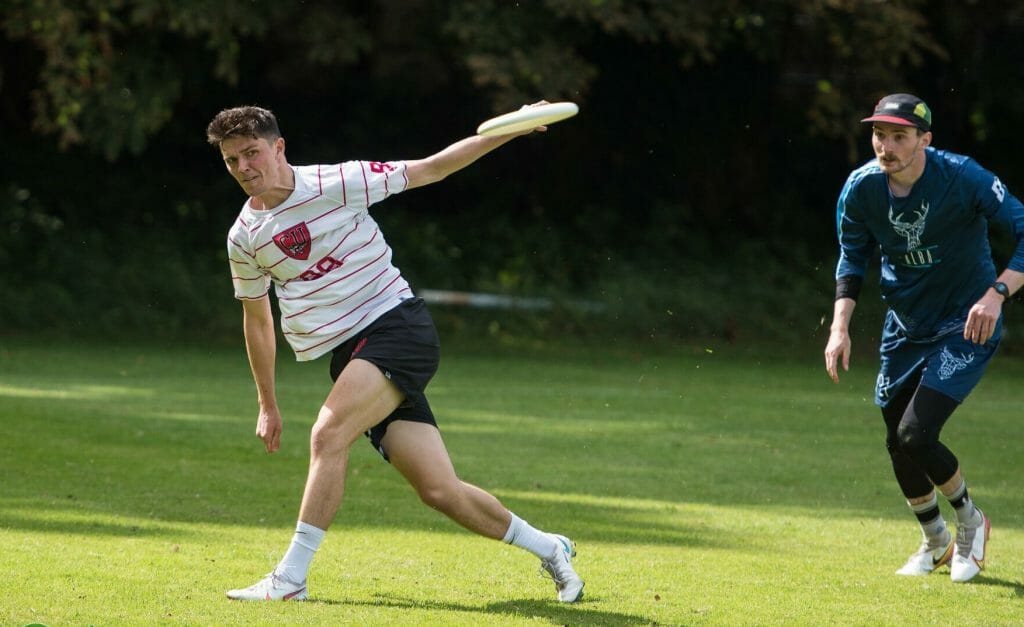 McHale has not had a linear path to the top of European ultimate. He responded to not making Clapham's 2018 WUCC squad by putting in the work to improve in almost every area. Already in possession of a big arm, he refined his pulling to become one of the best in Europe and developed his throwing to make him a central part of Clapham's D-line offense. He was already athletic, but he focused it to make more of an impact on the game and get blocks in the biggest games while also playing blanketing defense on the best cutters on whichever team he played against. His huge layout block in the xEUCF final last season showed his defensive impact, but he also caught the winning scores in both the UK and European finals.
He has become one of Clapham's bedrocks, a player who not only drives the D-line but flips to the O-line when they need a shot of playmaking and athleticism. He wasn't with Clapham in Cincinnati last time out, but he'll be a key part of the campaign this time around as perhaps the best defender in Europe.
Clapham captain Briggs added: "Connor is fast becoming one of Clapham's elite weapons. He truly deserves this Defensive POTY award for the work he does guarding other teams' best players. But don't sleep on his all-around ability, he will score on you over and over again if you don't give him the defensive attention he gives you. I really enjoy training against Connor, he forces me to improve. I look forward to seeing what the prime of his career holds."
Runner-up: Conrad Schloer, Wall City
Schloer already has a DPOTY runner-up medal in his metaphorical cabinet from his work as a PoNY player. He brought not only his elite defensive ability to Berlin last season, but also his elite mindset. Wall City went from a team that had excellent players but seemed to struggle to break into the top echelon of Europe to a legitimate contender, pushing Clapham much harder in the quarterfinals than the eventual champions would have liked. Schloer can do it all defensively – he gets blocks, he stops receivers getting touches and he helps out his teammates with smart positioning. His play at World Games has only emphasized what we already knew. He is the metaphorical rising tide, lifting the Berlin boats higher and higher.
Breakout Player of the Year
WINNER: Tobe Decraene, Gentle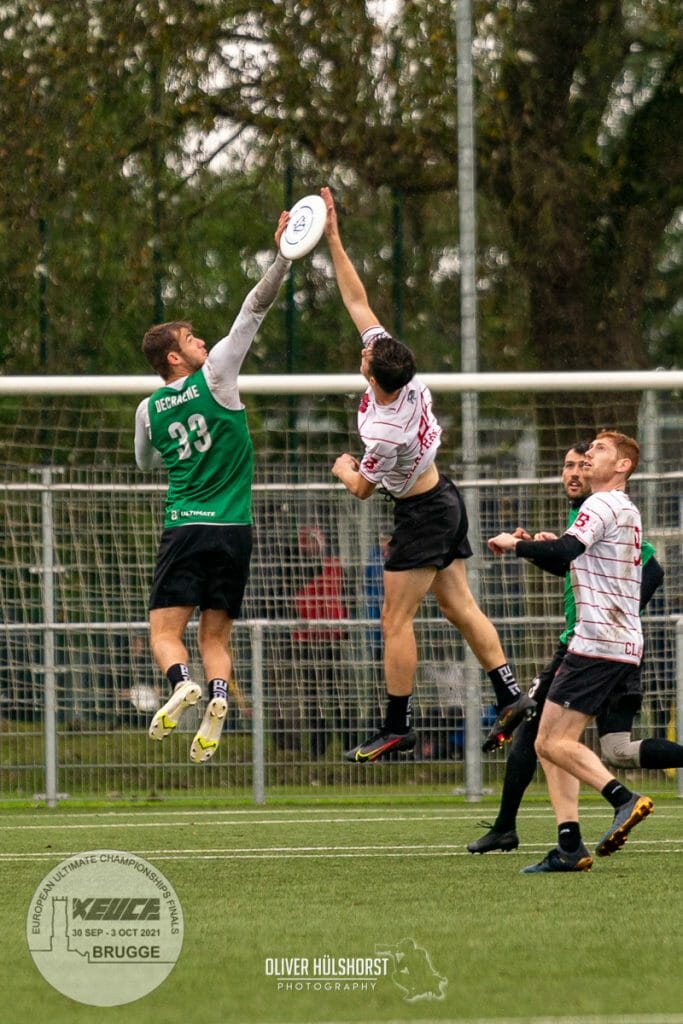 Decraene is an easy pick for BPOTY given his youth and limited past experience at this level. He showed off his playmaking ability for Belgium's under-20 team in 2019, and last year he did so at the highest level in Europe.
He was a force offensively, stretching opponents and scoring over and over for Gentle as they won European bronze medals. He contributed with the disc as well, not only throwing assists but keeping the offense moving with smart decisions and solid fundamentals. Decraene will no doubt be a leader for the next group of Gentle players to come through, but also for a Belgium program that now features a number of extremely talented and exciting young players. If he continues developing at this rate, it will not be the last time we see him on a list like this.
Gentle Open coach Benjamin Vereecken said: "Tobe Decraene emerged to be our best receiver in 2021. His tireless cutting and ability to get open deep has been huge for our offense. At xEUCF '21, I believe he scored almost half of our offense points, even with the best defenders on him. His work ethic is second to none, training almost every day of the week to become the best player he can be. The future is bright for this young man!"
Runner-up: Matteo Paradisi, Cotarica Grandes
Paradisi made an impact in Bruges as a receiver, seemingly unstoppable in the air for Cotarica as they made the top 16 in a very credible performance. He made play after play for the Italians throughout the weekend and seemed every bit an elite player in the making. He's been known around Europe for a little while after performing impressively as a 16-year-old at EUCF qualifiers in 2019, but reached a new level in his development in 2021. He's another one to look out for as he continues to develop his game and his abilities, and could be yet another hugely talented weapon in an already excellent Italy program in future years.
---
There are also two EUCF silvers, one EUC silver, one WUGC silver, and two WCBU silvers, but they don't talk about silvers at Clapham. ↩

Bad Skid's spirit-winning, coming out party in 2008, Salaspils' semi-final run in 2015, and CUSB cracking the top eight in 2013 are all good examples. ↩