Previewing the action from the week ahead.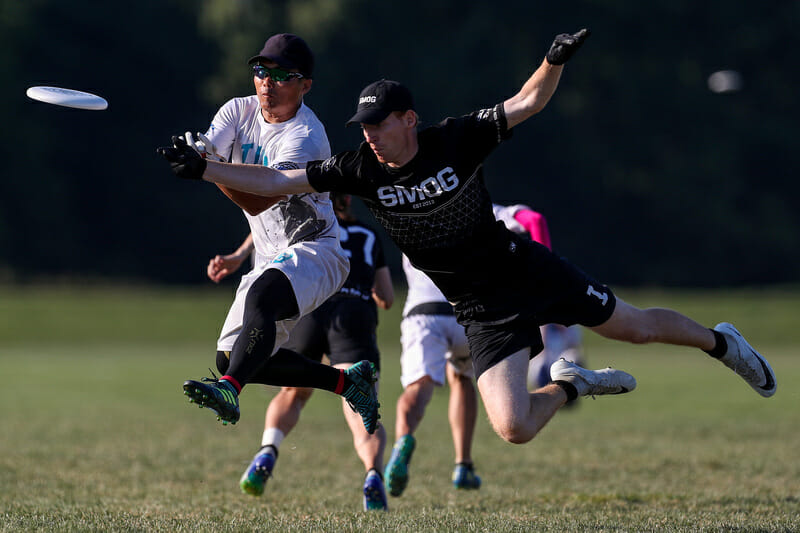 Everywhere around the world they're coming to America. After a sensational and soaked World Masters Ultimate Club Championships and a scintillating and sunny World Games, there remains one final charm in the WFDF calendar this season to mark ultimate's return to the world stage.
In 2018, the Mixed division in Cincinnati was a decidedly American affair as all four semifinal spaces were held by homegrown teams, a notable jab back at the cracks other divisions dared to poke in the established hierarchy of our sport. However, Mixed has always been the more mercurial manifestation of ultimate and as reigning champions BFG survey the field this year they would be remiss to dismiss the talent coming from all corners of the globe. Canada is sending savage squads from sea to sea to Cinci. Europe has been hard at work developing a range of clubs dedicated to a division that has historically been seen as the 'second choice' in the old world. The first generation of challengers from South America have grown into leadership positions and are armed with a new battalion of proud potential and unfazed intent to mount the next charge at the medal positions while across the Pacific the rising sun has brought with it a fresh wave of ambition from Asia and Australia to crash upon the land of opportunity.
We will bring you all the action all tournament long, and to get your tactical taste buds tingling, here are some of our preview picks for the week ahead.
Top Bracket Contenders1

Brisbane Lunch Box (Australia)
Boasting a self described 'perfectly balanced meal of players,' Lunch Box are packed with talent and carry the kind of Australian positivity2 that makes them a serious threat for the later stages of the tournament. Largely a Brisbane based team, but bolstered by players from further afield as well, this squad have run the World Games silver medalist Crocs squad very close in pre tournament warm-up games. Expect captain Ash McInnes to lead from the front, flanked by veterans Calan Spielman and Scott Perry, though this team's true strength is their depth and the connections they have built throughout various campaigns on Australian International outfits. Nothing is guaranteed at WUCC, but this is one squad looking to upset more than just stomachs next week.

Vancouver Red Flag (Canada)
A newer team on the Canadian scene, Red Flag have already flown high in their national championship taking gold in 2021, their inaugural year of competition. However it remains to be seen how this domestic success translates to the international stage. They are no neophytes to foreign affairs, as Red Flag are stacked with talent blooded through the Canadian U20 and U24 national programs. Red Flag's players also have a lot of experience in the Open and Women's divisions with players like Katie Wong and the Mot twins from Traffic and several former Furious George players including Will Vu, Peter Yu, and Sam Creed. Blending talent with raw aggression on both sides of the disc, it will be interesting to see if they fly high in Cincinnati or fold under the pressure.

Helsinki PuTi (Finland)
PuTi consider themselves to be the best Mixed team in Europe. Their recent match-up against rivals GRUT at Windmill would give an edge to the flying Dutchfolk, but it's important to remember that skirmish was on their home turf. Cincinnati is neutral ground hungry for the guts and glory the Finns are synonymous with. Responding to their high seeding, Jarno Sivho said: "That came as a surprise I think, but gives us a good place to start. We already know we are in the top in Europe and beat some US teams in Windmill so it gave us some boost in confidence as well. Now we just need to show that we belong in the top 8 in the world — and possibly even higher." Not a people known for their hyperbole, we love the confidence coming from the Finns.

Amsterdam GRUT (Netherlands)
The youthful urges of 2018's GRUT has aged into a matured desire. From the showcase game last tournament, the Dutch sought to write their names large on the world stage, bringing some of the most precocious young talent in the continent across the pond to bring the fight to the established US powers. They have since opened their squad to talent outside of their own program and bolstered their ranks with some much needed depth and experience. They may not have achieved every goal they set in 2018 but the world certainly knows they're coming this time.

Seattle BFG (United States)

Seattle BFG is coming in this week with a big target on their backs. They won the last WUCC in 2018 as well as USAU Nationals in 2021. Winning a second World Championship is a feat that has never been done in the division, so it would be historically impressive if BFG can manage to pull it off, though it is an achievement well within their grasp. They have set themselves up to be the strongest team in the mixed division, and have already proved that they can beat both national and international opposition.

Seattle Mixtape (United States)
Seattle Mixtape is no stranger to competing at the highest level. They have been a threat in the mixed division for years, though they have never achieved international glory. They remained absolutely loaded with elite talent, especially with Khalif El-Salaam coming straight from his World Games victory, having proven that he is one of the best players in the world. Using their prior experiences to their advantage, Mixtape is sure to be a strong contender for the gold this time around.

Ann Arbor Hybrid (United States)
As one of the highest-ranked wild cards in the Mixed division, Michigan Hybrid are bound to shake things up. They qualified for Nationals for the first time ever as a team and then surprised most observers in running all the way to second overall — a stunning opening bow. They make their next debut this week in Cincinnati. It should be interesting to see if they can come out just as strong against international competition as they did against domestic opposition in San Diego last fall.

Madison NOISE (United States)
Madison NOISE may be another wild card in this tournament. Returning to the Nationals stage for the first time in four years, they smashed their previous best finish by booking a spot in the semifinals. With the talents of players such as Robyn Fennig, Melissa Gibbs, and Dylan DeClerck, they have the top-end talent to compete with anyone and should not be underestimated. Like Hybrid, this is their first appearance at WUCC. Since they have little experience on the international stage, it remains to be seen if the international field can silence their aspirations.
Other Teams to Watch

Durham SMOG (Great Britain)
For most clubs, it's a crowning achievement to send a team to a World Championship event. Well, SMOG are sending two. Whatever is in the water up in Northern England, SMOG has consolidated enough of talent from several cities in the region inside their club to put together two squads good enough to qualify for a spot in Cincinnati. With World Games alumni Nick Williams and Rachel Naden in their ranks, it will be interesting to see if they can find the same level of international success as they've had back home. They have been a rising power in the European scene for the past few years, and we will wait to see if they can cause some of the more established teams to choke, or if they'll simply get blown away.

Quebec LAB (Canada)
Sitting just outside the top eight, the Quebecois équipe wield an impressive combination of experienced leadership and rising stars. Led by veterans and certified ultimate savants, Caroline Cadotte and Eric Dion, the Canadiens have the intelligence to adjust on the fly and the depth to fight into the later stages of the knockout rounds. Combining this savvy with the speed and hustle of youngbloods like Charles Asselin and Gwanaelle Patenaude, LAB will have many opposing teams wondering: What the Kanuck just happened?

Tokyo IKU! (Japan)
The three Japanese teams are fairly closely matched but IKU! are the only outfit returning from 2018. They have combined their past experience with an intense preparation for this iteration of WUCC. They are coming into this tournament tightly tuned to each other on both sides of the disc and ready to improve upon their previous showing. Special shout-out to fellow Tokyo club CRAZY who will be battling Brisbane Lunch Box and Grenoble Monkeys for the top of group G.

Santo Domingo Meclao (Dominican Republic)
As was the case for several clubs heading to Cincinnati, much of the original Meclao roster had visa issues getting into the US, so the Dominicans had to recruit some Americans to play. Four of the recruits come from New York's Xist — Genny DeJesus, Tayara Romero Pena, Judy Jarvis, Luisa Neves — providing a solid based of mixed experience. "Our country normally plays Open and Women, but we only get one bid and our girls never get to go so we decided to go mixed," said the team via Instagram DM. "Then in January, the USA Embassy announced that all visa renewals and applications will be moved to 2023. This caused us to lose 14 players. The short time to pay player fees meant we had to ask old community players and expats living in the USA so that our local players can be able to attend, especially our female players." Despite the obstacles, the team are excited to compete and bring the experience and knowledge back home to help grow the sport in the Dominican community.

Graz Catchup Graz (Austria)
The players on Catchup Graz generally stick to split-gendered play, however they found themselves successful when playing together in Mixed. After qualifying for WUCC, they've spent the past year preparing for the World stage. To start, they came in fifth at EUCF, which helped them gauge how they matched up in comparison to other European teams. After finalizing their WUCC roster in December, they placed in the top five of every tournament they attended throughout Europe. Their last tournament was the Austrian Championships, where they won their fourth title in a row, more than any other team in the tournament's history. Catchup Graz is a fairly young team, so they did plenty of team-building to be sure that they had their chemistry down. They will also have a coach for the first time, which will do nothing but help them succeed. Many players have a strong youth background, coming through the club's juniors program which is one of the biggest in Austria. This may be the first time you've heard of Catchup Graz, but given their trajectory, it's likely that it won't be the last.

Bogota D-Crash (Colombia)
This is their first time attending WUCC after winning Colombian Club Nationals in 2021. They won one other tournament last season and were runners-up in two others. The team was formed after some players from a university in the Colombian capital wanted to keep their friends together after graduation. At their start in 2017, they placed 12th out of 13 teams at their first Club Nationals and were content just winning one game. They have grew more successful from there, placing fifth the next year and becoming the highest-placed Colombian team at PAUC the following year in Sarasota. While this team has only been around for five years, there's a reason why they are the top-seeded Colombian team. Coming from a country with such a strong ultimate community, they intend to crash into the competition. "We are participating in Worlds with 24 players, with the objective of having a really good representation of Colombia," said Valery Gouzy. "Returning to our country, we are going to look to again achieve first place in Club Nationals."
Players to Watch
Juan Camilo Prieto Acuña, D-Crash: With big bids and bigger shots, Juan has the potential to be a highlight factory for an industrial Colombian outfit looking to break into the top 8.
Kyoko Binneweis, Mainzelrenner: Coming off an incredible World Games performance with Germany, expect Binneweis to be a consistent threat downfield in a wide open Pool D.
Lola Dam, GRUT: The recently crowned 2021 European Mixed Player of the Year, you could describe her as an immovable object on defense except she may be the fastest woman in European ultimate.
Khalif El-Salaam, Mixtape: Some may have questioned his international bonafides in the past, but the long-time Mixtape star has been one of the best players in the division for close to a decade and proved he is a global force worthy of a gold medal from his performance at the World Games. Expect him to continue his standout play in Cincinnati.
Robyn Fennig, NOISE: A player with crazy hucks who makes big plays whenever she's on the field. No stranger to big stages around the world, expect to see Fennig take flight in Cincinnati.
Eric Hytönen, PuTi: The American-Finn known for going big makes a welcome return to the land of his ancestors.
Shotaro Kinoshita, CRAZY: A lethal midfield cutter, whose antonymic mentality with the disc in his hands, is sure to rack up a lot of assists for his Tokyo teammates.
Mario O'Brien, BFG: O'Brien is a proven champion, with previous success leading his team to a national championship. A central handler who gets open for resets at will and whose ability to reel in just about any wild throw brings a valuable certainty to Seattle's offense.
Holly Reeve, Lunch Box: Lightening quick and fearless, Reeve played with Pie Wagon four years ago but is coming with a more dangerous — and ambitious — Lunchbox squad this time around.
Janelle Siwa, Red Flag: A highlight play machine, Siwa is a threat every time she gets a disc in her hands and a cutter even remotely thinking about the endzone.
Streamed Game Schedule
Sunday, July 24 – 9:00 AM: GRUT (NED) v. RATELS (JPN)
GRUT face an early test to their championship ambitions in the form of Tokyo's RATELS. This one promises to be a true clash of styles as the Dutch side's high-flying daring-do clashes with the Tokyoites well-timed artistry.
Sunday, July 24 – 11:00 AM: Deep Space (GBR) v. Condor Ultimate (MEX)
Two squads built on team unity and with plenty to prove, this promises to be a game filled with athletic plays and emotional moments.
Monday, July 25 – 9:00 AM: High Tide (IND) v. Njord (DEN)
Following on from their challenges getting a squad to Cincinnati at all, High Tide will be looking to gel as an outfit against a Danish side who have earmarked this encounter as their best chance for a Pool G victory.
Monday, July 25 – 9:00 AM: Hybrid (USA) v. PBHG (CAN)
A tantalizing match-up that could well decide Pool B, Winnipeg PBHG will be looking to build on their silver at last year's Canadian championships and steal the top seed from Ann Arbor Hybrid.
Tuesday, July 26 – 3:00 PM: Mixed Crossover (TBD, Field 22)
Tuesday, July 26 – 3:00 PM: Mixed Crossover (TBD, Field 23)
Wednesday, July 27 – 9:00 AM: Mixed Round of 32 (TBD, Field 22)
Wednesday, July 27 – 9:00 AM: Mixed Round of 32 (TBD, Field 23)
Wednesday, July 27 – 5:00 PM: Mixed Round of 16 (TBD, Field 23)
Thursday, July 28 – 3:00 PM: Mixed Quarterfinal (TBD, Field 22)
Thursday, July 28 – 3:00 PM: Mixed Quarterfinal (TBD, Field 23)
Friday, July 29 – 9:00 AM: Mixed Semifinal (TBD, Field 22)
Friday, July 29 – 9:00 AM: Mixed Semifinal (TBD, Field 23)
Friday, July 29 – 3:00 PM: Mixed 3rd Place (TBD, Field 23)
Saturday, July 30 – 10:00 AM: Mixed Final (TBD, Mason HS) [**Free**]
Conclusion
WUCC is going to be a welcome return to international competition. Though the podium has long been dominated by teams from the United States, it's evident that the rest of the world is catching up. With tight competition at the World Games, it would be unsurprising if this was the year that a new country rose to take home the gold. Ultimate is a game of inches, of momentum, of peaking at the right time, and all it takes is one bad game for a giant to fall. Here's to another memorable WUCC.
---
Ordered alphabetically by country. ↩

A Possie Aussie Posse, if you will. ↩