Previewing the action from the week ahead.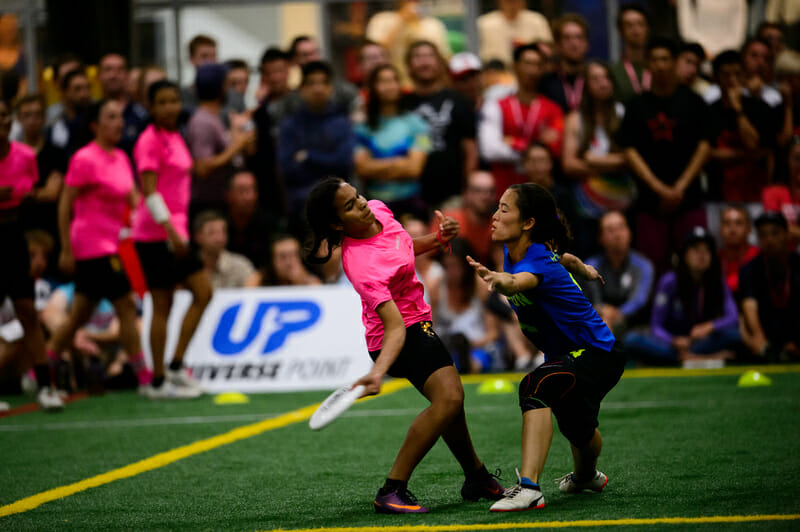 No one could have predicted the ways in which the world has changed since the last World Ultimate Club Championships in 2018, but after a turbulent four years, the time has finally come for another competitive frisbee frenzy. Unlike with the pandemic, we can provide some background and predictions as we head into this week of high-level ultimate chaos. Buckle up, folks.
The last iteration of the World Ultimate Club Championships was so good they decided to run it back for 2022. This week, WUCC returns to Cincinnati, OH, where, in 2018, excitement and storylines were delivered in a way that few international tournaments have been able to match.
After storms stopped play halfway into the semifinal round, a hectic several hours ended up with the tournament being finished inside a completely packed indoor soccer field several miles away from the original field site. There, some of the largest audiences in ultimate history were treated to thrilling finishes and some of the most iconic moments in the sport's recent history.
Medellín Revolution upset Boston Brute Squad with SportsCenter Top 10 plays to set up a gold medal match with Seattle Riot, who dispatched Denver Molly Brown in their own exciting semifinal. Revo had seemed like the week's team of destiny, but Riot's Jack Verzuh and company were too much for the Colombian squad to slow down, and Seattle claimed their second WUCC title in a row.
Many of the same programs are back to vie for the title once more. Let's take a look at how things could play out differently this time.
Top Bracket Contenders1

Melbourne Ellipsis (Australia)
The top Australian club team features six of the seven female matching players who were on the roster for the World Games silver medal winning Crocs and they've picked up former 6ixers star Anouchka Beaudry. They missed out on quarters in 2018, but if they can piggy back off the momentum built by the core of the roster in Birminghams, a run to the round of eight is certainly within their range of outcomes.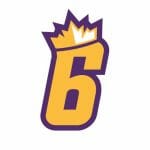 Toronto 6ixers (Canada)
This will be the Toronto club's first big tournament since their run to championship game at 2019 USAU Club Nationals. They'll be without a few of Canada's World Games stars and team cornerstones in Lauren Kimura, Molly Lewis, and Hannah Dawson; Lauren Kinoshita, who was a late drop from the World Games roster is absent as well. There's also several key figures from the 2019 run that have either moved onto coaching or aren't a part of the team at all anymore, so it's difficult to predict exactly how strong they will be, though they have held their title as the best team in Canada since we last saw them in the US.

Vancouver Traffic (Canada)
Traffic secured their path to WUCC's after a second-place finish at the Ultimate Canada Invitational in 2021. They lost 12-9 to 6ixers in the final, but sailed to victory in their bid-earning game against Winnipeg Fusion. The timeless Catherine Menzies showed she hasn't lost a step at World Games, and will star again for Vancouver. Their roster has experienced vets, like Terry Whitehead, and up-and-coming stars, like Madison Ong, making for a diverse mix of athleticism and savvy.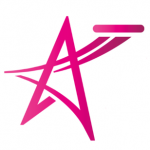 Medellín Revolution (Colombia)
In addition to having every female matching member of the Colombian World Games team, the defending WUCC silver medalists have also added US star Claire Chastain, silver medalist Mish Phillips of Australia, and team-of-the-tournament member Levke Walczak to boast the most World Games-laden roster in the field. In a tournament where all of the other realistic gold medalists are American clubs who are very early in their seasons and most likely prioritizing a peak at club nationals in October, Revolution are arguably the favorite to win gold this time around.

Boston Brute Squad (United States)
Tied for third at 2018 WUCC's thanks to a disappointing 13-9 loss to Revolution in the semifinals after a lightning interruption moved the game indoors, Brute Squad is again a top seed after a second-place finish on the US circuit last fall. Their roster boasts Claire Trop this time around who had arguably the most impressive singular performance at WG, and will no doubt be a pillar on both defense and offense. However, ultimate is a team sport and Brute Squad will need more than just Trop on her A game to progress through bracket play.

Raleigh Phoenix (United States)
This could be the tournament where we find out what Phoenix really is. Was their sparkling performance against Fury in semifinals at club Nationals a one-off, or are they officially the new title challenging kids on the block? They have added Sarah Meckstroth and Kami Groom to the roster since then, and have Jesse Shofner for this event, but they do also lose 2021 Player of the Year Lindsay Soo to an ACL injury.

San Francisco Fury (United States)
As dominant as Fury has been domestically for nearly two decades now, including winning the 2021 US title, the WUCC gold medal has been relatively elusive for them. They've claimed the world championship just once, back in 2010, and last go round didn't make it beyond quarterfinals. They have the best roster on paper, but with a few players having just finished the grueling World Games gauntlet and with the rest of the team still in early season mode, it's hard to see them being at their absolute best this week. Still, with the talent and experience at their disposal, they will be one of the favorites and missing a medal this time would be a bigger surprise than it was in 2018.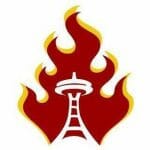 Seattle Riot (United States)
Riot are the back-to-back defending world champions, but only seven players on the roster in 2018 are on the team now. The squad underwent as massive a roster overhaul over the COVID break as any major North American team. The Seattle talent pipeline continues to be strong, but the team is quite young and a deep run this week would put the team well ahead of their projected schedule to being a top contender again.
Other Teams to Watch

Tokyo MUD (Japan)
A second place finish at Japanese Nationals puts MUD a little further down in seeding. But with Japanese World Games participants Kanari Imanashi and Yuko Kashino on the roster, it is possible they will prove to be the strongest side from their powerhouse ultimate scene.

Swampybarg (Japan)
The Japanese National champion should always be feared, and that is finally Swampybarg, having defeated MUD in the final. They'll be without tournament MVP Yuri Hamashima, however, so replicating their fantastic 2018 performance — a 13th place finish — could be challenging.

Tokyo Mavericks (Japan)
Kaede Yoshida is slated to star for a talented Mavericks team that will certainly spice up a very competitive pool A. They looked strong at Japanese Nationals and have a young and fiery squad.

Noisy-le-Sec YAKA (France)
While they won't have Robyn Fennig, 2021 European Player of the Year Aline Mondiot is one of the finest handlers in the world. Caroline Tisson and Paula Baas add plenty of quality for what has been one of the best European clubs over the past few years.

Berlin jinX (Germany)
Much the German World Games team that finished fourth will be in key positions for jinX, with Anna Gerner and Nici Prien as marquee players. They will have depth though, with some of the strongest European women from outside of the World Games sphere, as well.

Hamburg Seagulls (Germany)
A fifth-place finish at Windmill puts Seagulls on the radar, and while they don't have any World Games players, Germany's performance demonstrates their national strength. They add Laura Kunzelmann, one of the top Swiss players, for this tournament, as well.

Bologna CUSB Shout (Italy)
CUSB will be out for revenge after a tough showing at the last WUCC, where they dropped down after a trio of losses to Ozone, Atletico, and Huck. They are missing some of the big names that earned them this seed, but Irene Scazzieri and some imported talented, could help them cover those gaps.

Auckland Blueberries (New Zealand)
A second-place finish at New Zealand Nationals got Blueberries this far, showing they have a solid foundation. They add American star Erynn Schroeder, along with a few other names, which should bolster their ceiling.

Singapore Pangolins (Singapore)
After earning a lot of notice for their performance at the 2019 U24 Championships in the mixed division, there's reason to believe the buy-in and investment in Singaporean ultimate could again pay dividends as a surprise. Rumor has it they ran wild against Iceni in a pre-tourney friendly, displaying speed and power that would make them tough customers.

Bern FABulous (Switzerland)
After a third-place showing at Windmill, FABulous could be primed for a run at WUCC. They've got an impressive group of American ringers who join defensive star Jasmine Childress, who has been living in Switzerland.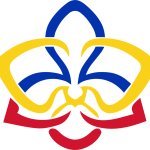 Spanglish (Venezuela)
Spanglish are the only South American team in the women's division that isn't from Colombia (who have a whopping four teams in attendance). In a country plagued by corruption and poor living conditions that has caused a mass exodus of athletes, ultimate frisbee has largely been abandoned in a search for better lives and opportunities. However, a small group of passionate players with an unconditional love for the sport have found their way to the grand daddy of ultimate tournaments: WUCC's. Their group isn't big enough on its own, so they have a number of North American allies to support their journey.
Players to Watch
Kaede Yoshida (Mavericks): An explosive star with an expansive game, Yoshida's high-flying brand of ultimate has captured fans in Japan, in the US, and pretty much everywhere else it has found its way to. Expect more of the same must-see play at WUCC.
Levke Walczak (Revolution): A fantastic performance at the World Games added fuel to the fire that self-described nomad Levke Walczak is well on her way to being one of the best women in the world. Another big stage awaits her, with a shot at gold.
Laura Kunzelmann (Seagulls): Kunzelmann was a big part of the surprise run of ZUF in 2018, as a young and developing talent. Her size and athleticism were already helping her develop impactful skills, but we'll see how she stacks up now against the world's best.
Anna Gerner (jinX): Gerner wowed in Birmingham as one of the strongest handlers at the event. jinX has a tough draw, but a lot of momentum, and Gerner's play could help them to carry the hopes of European ultimate.
Kami Groom (Phoenix): While all of the US women from the World Games are headed to WUCC, a fresh Groom was spurned from that list, and gets a shot at showing she should have been picked. She'll go sporting Phoenix's kit rather than United States' or former club, Brute Squad's.
Anouchka Beaudry (Ellipsis): The sparkling young handler is hitting her prime, but won't be playing with her former club team 6ixers during the season or at Worlds. Ellipsis is highly talented without her; if she incorporates well, it could take them to another level.
Britt Dos Santos (6ixers): A disappointing World Games for Canada did nothing to dampen optimism about the future of BDS, as Dos Santos was a force to be reckoned with. Clearly ready to assume a spot among the division's best, she should be rolling in Cincinnati.
Molly Wedge (Bristol Women): Wedge had to miss some of Great Britain's World Games competition, a shame since it robbed the audience of a chance to see her shine as a premier defender. She'll have another chance to strut her stuff with Bristol.
Pool Play Streaming Schedule
Sunday, July 24 – 11:00 AM: MUD (JPN) v. Iceni (GBR)
Sunday, July 24 – 3:00 PM: 6ixers (CAN) v. Yaka (FRA)
Sunday, July 24 – 3:00 PM: Riot (USA) v. Ellipsis (AUS) [**Free Game of the Day**]
Sunday, July 24 – 5:00 PM: Box Vienna (AUT) v. Pangolins (SGP)
Sunday, July 24 – 5:00 PM: Pop Ultimate (USA) v. Aerosoul (COL)
Monday, July 25 – 3:00 PM: Raleigh Phoenix (USA) v. CUSB Shout (ITA)
Monday, July 25 – 5:00 PM: Parcha (USA) v. FABulous (SUI)
Tuesday, July 26 – 11:00 AM: Women's Power Pool (TBD, Field 23)
Tuesday, July 26 – 1:00 PM: Women's Power Pool (TBD, Field 23)
Tuesday, July 26 – 5:00 PM: Women's Power Pool (TBD, Field 23)
Wednesday, July 27 – 11:00 AM: Women's Crossover (TBD, Field 22)
Wednesday, July 27 – 3:00 PM: Women's Round of 16 (TBD, Field 22)
Thursday, July 28 – 9:00 AM: Women's Quarterfinal (TBD, Field 23)
Thursday, July 28 – 11:00 AM: Women's Quarterfinal (TBD, Field 23)
Friday, July 29 – 3:00 PM: Women's Semifinal (TBD, Field 22)
Friday, July 29 – 5:00 PM: Women's Semifinal (TBD, Field 22)
Saturday, July 30 – 3:00 PM: Women's Final (TBD, Mason HS) [**Free**]
Conclusion
WUCC is going to be a welcome return to international competition. Though the podium has long been dominated by teams from the United States, it's evident that the rest of the world is catching up. With tight competition at the World Games, it would be unsurprising if this was the year that a new country rose to take home the gold. Ultimate is a game of inches, of momentum, of peaking at the right time, and all it takes is one bad game for a giant to fall. Here's to another memorable WUCC.
---
Ordered alphabetically by country. ↩