Late surge sends Mixtape through to the final after a tremendous showcase of mixed ultimate.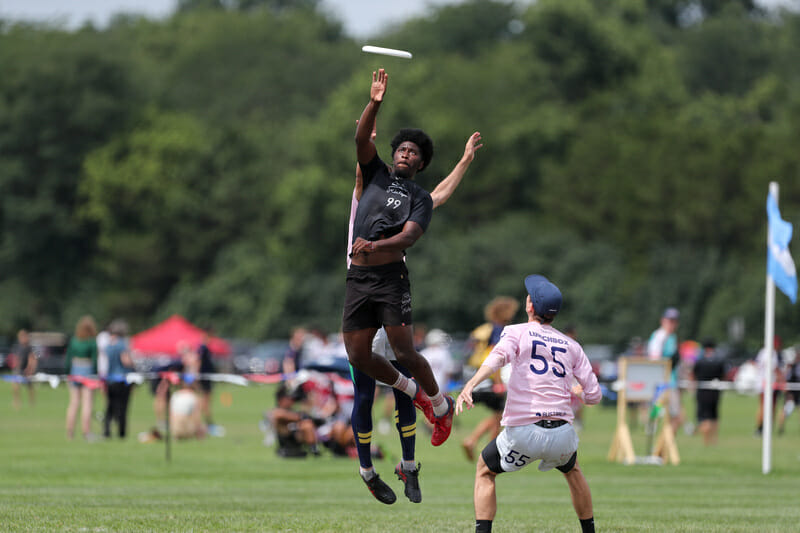 LEBANON, OH – Good teams find success in talent alone. Others are just happy to be there and have fun while playing. Great teams combine their skill with a positive attitude and pepper in the usage of depth of their entire roster, playing equally with their men and women and they make magic on the field. This is exactly what happened in the mixed semifinal between Brisbane Lunch Box (AUS) and Seattle Mixtape (USA), as the both teams combined to put together a tremendous showcase of mixed ultimate en route to a 15-13 win for the Americans.
At the beginning of the game, neither team could score with their D-lines. The teams held for the first seven points until Mixtape made a mistake and Lunch Box made them pay for it by scoring the first break, earning them a two-point lead.
"We were waiting for them to make mistakes, but they didn't make the semifinals by mistake. They came out and made some plays," said Mixtape's Jesse Bolton.
After three more clean holds, Mixtape won the break back. Both teams tried a few new defensive looks against their opponents to try and startle the other team into giving up the possession, but the offenses remained composed and clean. The game went into half, on serve and poised on a knife's edge.
It didn't take long in the second half to interrupt that pattern, as a block by Lunch Box's Scott Perry set up the Aussies with the first break of the second half and restored their two-goal lead. It was a just reward for a Lunch Box defense that to this point had successfully blunted the potent Mixtape attack, forcing them to work harder than they had all week. Perry was one of three players — along with Thomas Bow and Liam Grimmond — that the Aussies had tasked with slowing down Mixtape's World Games superstar, Khalif El-Salaam, who had been roasting opponents all week, especially in the deep space.
"Yeah, we looked at key matchups predominantly coming into the game. We were really focused on how the rest of the team supports Khalif to go deep as well," said Lunch Box coach, Bree Edgar. "And we looked at that and we basically used our matchups and the right personality to try and contain his movement and stop that from deep huck being an option — a 'Get Out of Jail' card they usually use Khalif as."
While their strategy helped simmer the player, it did not completely stop him from making big cuts and throwing the big throws that his receivers usually tracked down. With two assists and three goals, he still was the leader in the team's stats sheet, echoing his impact on the entire week. Mixtape's whole offense was centered around El-Salaam's gravity and he was clearly hungry for the disc. The Seattle star is playing the most inspired ultimate of his career right now and there might not be a better player in the division at the moment.
Holding off Khalif was clearly not the only reason why Lunch Box excelled. Despite not generating many turns by Mixtape, Lunch Box put on immense defensive pressure that would have caused any team with less experience on a global level to falter and give up the disc. In fact, that's just what happened in most of their games, as they won with comfortable margins in pool play and the first round of bracket play. This was also a major contributor to their win over Ann Arbor Hybrid in the quarterfinal.
"We know we can generate the blocks. We know we can get the defensive pressure to rattle any team in the world. For us, it's all about us and our O and how we trust each other and how we play together," said Edgar. "And so that was our main focus coming into this game. The key thing about this team is we play through everyone and that's something that we selected the team for in the first place and it's something that we will continue to do all the way through and it's really been the key to our success from the get-go."
The teams traded a few more holds that looked focused, crisp, and clean by both sides' O-lines. Down 12-11, Seattle needed to make a move if they wanted to keep alive their championship aspirations. Bert Cherry got a block for Mixtape and they used that to their advantage to score and get back on serve, though still in need of another break if they were to win.
Seattle Coach Bryson Fox knew he had to come up with a way to cover Lunch Box's women, such as the talents of Kya Wiya and Holly Reeve, as they did an incredible job at making big plays on the offensive side of things and causing destruction to Seattle's hopes. One of his answers goes by the name of Cori Bigham, who had fresher legs and could effectively get a crucial block that got Mixtape a break when they needed it most.
"We have a really deep roster and we were playing a lot of the same people and we weren't quite getting results. We asked some of our rookies to step up," said Mixtape's coach Bryson Fox. "They're very talented, but they haven't played as much of the team but they came out with fresh legs, the other team started to look tired. So we brought them on in the second half and they looked awesome."
At last, Mixtape's defensive pressure paid off as the efficient Lunch Box offense finally faltered. Even though their offense brought them much success, the pressure of the moment may have gotten to the Aussies, as Lunch Box made a few lethal errors in crucial moments down the stretch that allowed Mixtape to get the breaks they needed.
In this critical stretch run, some of Mixtape's star players also knew they had to step up in the game in order to pull away and not allow Lunch Box to stay close.
"At one point Khalif looked at me and he said, 'don't take me out of the game.' And I 100 percent trust his ability to gauge his body and how he's doing and he just put in the work for the next point. He's a really steady presence out there," Fox explained. "Kelly Johnson is in the same boat, she asked me not to take her out — I had to take her out for one or two points, but very steady, impossible to guard, once she goes for the disc, we're not giving it away."
Mixtape used the hard-won momentum to carry them through the rest of the game, scoring four straight to go up 14-12 before trading out to a 15-13 semifinal win to advance to the gold medal match. In the end, Lunch Box managed to score just one of the game's final six points.
"This was a true testament to how mixed ultimate can look," said Mixtape's Ari Lozano. "They used all of their players really well and it was hard for us to challenge them defensively because they use their whole roster. This is the best mixed showing that we've played out here today and it showed in how hard they battled and how close it was."
Mixtape attributes much of their success to their attitude. They lifted each other up and didn't allow themselves to be upset about a mistake for more than five seconds. Instead, they encouraged each other to pull themselves back into the game and focus on team success. They also came out on the sidelines and used their voices and constantly supported and lifted each other up.
"Believing in each other," said Jesse Bolton, when talking about how his team pulled out the win. "Relentless positive energy because we've agreed that we play better when we're happy and just faking it until you make it."
Looking forward to the final, the team is excited to show off what they can do. They noted that they played a friendly scrimmage against Vancouver Red Flag earlier on in the season and are quite familiar with the Canadian style of Ultimate. They are also just prepared to come out positive and strong.
"We just bought a new set of clappers, so we're going to have more noise," Bolton said.
The Americans are ready. Since they took fifth at the last WUCC in 2018, they came in motivated to do well. They know they have a deep and skilled roster. They know they have relentless positivity that can carry them through. They know they can rely on their women just as much as their men. They know they can create some magic to key in success and bring home the next (and final) win.
"Mixtape has been a dream ride for me and I know a lot of the people who are here who were here in 2018 lost in quarter and this is part of their revenge tour," said Fox. "They really wanted to get back here and get a better result than quarterfinals and I'm really happy we're able to do that."