Ring's break conversion efficiency spelled doom for one of the tournament's most thrilling underdog stories.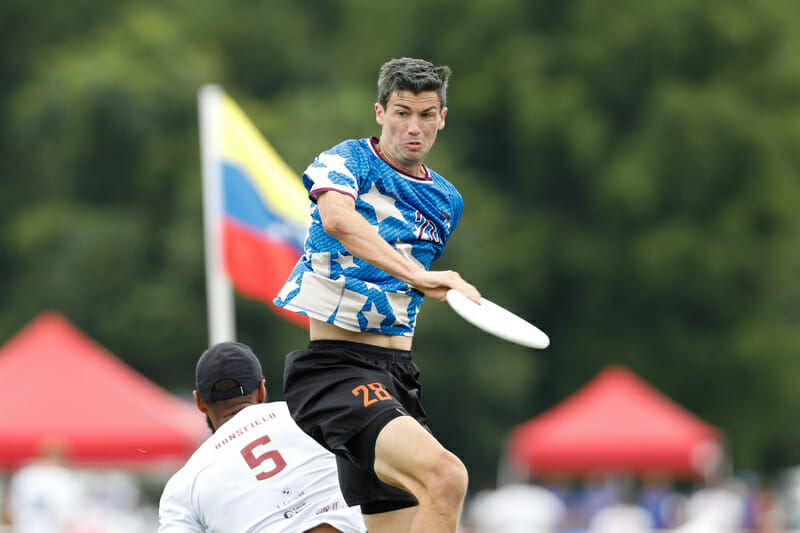 LEBANON, OH — While the Brussels Mooncatchers (BEL) had become tournament darlings with their low-seed run and daring style of play, they faced off with the reigning US champion and one of the WUCC title favorites. It was another in a long line of difficult challenges, none of which have been able to topple the Belgians yet. But Raleigh Ring of Fire (USA) brought a level of execution that proved to be too high for the Mooncatchers to match. Ring of Fire took the win 15-10 to advance to the gold medal match and cement a rematch of the most recent US club men's title bout.
Let's start with Mooncatchers' journey to the semifinals. The Belgians went through the crucible at this tournament. They ground out two wins each by a margin of two points as part of the Pool of Death in Pool E, first 13-11 over Vancouver Furious George (CAN) and then 15-13 over Pornichet Tchac (FRA). To pile on top of a demanding Pool Play schedule, their journey through the bracket has been two 15-14 games decided on double game point: first against Toronto GOAT (CAN) in the Round of 16 and then Seattle Sockeye (USA) in the quarterfinals. The Mooncatchers are a young, somewhat unknown quantity for the Americans. They play best with swagger and confidence, and going into this matchup it was on Ring to push Mooncatchers out of their comfort zone and take advantage of any bad decisions.
As for Ring of Fire, they have had a much easier tournament than the boys from Brussels. They breezed through Pool Play and their Round of 16 game was an easy 15-6 win over Copenhagen KFK (DEN) followed by 15-10 quarterfinal win over Bologna CUSB (ITA) where it never felt like they had to get into top gear. The story of the tournament for Ring has been their depth. Ring have been remarkably egalitarian in terms of their stats. Eleven players had double digit goal-assist totals with Henry Fisher, Ryan Osgar, and Jack Williams out slightly ahead of the pack. Their deep roster also includes lots of experience. Many of the players have been in the program for a few years now, making at least the semifinals at the Club Championships in each one. After winning the National Championship last year in as difficult a game as possible – needing to be essentially perfect against PoNY – they have shown that they can deal with pressure. Mooncatchers are an explosive team but Raleigh was coming in confident in their own studs.
Ring has had some slow starts at this tournament. They were broken early by both London Clapham (GBR) and CUSB, but in this game it was Mooncatchers that suffered the early setback. The Belgians came out with smooth, calm offense but a stretching Kristof Phillips dropped the disc in the end zone. Ring were quickly able to find Ethan Bloodworth, who grabbed the deep shot over a Mooncatchers defender before putting a simple throw to Eric Taylor into the end zone. It was a dream start for Ring and a bad break for a Mooncatchers team that already had a tall task ahead of them.
After that opening break, the teams traded holds for a couple of points. While the scoreboard might have been consistent, there were a lot of highlight plays in this first third of the game. Reph Jonkers threw a beautiful, floaty inside forehand to Phillips to make it 2-2. Sol Yanuck came up with a perfect 70-yard forehand to hit Alex Davis in stride to make it 3-2. On the point after that, Mooncatchers dug into their "playbook," which really just meant they looked for Reph. They put up a blady forehand to Jonkers which Jacob Fairfax was able to get a tip on but Jonkers worked his magic and was still able to come down with it. After luck going their way, Mooncatchers moved the disc around and Gaël Ancelin threw a hammer on a string to Benoît Spapens, tying it up at 3-3.
The second hiccup in the game was a mistake by the Ring O-line. Ryan Osgar saw Alex Davis cutting deep and threw into the space he thought Davis would be attacking, but Davis had started cutting under during Osgar's throwing motion. Lucky for Ring, Davis is not only a weapon on offense. He was able to get the disc back for Ring after a dump set from Mooncatchers got a little bit cramped. As the stall climbed, Mooncatchers tried to force the disc to a tight inside lane but Davis was there to bat it down before it got to the Belgian cutter. Ring turned right around and played smooth offense with Sol Yanuck getting it to Matt Gouchoe-Hanas for the score.
On the next point, the Americans were able to do what Mooncatchers had not been able to on the prior point: convert on a break chance. "They cut differently than us… so it took a couple of points to get adjusted to the things they would do," said Ring of Fire coach Mike DeNardis. Benjamin Jonkers put a high-stall blade to the back of the end zone and a Mooncatchers player almost got to it with a full extension layout but it bounced off the Belgian player's hands to land incomplete. With the disc now in the hands of Ring's D-line, it felt like it never even had a chance of being on the ground again until Seth Weaver placed it there after he scored the break for Ring. The boys from Raleigh played flawless offense, using small-ball offense to keep the disc progressing up the line in tight spaces with short 10 and 15 yard throws. The movement from Ring in this point was a beauty to behold. They took the space on the open side using their patented quick three-on-three style movement and forced Mooncatchers to try hard to stop that force-side momentum. Near the end zone, Mooncatchers' over pursued, and Ring immediately took advantage of the break space left open, with Eric Taylor finding Weaver to extend Ring's lead.
The Belgians were able to stop the bleeding on the next point. Paul Arters found Reph Jonkers with a cross-field hammer who threw another silky inside forehand to Arvīds Orlovskis in the end zone. Then, Ring surprised everyone by showing a true chink in their armor at 6-4. The crowd came alive during this point and with Ring under pressure, there were chants of "One more D! One more D!" from the stands, urging Mooncatchers on. The Ring offense turned the disc over twice on two high-difficulty deep looks and Mooncatchers were able to convert on their second chance with Daan De Marrée finding Didzis Malderis for the break. That put the game within one score and it was all holds through galaxy point,1 where Ring were able to take half 8-7 with a three-person dominator set of Sol Yanuck, Dillon Lanier, and Jack Williams.
The second half started much like the end of the first, with tight margins and three holds. Osgar had an impressive grab coming down with a 30-yard inside backhand from Williams, fighting through contact as Orlovskis applied tight pressure on the Ring cutter. Raleigh tried a zone on the next point but Arters made quick work of it with another hammer to open up the field and then Ring's small-ball proved effective again with Yanuck showing off his skills, putting a lefty backhand to Dillon Lanier for the Ring hold.
Ring got an all-important break to make the game 11-8. "It took us a full half… until we figured out what the right thing was for us to do holistically to be able to actually apply pressure the way we want," said Jon Nethercutt after the game. This point was when it became clear that Ring had figured it out. Reph Jonkers chose to try another tough inside throw – something that he had been hitting all game but could not execute on in that moment. Off the turnover, Eric Taylor threw a 70-yard forehand dart to Davis which zipped into the former Darkside star's hands past a bidding Mooncatchers defender. The North Carolinians immediately broke again to make it 12-8 after Reph threw the disc a bit behind his cutter and Liam Searles-Bohs and Suraj Madiraju were able to essentially play two-on-two to work the disc into the end zone. At this point, it really felt as if Ring was in control.
The wind picked up a bit for the next point and Ring tried to put some pressure on Mooncatchers by throwing a zone at them, but it was no problem for the Belgians as Arters was able to find Phillips for the score. Ring then played another flawless offensive point, with Lanier recognizing a Mooncatchers defender poaching to try and get a block only to have Lanier immediately find the now open Davis in the end zone.
At 13-9, Ring put the final nail in Mooncatchers' hopes of making the final. Reph Jonkers tried to throw into a tight window where Ben Dameron was face-guarding the player he was marking, but Reph threw it right into the young Raleigh defender's outstretched hand. Ring promptly cemented their 100% break chance conversion rate, punching in the break to go four-for-four in the game. Mooncatchers stayed alive for one more point. Toms Abeltins threw a pinpoint crossfield blade to Orlovskis who showed his athleticism one more time to go up and get the disc, but it was not enough. Ring had a clean hold to finish the game with Osgar finding Henry Fisher in the end zone for the win.
It was a fantastic showing for Raleigh, who dominated a Mooncatchers team that ran out of steam at the end of the game.
"The main thing was that we did not use [break chances] as we would have wanted," said Abeltins after the game. "We did not capitalize so we could not get that lead that we had in the quarterfinal that would give us the confidence to keep on rolling."
Fitness was also an issue for the Belgians. With Mooncatchers having so many close games through the week, their top players had a lot more game time compared to Ring's elite. "Not much of our legs left this late in the tournament," admitted Abeltins.
As one would expect, DeNardis was happy with his team at the end of the game. "The key was we had to withstand the blows; they were going to take on their big shots and we did. We had to play consistent O and we did. That's why we won," said the Raleigh coach. Already looking forward to the final against PoNY, DeNardis was locked in. "PoNY has great athletes, great cutters. [Mooncatchers] was a good test because they had really good athletes. That's the thing we have to be ready for… It was good getting used to that."
The final will be an enticing rematch of the 2021 USA Ultimate national championship game – a treat for fans as the two teams who have shown themselves to be in a league of their own go head-to-head for a world championship.
---
The point for half in a tied game. ↩