New addition Jeff Babbitt played a leading role in helping his new team get one over on a familiar foe.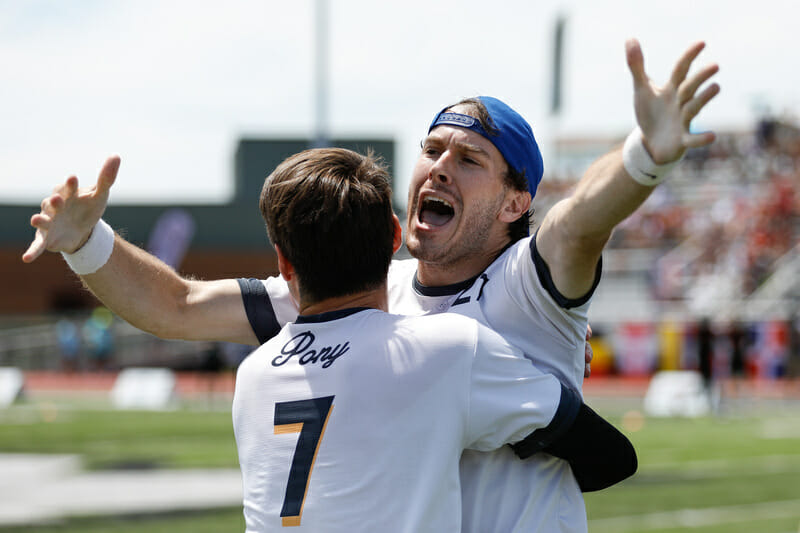 MASON, OH — Raleigh Ring of Fire (USA) and New York PoNY (USA) came into the World Ultimate Club Championship final having proven that they are an echelon above every other team in the world. Ring got to the final after their wins over Copenhagen KFK (DEN) in the Round of 16, Bologna CUSB (ITA) in the quarterfinals, and Brussels Mooncatchers (BEL) in the semifinals while PoNY's road went through the top two Japanese teams Tokyo Nomadic Tribe in the Round of 16 and Tokyo Buzz Bullets in the quarterfinals before they showed their real might by handily defeating London Clapham (GBR) in their semifinal matchup. For the bracket games, the closest game either team played was the 15-10 score lines that both had in their semifinals — true dominance. Ring and PoNY proved that they are the only teams that have a reasonable shot at beating the other, and with their history from last year's US national championship, the passion, skill, and tactics were going to be, fittingly, at the highest level we'd seen all week. In the end, it was New York who made the plays and strategic adjustments necessary to claim gold, reversing the result from last fall and besting their southern compatriots 15-12 in the open division final in Cincinnati.
Ring started on offense and the pressure from the PoNY defense was immediate. Ring moved the disc side to side as they neared the end zone, waiting for a gap in PoNY's defensive front. PoNY's defense was excellent from this first point, and Ring were forced to rely on scoobers to keep the disc moving. Eventually, Ring's patience was rewarded with Matt Gouchoe Hanas finding Ryan Osgar in some space for the score. On the next point, PoNY held through Jimmy Mickle opening up the field with a forehand huck to Sam Little, who then put the disc in the end zone with a short throw to Sean Keegan who had followed the play fastest of anyone on the field. It was a curious start with two skilled teams testing each other out, 1-1.
Both teams continued to hold through the first eight points. New York were using a lot of simple initiating movements to get their offense started, like having Mickle starting in the front of the stack and peel off to the break side while a cut under came from the back of PoNY's vertical stack. Ring on the other hand, were a little bit more fluid. They definitely had sets to start their offensive points but the set plays were less stagnant than PoNY's, having a little bit of movement from all cutters instead of one and two players at most.
Both teams were working hard for their holds. At 3-3, Ring sent the disc deep to Osgar who had to high point the disc while in between two PoNY defenders. While PoNY was surely happy to get a break, it wasn't all lost if Ring scored on their O points. "…With a team as good as ring you're not going to stop everything. But if you have clear and quantifiable things you are trying to get them to do it is a lot easier to be positive throughout the game even though they are scoring at such a high clip," explained Little.
Both teams were indeed scoring at a high clip but that can't last forever and in games between elite teams like these two, the first break is even more important than usual. At 4-4, PoNY were the team to get that break. Osgar threw a big backhand huck to Dillon Lanier which was a bit too deep and though Lanier did his best to keep it off the ground, he couldn't reel it in. "They did a really good job on matchups forcing some people out and forcing some people under," said Osgar of the New York defense. PoNY quickly moved the disc up the field and Jack Hatchett was able to find Marques Brownlee wide open for the score with a floaty forehand blade across the field. PoNY marched on with a 5-4 lead.
The next few points were holds as well. At 6-5, Harper Garvey dropped the disc in the end zone but indicated his defender calling a pick meant the disc should be sent back. The crowd was not happy with the call, and the disc was sent back to the thrower amidst a rain of boos coming from the stands that continued whenever Garvey got the disc for the remainder of the game. When play restarted, PoNY easily scored off of simple swing movement with John Randolph finding the open space. That horizontal swinging motion was deadly for PoNY all game. "They were able to do it really well, I think Sean and Jimmy and Sam Little were really the reason their offense was so effective because they were able to get those swings off," said Osgar. "We have really good handler defenders and they were able to still get those resets off."
Babbitt simply ran past Lanier for a catch block and with a short field PoNY were able to convert the break to take half 8-6. And that's not an overstatement: Babbitt ran past a capable starting cutter on one of the division's best clubs. This was an example of how much of a problem Babbitt was for Ring the whole game both on defense and offense, though particularly on offense. He had six goals for PoNY in this final and Ring had a difficult time finding the right matchups for him throughout the game, rotating Jacob Fairfax, Eric Taylor, and Liam Searles-Bohs.
The second half started with a clean hold from PoNY but the next two points were some of the more contested points of the game, with two offensive turns on back to back points by either team. At 9-7, PoNY got a block but were not able to convert the break and with the disc back in Ring's hands, Jack Williams threw a floaty backhand into a tight window that was complemented by a sweet layout from Osgar to catch it in the end zone before PoNY's defenders could swat it down. PoNY gave the Ring D-line a chance as well, as John Randolph took a big shot deep toward Jimmy Mickle and angled it just out of Mickle's reach. But Ring wasn't able to convert either, and after the turn it was Mickle to Babbitt again for the PoNY hold. On the next point, the Ring O-line settled and Lanier was able to find Osgar in the deep space with a flat forehand that was very similar to a throw he had missed yesterday in Ring's semifinal game against Mooncatchers.
Then Ring shook up the whole game. Mickle put up a tough deep throw to Little, who did his best to catch it but with Alex Davis in hot pursuit it was too much to ask. Ring kept possession and had to be very patient with the disc. Eventually, Searles-Bohs saw an opening and threw a cross field hammer to Fairfax in the end zone – a massive break which put the score at 10-9 and Ring was back in the game.
After Ring's break, the game played like the teams had figured each other out and it created somewhat of a stalemate with seven holds in a row. Keegan threw a nice outside-in backhand to Little in the end zone after Little had juked away from his defender. Ring had their smoothest offensive point of the entire game, getting back to their three-on-three movement that has served them so well over this week and most of the last two years. Ring were able to get a turn at 11-10, but could not convert yet again as Davis overthrew Seth Weaver on 20 yard upline and PoNY made them pay with John Lithio throwing a nice around forehand break to Ben Jagt for the score. The game continued with another four holds to bring the game to 14-12. PoNY could break to win.
On this final opportunity with their offense, Ring turned the disc twice and PoNY were able to get the job done on the second chance. The winning score was a high hammer thrown perfectly by Hatchett to Babbitt – a fitting final connection because Hatchett and Babbit are two players that have been key to PoNY's success this week. Hatchett, in particular, was a one man defensive machine who paired his first-class closing speed and defensive instincts with the ability to contribute to a D-line offense after he got the turn. He looked like the best player he's ever been, and that's saying something with the kind of success that he's had as part of Ironside and PoNY over the years. Babbitt was a different story. He was not necessarily quiet through the week, but he didn't always stand out the way that he has on teams in the past. But in this final game, Babbitt showed what he brings to this PoNY team. As was mentioned earlier, Ring had no answer for the big man and his six goals against one of the best defensive teams in the world indicate the force of nature. "He's a kind of a cheat code of a human," said Osgar, and he truly is.
Winning on the day, PoNY were sure to feel good. "Incredible. What else is there to say? They were a dragon," said PoNY coach Bryan Jones. "I thought about retiring after Nationals last year and you know I think if we don't lose that game I probably do retire. Having an opponent that raises your level is incredible so kudos to them but it's going to be fun for us to celebrate today."
And Little pointed out that this means more than just frisbee: "We're really grateful that we're surrounded by so many people outside of our team that understand what we're trying to achieve and support us with that. So we're going to enjoy it with all of those parties that helped make this a reality for the next couple of weeks and then, I don't know, sometime at the end of August we'll pick up a frisbee again."
It was an impressive performance and revenge tour of sorts for PoNY that will continue into this year's USAU Club season. We're looking forward to the next time that they face off – there are sure to be fireworks. Osgar has even put some bets on it. "Shout out to my boys on Ring… we were grinding, we were right there, and when we see them next we'll give them a better game. We'll probably win then, that's my prediction." Call your shot, Ryan. We are entertained.