A battle between soon-to-be regional rivals on the world stage.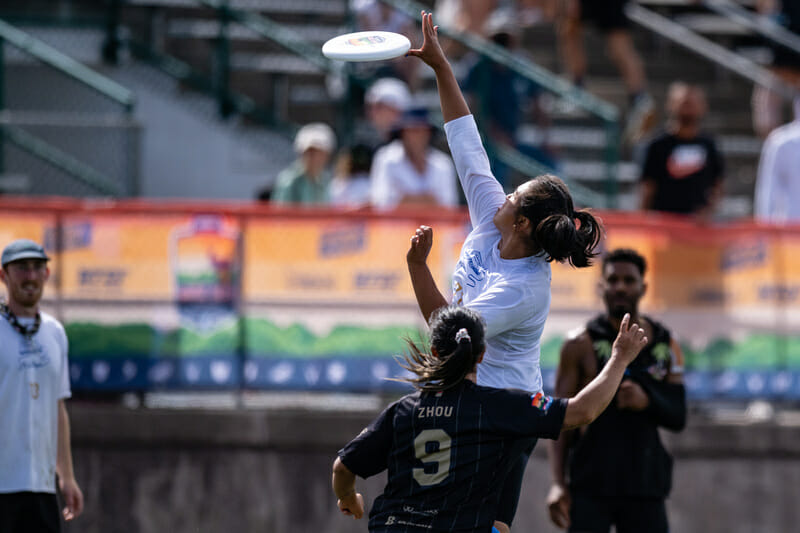 MASON, OH — A successful team requires trust. The players have to trust their systems, their teammates, and their coach. The coach has to trust their players to execute the plays. Every member of the team has to buy into the culture of the team itself. Trust was one of Seattle Mixtape (USA)'s mantras throughout the week at the World Ultimate Club Championships in Cincinnati, and it paid off on Saturday with a 15-6 drubbing of Vancouver Red Flag (CAN) in the mixed final to earn them a gold medal.
From the get-go, Mixtape had their eyes on the prize. They came to WUCC in 2018 as top-seeded favorites with title aspirations but lost in the quarterfinals to Boston Slow White; they finished fifth overall but were the lone American side to be left out of the medal rounds. Since then, the team has worked hard to prove that they are strong enough to come out on top on the world stage. That's exactly what they did this year.
Riding a full week of dominance, the Seattleites came out firing in the mixed final against their upstart neighbors to the north, Red Flag. Mixtape certainly had the edge in big-game experience in this one, having competed in more national finals (four) than Vancouver has competed in tournaments (two). Mixtape have been fixtures on the national stage since 2014, contending at elite tournaments all over the country since their inception. They have won a USAU National championship and are the only mixed division team to ever win the three-leg US Triple Crown. They have established a strong if polarizing team culture and have consistently proven to be one of the strongest programs in the division.
"We're a team that will have more fun than anybody else when we're doing well and when we're together and when we're able to play our style of frisbee, and I think that's contagious and it brings people to the program every year," said Evan Klein, a long-time Mixtaper who came back to the team this season after a year away to compete at WUCC. "We still have nine, ten players who have been around since the start of the program, so you have continuity through it and then you bring players in every year and they just embrace that culture and you keep that for a long enough time and it just becomes a thing. I think everybody knows when they join the team it's like there's an expectation we're going to have a good time."
In this tournament, the team from Seattle was both having a good time and a force to be reckoned with. They easily won all of their pool play games as well as their first few games of bracket play. They were tested in their semifinal game against Brisbane Lunch Box (AUS), where they trailed by two points on more than one occasion. However, they took what they learned from that game, especially about using all seven players on the field, as well as valuing the disc as much as possible, and used it to bring them success in the final.
Mixtape viewed their primary challenger this tournament as COVID. Having seen multiple Seattle teams deal with outbreaks at the recently completed WMUCC that prevented teammates from participating late in the tournament, the team was very conscious about the risk throughout the course of the tournament, making sure that they would not lose any players to the virus or containment protocols.
"We just came out and made a game plan for each game. One at a time and executed that game plan. And I'm just super grateful for everyone's buy-in to that and buy-in to the team success," said Bert Cherry. "It's really hard when COVID is still a thing to be so insular and like, in a bubble when there's all this amazing stuff going on and so many people that you could meet and talk to, and it's 90 degrees out and super humid, go put on a mask if you want to do that, don't go in the beer tent. All of these rules, to make sure that we stay safe and didn't have the distractions of like, 'is this my voice from yelling? Or is this sickness?' So, a weird year to compete, but I'm glad we committed to it"
Meanwhile, Red Flag are still building their culture and history. Comprised of players with a history of playing with Traffic and Furious George and Canadian youth national teams, this crew has only been together for a couple years and, thanks to COVID, hadreally only competed at Ultimate Canadian Invite prior to this week. Despite their lack of experience as a team, they certainly did pretty well for themselves in this tournament. Like Mixtape, they passed their pool play test with flying colors. The Vancouverites were tested in the bracket play — winning by two in the Round of 16 over Grenoble Monkeys (FRA) and on double game point in the quarterfinals against Madison NOISE (USA) — but they still proved strong enough to emerge victorious over their opponents.
The final itself started with a bang. A pair of clean holds from each O-line gave the impression we may be in for a tight battle, but on their next opportunity, Mixtape broke and kept their foot on the gas the whole game. Playing the same aggressive style that had earned them a trip to the final, Red Flag made several mistakes in throwing into double coverage or trying to squeeze ambitious passes into tight spaces that allowed Mixtape several opportunities to break early on. Seattle converted one, and then another, and another, going up 4-1, then 6-2. Their star players, including Khalif El-Salaam, Kelly Johnson,1 Bert Cherry, and Jen Cogburn proved standouts from the jump, playing a key part in building Seattle's early lead. Red Flag fought to stay in the game but appeared shell-shocked from the intense defensive pressure from Mixtape.
The offensive strategy that made Vancouver so successful in the past was starting to fail them. They tried to get the disc to Gagan Chatha, who all week had been hucking to the waiting hands of either Mika Kurahashi or Sam Creed for quick and easy scores. However, after scrimmaging the Canadian side in the spring and watching some of Red Flag's games earlier in the week, Mixtape knew that this was their strategy. Strategic matchups helped tamp down the Vancouver deep game, with Cogburn frequently providing additional cover in the deep space. It was clear Chatha wanted to huck and Mixtape communicated when he had the disc so the defense could enact their game plan. Red Flag tried to challenge their defenders deep anyway and throwers continued to put up the hucks, to no avail.
"It was a team defense. We knew they wanted to huck it to their men and one of their women matchers deep, we knew that was their game plan," said Mixtape's defensive leader in the game, Jen Cogburn. "So we relied on our handlers, just work on their marks — hard, hard marks — shut down the unders, and then make them huck it into space and have two people out there every time."
Trailing 8-4 coming out of halftime, the Canadians decided to mix things up. They tried  to more patiently work down the field and mirror Mixtape's success in using all seven players on the line. They attempted to throw to their female-matching players more and attack with more underneath cuts, but still caught themselves turning the disc on unadvisable shots.
"Old habits die hard," said Alex Lam, the coach of Red Flag. "They played the type of defense that we like to play on other teams and how we usually frustrate other teams. We ended up getting frustrated ourselves, so that was a tough lesson to learn in a tough game."
By the time Red Flag learned how to steadily finesse the disc to score, it was miles too late. The Americans went on a five break-point run coming out of half and showed no mercy to their regional challengers. This comfortable lead allowed an opportunity for new players to step up on Mixtape, who had not had much playing time in some of their other tournament games.
"There's a lot of players on the team who sacrificed over the course of a week. It's hard when you have a one-game format to get everybody in the game," said Klein. "We had the opportunity to play them in the finals in the biggest moment — all those players stepped up, like Jordan Smith, Gabe Ryan, [Alexa Romersa], and Denise Blohowiak, and that's such a figment of what our program is about; when your number's called, you're ready to go, you have energy because you brought it on the sideline."
As far as Mixtape's keys to success, they refused to divulge their specific strategies, saying they wanted Red Flag to learn to recognize their mistakes and grow from them. Seattle's offense did not yield a single break in the final, an impressive feat at this level on this stage. Of course, no Mixtape game would be successful with out their classic relentless positivity and trust in each other and their systems.
"Fundamentals all the way," said coach Bryson Fox.2 "We believe in this team, our system is excellent, we believe that we can hang with anyone and at the end of the day, we just leaned into the fundamentals."
---
Who was bidding for a third consecutive WUCC gold in the match after winning with Seattle Riot in 2014 and 2018. ↩

Fox won 2018 WUCC on BFG as a player and is now victorious as a coach, becoming the first coach in the mixed division to do so. ↩