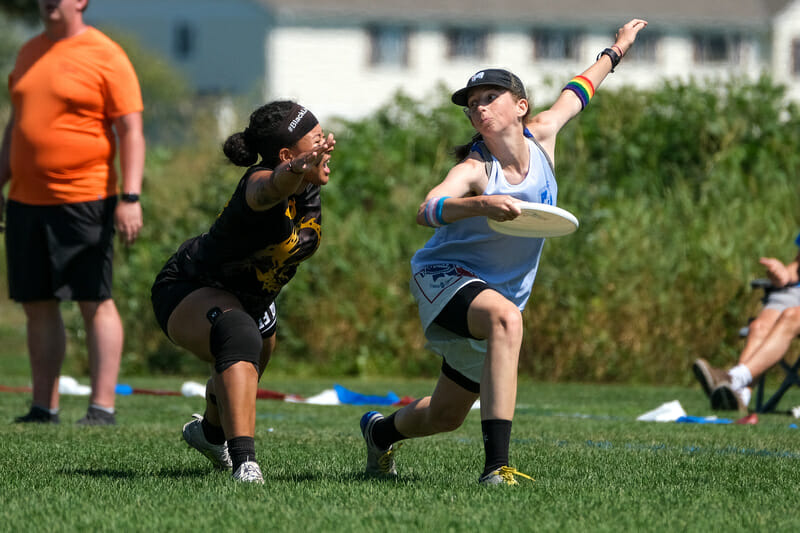 Blaine, MN. – Grit and not as much grace were the name of the game on the first day of the US Open. Hot and windy conditions made for some messy and long points, even among the best teams, while everyone showcased their physical and mental toughness. The tournament format meant that every team made the bracket, which gave teams like Minneapolis No Touching! and Ames CLX an opportunity to compete and advance to quarterfinals despite having finished last in their respective pools.
Switching Gears in the Wind
With every team at the tournament facing stiff winds, and primarily upwind/downwind game environments, game to game success could come down to field position, defensive adjustments, or in some rare instances, a little bit of luck. The teams that could find ways to maximize one or both of the first two found more success, although a little bit of the latter didn't hurt, either.
The standings after day one reflect that: the lone undefeated club, San Francisco Polar Bears, found success in both avenues, but particularly the latter. They were able to harass other teams to keep them from getting the super-valuable power position looks that can lead to upwind scores. PBR upset Minneapolis Drag'n Thrust in their opening game 15-11, anchored by their defense. "We started to tighten up on D and generally play better on D in the second half and made their resets and things that were just very easy for their offense in the first half," said their leadership.
They closed the day with a rivalry win, fending off a late comeback from San Francisco Mischief that led to universe point. Mac Taylor, the former Mischief star who joined Polar Bears this year, registered six assists in the victory, while Margo Donahue put on a strong cutting performance.
Seeds Don't Hold In Early Season
For most teams here, this tournament is their first of the season. They were still learning about how to come in and play well with each other.
As an early tournament, it also means that the predictive power of seeding can be particularly weak. Since most teams have not had the chance to play in USAU-sanctioned events, seeding got a bit funky. Several upsets throughout the course of the day proved that the pre-tournament ordering was not binding for the teams. In an abnormally sloppy performance, no. 2 Drag'N Thrust lost no.7 Polar Bears. No.3 seed AMP also lost to no.6 seed Public Enemy, yet Public Enemy went on to lose in a pool matchup to no.9 Lawless and their prequarter game to no.11 No Touching!.
With quarterfinals set, Fridays upsets have notable bracket implications. While no.1 NOISE sits on one side of the bracket with the no.7, 8, and 12 seeds, while no.4 Love Tractor was eliminated in prequarters by Drag'n Thrust, who is now is in proximity to AMP and no.5 Mischief, and No Touching!.
 Difficult Debuts vs. Building on the Foundation
Despite it being a part of the Triple Crown Tour, most teams came here to discover what works with their systems. Many teams used this tournament to figure out lines for the future and which players excel in which roles. Some teams are in their first significant reps, or have so many new pieces to integrate, that they were still very early in their developmental timeline.
"Our goals coming into this tournament are to get some good competition, good chemistry going on with people. Getting in and playing against a bunch of high level competition," said Brian Vohnoutka for Drag'n Thrust. "For us, trying to figure out a little bit of line chemistry, how things are working, adjusting pieces, hoping to keep even playing time. It's just a small stepping stone in a long season so for us, we're just taking things one game at a time and going from there."
The two teams that stayed true to their top spots in their pool, NOISE and AMP, did so in part because they were some of the only teams who have had experience already this season playing together in a tournament. They appeared a bit advanced beyond other teams, although consistently still evaded them. NOISE chalks a lot of their success in the first day of the US Open to their time last week at WUCC.
"We took the break as a six-day bye. Worlds gave us good reps, and a lot of chances to learn and execute our process of getting better, and learning our systems," said NOISE captain Katy Stanton. "Now we're taking this very seriously. We think about every game as another rung on our process ladder. We're picking things to focus on that we want to get better on, we're gonna try to execute our systems. We want to make sure we're playing as a unit."