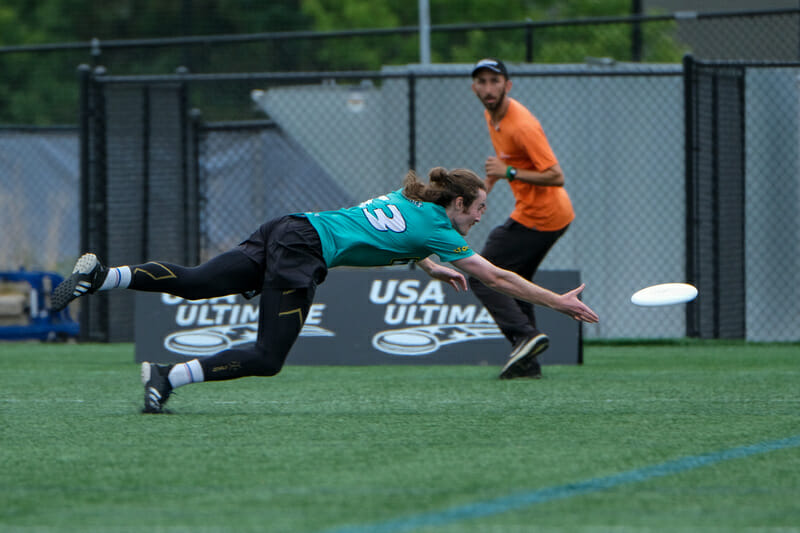 Blaine, Minn. – Players going horizontal at shoulder height, tough physical defense, and a solid mix of risky shots and fundamental offense made Sunday's final matchup between #7 Denver Johnny Bravo and #12 Washington DC Truck Stop a phenomenal early season classic. But Truck Stop's disciplined offense powered them to a narrow 14-13 upset victory.
The Washington DC squad aimed for revenge having lost to Denver on Friday in a seeding game, while the boys from Colorado looked to maintain their undefeated record. With both teams earning three breaks each, this final could have gone either way. Truck Stop's offense continued to impress with its consistency and quick movement, and the well-roundedness of Johnny Bravo's roster shined. The game started with teams exchanging holds as DC worked shorter passes and ran patient endzone offense for goals, and Denver was happy to take a couple deep looks for big yards. It wasn't all hucks for the Johnny Bravo squad, though. A deep horizontal stack gave Bravo cutters lots of room to move off of each other and secure big unders. Truck Stop's efficient use of the field's entire length and width led to quick strings of passes wasting no time.
The final's first turn came from Truck Stop's O-line midway through the first half on an overshot deep ball from Jonny Malks that was just barely out of reach for Christian Boxley. After working it up the sideline, Bravo scored the first break of the game with a 30 yard shot from defensive standout – and former Truck player – Chance Cochran to Calvin Stoughton, giving Denver the 5-4 lead. DC stayed resilient and the teams traded holds until the score was 6-6 when the Truck Stop D-line was given an opportunity from a turfed Johnny Bravo throw in endzone offense. Alexandre Fall got open deep for a big huck just in front of the end zone and a couple of quick passes got Truck Stop the break. On the next point, Boxley created another break opportunity for DC on a defensive bid, but Bravo's force-middle baited an inside look that was turfed in Truck Stop's endzone set after a timeout. Denver got the hold off of a big OI huck, and Truck Stop responded by taking half with midrange passes up the field.
The second half continued the theme of the first, with both teams' D-lines getting break opportunities but struggling to convert. Johnny Bravo were the first to manage a break off of a Truck Stop drop making the score 9-8. Denver had another break chance on the next point, but failed to maintain possession. DC's O-line remained poised to secure the hold which was huge throughout the final and tournament to keep Truck Stop in a winning position. "The resilience of the O-line this weekend was incredible," said Truck Stop coach Darryl Stanley in a postgame interview. After trading a couple of holds, the Truck Stop D-line finally converted a break chance after a smart poach block from Jasper Tom.
The momentum shifted in Truck Stop's favor as the clock ticked towards the cap time, and they capitalized on it the very next point with another break, powered by Benjamin Oort absolutely ripping an upwind backhand huck to Frederick Farah. Bravo bounced back with a clean hold and a break tying the game at 12-12 with the break opportunity created by a Cochran layout block. The teams traded holds and found themselves at a 13-13 universe point. A vertical stack for Truck Stop making lots of space on the break side allowed for handlers to move the disc horizontally and get yards on several continue passes. DC won the game on a layout grab from behind after a missed catch in the end zone, and the Truck Stop sideline rushed the field to celebrate as the crowd cheered. Washington DC Truck Stop beat (previously) unbeaten Denver Johnny Bravo to win the 2022 US Open with a final score of 14-13.
Heads Held High for Johnny Bravo
Despite getting their undefeated record broken, the Bravo boys didn't appear to be too down on themselves with a lot to be proud of from the final and the entire tournament. Losing on universe point is obviously tough, but the defeat in an early season tournament is relatively inconsequential in the big picture. "It's nice that we get to have these losses now as opposed to later in the season… you don't really know the stakes until you haven't won one, so it's nice to have that feeling of mortality," said Johnny Bravo's Will Lohre. Will and Ben Lohre both made an impact in the final on this deep Denver team with three goals and three assists, respectively. Playmakers Alex Atkins and Quinn Finer didn't take the field this weekend for Bravo, leaving plenty of room for this talented squad to excel heading into Pro Champs.
Truck Stop Offense Sets a High Standard
It's been said all weekend long, but this Truck Stop O-line is one darn tough unit to crack. Conceding only four breaks from the quarterfinals through the final, the DC offense is meshing well and have set a solid benchmark in early competition. "To get all those new pieces and all those new faces getting to a point where they already can blend and deliver in these hold-it-out situations, even when it's tight… is really a good sign," said coach Darryl Stanley. Jonny Malks was outstanding for Truck Stop througout and is an easy addition to the all-tournament line, crushing it in bracket play on this high-powered DC offense with 14 goals and 11 assists. Christian Boxley is an incredible two-way dynamo that makes big plays when they matter the most. He earns consideration for the all-tournament line as well.