Where do things stand as we reach the end of the regular season?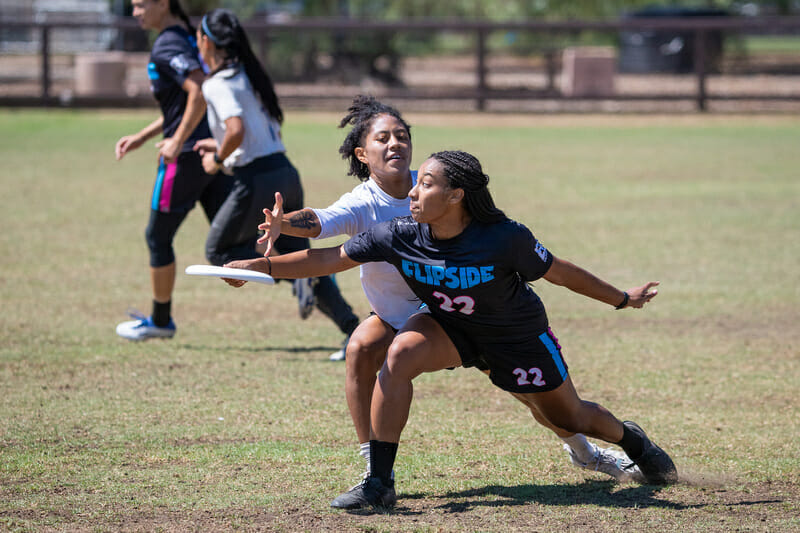 It's been a somewhat odd club season so far. The glut of international events this year and a continued push by semi-pro leagues into the summer months have both compressed and thusfar overshadowed USA Ultimate's premier adult competition. But the lack of attention hasn't done anything to lower the stakes or dull the intrigue. With club ultimate still ramping back up from a couple years of disjointed and scaled back competition due to the pandemic, teams across the country are plotting their own course toward a national championship. Top-flight teams were near peak form for July's World Ultimate Club Championships in Cincinnati and a number of high-profile player moves have dramatically changed the complexion of a division that can at times feel a little stagnant year over year.
As we head into the regular season's final weekend, let's check in on some of the major storylines of the summer and highlight a few players who are leaving their imprint on 2022.
Major Storylines
Who are the real semis contenders?
The championship contender tier of the club women's division has been slowly, but steadily, expanding over the past decade or so as new clubs develop and the player pool of top-level talent expands. The concept of The Big Four isn't dead, but it is evolving: it isn't the same four each year, and the gap between that group and the next tier no longer feels insurmountable.
There's no doubt about #1 San Francisco Fury's standing. They followed up last season's title run with an unsurprising near-title at WUCC, where they came up just short. Talented losses to the roster are replaced by new, but well-seasoned, personnel that can fill valuable roles immediately. Balance and depth is still the name of the game for Fury, whose flexible lineups make it hard to game plan for them. Until evidence is unearthed otherwise, they are the title favorites.
After that, however, the picture is much less clear. There are cases to be made for most of the other semifinalists of the past few seasons.
#5 Boston Brute Squad is the most accomplished challenger, firmly entrenched as one of the best two teams in the division over the past handful of seasons. Known for their fierce defense, they'll need to replicate their success sans superstars Kami Groom and one of the division's newest top flight players, Claire Trop. But strong development and international recruiting have them positioned to remain in the championship mix.
Boston should watch their back, because there are usurpers waiting for them, too. #3 Raleigh Phoenix has a lot of momentum behind them, backed by a community that has been winning more and more. By some estimations, they were the second best team in 2021, narrowly falling to Fury in semifinals. Having added Groom to the detriment of Brute Squad and World Games rep Sarah Meckstroth, many tab this as the best shot Phoenix has had yet, and that's with the reigning Player of the Year sidelined by injury.
#4 Denver Molly Brown's dissatisfaction with coming up short is almost palpable at this point, after years of putting out a squad with the talent to beat the game, but failing to even reach the boss battle. Their returner-heavy squad is counting on team chemistry and efficiently-wielding their systems to make up any gap in starpower and big game experience.
Finally, the wild card of the bunch is #6 Toronto 6ixers, back in the Club Series after a pandemic hiatus. Their last turn concluded with a shocking appearance in the final, with a youthful core that marked them as a potential stalwart. Much of that group is back, plus a few international additions to bolster their ranks.
What's the ceiling for Flipside?
There's a new kid in school, and they don't look like they are willing to settle for being at the bottom of the class' totem pole. In fact, they might make a run at captain of the team, valedictorian, and class president. #2 San Diego Flipside has rightfully generated a lot of buzz.
In only a couple of months, Flipside has begun building a resume of a strong Pro Flight candidate. They topped Vancouver Traffic and ran nearly even with Fury at Summer Solstice, while beating the rest of their slate by comfortable margins. They went from strength to strength at the more recent Bay Area Invite, once again playing Fury to within one and also knocking off fellow Nationals bracket contenders like Molly Brown and Seattle Riot. Consistently beating mid-tier teams by handfuls of goals and low-tier teams by double digits are effective markers. The lone concern is getting blown out by Fury in their second Solstice meeting, but you have to give a team in their first ever tournament some grace, right?
As a new club, we have to focus on their personnel. The first thing many will notice taking a look at the list are presences of Kaela Helton and Dena Elimelech. Helton's star is shining as bright as ever while Elimelech's burn is just beginning. But what makes them a team worthy of high estimation is their depth. Kristen Pojunis, Alex Diaz, Dena Slattery, Kelli Iwamoto, and Ava Hanna provide plenty of firepower. The names are a lot less green than the brand.
What remains to be seen is how much they disrupt the landscape at the national level. With a glut of legitimate semifinals contenders this year — see above — is their early West Coast success sustainable or merely the mirage of not having been well-scouted before? Can they overtake the steady quality of other consistent bracket contenders like Nightlock and Scandal and Schwa? Could they emerge as a legitimate rival to Fury?
Whatever the long term implications are, the short term for this season looks like there is upside with Flipside.
Players Who Could Define the Season
Valeria Cardenas (Denver Molly Brown)

Despite her tender age, the idea that Valeria Cardenas could still be considered just a breakout star with potential no longer holds much water. After her performances with Colombia and Revolution at the World Games at WUCC respectively earlier this summer, we now have the grapple with the idea that this 23 year old might be the best thrower on the planet.
Valeria has long been known for her ability to find, create, and exploit space on the field. Not only has she mastered the art of motion in the backfield, she also has an unparalleled variety and confidence in her throwing arsenal. Watching the consistency and swagger of her unlocking offensive possessions with pinpoint stand-still hucks or a casually spectacular break was truly breathtaking in both Birmingham and Cincinnati. She strikes a balance between control, aggression, and patience that the sport has rarely if ever seen, and she may not have even reached her ceiling.
Most players of her age, just 23, don't have the 10 years of club experience that she does, and it shows. It may seem she literally cannot get better, but if anyone can find a way to hone her skill further, it's Cardenas.
Kaela Helton (San Diego Flipside)

It is no shame to have been largely overshadowed amongst the constellation of stars on Fury over the past decade, especially when your primary role is as a lockdown defender. But Helton has long been one of the key components of San Francisco's dominance, and now that she's out from under the egalitarian spread of Fury's system, she is showing her true worth.
Between a Western Ultimate League MVP season and a monumental performance for the United States at the World Games, few can question that Helton is at the very top of the sport right now. Her all-around impact and confidence are through the roof, which is exactly what the doctor ordered for a first-year San Diego Flipside program trying to not just carve out a place in the division, but immediately establish themselves as a title threat. If their success so far in 2022 is to carry all the way through a hometown Nationals, the potential for Flipside mirrors then astronomical potential of their star veteran pickup.
Sarah Meckstroth (Raleigh Phoenix)

In case anyone was still skeptical that Meckstroth's ability could or would translate in the move from the Mixed to Women's division, let's put that question to bed right now. Immediately thrust into a starring offensive role for a rising powerhouse with world championship aspirations, the former Minneapolis star was the most productive statistical contributor for Raleigh Phoenix at WUCC in July. Even amongst the bevy of Raleigh players with Player of the Year honors in their trophy case, Meckstroth stood out as perhaps the toughest cover on the team in a bronze-medal run.
While there are certainly some turnovers to clean up and some chemistry to build with a new slate of teammates, it's probable that the Raleigh brain trust continue to empower Meckstroth to be aggressive in order to get the best out of their newest asset. If she can maintain the high level of play that earned her a spot on the World Games team for a couple more months, Mecks' combination of throws and receiving skill could help set the floor of Phoenix's Nationals expectations at what was previously seen as a lofty ceiling.
Claire Trop (Washington DC Scandal)

At just 23 years old, Trop has already racked up a list of accomplishments and awards that would make any retiring all-world player proud: National and World club titles, World Games gold medal, Defensive Player of the Year, multiple All American and All Club 1st Team honors. We're no longer wondering if Trop has the makings of a potential Hall of Famer; now we're asking how soon she might make that honor a seeming inevitability. What more could bolster the argument? How about taking charge of a once elite program and returning it to title contention. With her move to a revived Washington DC Scandal side, Trop may well knock that one off the list as well before she's old enough to rent a car.
Trop has mastered the art of being everywhere all at once. If you watched the World Games in July, you quickly learned that the flash of blue hair getting a layout block, busting deep, and scoring five seconds later is none other than Trop. The blue hair may not stick around throughout the 2022 season but her speed, field awareness, and versatility aren't going anywhere. She's young, she's accomplished, and she's hungry for more. This defensive powerhouse is all gas and no brakes, so keep your eyes peeled for her signature speed and jump game.
Levke Walczak (Boston Brute Squad)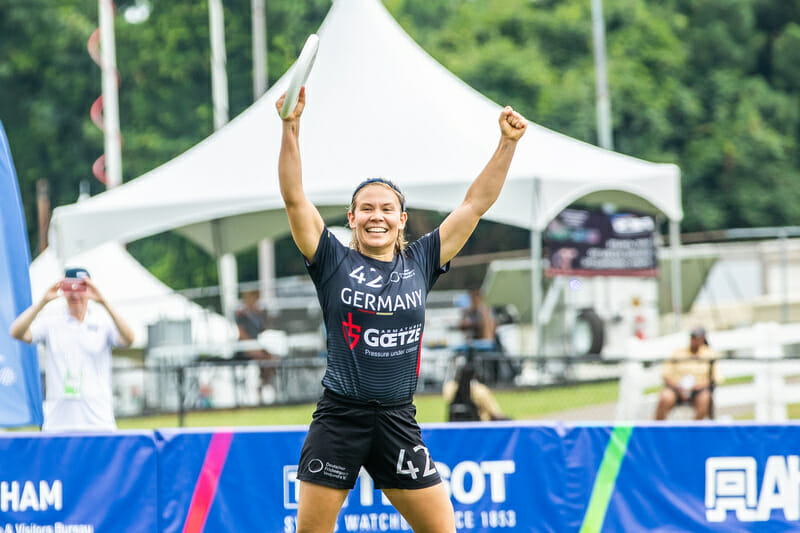 After watching her torch the US for a game-high three goals and 161 receiving yards in Germany's upset win over the hosts at the World Games this summer, you can be sure there are a handful of Americans now very thankful to see Walczak suiting up on their side for the club season. Few if any players can replace departing talents like Kami Groom and Claire Trop, but the German star — along with Berlin jinX teammate Frederike Wagener — is about as good a substitute as Brute Squad could have hoped for.
Walczak is the last person you should want to mark up against, unless you are in the mood to get absolutely dunked on. Her intensity, speed, and dangerous utilization of space make her an unstoppable player. With a breadth and depth of skills across the game, Walczak has contrived a play style that is perfectly simple and alarmingly fierce. As strong as she is individually, Walczak is a desirable teammate who prioritizes connection and community within the team. Would anyone be surprised if a biopsy revealed Walczak's cells are actually microscopic frisbees? Not in the slightest.