UK Nationals is back, and so are the Irish!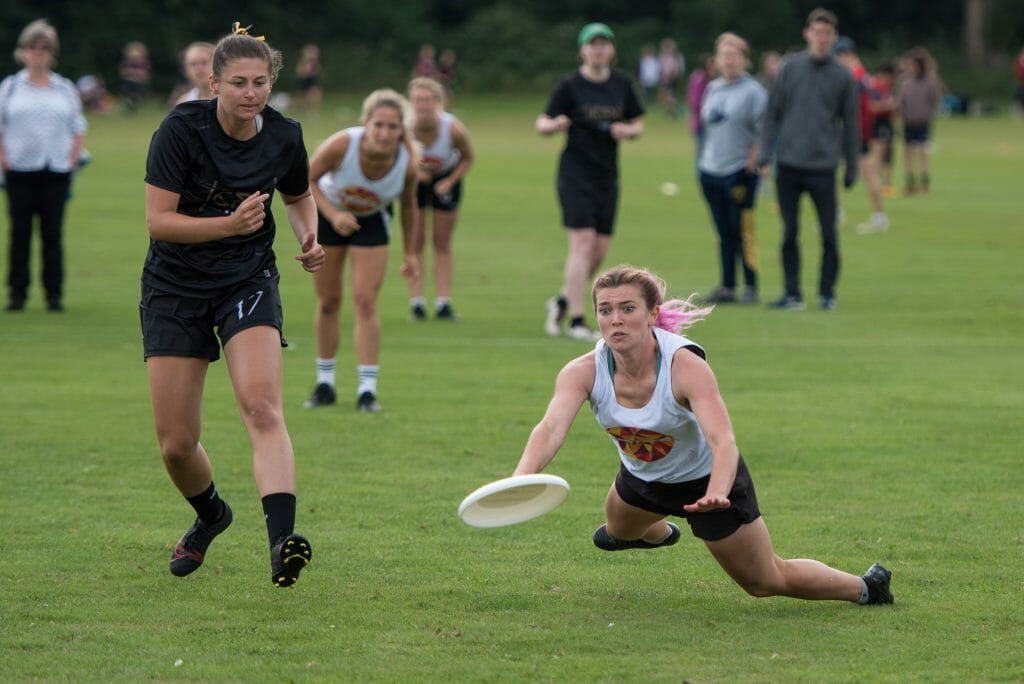 It's that time of the year again in the UK. Last season was a triumphant return to normality capped off by familiar national champions1. This season will see the return of our friends from across the Irish Sea as UK Nationals resumes its slightly strange position as a national championships that doubles as a European qualifier for teams from another country. The open and mixed divisions2 will see teams fight it out for spots at the EUCF in Caorle, Italy in four weeks, adding some extra intrigue to the event.
This season the tournament has expanded slightly, with 12 teams in open and mixed and 10 teams in women's. All three divisions have a totally different format, making things even more confusing. There are crossovers in open for the top six, but none in mixed which goes right to quarters. The women have two large pools while the other two divisions are in four pools of three. It's enough to make your head spin, but here's a primer.
Tournament Profile
Date: September 3-4, 2022
Location: Nottingham, UK
Weather: Warm and wet, highs in the high 60s F/low 20s C, light wind
2021 UK Nationals Teams: 6 open, 6 women's, 7 mixed
EUCF spots: 6 open, 4 mixed
Format, Schedule and Results
Filming Schedule & How To Watch
The games will again be streamed by Ulti.TV with six games on Saturday and five on Sunday. The full streaming schedule is (all times British Summer Time):
Saturday
9:00am: Reading Mixed vs Leamington Lemmings (mixed)
10:45am: Glasgow vs Oxford (mixed)
12:30pm: Chevron Action Flash vs Smash'D (open)
2:00pm Spice vs London Masters (women's)
3:00pm Open semifinal #2 (2 vs 3)
4:45pm: Bristol vs SCRAM (women's)
Sunday
9:00am: Mixed semifinal #2 (2 vs 3)
10:50am: Open final
12:40pm: Women's semifinal #1 (1 vs 4)
2:30pm: Mixed final
4:20pm: Women's final
Women's Division Storylines
| Pool J | Pool K |
| --- | --- |
| SYC | Spice |
| Bristol | London Masters |
| SCRAM | Iceni |
| Gravity | Flame |
| Ladybugs | Horizon |
Bristol is the reigning national champion but will be without its best player this season, GB World Games standout Molly Wedge, as she will be playing for Toronto 6ixers at the TCT Pro Championships in North Carolina. The team still has another World Games player, captain Carla Link, and a number of other talented and experienced players but their margin for error is significantly reduced without the do-it-all ability Wedge brings to the table.
This has been a wild season for UK teams. Bristol won Windfarm3 but lost to Spice (Nottingham) at WUCC. Spice defeated Iceni (London) at London Invite but lost to Bristol at the same event. SYC (London) beat Iceni in the Windfarm semi-final but lost to them in the pool at that event and twice at London Invite. SCRAM (Scotland) pushed SYC close in Cincinnati and finished ahead of Spice at Windmill. London Masters beat Iceni at Tom's Tourney but lost to SYC at Windfarm. The previous results, clearly, are chaotic and not hugely helpful in making predictions. It looks to be the most open field at UK Nationals in years.
Adding to this are the two Irish teams, Gravity and Flame (both Dublin). Gravity is the reigning European bronze medallist and won this tournament when they last attended4, but have struggled this season. The Dubliners have a win over Bristol from London Invite on their record but also a loss to SCRAM at Windmill and losses to Iceni and SYC at WUCC.5 Flame, on the other hand, is quite a young team that has never attended this tournament before but comes in with real promise having recorded a win over Gravity and two wins over Spice at Windmill. They have the potential to spring a surprise or two on the rest of the field.
The schedule makes it difficult to make predictions, too. Ten teams means two pools of five and short, 50 minute-games on Saturday so fast starts will be crucial. The top two seeds will sit out a round on Sunday morning while two second-vs-third crossovers take place so at least the initial pool is not make-or-break. Sunday games will be full 80-minute games.
Mixed Division Storylines
| Pool A | Pool B | Pool C | Pool D |
| --- | --- | --- | --- |
| SMOG | Deep Space | Reading | Glasgow |
| SMOG Rising | Thundering Herd | Lemmings | Oxford |
| Purple Cobras | Birmingham | Black Sheep | Nemesis |
Reigning champion SMOG (Manchester) has had an interesting season. A fourth-place finish at Windmill was a good reintroduction to European competition but WUCC was a relative disappointment with a pre-quarter loss and eventual 27th place. Reading, on the other hand, had a less successful Windmill6 but had a hugely successful WUCC, making the quarter-finals and losing a close game to Finnish team PuTi. These teams are again favored to meet in the final.
Then again, last season Deep Space (London) had something to say about that. The Londoners defeated Reading in the semis last year and also beat them at Regionals, although Reading was missing several players after WUCC. Deep Space had a good WUCC, finishing 21st and third in spirit, and will be fired up for a second consecutive semi-final against Reading if all goes to seed.
SMOG Rising also went to WUCC and Windmill, but only finished fourth at YDG7. The second SMOG team has made the semis in both of the last two years with relative ease, but the mixed field is a bit deeper this year than it has been in some time so that final EUCF spot will be hotly contested.
Leamington Lemmings continued its improvement this season and properly challenged the top teams. Not only did it beat SMOG Rising twice at Regionals8 but Lemmings defeated Deep Space in the semis at YDG. The team features some of the best young players in the UK, including JJUC standouts Tyler East9 and Persephone Pantling10, and will be a real test for anyone once we get to the brackets in Nottingham.
Glasgow made quite a return at Regionals this season, making the final in the north in a pretty huge surprise. They will still be underdogs this weekend but have shown they have the aggressive, high-stakes deep game to compete with the big teams. If you've never watched Glasgow before check out the streamed game where there'll be another pretty huge surprise; receiver Neal Dawson is the tallest player in the UK at over 7 feet tall.
The mixed division will go straight to quarters after the pools with the bottom team in each pool condemned to the bottom four. This means Lemmings and Glasgow appear on a collision course to repeat their northern semi-final in quarters which should be an exciting matchup between two teams that have earned their seat at the top table.
Open Division Storylines
| Pool A | Pool B | Pool C | Pool D |
| --- | --- | --- | --- |
| Clapham | Ranelagh | Alba | Chevron Action Flash |
| Rebel | Tribe | XVI | Smash'D |
| Devon | Bristol | Reading | EDI |
The main storyline, as always, is whether anyone can push Clapham (London). The WUCC bronze medallists have barely broken a sweat in recent years and have won 20 national titles in a row. There were some early growing pains this season with losses in Europe but when playing UK and Irish teams Clapham has retained its sheen of invincibility for a long, long time. You would struggle to find a bookie who'd take action on the Londoners taking home number 21.
Chevron Action Flash (Nuneaton) and Alba (Scotland) finished two spots apart at WUCC11 but will have had very different feelings about their results. Chevron had a tough draw but given the team's previous history will be disappointed, while Alba was pleased with a good finish at its first worlds. At Regionals, Alba beat Chevron for the first time and was the first team to stop Chevron taking the northern title since 2016.
Ranelagh (Dublin) finished third last time it attended UK Nationals in 2019 and reached the EUCF semi-finals last season. It joins Alba and Chevron in the next tier of teams below Clapham and will likely push for a spot in the final after a pretty good WUCC12.
The schedule sets us up for a final we've never seen before. The top four open teams will go directly to semis after the initial pools with the other teams playing crossovers. Chevron comes in seeded fourth which means, should it beat Smash'D (Cambridge), it will play Clapham in the semi-final. It will be the first time since 2012 that the final will not feature those two teams, and the first time since 2006 that a team will make its first appearance in the final. The other semi, should it all go to seed, will see Alba play Ranelagh. The Irishmen beat the Scots 15-9 in Cincinnati, but the Scots won when they matched up at London Invite. Hold on to your hats.
The best chance of an upset semi-final spot, as mentioned, is Smash'D. At its first Nationals last season Smash'D finished fifth and won spirit at a tough xEUCF. It has followed that up by finishing 11th at Windmill, finishing third at Windfarm and making the final of Regionals13 this season. Smash'D seems to have surpassed Devon in becoming the 'next best' team, although the Fishmonsters have been at this level for a number of years and will not give that position up without a fight in Nottingham. Last year's game between the teams went to a fractious, controversial universe point, so there could be fireworks again.
Those two teams join a gaggle of others to provide some intrigue for the last EUCF spots. There are six available, and with four teams looking like strong semis contenders it leaves two up for grabs lower down. The Euros scramble might be the most interesting part of the division with pretty much every team present able to talk itself into having at least an outside chance at making the top half of the draw.
---