Can CUSB or Mooncatchers stop Clapham winning again?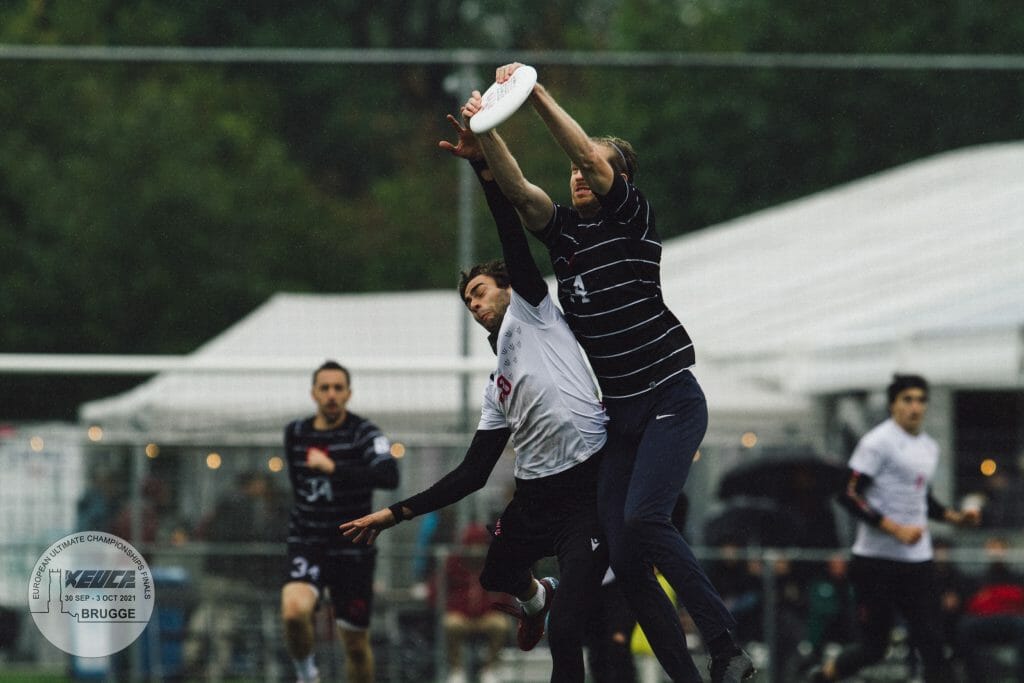 The open division at EUCF this season will feature some familiar teams at the top, and it's unlikely that we'll see the kind of intrigue early on that we did last season when Mooncatchers memorably topped reigning champions CUSB La Fotta in the very first game. That said, there's been some movement and the seeding structure has created some intriguing pools not featuring any of the favorites, offering changes to some upstarts.
The structure sees six pools of four, straight to pre-quarters. The four best third-place teams will qualify for the top 16 with those teams chosen using goal difference against the top two teams in the pool. From there, it's a straight knockout until we crown a continental champion.
Tournament Profile
Date: September 29 – October 2
Location: Caorle, Italy
Weather: Wet (again) with dry spells, temperatures in high teens C/high 60s F and light wind
How to watch: On Ulti.TV's YouTube channel
Team breakdown:
Five teams: Great Britain
Four teams: Germany
Two teams: Belgium, France, Italy, Poland
One team: Austria, Czech Republic, Denmark, Finland, Ireland, Slovakia, Switzerland
The world beaters
The third, fourth and fifth best open teams in the world will be at this tournament. Clapham (London) returned from Cincinnati with a clutch of bronze medals, defeating everyone's second-favorite team1 Mooncatchers (Brussels) in the bronze medal game, while CUSB La Fotta (Bologna) battled to fifth with only two losses all week. These teams appear to be the three with the best chance of taking home the trophy from Caorle.
Clapham is the favorite, obviously. The team is fresh off its 21st consecutive UK title and last season reclaimed the European crown from CUSB, its tenth. An uneven start to the season was a result of taking split squads and missing key players. Once the band got back together it steamrolled opponents as per usual, including a dominant win over Mooncatchers in the Windmill final. At WUCC the Bullfrogs battled hard against everyone and lost only two games – 15-13 to eventual runners-up Ring2 and 15-10 to eventual champions PoNY. The squad is slightly bigger in Caorle although it is missing World Games player Will Rowledge through injury3. The D line will be the unit that teams will fear most of all, its ability to grind teams down and play clinical offense after the turn a problem that only two teams have been able to solve so far this season.
CUSB will be missing their star American WUCC additions Goose Helton, Kurt Gibson and Orion Cable. German World Games player Torben Hornschmeyer has also returned to play with MUC (Munich) so the Italians have lost a fair amount of star power. A new addition mitigates some of that slightly in the shape of French World Games player Quentin Roger, who will bring his spicy ambidextrous throws to the table. The CUSB O line is as reliable a unit as you'll find in Europe, built on fantastic chemistry and understanding. Arturo Laffi, Simone Gasperini, Riccardo Zanni and the rest will be gunning to take back the title after coming so close to winning their second last season.
The Mooncatchers are the newcomer at the top table, although the Belgians' style is more akin to a rowdy gate-crasher. Moon reached the Windmill final but was beaten comfortable by Clapham and looked to be set up for a good WUCC, pushing for the pre-quarters. Then they exploded onto the world stage with a swashbuckling style that won admirers and fans from Brussels to Boise, Bogota, Brisbane and everywhere in between. Led by the dynamic sibling pairing of handler Ben and cutter/monster Reph Jonkers and ably backed up by elite players like do-everything Latvian superstar Arvids Orlovskis and exciting young defender Daan De Marree, Moon has this season retained its ability to be box office but added a steely sureness in its own abilities.
Jigsaws missing a piece or two
Wall City (Berlin) and Iznogood (Noisy-le-Sec) have been key players in European ultimate this season. Wall won the Elite Invite and Izno won Tom's Tourney. Both have pushed Clapham and both have won key games against big opponents, but both are missing key pieces at Euros.
For Wall, that piece is Conrad Schloer, with the All-World defender rostered to PoNY for its USAU title defense. For Iznogood, it's Joe White who returns to Machine duty alongside Tim Schoch, and French World Games player Eric Becker Chagneux. White was a force at WUCC while notching the second most stats in the open division, 19 goals and a scarcely believable 43 assists, and Becker has been a key part of Izno for years. The teams will still be extremely good and should both push strongly for places in the quarters, although Iznogood has a challenging pool featuring some tricky opponents.
The other team missing a key piece is Bad Skid (Heilbronn) which has been without the services of stalwart Holger Buttenmuller for the whole season. Buttenmuller would have been one of the key parts of the German World Games team and potentially in a Bad Skid push into the top eight at WUCC, but a knee injury has disrupted those plans and may affect his teammates as they look to get back to semis after losing to Ranelagh (Dublin) in the top eight last season. Nico Muller, Stef Dosscher, Marvin Waldvogel and Sam, a younger Buttenmuller, all played in Birmingham so this team is hardly without talent, but like the other teams mentioned here they may lack a championship ceiling without the stars that can crash through it.
The pools
Pool A features Clapham and Wall City, who should finish as the top two. Panthers (Wroclaw) and ReFlying Oysters (La Rochelle) are two teams that feature a number of talented players but may be overmatched here. Panthers will feature two Dobranowskis, Filip and Łukasz, who both played for Poland at the 2017 World Games and their experience should be enough to take third place.
Pool B will see CUSB match up with MUC, Ranelagh and Uprising (Poznan). The battle between Ranelagh and MUC could well decide second in the pool, with the Irishmen pushing to repeat last year's surprise semi-final berth. The team seems to be in decent form after a fourth-place finish at UK Nationals but a tough loss to Alba (Scotland) in the semis will be cause for mild concern.
The first pretty open pool is C. Alba comes in as top seed after finished second in the UK and will be joined by Cotarica Grandes (Rimini), thebigEZ (Vienna) and Heidees (Eppelheim). This is only Alba's second EUCF so is still new ground, and the team will be without key handler Andy Boxall and several other important players. Heidees comes in with a strong history and decent result this season, thebigEZ finished fourth at its regionals with good wins over Panthers and Outsiterz (Bratislava) and Cotarica features some of the best young players in Italy, with key under-20 handler Edoardo Fabbri joined by his bronze-medal winning teammates Andrea Bulgarelli, Matteo Paradisi, Francesco Castellani and Giuseppe Farruggio. This is a tough one to call.
Pool D should be pretty routine, with Moon joined by Chevron Action Flash (Nuneaton), Freespeed (Basel) and Outsiterz. The top two have met already this season with Moon defeating Chevron at Tom's. They should be the top two here and progress to the top 16, and some key losses for Chevron like Great Britain players Tom Hodgett and Dec Cartwright should mean Moon is able to finish on top.
The penultimate pool is another that looks open. Iznogood is joined by Gentle (Gent), the 2021 bronze medallist featuring rising stars of European ultimate the Decraene brothers4 Lander and Tobe5, a Devon (Bristol) team full of experience, cohesion and an appetite for big games and 3SB (České Budějovice), the Czech champions with a number of the country's best players. Czech ultimate has had a good year in Europe with FUJ (Prague) looking like one of the best teams around for stretches. Many of those players live in České Budějovice and so will be with 3SB at EUCF, and could be enough to push them to the top of this pool if the others underestimate them.
The final pool sees Bad Skid up against PirU (Pirkanmaa), Smash'D (London) and KFK (Copenhagen). The Finns are intriguing with several of the players that reached the WUCC mixed semi-finals with PuTi part of this squad, including stalwarts Erkka Niini and Roni Hotari. Smash'D is a young team making a name for itself in the UK and Europe6 with players that will be pushing for Great Britain representation next season, and KFK is always a strong team that can cause problems for even the best in Europe in stretches. The Germans should top the pool but second is wide open.
---