An amazing final!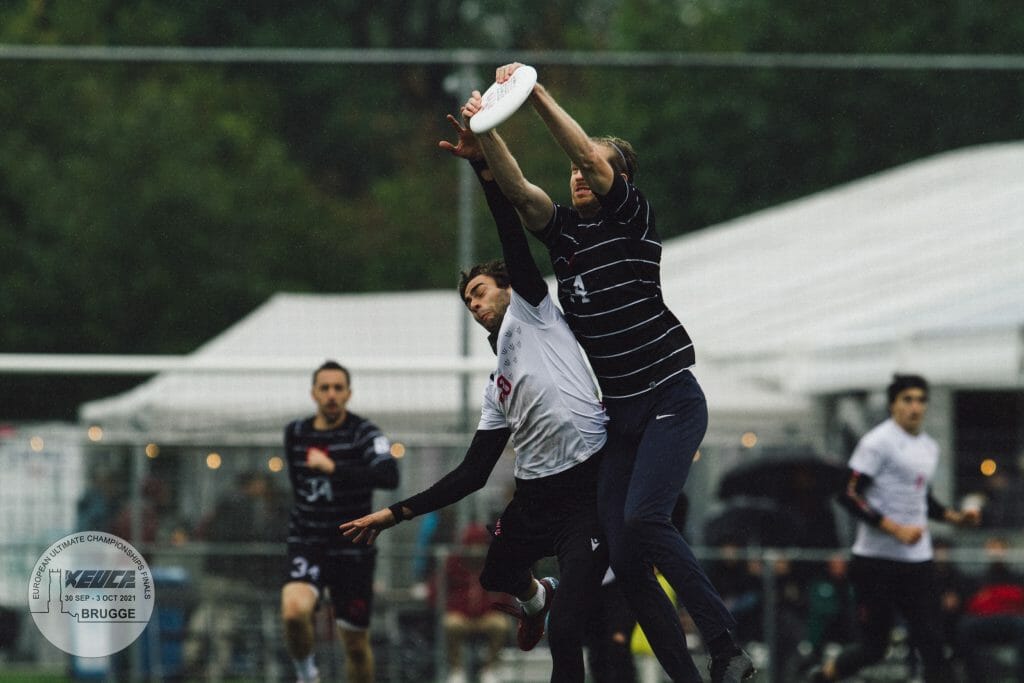 Clapham have restored order slaying CUSB 13-10 in the XEUCF 2021 open final. For a moment CUSB looked like completing a comeback, but Clapham stayed calm to take their tenth European title.
As most predicted, Clapham Ultimate and CUSB La Fotta met in a rainy final. The British made their way into the final on cruise control, only getting some stings from Red Bulls in power pools and Wall City in quarters. They had been able to rest a few key players in each game. La Fotta had quite a different road to the final. The Italians lost their first game of the tournament to an early-peaking Mooncatchers. They then went on winning big games against Tchac in power pools and Ranelagh in semis for example. Never fearing elimination, but never assuring qualification either.
On the artificial grass field,1 Clapham started in offense. Despite tight defense the O-lines made it to the other side until 2-1. Off a Bologna miscommunication throw, the British easily took the break 3-1.
On the next point, Alessandro De Lucca received a huck to respond 3-2. However, after catching the goal De Lucca could be seen clutching at his hamstring and the key offensive player would not play the rest of the game. Then Clapham went on a 3-0 run. CUSB had a meltdown launching after a missed huck on one point, then gifting the disc to a Clapham player just outside their defending end zone right afterwards. In a must-win point Riccardo Zanni came up big time with a defensive stretch around his man to prevent an irreparable deficit 6-3. Sebastian Rossi was inspired and made a massive lay-out under D for the important break 6-4. Yet, on serve, Clapham comfortably rolled to a convincing 8-5 halftime.
La Fotta started on offense in the second half. The defending champions came out of the locker room focused to correct their mistakes from the beginning. The sidelines were filled with three other cheering Bologna teams, which helped to fuel CUSB on defense.2 La Fotta broke twice with Luca Tognetti assisting on one and scoring on the other to make it 8-8. Clapham had to start all over again and the crowd was loving it. Star Clapham handler Joshua Briggs threw a gentle backhand deep to Foord to keep the lead at 9-8. Two converted offenses later Michele Angella slid in for the score, but the disc bounced of his belly letting Clapham build the foundation for victory at 11-9.
It was not over yet. CUSB crossed over a lot of D line players after being broken late in the game. CUSB's Irish import Pádraig Sweeney put up a huge huck down the field and Simone Gasperini read it perfectly but still could not grasp the disc. It popped out of his hands and behind, Ricardo Venturolli made a heroic catch and then punched in a quick pass for the score.

With the score at 11-10 Clapham put up a disc to their trusted receiver Foord. Tognetti soaring as high as the Bruges towers on a floaty huck and made the D. Foord called strip, but after a long discussion Foord retracted the call.

Connor McHale boxed out a La Fotta huck to get the disc back. A time out and a few throws later, McHale handed the disc back to CUSB on a miscommunication with Briggs. During the long marathon point the cap horn sounded. At 11-10 this meant that if CUSB could score they would bring it to universe and if Clapham scored it would be a game to 13. Gasperini had the disc mere meters from the endzone line and saw breakside space open for both Rossi and Andrea Mastroianni, and put up a blade to space. Rossi, not realizing that it would be an easy catch for Mastroianni, made a heroic leap towards the disc, but tragically tipped it out of play.

Clapham worked the disc back down the field to make it 12-10, game to 13. The CUSB O line made a sloppy turnover. Clapham made quick work of it and punched in an easy score to win the game 13-10.
Clapham's Justin Foord said, "This is pretty special. First, because it has been a two year wait. Second, because this year we were on the same level. The game could have gone either way. We have been preparing for this final the last six months, analyzing CUSB's game." When asked about what a third consecutive CUSB-Clapham final means for the parity of the open division, Foord answered, "I don't think the gap between us and the rest is huge. Club-wise there is a gap, but if you put all German teams here together for example, it's a different story."
CUSB's Torben Hörnschemeyer stayed positive, "Personally it was great to learn from them. We had our chances, but we didn't convert on the turns. Clapham put our offense under real pressure and succeeded in pushing through. We wanted to dictate them. With custom tactics we tried to outplay them, but they also know how to approach our playing style. On top of that they have such a deep roster. If we shut down one or two players, others stepped up."
This marks the 10th EUCF title for Clapham on a year where they also won their 20th consecutive UKU title. The legacy of Clapham continues even as the rest of Europe levels up closer and closer.
Gentle overcome Ranelagh for bronze
When the finalists were still eating their pre-game breakfast, Belgian Gentle took care of Ranelagh 10-7 to step onto the podium in their home country. An early 2-0 lead put Gentle in the driver's seat to take the bronze medal. Gentle used their deep threats such as Tobe Decraene and Pieterjan De Meulenaere to go 10-5 up and obliterate Ranelagh's hope on a medal. The Irish softened the score in the end, but the 45 minutes-no cap format made a major comeback impossible.
Final Ranking
1. Clapham (London, UK)
2. CUSB La Fotta (Bologna, Italy)
3. Gentle (Ghent, Belgium)
4. Ranelagh (Dublin, Ireland)
5t. Bad Skid (Heilbronn, Germany)
5t. FUJ (Prague, Czech Republic)
7t. Wall City (Berlin, Germany)
7t. KFK (Copenhagen, Denmark)
9t. Iznogood (Noisy-le-Sec, France)
9t. Tchac (Pornichet, France)
11t. BORA Bears (Germany)
11t. MUC (Munich, Germany)
13t. JetSet (Leuven, Belgium)
13t. The Bridge (Wroclaw, Poland)
15t. CUSB Red Bulls (Bologna, Italy)
15t. Cotarica (Bologna, Italy)
17t. FWD>> (Vienna, Austria)
17t. Mooncatchers (Brussels, Belgium)
19t. FAB (Bern, Switzerland)
19t. NewAge (Raana, Israel)
21t. Freespeed (Basel, Switzerland)
21t. Panthers (Bern, Switzerland)
23t. Krakens (Barcelona, Spain)
23t. thebigEZ (Vienna, Austria)
25t. Smash'D (Cambridge, UK)
25t. XVI (Dublin, Ireland)
27t. Prague Devils (Prague, Czech Republic)
27t. SUFC Odin (Stockholm, Sweden)
29t. Outsiterz (Bratislava, Slovakia)
29t. Terrible Monkeys (Prague, Czech Republic)
---
Finals were moved to the turf as the main grass field turned to a pool of mud after three days of rainy play ↩

CUSB Red Bulls, Discobolo and CUSB Red Shot were all there, while Shout was busy warming up for their final. Clapham had little sideline support as no other London teams were in attendance ↩