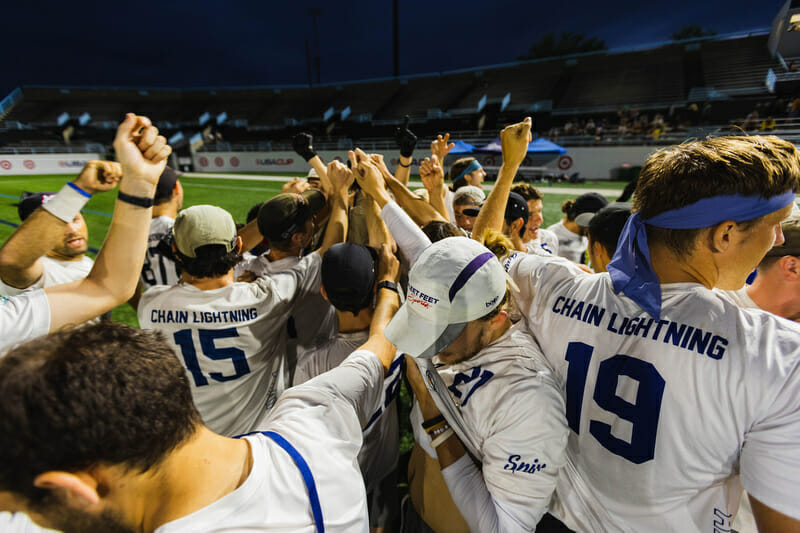 Ultiworld's 2022 coverage of the club division is presented by Spin Ultimate; all opinions are those of the author(s). Find out how Spin can get you, and your team, looking your best this season.
With multiple bids in all three divisions, the Southeast found itself with an unusually high tide of tickets to Nationals. Appropriately, however, their list of deserving attendees outpaced that number. The mixed division proved particularly deep, but surprises in every division made for an exciting weekend for the region's competitors and fans.
Mixed: Space Force, Dirty Bird, Toro Rise Above the Fray
With three bids on the table and nine of the top-40 ranked teams in the country, the Southeast mixed tournament promised to be a tumultuous affair – and the action did not disappoint. Viewed from a distance, it was like a cartoon dust cloud around a free-for-all, with unidentifiable arms and legs poking out through the edges only to be drawn once more into the raging fracas.
The razor-thin margins and seesaw lead changes were the norm across the tournament. For a succinct illustration of the barroom chaos, see the third round of play on Saturday1, when all but one of the six games feeding into the quarterfinal bracket were decided by a single point:

The high-tension affair continued with a quarterfinal round that saw 'Shine, Dirty Bird, and Space Force survive serious scares from Murmur, Crown Peach, and Roma Ultima. Breathcatching general results aside, by Sunday the semis had a certain chalky flavor to them, with four of the top five seeds taking part in the first play-in to Nationals. The exception, Atlanta Dirty Bird, had upset Murmur with ease the day before in pool play to give themselves the inside track at a bid. They continued that effective work with a wire-to-wire win over Durham Toro, who could not keep pace with the offensive attack on display from Caroline Taylor, Austin Taylor, Jin-Mi Matsunaga, and Matt Smith. Dirty Bird did not give up a break in the game, and JP Burns led a confident D-line to the end zone multiple times for a statement win: 15-11 over one of the tournament's favorites. It's the first time an Atlanta mixed team has qualified for Nationals since Bucket's last trip in 2015.
The semifinal between Nashville 'Shine and Huntsville Space Force was much tighter. Stumbling early on the way to a 3-5 deficit, Space Force had to regroup on offense and start leaning on their defense to keep from falling out of the game. Fortunately, the defense did exactly that, using a zone to discourage 'Shine's excellent isolation deep game. (Jesse Shofner is a good zone handler-flex, but she isn't going to kill you with a twenty-yard swing or a chisel reset the way she will if she has a free 40-yard run to the end zone from a pull play.) Frenetic, handsy play by Elijah Jaime on the mark and a readiness to collapse around any swing pass longer than three yards kept the pressure on 'Shine, and they started to yield possessions where, earlier in the game, the disc had been secure. Space Force took half 8-7 on a mini-run of three points. The lead changed hands twice more in the second half – one of those a brilliant, plodding 70-yard 'Shine counter. Space Force received at 11-11 for universe point and set themselves up for a score in the red zone, but they couldn't connect on the pass. 'Shine gave it back quickly, however, and they failed to cover everyone in transition. The result was Jaime standing by himself near the flick-side cone without anyone near him: game, Space Force.
After a lightning delay, Space Force and Dirty Bird mutually elected not to play the regional final, giving Space Force a staggering 31-0 record on the season so far. They are the first team out of Alabama to make the field at Nationals since the turn of the century.2
With their losses, only one of Toro or 'Shine would be able to qualify. Toro outplayed Murmur comfortably in one half of the backdoor bracket to make the game-to-go. 'Shine, on the other hand, had to score three consecutive breaks against a very young, very solid Wingdings side who seemed to lose focus just as they were about to score a massive upset.
The game-to-go started off even as both Toro and 'Shine drew early breaks. After Toro's second break to take a 3-2 lead, however, they maintained a clear edge over 'Shine for the rest of the game. Philip Dougherty had an excellent game for Nashville, driving the O-line to the end zone several times, and even securing a crucial late hold with a phenomenal callahan grab. But between the fact that they looked a little gassed from the weekend – there were a couple of coverage sacks where the six players without the disc couldn't seem to find the gear they needed to get free – and a failure to adjust to Toro's regular open-side poach scheme, the offense was never consistent enough to keep the game close. Toro, on the other hand, looked like the much deeper side. Georgia Tse, Chris LaRocque, Grayson Sanner, and Christine Bookhout had fine games for the O-line. Suhas Madiraju was magnificent on defense, and he, along with Bailey Laberteaux and Sarah Russek, pushed the pace after turnovers. Without exactly pulling away, they never let 'Shine have a real shot of re-tying the game. In the end, LaRocque calmly found Sanner with a forehand shot from midfield to clinch a return to Nationals for Toro.
Men's: Chain Top Ring in Gritty Final
Raleigh Ring of Fire have been on a high in recent years. Several runs to the National semifinals finally culminated in a 2021 national championship, which they followed up with a runner-up finish at the World Ultimate Club Championships earlier this year. That run of success did not extend to this year's Southeast regional championship, where perennial rivals Atlanta Chain Lightning defeated them 15-13 in the final.
Chain were fast on offense and physical on defense from the jump. Tom Tulett, Parker Bray, and Max Thorne formed the backbone of an offensive attack fast enough to keep Ring's defenders chasing instead of dictating. For a change of pace, they could resort to a deep game led by John Stubbs and Brett Hulsmeyer. The upshot was that they did not give up a break in the first half. Meanwhile, the defense staked them a lead on the quick counter from Michael Fairley and Christian Gaeta after a Ring turnover in their own half.
Down 8-6 at halftime, Ring were not simply going to lie down and take a loss. They started to run the disc to and through star cutter Anders Juengst more often. In addition to a couple of trademark wide open scores, Juengst also earned a deep block and tossed a smart backhand huck to space for Sol Yanuck. He was Raleigh's most dangerous and most consistent player in the game. But this is 2022: Juengst's talent is not going to be a surprise to anybody anymore. Chain came prepared to defend him, finding success at times with a player of Juengst's size (Tanner Robinson) and one significantly longer (Trenton Spinks). Chain's game plan for Juengst probably foreshadows what will happen at Nationals, because everyone remembers how thoroughly he ran past PoNY's defenders in last year's final.
Ring strung together a pair of breaks to take an 11-10 lead. Credit to Charlie McCutcheon for the block on the first, as well as to Jon Nethercutt's steady hands on the reins on the ensuing counter. Trading holds at that point would only result in a defeat for Chain, so it fell to somebody on the D-line to step forward to wrest it away from Ring. On this occasion, the hero was Robinson, who was not only agile enough to keep up with Juengst – perhaps not so out of character for him – but also, shockingly,  explosive enough to keep up with and even out-do Juengst's powerful bids on two separate occasions late in the second half. The pair of them launched enormous synchronized layouts on back-to-back points, and both of them (one as a receiver and one as a defender) went Robinson's way.
Having re-taken the lead, Chain punctuated their regional title with a spectacle of a catch. Tulett moved horizontally behind the disc to collect a dish. From power position at the brick mark heading toward his forehand, he stepped back across his body to launch a backhand huck, aiming to wrong-foot the entire Ring defense. It was a beautiful hanging throw out to space in the back corner. Unfortunately for Tulett, there was one defender who did not bite on the cross-field movement: Alex Davis. The Ring defender hurried to the spot to take position. It looked like he was going to have the block wrapped up, but somehow Jeremy Langdon went up so early and so high that Davis couldn't get a hand on the disc until Langdon already had possession. There was a lot of contact, and the disc came out of Langdon's hand in the air, causing brief confusion until the observer ruled that it was a legal catch and a strip.
The win speaks well of Chain's potential to match or exceed last season's quarterfinal appearance in San Diego. They wear the Southeast Crown for the first time since 2013.
Ring of Fire rebounded from the loss to win 15-10 over a good Raleigh-Durham United side and take the second bid.
Womens's: Phoenix Cruise into Nationals; Ozone Make Confident Return
There was less excitement at the top of the Women's division than in Men's or Mixed, mostly due to the extreme talent gap between Raleigh Phoenix and the rest of the field. Sarah Meckstroth and Amanda Murphy stood out on a D-line that took nearly every break opportunity given to them: they only gave up a total of four points in four total games – including a 13-1 dismantling of Atlanta Ozone in the final. Phoenix leave Regionals with the impression that they are firmly in contention for a National title.
The game-to-go between Florida Tabby Rosa and Ozone for the second bid, on the other hand, brought a dash of competition into the mix. Ozone's longtime offensive wonder-worker Meg Harris traded excellent hucks with 2022 Tabby Rosa star (and general wandering ronin of the women's division) Erynn Schroeder early in the game. While Tabby had enough power at the top end to hang with Ozone, Atlanta's depth proved more than strong enough to win the game. Harris, Chupzi Lema, and Liz Leon were not fazed by Tabby's zone look, even if it slowed the team's offense. On defense, Atlanta's young players continued making stellar plays: Lylah Bannister, Erica Birdsong, and Soju Hokari — a trio of D-I returners — each had standout moments as Ozone tacked on breaks. They won by a surprisingly comfortable 15-9 margin, and they leave the tournament with an air of promise about the team decidedly lacking the last two seasons. This could be the beginning of a new era of Atlanta women's ultimate.
---
two seeding crossovers for the pool winners and four elimination games ↩

The epically named open division side Booty Quake qualified in 1999. ↩