Stephen Lin finally fulfilled a lifetime goal of going to Nationals by making friends with an age-old enemy, Love Tractor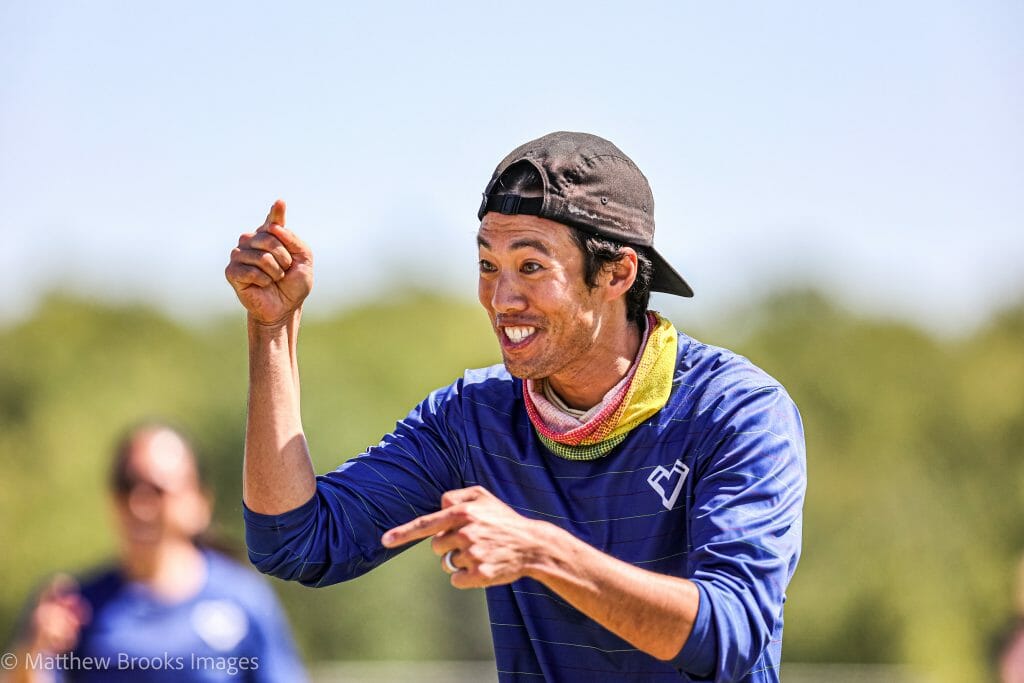 This post was written by Stephen Lin.
September 25, 2022, Tulsa, Oklahoma
Jack McShane has just ripped a 50 yard huck to Eric "Hub" Hubbard. His defender is yards away and a meaningless bid gives Hub an easy goal. Once again Love Tractor has qualified for Nationals, 11-8. The team rushes the field and in moments Maggie Chen is on her hands and knees, fully screaming at the top of her lungs into the arid grass as teammates surround Hub and let out their pent-up emotions.
I am sitting on the ground in disbelief. I usually end up like this when Love Tractor wins a game that I'm playing in at Regionals. It's a kind of ritual for the end of my season, sitting, staring into the distance, wondering what I could have done better.
The difference is, on this day, I play for Love Tractor. I am on the team.
At age 34 this is my first time qualifying for Club Nationals. I have been playing mixed club ultimate since 2013 and this year marks my 10th in the South Central Region. I played three years with Spikes Peak, four years with Mesteno, one year with Flight Club, and one year with Love Tractor.
I have spent ten years on one goal: Club Nationals, the pinnacle of our sport.1
I start to sob, big, ugly, heaving sobs. It is relief, it is pride, it is regret, it is joy.
Teammates come and pat me on the back, but I don't look at anyone, my hands covering my eyes.
I continue to sob.
2014: The Record Begins
USAU's records only go back to 2014.2 Starting then, the organization has a record of every win and loss, every game and every tournament I ever participated in.
I have played against 93 teams. My overall record is 134-97, a 58% win rate. Of the teams I played more than ten times, I have a losing record against one of them, an abysmal 2-19. Furthermore, out of eight Regionals, I was knocked out by this team four times.3
This team is Love Tractor, one of the best teams in our region, qualifying for Nationals five times in the last seven years.4
Love Tractor has played many roles in my career: inspiration, villain, catalyst, savior. It is a long, complicated relationship.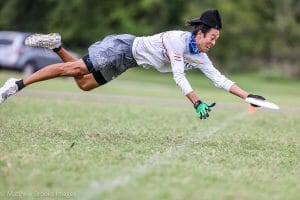 I first tried out seriously for Love Tractor in 2016, the year after Spikes Peak folded. I remember advancing to the second round of tryouts but was not offered a spot on the team. I still have the feedback email from Stanley Strunk, captain at the time, which gave me three points of improvement that I still haven't fulfilled.5 It cannot be understated how devastating and foundational this rejection was. It would shape my interactions with and perceptions of the team for years to come, drive me to compete a little bit harder in every game against this team.6
The next few years I spent grinding, scraping, clawing, doing everything I can do to bring my team to the next stage.
The results do not vary.
June 17, 2017, Fort Collins, Colorado
Mesteno is playing Love Tractor in pool play. I catch a floating disc from Chris Van Thiel over two Love Tractor players. Sandwiched by both of them, we come down with no legs beneath us and I am crushed, leaving me desperate for breath. A few days later a doctor diagnoses me with pneumothorax. A few days after that, I hear a "pop" in my chest and go to the hospital. A chest tube is inserted into my pleural cavity to drain the excess air. I will always have this scar.
September 24, 2017, Beaumont, Texas
The fabled game-to-go, the first I have played in. Mesteno just beat Cosa Nostra, perennial contenders in the region.7 We immediately move fields to play Love Tractor for the third bid to Nationals. Our team, tired, drained, exhausted, loses 15-5. I remember this without the need for score reporter because I score or assist every point. I wonder, after the end, what more I can do.
I will wait five years to play in another game-to-go. Love Tractor knocks me out of every Regionals since. Every loss is more kindling to the fire.
September 26, 2021, Austin, Texas
It's the backdoor semifinal against Love Tractor. I score the first point of the game by roasting Garrett upfield for a long catch.8 Our captain, Ciaran Shaugnessy, sits me on a subsequent O-point. I had been playing well all weekend and the thought of not being able to contribute, of being relegated during the most important game of the season, enrages me.
I was holding on too tight to winning and success and victory, a chance to finally qualify, for not only a spot to Nationals but to knock out this particular team. It is too much. I break, lose control of that fire and passion. I seethe on the sideline, loudly complain about line-calling decisions on offense. I confront Ciaran and we argue. It is bitter, it is ugly, and we lose 13-7.
After the game I sit alone with my thoughts, but this time it is not thoughts of inadequacy or simple regrets.
Instead, I am ashamed.
It is the single worst feeling I have ever had. I apologize to Ciaran afterwards but I will always feel that shame when I see him. I spend the next few months re-evaluating what I want from ultimate. I decide to never hold on to that kind of toxic passion again. I want it ripped from my psyche, excised and thrown away, but that is not how things work. That consuming voice is still there, but much smaller, a dark smoldering coal rather than a burning inferno.
June 2022, Denver, Colorado
I have no illusions about time and its inexorable march, the effect it has on us all. I never used to ache after playing, but now I do. My knees swell, my Achilles tendons are tight, my shoulder makes a weird click when I raise it up a certain way. I only have a few more "good" seasons left in the tank and when tryouts are announced for 2022, I decide to now really commit and see if I can finally make Love Tractor's roster. While I had attended Love Tractor's tryouts in the past, it was more as a way to test myself, to prove I could still hang with their players. This time, it would be to see if I could join them.
Love Tractor captain Jesse Roehm calls me and I have no words when he offers me a spot on the roster. His trust in me means everything.
It still hasn't sunk in. At our first tournament I felt like an imposter, especially so since I didn't have a jersey with Love Tractor on it unlike nearly every other teammate. The team added only five new players, a testament to the program's consistency. The feeling went away a little when I received a uniform, but sometimes I still feel like I'm trying out.
Statistically, this was my worst season. I could feel my production lagging, the assists and goals that indicated my value as a player suddenly missing, but those numbers mean less on a deep team that trusts its players from top to bottom. This data is not even tracked by Love Tractor's leadership where the only metric kept is conversion rates for each line. It is instilled from the very beginning that what we are building and peaking for is the final games at Regionals.
Love Tractor's practices are professional and efficient, a testament to Coach Wes Williams' no-nonsense style. I had never before had a coach at the club level. Wes is quiet, intellectual, a man of few words. His decisions are well-reasoned and dispassionate. Sunday morning of Regionals, he asks me to play D-line for the first time all season. It's windy and the leadership wanted my upwind throws available on a break chance.9 I would have balked at such a request a year ago, but today I do so without question. That is what a coach like Wes will do for a team: turn egomaniacs into team players.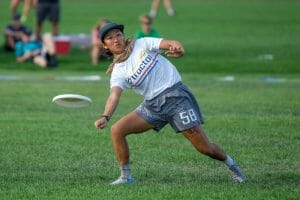 There are three other first-time Nationals qualifiers players on Love Tractor along with me: Liana Bradley, Akane Kleinkopf, and Lucas Nesheim. They are 20, 24, and 27. These young players are the future, while I am the past. I hope they can avoid the long and twisted road, the years of self-doubt. Their paths are already lit with success and maybe, by this light, they will avoid the traps  and falls that plagued me.
The team has a tradition of making new Nationals qualifiers crawl between the team's legs and go through "The Spank Machine." My knees were scraped and bloodied already from earlier bids, so I complain the entire way as my teammates slap my ass down the line. By the end, players from shame. even join in. By the end, I finish not crawling but shuffling on the one, less painful knee as I drag my way through the dusty "grass".10 By the end I am cursing this tradition.11
September 24, 2022, a hotel room in Tulsa, Oklahoma
Love Tractor has a team meeting after losing to Mile High Trash earlier in the day, forcing us through the back-door bracket. After two wins to close out Saturday, it will require three more over quality teams to secure a spot to Nationals. Captain Britta Bergstrom called this meeting to ask one thing: Why are you here? The answers are all deeply personal. It is intense and moving. It is the turning point.
September 25, 2022, Tulsa, Oklahoma
Back-door semifinal, universe point against Flight Club. We win a basically upwind, downwind game.
Hours later, after I have qualified, tears still in my eyes, my former teammates on Flight Club run over. They cheer, scream, pour beer everywhere. I am lifted onto people's shoulders and can see everyone. They're happy. I'm happy. I sob again. I hug everyone, big, solid, full hugs. Ciaran seems happiest of all and I hug him hardest.
It means everything that they came and congratulated me. The decision to leave Flight Club was not easy. Some of my closest friends are on that team and I miss the easy camaraderie, the inside jokes, the weekly dinners at Nick and Jess'. Flight Club was messy but fun, the earmarks of a good team rising to the top but falling just short.
September 25, 2022, Tulsa, Oklahoma. Again.
We are up by two against Public Enemy in the game-to-go, receiving on offense, going downwind, needing only one point to win. Even now I am cautious, guarded, a stone. I cannot afford to be otherwise. It hurts too much to feel, to care. I have been here eight times before. Eight times.12
Hub catches the last point and the stone cracks completely open. Emotions pour out, rampant and raw, the culmination of ten years of tournaments, of practices, of workouts and strategy sessions, of glorious victories and crushing defeats. The resulting feeling is transcendent.
It is Christmas as a child, when the months spent wanting something felt like years. It is reaching the summit of a mountain you've been climbing for ten years. It is feeling the warmth of the sun after a long winter. It is validation, like a giant stamp of approval from the frisbee universe.
It is finally being complete.
On October 20, 2022, I will play at Club Nationals for the first time, closing a chapter in the book. Later, in December I turn 35, and in February I will have my first child. One chapter ends, another begins.
Thank you Tractor, Love Stephen.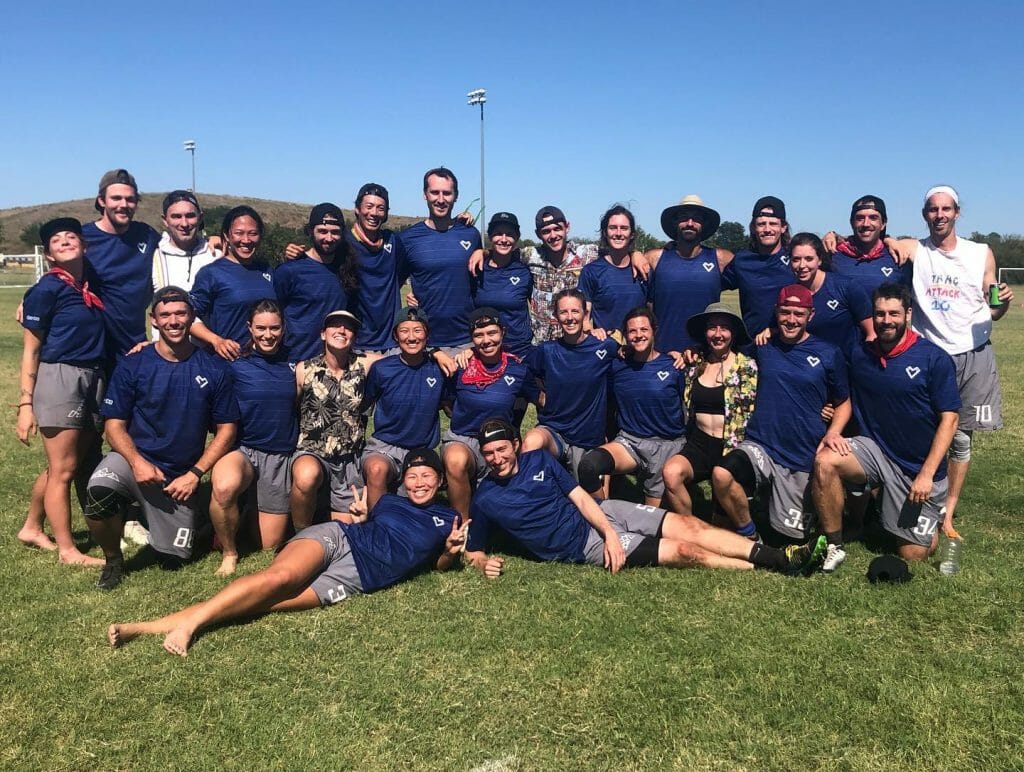 ---