Catch up on all the prequarterfinals action from the men's division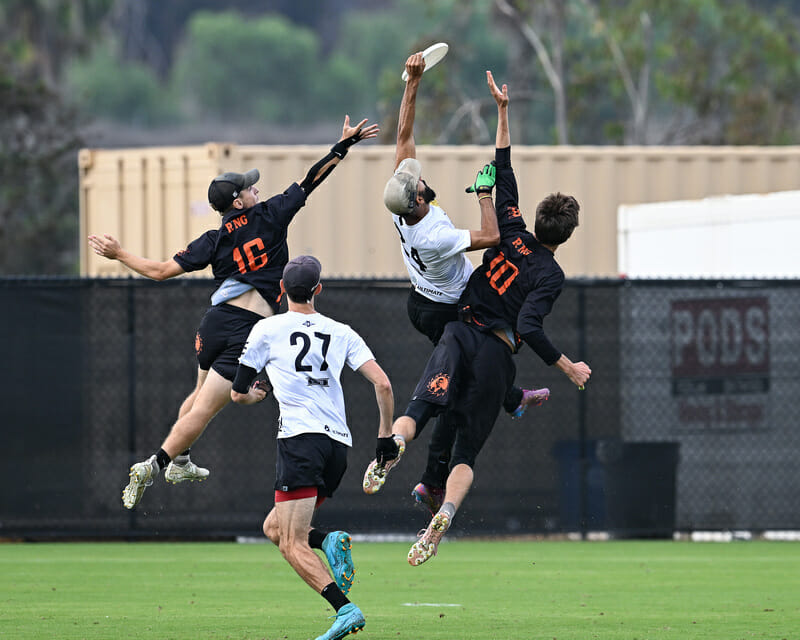 Ultiworld's coverage of the 2022 Club National Championships is presented by Spin Ultimate; all opinions are those of the author(s). Find out how Spin can get you, and your team, looking your best this season.
We've rounded up coverage from our Day 2 live blog. Stay tuned into ultiworld.com/live for updates, as well as streaming links for all live games!
Raleigh Ring of Fire 15-12 Pittsburgh Temper
Don't let the final score fool you. Raleigh Ring of Fire were on the ropes for much of this game, needing a 10-3 second-half run to close out what was expected to be more of a cakewalk.
Temper brought pressure and intensity from the get-go, with Pat Earles and Thomas Edmonds crossing over to defense to help the team punch in their break chances. While it seemed like Temper was coming down with anything floaty or close, Ring was also gifting them turnovers. After a few unforced mistakes, Ring became really tight and looked off open deep looks, seemingly scared of another turnover. Temper feasted on their mistakes and built an early 5-2 lead.
"It was weird," Sol Yanuck said. "Temper is a really smart team. They play good structured defense. They understand the other team. They understand how to take the other team out of their Plan A. And we weren't necessarily trying to force feed our Plan A, but we made some bad throws. We dropped the disc and we didn't get it back on D."
Though Ring made a small comeback to bring the game within one, Temper broke for half after Henry Fisher saw a swing crash off his hands and Edmonds jumped a handoff over the goal line for one of his two goals to go with his three assists.
In the second half, Ring focused in and stopped making the kind of execution errors that plagued its first-half run. Jacob Fairfax earned three blocks, two on high-stall deep looks after the rest of the Ring defense shut down Temper's closer options and one on a near Callahan–a chest high layout catch block that landed on the end zone line.
"It took us a little while to figure out how to combat their isolation offense defensively," Yanuck said, "but we let our dogs go to work and we have some amazing athletes on this team…Ethan Bloodworth took one of the most underrated guys in the division in Thomas Edmonds and eliminated him from the game and Jacob [Fairfax] got three or four blocks."
Ring tied the game for the first time since the early stages when Dylan Hawkins read an in-cut and ran through it for a block. Noah Saul's low flick found Terrance Mitchell's hands just inside the end zone and at 10-10, it became a quick game to five.
Eric Taylor read Temper's set play huck better than his mark and earned Ring the disc on what turned out to be the game-changing break. His huck to Mitchell set up a patented Ring Red Zone Set for the 12-11 lead.
View this post on Instagram
From there, Temper started pushing and Ring took advantage of their mistakes. While early in the game Temper were able to find its athletic deep cutters in isolation, the Ring defense took away their early looks and turned high stall, high pressure situations into turnovers. Fairfax closed the game with another block; Ring broke to win courtesy of an Ethan Bloodworth to Liam Searles-Bohs open-side away shot.
Earles was a star for Temper, finishing with five assists, two blocks, and a goal. Searles-Bohs was Ring's stat leader with three assists and two goals while playing mostly on defensive lines.
"That was one of the best games that this team has ever had," Temper's Alex Thomas said after the game. "The messaging coming out of half was that we're not giving anything. This team is a pedigree team, and they know how to win. Let's show them that when we're up, let's keep going up." Thomas emphasized how fun it has been to play together with this team and to watch the younger players grow into big roles. With their best season in recent memory, Temper are looking to push further into the bracket in 2023.
Chain Break Late to Eliminate Incandescent Vault
It was a nail biter from the moment the first pull went up in a fantastic prequarterfinal battle between Atlanta Chain Lightning and Virginia Vault. Vault took control of the game early and held a one-break lead late into the second half, but an end-of-game push from Chain secured a 15-14 universe point victory for the favorites.
For most of the game, Vault were clearly the better team. They continued their run of excellent defense to earn several blocks against a Chain offense with much more Nationals experience. "Leo Pierson, Cam Barnhardt, Kevin Healey – these guys have been in the DC scene getting these kinds of blocks, and finally they're able to show them on the world stage. These guys are incredible defenders," said Vault captain Max Cassell. They leaned into their deep defense to open up a one-break lead at halftime.
Perhaps more importantly, the offense had completely cleaned up the sketchier moments from day one and looked simply untouchable on offense. Cassell and Garrett Braun threw masterful deep shots, giving Lloyd Blake, Miles Grovic, and Kevin Healey acres of space. The early deep game success opened up the unders in the second half, leading to more than a handful of scores where Chain never came close to a block.
The Chain offense, meanwhile, took a little longer to get settled in. Some of their early shots worked out – see: a brilliant catch under pressure by Hayden Austin-Knab – but they missed more often, digging themselves a small hole.
That changed at the end of the second half when they finally found a way to stop Vault's deep game. "There was a deep ball that went up, and instead of it being a one-on-one, we had two or three guys crashing on it," said Chain captain Tanner Robinson. Karl Ekwurtzel and Christian Gaeta sandwiched a receiver deep as a huck hung a little too long, and a few throws later Gaeta had the bookends break score to tie the game at 13-13.
On the very next point, needing at least another break to win, Chain crossed over two of the O-line starters: Tom Tulett and Hayden Austin-Knab. Vault lined up a deep forehand, but Tulett hustled to the spot and went straight up to block the shot. "Shout-out PoNY! Thanks for cutting him and sending him our way," said Robinson. "He's been a rock all year on our offense. He's a guy on the sideline who talks a lot, and he helps bring up our energy up. And then coming onto defense when we need him? Big."
On the final point, Chain marched toward the end zone. Kennith Taylor, who moved into a starting role on the offense during Nationals, climbed the ladder to bring down an under that popped up in the wind – tapping it so it wouldn't carry and then catching the tip with Barnhardt right in his face. "Rookie on Chain… didn't play much at Regionals. But yesterday he had a really good showing when some guys were wavering. He's got a hunger to find the disc and find the space," said Robinson. Without showing a trace of worry even after Taylor's circus catch, Tulett collected an under on the sideline and fired a backhand to Jeremy Langdon to win the game.
Chain move on to face PoNY in quarters.
Denver Johnny Bravo 14 – 13 Seattle Sockeye
Denver Johnny Bravo leaned on a late comeback to take down Seattle Sockeye on universe point, holding on for a 14-13 victory to advance to the quarterfinaal. It was a the kind of comeback they were unable to complete in a pool play universe point loss to GOAT – not to mention a similar game to knock them out in quarters against Sockeye a year ago.
This year, Bravo had the force of belief on their side, even as they stayed behind Sockeye by a pair of breaks well into the second half. All season long, though, the Bravo defense has justified that belief. "Tight games like this late into tournaments are marathons, not sprints," said Bravo captain Quinn Finer. "Pressure builds up over time. On the first point it started when they had like five turns – and they held! Gritty hold from them but pressure builds over time, and it just started to add up."
The key play was at 12-12, when Nathan Buchholz blasted his way into the line of an inside forehand to steal the disc. "Play of the game," said Alex Atkins about the block. "I don't know how many D's we got [as opposed to Sockeye mistakes], but he GOT that one. The one we needed to take the lead: he got that one."
The other factor in their success was a D-line offense who have been one of the more efficient offensive units in the country for most of the season. Cody Spicer, Chance Cochran, and Jay Froude have been magnificent leading Bravo to the end zone – and the team leaned on them again today.
For all the celebration and success after taking the lead at 13-13, Sockeye were not ready to give up. Simon Montague hit Nick Stuart deep (in a nice Sub Zero callback) from the pull play to force universe point. The beginning of the point was dicey for Bravo. Atkins, taking centering passes for the team despite having missed most of the season, could not find any good options to get the disc moving. He settled on hitting Cole Wallin for a reset with Dylan Freechild in hot pursuit. "There was not a lot going on [in terms of movement]. There was a little miscue between me and Cole… It just started breaking down. Stuff happens really quickly, but big trust in Cole. I threw it up there for him to make a play," said Atkins. Freechild was a fingernail away from the block, but Wallin held firm with both hands.
After spending the beginning of the point, on the ropes, though, Bravo worked the disc exactly where they wanted it most: into the hands of Ben Lohre a few yards outside of the end zone. Lohre has been the steadying force for a volatile offense. That was when they knew they were going to win the game. "When Ben gets the disc there on that last point, I take a deep breath and I think, 'This is gonna be it. We're going to work it in,'" said Atkins. Lohre deftly put a soft backhand ahead of Todd Wolma who dished to a streaking Danny Landesman to push Bravo into quarters and send Sockeye packing.
Danny Landesman secures the goal and @BravoUltimate upset @SeattleSockeye on universe! pic.twitter.com/6bLBGTYQgf

— Ultiworld (@Ultiworld) October 21, 2022
Austin Doublewide 14-13 Toronto GOAT
Austin Doublewide outlasted a furious comeback from Toronto GOAT to advance to the quarterfinal round.
GOAT notched two early breaks to claim a 3-2 lead before the teams settled in to a pattern of holds. With each team willing to put the disc deep and rostering a stable of athletic defenders, there were plenty of exciting plays and highlight grabs all around. Doublewide stacked a line to break for halftime with the score knotted at 7-7. GOAT started the point on offense but hucked their end zone attempt out the back. Jason Hustad launched a huck the other way that Noah Chambers collected in the back of the end zone to give Austin a lead they wouldn't relinquish.
Doublewide broke again out of half to build a two goal lead-a cushion they mostly kept for the rest of the game. GOAT tightened their lines late in the game with French World Games player Gaël Ancelin making a number of key plays and throws to claw GOAT back into the game. GOAT finished a three goal run to tie the game at 13-13 after the soft cap horn blew, forcing double game point. But despite the run, Doublewide didn't blink. Kyle Henke, who had two bad turnovers earlier in the game, launched a picture-perfect flick huck to Mark Evans for the game-winning goal.
"I had seen a lot of open cuts from our O-line all game" Henke said after the game, "I will put that up on any point."
Doublewide advances to play Salem Rhino Slam! in the quarterfinal round while GOAT will enter consolation play.