Plus: a new WUL team, an AUDL/WUL collab, and Japanese and Colombian Nationals.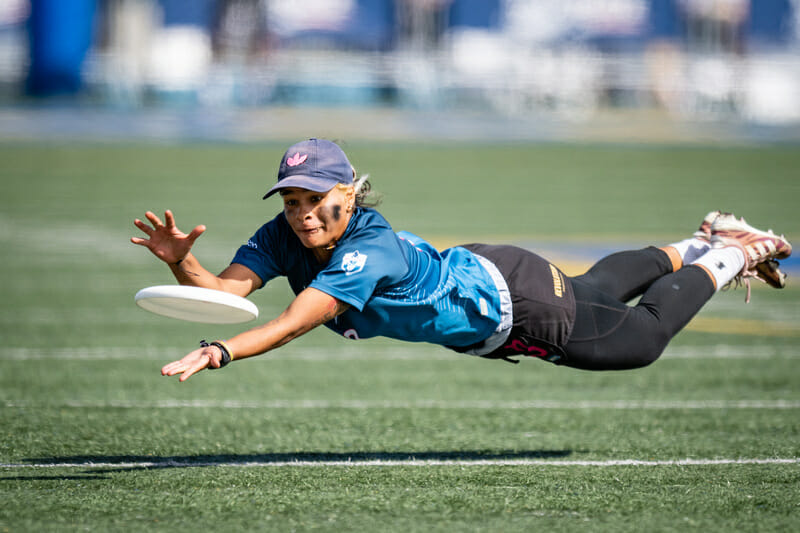 Opening Pull is Ultiworld's weekly wrap-up of the previous week in ultimate, available both here on the site and as an email newsletter. We've gathered the news you need to know and highlights you need to see. Check back weekly or subscribe now to receive Opening Pull in your inbox along with a rundown of the previous week's content on Ultiworld.
Denver Molly Brown, Denver Johnny Bravo, and Seattle Mixtape Take Home Gold at the Club National Championships
We hope you got a chance to follow along with all of Ultiworld's coverage from San Diego at the 2022 Club National Championships!
In case you missed our coverage (or just want to catch up), check out the event page with links to our reporting, video, podcasts, and more.
Here are the recaps of each of the three finals:
Stay tuned for highlights, awards, and more wrap-up coverage from the biggest club event of the year!
Nationals Highlights!
Check our social media pages for tons more highlights, but here are a few of our favorites:
Manuela Cardenas says NO! pic.twitter.com/vy29iSoAZ0

— Ultiworld (@Ultiworld) October 23, 2022
Take another look at this block by Anna Thompson https://t.co/4KzHBLDe89 pic.twitter.com/Xvon64APrF

— Ultiworld (@Ultiworld) October 23, 2022
Amy Zhou sets a hard mark and gets the layout pointblock for @100percentBS! pic.twitter.com/sJOA1j1EHn

— Ultiworld (@Ultiworld) October 22, 2022
Oh my 😳 Jack Kelly with the huge layout score for @NOISEUltimate pic.twitter.com/ea4fAClDer

— Ultiworld (@Ultiworld) October 20, 2022
When coach says "don't catch the pull" 😂 pic.twitter.com/2kexW4JHWG

— Ultiworld (@Ultiworld) October 20, 2022
What 🤯 Calvin Stoughton's towering sky sends @BravoUltimate to half up 8-5 on the no.1 overall seed @TruckStopUlti pic.twitter.com/iQdq0JaIK1

— Ultiworld (@Ultiworld) October 23, 2022
WUL Debuts New Colorado Team
The Western Ultimate League is expanding further in the Mountain West in 2023 with the introduction of the Colorado Alpenglow (Alpenglow, if you're wondering, is the rosy red color you see on mountaintops at sunrise and sunset).
"The opportunity to showcase the incredible skill, dedication, and athleticism of our Colorado ultimate community on the professional stage was too important to pass up," said Betsy Basch, one of the Alpenglow founders, in a statement. "Glow is excited to raise the bar with our youth community, fan engagement, and spirited play to positively impact ultimate for years to come!"
It's good timing for the league's announcement, as Colorado's top women's club team, Molly Brown, just won the national championship. While there has been skepticism of semi-pro ultimate from many within the elite women's community in Colorado, the new franchise will hope to draw on the deep well of talent in the state.
In conjunction with the team announcement, the WUL also announced a new fundraising campaign directed towards covering the costs of free livestreaming of the 2023 season.
AUDL, WUL to Host 8-on-8 Mixed Game at AUDL All-Star Weekend

Players from the AUDL's Portland Nitro and Seattle Cascades will join forces with the WUL's Oregon Onyx and Seattle Tempest to compete in an 8-on-8 mixed showcase event during the AUDL's All-Star weekend, the leagues jointly announced this week.
Dubbed the Northwest Cup, the game will be broadcasted live immediately prior to the AUDL All-Star Game on November 12th.
"As a growing professional sports league, the WUL is proud to showcase our talented players from Oregon and Seattle in the Northwest Cup," said WUL Executive Director Felicia Yang in a statement. "We're also excited to perpetuate our league's mission of amplifying women and nonbinary athletes to advance ultimate disc on a global level. I look forward to continuing to align with the AUDL on strengthening our sport, elevating our athletes of all backgrounds and identities, and creating a level playing field for the future stars of ultimate."
"We are very excited to partner with the WUL and honor these incredible athletes," said AUDL Commissioner Steve Hall in a statement. "Access to our game is paramount, and our common goal is to bring ultimate to a more diverse group of people, especially youth. The Northwest Cup represents a common ground to come together competitively on the field and provide an example for all communities on what's possible in our sport."
More details are forthcoming about the rules and rosters. Both leagues have hosted Pacific Northwest showcase games in the past.
Colombia, Japan Nationals Crown Champions
Last weekend wasn't just a big one for USA Ultimate. Other top countries also held their national championship events.
In Colombia, 2022 WUCC champions Revolution won in the women's division, Uro Monster won in the men's division, and Academia won in the mixed division.
In Japan, it was a historic year, as the Buzz Bullets failed to win in the men's division at Japan Nationals for the first time in nearly 25 years after getting knocked out in a semifinal thriller.
Crazy ending ends the dynasty. Buzz Bullets lost to Nomadic Tribe 13-15 in 2022 Japan Nationals Semi with Callahan. Buzz Bullets lost at Japan Nationals for the first time since 1998.
バズが全日準決勝でノマに13-15で敗れる波乱。全日本戦でバズが負けるのは1998年以来。 pic.twitter.com/y9guBOY0Hh

— UltimateChallenger (@uChallenger) October 23, 2022
The finals will take place this Saturday. Nomadic Tribe will take on Rascals in the men's championship game. MUD will face Swampybarg in the women's title match.
Looking Ahead
Stay tuned for more coverage of the 2022 USAU Club Championships, including analysis, highlight reels, and podcast coverage.
Our 2022 Club Awards are in the voting process now. We'll name our Players of the Year, All-Club 1st and 2nd Teams, and much more.
The college fall season is underway! We'll have video coverage from some key events in the coming weeks.