Rounding out the 14 best players of the 2022 club season.
Ultiworld's 2022 Club Awards are presented by Breakmark; all opinions are those of the author. They have given away almost 1000 reversibles this year and want to get to 2500 and beyond. Find out how you can help and get yours at Breakmark.com!
Ultiworld is pleased to announce our annual Club Awards, continuing with our All-Club Second Team in each division. While we consider both regular season and postseason performance, because of the nature of the Club Division, we weight success in the Series and at Nationals above all else. The Club Awards are voted on by Ultiworld reporters, contributors, and editors.
Our All-Club teams recognize the top performers across the division. While previously we have closed our Awards with our First Team and Second Team, displaying the top seven and next seven players who had the best seasons, they have been moved up in the schedule. As our voting process is ordered, the top vote-getters for All-Club honors function as the ordered list in our Player of the Year voting — our highest individual award.
Player of the Year Award
All-Club First Team
All-Club Second Team
Offensive Player of the Year Award
Defensive Player of the Year Award
Breakout Player of the Year Award
Coach of the Year Award
Club Awards Voting Breakdown
---
2022 Men's All-Club Second Team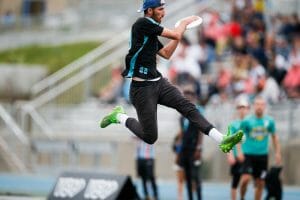 Ben Jagt (New York PoNY)
Ben Jagt just keeps getting better. Not content to be merely one of the best offensive target men in the division, he has incorporated more wrinkles to his game and is an all around terror for opposing teams to deal with. Showcasing an ever-expanding throwing range and increased defensive acumen, Jagt made an impact in many facets, both offensive and defensive, for PoNY in 2022.
Take only the dismantling of Sockeye in Pool Play at Nationals and you'll get a clear picture of everything Jagt brings to the table. Initiating plays out of a side stack, chewing up yards with massive cuts, crossing over to defense to lock up Matt Rehder, and shredding Seattle with hucks on both O- and D-line; the game was a near masterpiece for Jagt.
And it's not just the big, bold plays that show Jagt's impact, but the subtler edges of his game have taken a step up too. He and Chris Kocher have developed a devastating rapport cutting off of each other, and his defensive instincts have improved, allowing him to use all of his size and speed to devastating effect. With a playstyle, and personality, that is plenty loud, mastering the quieter parts of the game has pushed Jagt into the absolute elite tier of players in the sport.
–Patrick Stegemoeller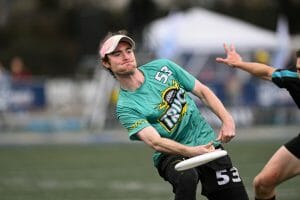 Jonny Malks (Washington DC Truck Stop)
Despite operating within Truck Stop's fairly egalitarian offense, Jonny Malks capped off a breakout campaign with an all around top tier performance in the games that mattered most. To zoom out, his 28 goals (third on the team) and 31 assists (second on the team) on the season are not the top marks on the team, but do speak to his diverse and consistent contributions.
Now, when we zoom in, the impact that Malks had on the Truck Stop offense is even more clear. Malks led his team in assists in Pro Champs final, including throwing the only two hucks his O-line tried against the best defense they had faced to that point. At Nationals, he led Truck Stop in assists in the semifinal against the same PoNY defense, and managed to win what many (incorrectly) called the de facto final without a turnover. Though Truck Stop provided a losing effort in the national final, Malks led the game with six goals as the team as his O-line adjusted its strategy to counter a Bravo defense effective at shutting down their typical small ball approach.
Though just in his first season as a starting handler on Truck Stop, Malks was an integral figure behind the scenes designing and installing the team's unique offense and building the fun, loose team culture that carried Truck Stop through their highest highs and their toughest tests. Assuming he continues to develop on his current trajectory as a player and a leader, expect to see Malks on this list for years to come.
-Alex Rubin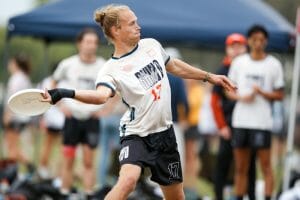 Raphy Hayes (Portland Rhino Slam!)
It was a wonderful season once again for Raphy Hayes and a Rhino side who matched their 2021 finish with another semifinal campaign. Playing both ways throughout the summer and fall, he led the team in both total goals (24) and assists (14) and was at all times the biggest threat on the field. Hayes was probably also the best player in the air in the men's division – not that he didn't have some competition in that department – to the point where we might as well declare him chief engineer at the poster factory.
If his greatness this season was slightly less obvious than a year ago, it was only because the talent around him leveled up in such a way that when he drew a second defender – which was often – the rest of the line did not feel compelled to force the issue anyway. In that way, albeit indirectly, he had much the same effect on scoring in 2022 as in 2021. For all the times when it wasn't necessary for Rhino to drill a score through Hayes, however, he remained one of the sport's shining figures when it was: an absolute artist, with or without the disc.
–Edward Stephens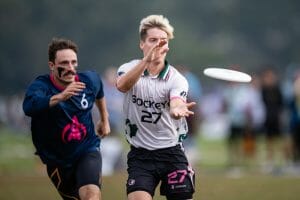 Dylan Freechild (Seattle Sockeye)
It was a disappointing season for Seattle Sockeye from a results standpoint – failing to make semifinals at any major tournament – but none of those failures can be laid at the feet of Dylan Freechild, who was back to something near his best in a tricky season for the Sockeye captain.
With a clear mandate to rebuild through youth this year, there were some frustrating moments of growing pains that the team needed to persevere through. Throughout this turbulence, Freechild was a steady hand all season, doing the hard work to stabilize the O-line and provide a base of lockdown person defense for the D-line. Playing out of the backfield more than in his recent roles as a downfield initiator, Freechild often served as a jumpstarter for the Sockeye offense when things bogged down – throwing a tricky inside break the got flow going again, or rocking a couple give-and-go's to put the defense on its heels – and giving the new faces on Seattle's O-line a chance to reassert themselves.
Being the best player to not make quarterfinals is a somewhat ignominious title, but Freechild was playing at about as high a level in 2022 as anyone else in the division. It's a disappointment that he wasn't able to do so in games of higher magnitude while still in his athletic prime.
–Patrick Stegemoeller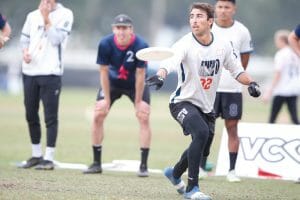 Leandro Marx (Portland Rhino Slam!)
Often thought of as part of a dynamic duo, along with fellow Second Team All-Club standout Raphy Hayes, Leandro Marx's unique talent, flair, and stellar play earned him his own spot on this list.
Though his numbers won't stand out on a stat sheet, Marx's impact on the field and with his team is clear and evident. Catch the right point of a Rhino game and you can watch him turn at just the right moment to catch his defender off guard to catch a pressure-relieving in-cut. Or just two-tenths of a second later, watch as he unloads a seeing-eye flick huck to a spot on the field nobody else would think to throw to, but that a Rhino Slam! cutter (admittedly usually Hayes) was already moving towards. Marx makes plays happen so quickly it's sometimes easy to miss them.
With the tenacity of a boxer entering the 12th round and fully souped-up V8 engine, Marx's playmaking abilities on offense–and as a lockdown defender after a turnover–never wane throughout a game. One of Rhino Slam!'s most frequently used two way players, Marx has earned the trust and respect of his teammates and opponents alike and was a huge reason for Portland's success in 2022.
–Alex Rubin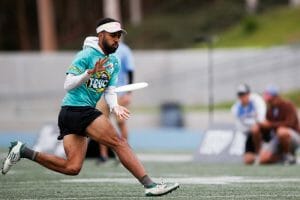 Christian Boxley (Washington DC Truck Stop)
Yo. This is sick.
Okay, so we got that out of the way.
The thing about that play is that it is exceptional. Yes, of course because of Boxley's elite speed, explosiveness, disc reading, body control, and hand eye-coordination. But this play is also quite an exception to what Boxley did all season, as he made his bones not with this type of all-caps-exclamation-point play, but by using all of those tools to deliver smooth, steady, and incredibly efficient offensive production.
As a player who first probably got on your radar because of his ability to make spectacular skies and layouts in the open field, it seems initially strange that he would experience the most successful season of his career playing within the tight spaces of DC's "No huck Truck" offense. But Boxley has taken the athletic dynamism that allows him to make catches like the one above and applied it to tearing small-but-lethal holes in endzone defenses, confidently breaking marks with perfectly balanced pivots, and getting open over and over again to keep the ball bouncing for Truck.
The splashy highlights are sick, but the team-leading 16 goals he put up at Nationals are what will keep opposing defenses up at night.
–Patrick Stegemoeller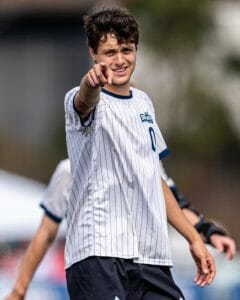 Alex Atkins (Denver Johnny Bravo)
I'll be the first to admit that you don't put Alex Atkins on a championship-hopeful O-line at Nationals after missing the entirety of the season with an injury and expect him to be Mr. Consistent. And he wasn't. He led Bravo's O-line with eight turnovers, including a rough (1A, 3T) semifinal against Rhino.
But you do put him on a championship-hopeful O-line at Nationals after missing the entirety of the season if you expect that his raw talent in all aspects of the game is virtually unmatched in the division. And it was. Need to spot a shot just out of a defender's reach? Atkins' arm-heavy OI forehand has you covered. Want to get past a pesky front-loaded zone? There hasn't been a better answer than his backhand elevator. Need a big play on defense after a turnover? Atkins – who led Bravo in blocks at Nationals1 – will sky your opponent's best deep threat in the end zone.
It all came to a head in an NBA Jam-worthy performance in the final against Truck Stop: two goals, four assists, a tremendous block – and zero turnovers – to put an exclamation point on his stunning Bravo debut. Just imagine what he might accomplish over a full season in the years to come.
–Edward Stephens
---
Four, tied with D-line playmaker Mathieu Agee ↩