The most vital defenders of the club season.
Ultiworld's 2022 Club Awards are presented by Breakmark; all opinions are those of the author. They have given away almost 1000 reversibles this year and want to get to 2500 and beyond. Find out how you can help and get yours at Breakmark.com!
Ultiworld is pleased to announce our annual Club Awards. While we consider both regular season and postseason performance, because of the nature of the Club Division, we weight success in the Series and at Nationals above all else. The Club Awards are voted on by Ultiworld reporters, contributors, and editors.
Our awards continue with the Defensive Player of the Year, recognizing the individual, and two runners-up, who we felt were the top defensive performers this spring. Whether through generating blocks, shutting down options, helping out teammates, or all of the above, these defenders stood out doing the tough work that too often go unrecognized.
Player of the Year Award
All-Club First Team
All-Club Second Team
Offensive Player of the Year Award
Defensive Player of the Year Award
Breakout Player of the Year Award
Coach of the Year Award
Club Awards Voting Breakdown
---
2022 Defensive Player of the Year
Cody Spicer (Denver Johnny Bravo)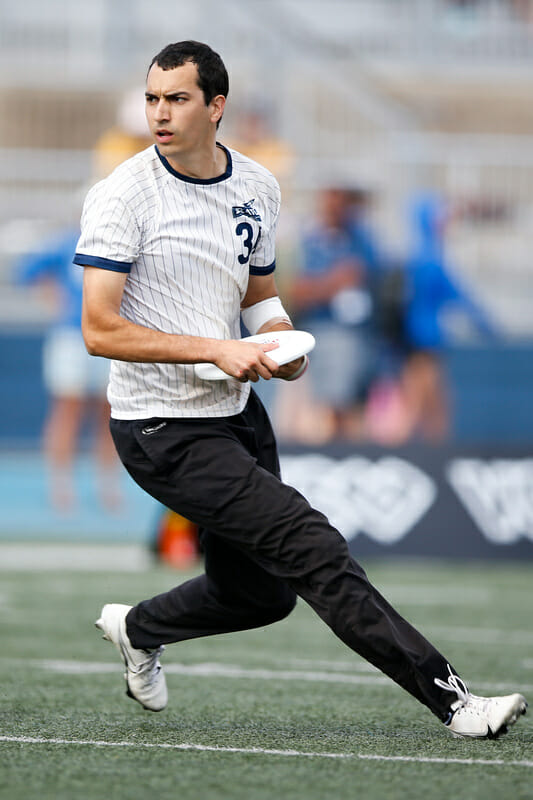 Rare is the defender who can guard handlers and cutters, who can shut down their mark and generate blocks, and who does it all wearing sweatpants. Cody Spicer is a rare defender, and his 2022 season is one for the record books.1 Ok, there aren't really record books in ultimate, and if so I couldn't tell you which record Spicer might have broken. Perhaps for the most amount of times someone on the sideline had to explain to an innocent bystander how the best player on a championship team is actually a defender even though most teams stack their best players on offense. Or perhaps for most All-Club players guarded in a single bracket run without giving up double digit touches. Though we have no way of proving it in the still-nascent statistical world of ultimate, that last one might genuinely be true.
Plenty of ink has been spilled on Bravo's greatness after sweeping the Nationals bracket to an unlikely title. Setting the table was Spicer, who took on the opponent's toughest matchup and forced them time and time again to do something other than their bread and butter first option. "Our defense works because Spicer's ability and energy infuses everything we do on that side of the ball." Bravo coach Tim Kefalas wrote in an email to Ultiworld. "The way that he goes 1000% every single point from practice to the finals of Nationals is why our entire defense continues to grind constantly."
Though he isn't the flashiest player on the field, Spicer was simply the most effective. Many of the plaudits typically reserved for the best offensive players in the sport (consistent, intelligent, well-timed, versatile, engaged) adequately describe Spicer's defense. After each game during Bravo's bracket run, for as much time as fans and spectators alike spent talking Alex Atkins's big throws or Quinn Finer's relentlessness as a cutter–the kind of plays you'll see in a highlights package–there was just as much attention given about Spicer and the way he sucked the life force out of opponents over and over and over again.
–Alex Rubin
First Runner-Up
Conrad Schloer (New York PoNY)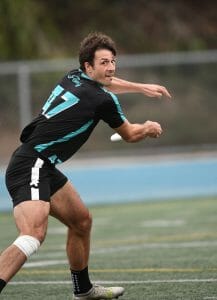 After spending a couple months playing with Team Germany at World Games and Berlin-based Wall City at WUCC, Schloer rejoined PoNY for the back half of the season and made his now expected tremendous defensive contributions. He notched a team high nine blocks at Nationals, more than double anyone else on PoNY, while often matched up with the best offensive weapons in the game.
Put the stats aside (okay but not too far aside, nine blocks at Nationals is insane) and his value is still wildly obvious. His development into a more capable, intelligent, and controlled force is clear, too. The explosive athleticism and obstinate physical presence he brought to the game has been augmented by a sharpening of his his mental game, confidence, and on-field recognition. The combination has firmly established Schloer as a premier defensive weapon who is a threat to consume a slot on this list for seasons to come. There simply are few defenders in the division who you can put on another team's best player who will actually get blocks in addition to blunting the tip of the offense's spear.
–Patrick Stegemoeller
Second Runner-Up
Daniel Lee (Portland Rhino Slam!)

This man floats. There isn't any other way to describe it. Daniel Lee's ability to get up and stay up has been the greatest defensive asset for Rhino Slam! in each of their semifinal runs these last two seasons.
Here is how it goes when a disc hangs for half a second too long: Lee enters the picture, installs himself in the air to be admired like one of Alexander Calder's mobile sculptures, and nimbly redirects it with a gloved hand before he deigns to come back down. That skill alone would suffice to put him on this podium, so it only ices the cake that he was also one of the best open-side wrecking balls and keen-eyed poachers in the division all season long. He's a player at the top of his craft and is delivering an exciting brand of ultimate that is too often overshadowed by his more well-known teammates.
–Edward Stephens
---
Editor: And he was recently named AUDL 2022 Defensive Player of the Year, as well. ↩