Our selections for the seven best performers of the year.
Ultiworld's 2022 Club Awards are presented by Breakmark; all opinions are those of the author. They have given away almost 1000 reversibles this year and want to get to 2500 and beyond. Find out how you can help and get yours at Breakmark.com!
Ultiworld is pleased to announce our annual Club Awards, continuing with our All-Club First Team in each division. While we consider both regular season and postseason performance, because of the nature of the Club Division, we weight success in the Series and at Nationals above all else. The Club Awards are voted on by Ultiworld reporters, contributors, and editors.
Our All-Club teams recognize the top performers across the division. While previously we have closed our Awards with our First Team and Second Team, displaying the top seven and next seven players who had the best seasons, they have been moved up in the schedule. As our voting process is ordered, the top vote-getters for All-American honors function as the ordered list in our Player of the Year voting — our highest individual award.
Player of the Year Award
All-Club First Team
All-Club Second Team
Offensive Player of the Year Award
Defensive Player of the Year Award
Breakout Player of the Year Award
Coach of the Year Award
Club Awards Voting Breakdown
---
2022 Men's All-Club First Team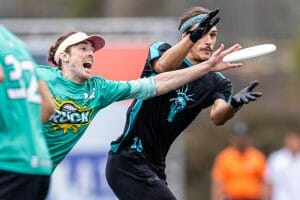 Rowan McDonnell (Washington DC Truck Stop) Player of the Year
There's a moment in the 2012 James Bond Movie "Skyfall" where, after faking his own death so he can drink ambiguous island liquor and mess around with scorpions, 007 returns to England to get back in the game. Later in the film the villain asks Bond "what's your hobby?" to which he replies "resurrection." It's a super cool thing to say in the moment even though it doesn't really make sense if you think about it much (that statement doubles as my review of Skyfall).
It looked for all the world like 2018, when he won OPOTY and garnered a First Team All Club-nod, would be the pinnacle for Rowan. He was physically overpowering anyone who tried to guard him in the lane and was launching audacious hucks from one corner of the field to another. But it wasn't enough, and Truck Stop lost in quarters again, and the next few years seemed to mark a diminution of his powers. He spent the 2021 club season looking more like a role player for Truck's D-line than the titan of offense he was in 2018.
And then, resurrection. Not the same as before, but maybe something even better. More precise and calculated and unsolvable, and at the heart of the best offense in the world. Seeing what this game really is, and finding a new way to beat it.
For more on Rowan McDonnell, read his Player of the Year writeup.
–Patrick Stegemoeller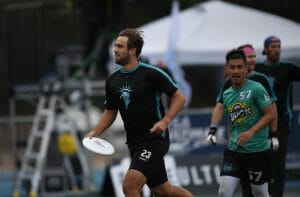 Jimmy Mickle (New York PoNY) Player of the Year First Runner-up
Another worlds year delivered another magical Mickle season. Like his unprecedented 2014 (Callahan, College, and Club titles) and 2018 (silver at Worlds, gold at Nationals, both with underdog teams) seasons, 2022 proved to be a high point in Mickle's career. Bolstered by winning World Games, Mickle walked into the club season in peak form and continued to power through upline cuts, float picture-perfect around throws, and launch every kind of huck you can imagine to lead the New York PoNY offense as far as it could go.
PoNY gets a lot of attention for its high level defense, but that's only because having the best QB1 in the division makes their offensive success boring or expected. Arguably the best pocket passer in the world, Mickle delivered the toughest throws in the most important moments all season long. With a team leading 25 recorded assists (nearly twice as many as PoNY's next highest player), Mickle's statistics match the eye test. He makes throws other handlers wouldn't bother attempting. His patented shimmy-around flick opens wide windows for his teammates to cut into, and his creative OIOs get them the disc even when the window is much smaller. Mickle's corner to corner rocket-launch of a huck to Harper Garvey in the semifinal of Nationals is one of the lasting memories of the tournament. If a single play could earn a spot on one of these lists, that would be a good candidate, but Mickle's play all season long is deserving of the All-Club nod.
-Alex Rubin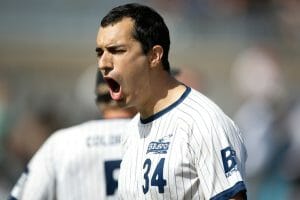 Cody Spicer (Denver Johnny Bravo) Player of the Year Second Runner-up
Let's hear it for the D-line toilers! Because of the offense-heavy nature of the game, it isn't often that one of them has enough of an impact to contend for a Player of the Year award. Cody Spicer, though, was that rarest of players: his performance in 2022 was so monumental, so instrumental, so unbelievably mental that he has earned not only his first All-Club appearance, but also finishes as second runner-up for PoTY.
A block-getter at times, the mark of his defensive excellence was more often in a combination role as harrier-in-chief and field general. Adjusting angles constantly to align with Bravo's fluid force schemes while making life positively unbearable for every opponent's most important offensive player was his specialty. Just ask the two guys who join him on the Player of the Year podium how comfortable they were ever able to get with Spicer nipping at their heels.
Furthermore, he took firm control of Bravo's counters with an obstinacy bordering on monomania. He did not tire. He did not lose focus. He only hit open hands and put the goal in the end zone time after time after time – has his nine assist, zero turnover Nationals statline attests.1 That line played spectacular offense throughout in 2022, and Spicer was the heart of it.
The cherry on top is that while Bravo may not have come together all the way as a team until their blazing run through the bracket, Spicer played at that titanic level all season long: it was a full and magnificent campaign for the national champions' most vital presence.
–Edward Stephens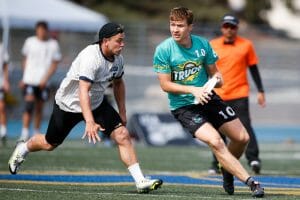 Tyler Monroe (Washington DC Truck Stop)
It is always cool when a player who has been talked about for a while with terms like "potential" or "up-and-coming" stops having "potential" and starts just, like, kicking wholesale ass up and down the country for an entire year. That was 2022 for Tyler Monroe, whose Truck Stop career has seen him transition from O-line ingénue to underrated key offensive piece, to a Nikola Jokić like do-it-all destroyer of defenses.
While Monroe was certainly serviceable as a straight line speed cutter, Truck Stop's small space pinball offense put Monroe in the position to get the most out of his game. Using his size and nose for the disc to punish defenders in tight confines and then turn upfield to arc clever breaks and blades into the spaces vacated by overpursuing defenders, he became a fulcrum that connected the two levels of Truck Stop's offensive attack. We've seen handler dominators before, but nothing quite like Truck's offense this year in which the entire offensive line got involved, and Monroe played a large part in that, knitting together the handler movement and the downfield flow to produce offensive wizardry that goes beyond mere small ball.
–Patrick Stegemoeller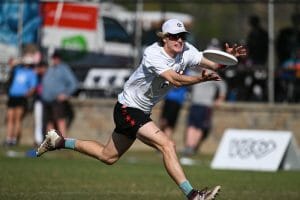 Joe White (Chicago Machine)
Despite Machine's well documented Day Two struggles, Joe White managed to shine game in and game out for one of the best offenses in the division. With more resources (read: Pawel Janas, Abe Coffin, Paul Arters, and Dalton Smith) shifted to the Machine backfield, White was free to operate as an initiator, gaining yards in chunks when he wasn't spin-moving his way into the end zone. With a variety of release points and some of the best throw-and-go moves around, White was a threat with or without the disc. His 29 goals and 33 assists on the season led the team in both categories, a remarkably impressive achievement given the talent amassed on the Machine O-line.
Known earlier in his career as a flashy, deep throwing gravitational force, White's most impressive plays this season were more fundamental. With a step-around backhand that's yet to see a mark shut it down and quick-release give-and-go actions that get the disc into advantageous positions, White elevated his game from merely being among the most talented throwers in the division to being one of the smartest, most powerful players in the sport. Adding in his improved defensive capabilities and it's clear that Joe White earned his spot back on this list to follow up his All-Club 2019 season.
–Alex Rubin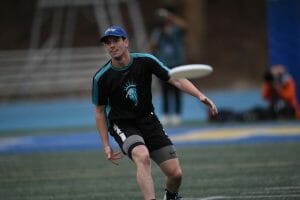 Chris Kocher (New York PoNY)
Oh, just another season for Chris Kocher. Offensive cheat code and defensive stopper on one of the best teams in the world. Coolest guy under pressure who torches his marker and throws darts on universe point in the regional final. Ranked #2 overall in Ultiworld's list of best men's division players.
Yup, just another season. First Team All-Club award (his fourth straight), semis at Nationals (also fourth straight), leading PoNY in combined goals, assists, and blocks at natties (not for the fourth straight year, some guy named Jimmy Mickle pipped him by one stat unit last season), all on top of a World Games and WUCC gold medal. Even in the biggest blemish on his season – a semis loss to a playing-out-of-their-mind Truck Stop team – he sparkled, crossing over onto defense and earning multiple blocks.
Has there been a better overall player in the world over the past five years? The list of names you can line up next to him is short, and gets shorter after every passing season of sustained excellence. We just haven't seen a player of his generation consistently impact games on the highest level the way Kocher has, year in and year out. So yup, 2022 was just another season for him, another season where he continued to make a case for being the best player of his generation.
–Patrick Stegemoeller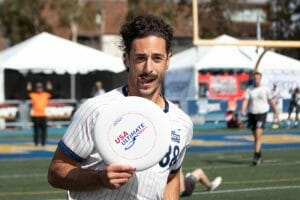 Quinn Finer (Denver Johnny Bravo)
We at Ultiworld should all be indicted for underreporting the massive 2022 glow-up of Quinn Finer. Just in case it isn't too late to correct this grievous error, however: Quinn Finer has arrived! Let this man not go unheralded for another minute! In the span of a year, he has gone from merely a good young player on a club quarterfinalist to captain and all-around offensive dynamo for the national champions.
The only acceleration more impressive than the last 12 months of Finer's career is perhaps his first 12 milliseconds of going up for a disc. Honestly, he gets off the ground like a stomp rocket, a talent he put to devastating use in both the quarterfinal against Machine and the final against Truck Stop. Nor was he content to relegate himself to the receiving end of a big play. The turn-and-shoot instinct flared up in him throughout the season, and he would routinely beat the defense with one of the quickest forehand triggers in the division.
For all that he was able to accomplish for Bravo in 2022 – like, for instance, four goals in the final to finish Nationals with one of only a handful of men's division double-doubles2 against just a single turnover – there is a sense that Finer is only just getting started. If he continues to play at this level, Bravo will be a force for years to come.
–Edward Stephens
---
There was one turnover from the prequarter against Sockeye for which it is not conclusive whether the error lay with Spicer or his receiver in the end zone, but the official scorekeeper did not assign it to him. ↩

Max Sheppard, Thomas Edmonds, and Abe Coffin are the others ↩