Missing stars to U24 tryouts didn't stop Colorado.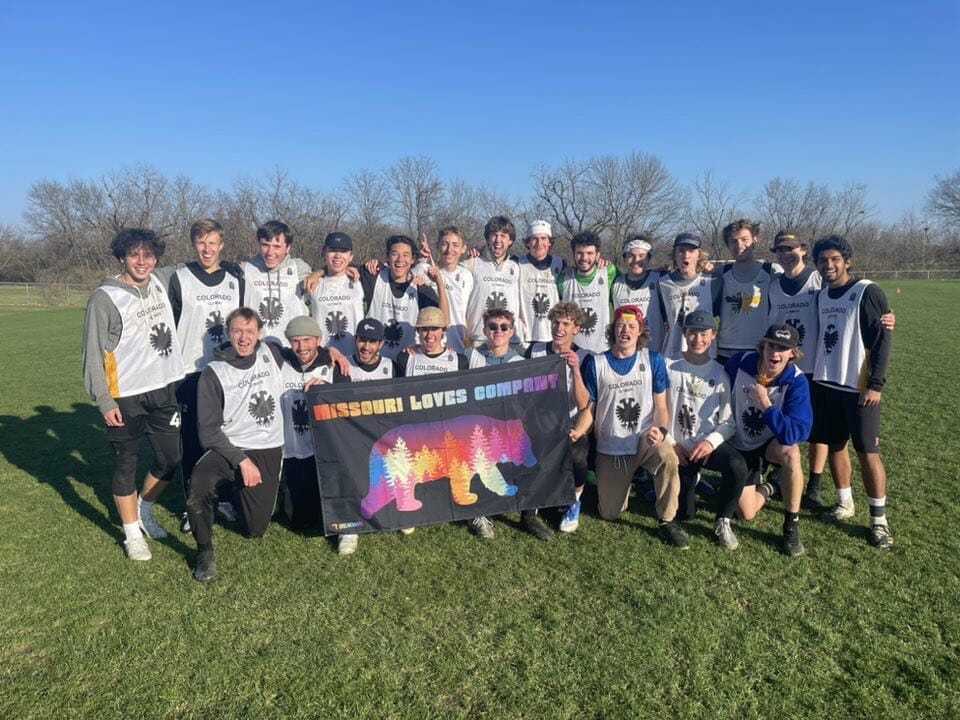 Disclosure: The author is the coach of WashU Contra and was actively coaching the team at MLC.
Now, I know what you are thinking. "We already had an MLC in 2022!? What are we doing here?"
This is true. We did cover MLC 2022 in March when Mizzou scheduled their annual tournament in the spring to make up for USAU squeezing in the 2021 College Championship Series last winter. But now the college ultimate calendar is back in its regular rhythms, and this past weekend the "regular" MLC 2022 came along right with it.
MLC is an important opportunity to get reps against high-level competition and is the annual marker for where midwestern teams stand going into the spring. However, a strong MLC showing does not confirm anyone as a Nationals contender with more than five months of development left until Regionals in late April. This year, that is even more true as Colorado and Carleton were missing players who were attending U24 National Team West Coast tryouts.
Mamabird Gets The Job Done
With five players and their coaching staff missing for U24 tryouts, Mamabird was more vulnerable than usual, but that didn't stop them from taking down the tournament crown. That vulnerability did show in splashes — they needed universe point wins over the Wisconsin Hodags and Washington University Contra on Saturday to put themselves in prime position for the bracket, and then had to eke out another universe point win against Wisconsin in the semifinals — but they went on to bagel Purdue in the final.
Even with the bumps along the way, it felt like they never really had to turn it on. They got the job done on the back of their depth and athleticism, routinely eating up huge yards with 20 and 30-yard unders opened by diligent side stack spacing and fundamental vertical cutting. Mamabird looks like a team that will really take off when they have their full roster together in the spring, complete with some players that just won a club National Championship with Johnny Bravo last month.
Purdue Raises Their Stock
Purdue Undue is a program that got one of the shortest ends of the pandemic stick with the 2020 College Championship Series being canceled, as they had started the season strong with a chance to win a bid for Nationals before it all got cut short. They did not inspire confidence in the last two seasons by finishing four and three places away, respectively, from a Nationals berth, but they certainly impressed at MLC this year.
With a solid squad that looks well-coached, they were seeded ninth and their top players stepped up to lead Undue to a second-place finish. Andrew Sin is a quick left-handed handler who plays well on both sides of the disc, Jaxon Moore is a confident center handler who has excellent control over blades to tight windows, and Purdue has guaranteed fireworks in the form of Logan Williams and Eric Palia (not to mention their own self-proclaimed tournament MVP John Hamich).
Undue easily dispatched their pool play games to earn a place in the prequarters against Minnesota Grey Duck, who had disappointed by going 0-3 up until that point on Saturday, including a universe point loss to WashU followed by a 13-4 shellacking from Carleton. An intense but comfortable 13-9 win over Minnesota propelled them into the quarterfinals against WashU, where they got out to a quick 4-1 lead and were able to fight off a late comeback attempt by Contra to win the game 10-8. Their semifinal game against Carleton was probably the game of the tournament: Purdue turned the disc on universe but Logan Williams made a huge play to get it back and then Undue was able to punch in the score, putting themselves in the final against Colorado. Despite the scoreless beatdown they took in that game, the Purdue boys went back to Indiana happy with their performance.
Top Seven Above the Rest
Carleton and Wisconsin were the other two semifinalists, with WashU, Notre Dame Papal Rage, and Colorado State Hibida rounding out a top seven that made easy work of the field.
Finishing solidly third with 13-7 and 13-8 wins over Wisconsin, Carleton was missing Cullen Baker to injury and Declan Miller to U24 tryouts. Both are key players for the CUT squad and the offense in particular. In their absence, Leo Xiao played excellently throughout the weekend. He has a very direct style of play, using his quickness to regularly get power positions and put up zippy deep shots that don't give even close defenders a chance at a block. CUT looked solid tactically but were plagued by inconsistency throughout the tournament, with drops and execution errors at critical moments.
Because of the way the bracket worked out, Wisconsin and WashU never matched up with one another but the way each team was playing it would likely have been a competitive game. Wisconsin yet again has a faceless army of athletes complemented with good fundamentals and some silky throwers while WashU rode a stingy offensive line the whole tournament and doesn't look to have lost much of a step after last year's program-first Nationals berth.
Getting down into the sixth and seventh places, Notre Dame impressed on the weekend, anchored by the offensive prowess of Detroit Mechanix and former Indianapolis Alleycats player Chris Walsh. Walsh is such a danger with the disc in his hands that teams were planning defensive schemes specifically around him which opened up opportunities for the rest of his teammates. Colorado State looked a tier above the rest of the field but struggled against high-level opponents, losing to Wisconsin in the quarterfinals and then Notre Dame to get pushed down to the 7th place bracket where they easily dispatched Colorado College Wasabi.
Regionals Prognostication with Only Five (and a Half) Months To Go!
In Division I, there were recent contenders from North Central (Carleton, Minnesota, Wisconsin), South Central (Colorado, WashU, Colorado State), and Great Lakes (Illinois, Indiana, Notre Dame, Purdue).
North Central: Carleton looks top dog after this tournament but with Minnesota playing so poorly on Saturday, we did not get a good look at how Grey Duck matches up against Wisconsin. We should all be ready for Minnesota to be much better than they showed at this tournament. It looks like it will be another exciting one in the North Central if fewer than three bids make their way up north at the end of April.
South Central: Texas had a decent weekend away at Classic City Classic but MLC had Nationals 2022 representation from the South Central in the form of Colorado and WashU. Colorado looks like they will be a top team on the national stage again and to WashU's credit, they proved they can hang with any team on the right day by pushing Colorado and Carleton to universe. That said, it does not look like they will upset the power structure in the South Central and be favorites against Texas. Their path to Nationals 2023 will be most secure if they can win a third bid for the South Central.
Great Lakes: Great Lakes top dog Michigan was not at MLC but we had basically everyone else — Purdue looked solidly ahead of the pack at this point. Notre Dame played well to get sixth but fell short of beating high-level teams, falling to Colorado and WashU in games that were not close by the end. With Eli Artemakis injured for Illinois and Indiana standout Jeremy Keusch at U-24 tryouts, both of those teams had disappointing showings and will be itching for their stars to return to the roster.
Some Love for Division III South Central
In Division III, all three South Central major Nationals contenders were in attendance (Oklahoma Christian University, Colorado College, and Missouri S&T Miner Threat) and there were some teams from the North Central (Grinnell College Grinellephants, Carleton College CHOP) and Great Lakes (Butler University Big Dog and Wheaton College Mastodon) but due to some teams, namely CHOP, in Tier 2 and Jacob Cowan from Grinnell at U24 tryouts, we did not learn much about either the North Central or Great Lakes in D-III.
To make up for it, the D-III South Central pot began to simmer again for 2023. In recent years, OCU has been a powerhouse, while Colorado College Wasabi and Missouri S&T have built up quite a rivalry. Oklahoma Christian was in the power pools and didn't get a direct matchup against either of their regional rivals until an abbreviated consolation bracket game that was played to seven where OCU ended with the slight edge. It's a game Miner Threat wants back, and they'll have to wait a few months to get another crack. The other game between the three was a close prequarters matchup where Wasabi bested Miner Threat on universe point.
Wasabi was without standout Lincoln Grench (2022 D-III Men's All-American Second Team) who was at U24 tryouts, but young freshman Ollie Van Linder took over Grench's quarterback role quite well. With Grench coming back and Van Linder freeing him from some handling responsibility, Colorado College looks strongest in the South Central but we will have to wait for a matchup against Oklahoma Christian to confirm.
Ultiworld subscribers: read on for the All-Tournament Line!
Bonus Content for Missouri Loves Company 2022: Fall Tournament Recap (Men's Division) is only available to Ultiworld Subscribers
Already have a subscription? Log in
Whether you visit Ultiworld for our reporting, our podcasts, or our video coverage, you can help us continue to provide high quality content with a subscription. By becoming a subscriber, not only do you receive benefits like bonus content and full article RSS feeds, you also help fund all of Ultiworld's coverage in general. We appreciate your support!