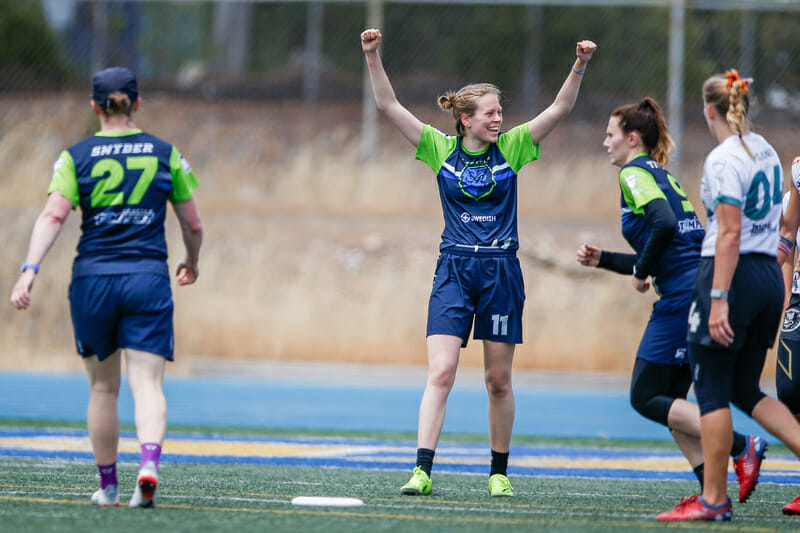 The schedule for the 2023 Western Ultimate League season has been announced. The league heads into it's second full season with some fairly significant changes to its competitive structure and increase in the number of games.
For their second season, the WUL has moved to a ten-week schedule running from March 10 to May 14, and ending in a four game Championship Weekend on June 3 & 4. With eight teams in the league after the addition of Colorado Alpenglow, the WUL has now split into two conferences, the Northwest Conference and the Southwest Conference, with the top two teams in each conference at the end of the season attending Championship Weekend. 
The Northwest Conference: Seattle Tempest, Oregon Onyx, Utah Wild, and Colorado Alpenglow
The Southwest Conference: San Diego Super Bloom, Arizona Sidewinders, San Francisco Falcons, and Los Angeles Astra
Each team will play every other team in their conference twice, as well as two out-of-conference games, for a total of eight games for each team and a total of 32 games, up from 21 games in last year's inaugural season.
As in 2022, the WUL has opted for a schedule format that combines one-off games with mini-tournament weekends. This season there are four mini-tournament weekends, in Arizona, San Diego, Utah, and Colorado, in that order throughout the season.
Some notable schedule highlights:
All four of the Championship Weekend attendees from 2022 (Seattle, San Diego, Arizona, and Oregon) will play in the season-opening mini-tournament in Arizona.

The 2023 season starts with rematches of both the final between Seattle and San Diego and the third-place game between Arizona and Oregon, providing immediate litmus tests for all four teams.

Last season, the Sidewinders picked up their only two regular season wins in the opening mini-tournament against Utah and San Francisco; this season they instead open with games against Seattle and Oregon.

Los Angeles Astra will host the San Francisco Falcons in Week 1 in a rematch of the 2022 final weekend barnburner that ended up sending Arizona to Championship Weekend on point differential.

Colorado Alpenglow will make their WUL debut against the Utah Wild in Week 2, the newcomers looking to make an immediate impact facing off against their mountain west counterparts to open their league account.

Week 3 is all about the Southwest Conference, with all four teams facing off in a mini-tournament in San Diego.

The mid-season is all about in-conference play: Weeks 4, 5, and 6 have only intra-conference games and no mini-tournaments.

In Week 7 we get our second and final inter-conference mini-tournament, with Utah hosting Colorado, Los Angeles, and San Francisco.

The pair of inter-conference weekends in Weeks 1 and 7 mean that Seattle and Oregon don't play Los Angeles or San Francisco, and Utah and Colorado don't play San Diego or Arizona.

In Week 8, Arizona travels to San Francisco in the final game of the season for both teams, and in Week 9 San Diego plays at Los Angeles as the Southwest Conference finishes out its regular season games.

The final weekend of the regular season sees Colorado host the rest of their conference in a potentially deciding mini-tournament weekend for spots at Championship Weekend.