The Haverford/Bryn Mawr Sneetches are back-to-back Bring the Huckus champs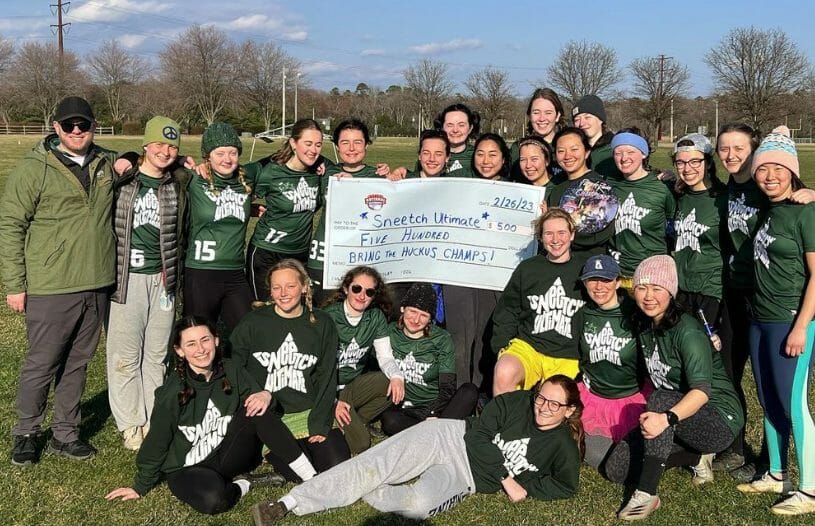 Ultiworld's coverage of the 2023 college ultimate season are presented by Spin Ultimate; all opinions are those of the author(s). Find out how Spin can get you, and your team, looking your best this season.
This article wouldn't have been possible without the input from numerous individuals. Thank you to all the teams, coaches, and parents for contributing and making this extended coverage possible.
And we're back! D-III women's ultimate is in full swing with the Haverford/Bryn Mawr Sneetches winning Bring the Huckus this past weekend. This tournament has been highly anticipated as Dartmouth Daybreak were making their D-III debut, and a number of 2022 Nationals attendees were set to face off for the first time this year.
Anyone who has been to Vineland, New Jersey knows it is not a tourist destination, especially this early in the year. Bitter cold, snow, and extreme winds are all certain to affect score differentials and game outcomes. In a location where games can be won on the flip, strong defense and confident handlers are necessary.
Final Results
Pool Play

Bracket Play






The Rundown
On Saturday, D-III Power Pool A saw Dartmouth Daybreak, #8 Lehigh Gravity, #9 Haverford/Bryn Mawr Sneetches, and #16 SUNY Geneseo battle the elements and each other with the largest point differential in a game being four. Dartmouth won the pool, beating Lehigh Gravity 11-7 and demonstrating steady handler motion and patient, short throws against a Lehigh zone. The same Lehigh zone led them to a Saturday victory against the Sneetches, but the Sneetches were able to learn from their Saturday mistakes and emerge victorious in the semifinal against Lehigh 11-4. Both Lehigh coach Matt Lubitz and Haverford Captains Lindsey Hua and Sharon Wang anticipate seeing their regional rivals often this season. The Ohio Valley is surely a competitive region to watch as the top two teams battle it out on their road to Nationals.
Representing the Metro East were SUNY Geneseo Escargot and Ithaca College Kweezy. Kweezy took Pool C with a total point differential of 23. With a small roster of only 10, this was no easy feat. Ithaca's real challenge came in quarters, where they faced overall one seed Dartmouth. Although Dartmouth scored the first break, it was Ithaca's confident handler movement through Emily Mildner, Joe Mukamal, and Alicia Menduni that worked the disc up the field time and again to take Daybreak on universe point, sending Ithaca to the semifinal against D-I Boston College Flix. Although Ithaca lost to BC and Lehigh on universe to finish fourth, the low, close scores indicate the games were not easily lost and Kweezy are not a team to be underestimated. Of note from the stats provided to us, Joe Mukamal threw an insane 42 assists over the course of the weekend, while the team's four rookies contributed more than their weight in blocks.
The Haverford-Boston College final was posted on YouTube by National Ultimate. Review of the footage and input from the Sneetches help paint a picture of how strong the Bring the Huckus champions are this 2023 season. With the wind being a significant threat, both teams played zone defense in an attempt to force low-percentage throws and generate turns. Boston College players #12 and #14 were composed handlers with the disc, able to work together through the cup, however downfield throws were highly contested. Both teams bravely put up hucks time and again, but as the game went on Haverford was simply more successful at coming down with the disc. Haverford's Zoe Costanza led the team in goals all weekend, throwing hucks and working hard on defense as well to generate 18 blocks. Phoebe Hulbert was dominant and completely unafraid to throw hucks to their downfield cutters and, once they understood the wind, completions were there to clinch the Sneetch victory.