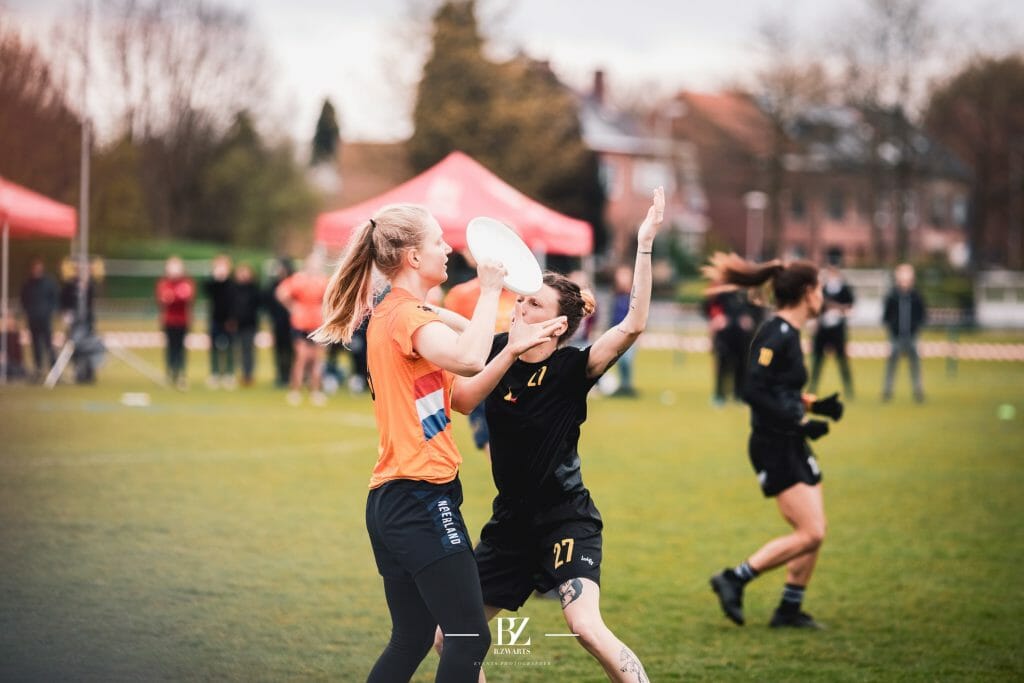 Tom's Tourney will be the first opportunity to see some of the national teams that will be vying for the title at the European Ultimate Championships later in the summer. It's also an opportunity to see some of the strongest teams on the continent after many of them chose to eschew the Spring series in April.
Tournament Profile
Dates<: May 5-7
Location: Bruges, Belgium
Weather: Wet and grey throughout, temperatures around 60-65°F/15-18°C and moderate wind throughout
Schedule Tom's Tourney website
Streamed on: Ulti.TV YouTube
National teams dominate the draw
Whereas in the open division there are only a few national teams, the women's division is made up mostly of teams preparing for the European Ultimate Championships. Great Britain, France, Belgium, Czech Republic, Austria, Netherlands and Spain will all be taking part in the tournament alongside under-24 teams from Great Britain and Germany and the German masters team. With so many national teams it's difficult to know exactly what the tournament will look like; this is the first we'll see of almost all of these teams since they were selected.
https://www.youtube.com/watch?v=cvfScTXAr6M played in a test match earlier this season won by the Dutch. Belgium seemed to start well but struggle once the weather turned inclement, and with rain forecast this weekend it'll be interesting to see how they deal with it. The Dutch could be strong contenders with a good roster, featuring players like Floor Keulartz of Grut (Amsterdam) and YAKA (Noisy-le-Sec)'s Paula Baas, making the short trip across the border.
Great Britain had a very up and down EUC in 2019 but have a younger squad with players from a number of different teams this time around and look strong. France are missing several excellent players who have chosen to play mixed but will have the talents of key YAKA handler and World Games player Alise Mondiot to lean on.
The Czechs, though, could be one to watch. 3SB (České Budějovice) have been strong for several seasons, making EUCF quarter-finals last season, and East Block (Eastern Bohemia) have been one of the most impressive young teams in any division for the last two seasons. Mixing players from the two teams could be a recipe for success if they can find the right collective balance. Czech teams often play aggressively, both in physical terms and by taking plenty of deep shots, so if it does come together they could be extremely exciting to watch. They will be streamed on Friday morning in the second game of the tournament.
The club teams
Talking of Italy and Germany being potential winners of EUC, reigning European champs BFD Shout (Bologna) and jinX (Berlin) are the two outstanding club teams attending Tom's. The Germans started extremely strongly last season but it was Shout that closed the season well, blowing everyone away at EUCF and securing a third European title. Neither team will lose players to senior national teams1 and will be looking to set out a strong stall for the season to come.
Reigning UK national champs LMU (London) will be aiming to repeat last season's quarter-finals result, with many of the team preparing to also represent Great Britain masters at the European Masters Ultimate Championship in October. Crazy Dogs (Stans), Panthers (Wroclaw) and DESKEAGH (Dublin) make up the rest of the draw. Panthers had a good season last year so could cause some problems to the national teams, while DESKEAGH feature plenty of talented, successful Irish players and will be a tough out for anyone even as they enjoy the social side of the tournament and the Belgian beer.
Prediction: BFD Shout, Great Britain, Netherlands and Czech Republic final four. Club cohesion wins out for the title.
---
Although the German under-24 and masters teams might eat into jinX's roster slightly. ↩