Last year's finalist Wellesley stand atop a pool with D-III Nationals mainstays Occidental, newcomers Whitman, and last minute addition Union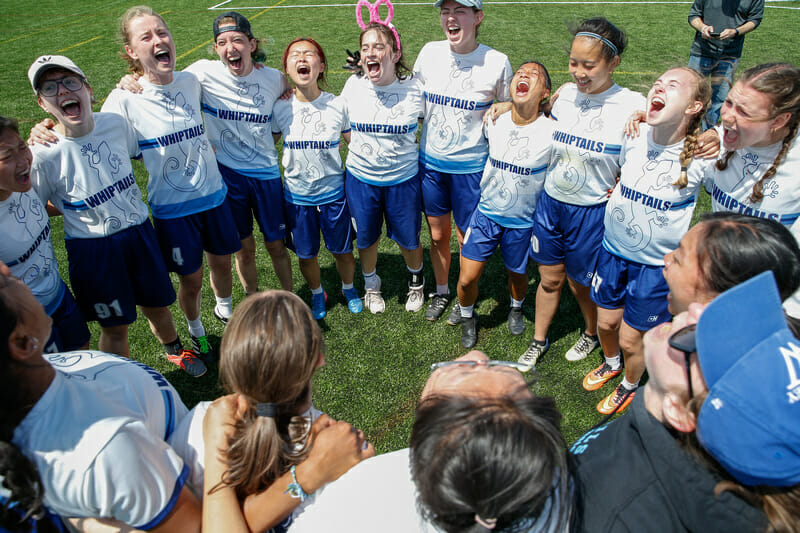 Ultiworld's coverage of the 2023 college ultimate season are presented by Spin Ultimate; all opinions are those of the author(s). Find out how Spin can get you, and your team, looking your best this season.
It is the week of the D-III College Championships, and that means it's pool preview time. With the first full regular season and rankings post-COVID, 16 worthy teams arrive at the campaign's final weekend ready to crown a national champion. This season we have a women's field featuring eight returners from last year's Nationals, four previous national-title winners as well as two formerly D-I programs.
We've got you covered for all the exciting action this weekend, but before the first pull goes up, let's get to know the teams who will be competing in Ohio. Then follow along at ultiworld.com/live for updates and livestreams throughout the weekend!
Pool A | Pool B | Pool C | Pool D
Wellesley Whiptails
Seeding: B1; overall no. 2
Power Ranking: #2
Path to Nationals: NE 2; Lost to Middlebury in NE Final, beat Mount Holyoke in 2nd Place final
Past Nationals Appearances: 2010, 2011, 2022
Location: Wellesley, MA
Wellesley are back at Nationals for the second year in a row. This time they are ranked second overall, a two seed jump from last year. Forged in the fires of the New England region, the Whiptails have proven themselves as a contender. They never struggled in their Metro Boston conference tournament, the closest game coming against Brandeis whom they defeated 15-6. They carried that dominance to pool play at Regionals and earned their way to the championship game. They lost to perennial #1 seed Middlebury, but fended off Mount Holyoke to earn New England's second bid.
The Whiptails have had a solid season this year by any metric, cleanly sweeping No Sleep Till Brooklyn in their 2023 debut and coming up just short at the New England Open, losing 5-4 in the final to D-I qualifier SUNY-Binghamton. The Whiptails haven't faced many teams outside of the northeast, but that isn't necessarily a knock against their resume. They have wins over #6 Mount Holyoke, #7 Williams, #14 Bates, and #19 Brandeis. Additionally, they notched clean wins against D-I teams Cornell, NYU, and Harvard.
Wellesley are no strangers to deep runs at Nationals, making the final last year with wins over the likes of Lehigh, Berry, Portland, and Carleton. They will look to make a similar run this year, and give themselves another shot at the title. The squad will look to Donovan nominee Tess "Roo" Dolan to get them there. This isn't to say she will need to do all the work, if anything Wellesley have improved since last year, and Coach Marshall Goff is known for building great teams.
Wellesley will get to show off their prowess against the rest of the nation and prove that New England is as dominant a region as the algorithm claims it is. There's also likely no one else hungrier at this tournament. Having had to deal with Middlebury in their backyard the last few years snapping up all the hardware both regionally and nationally isn't something a team can simply ignore. Nothing would taste sweeter than finally slaying that last giant on the biggest stage.
Whitman Sweets
Seeding: B2; overall no. 7
Power Ranking: #5
Path to Nationals: NW 2; Lost in NW Final to Portland, won in back door game-to-go against Lewis & Clark
Past Nationals Appearances:1 2014, 2015, 2016, 2018
Location: Walla Walla, WA
Whitman will make their first appearance back at the big show since 2018, and their first as a D-III contender. They swapped over to the 7500 club after last season and immediately found success. The Sweets took home the win at Snow Melt in February, with a notable win and their only close game coming against #13 Colorado College, who made Nationals as the South Central representative. Their only other tournament of the regular season, Big Sky Brawl, was cut short, but Whitman were 4-0 on Saturday.
The Whitman Sweets have only three losses on their card this season and they all come from Portland. The two teams played a sanctioned game in early April that came down to universe, and the pool play game at Northwest ConfRegionals came down to universe as well. The USAU report does say that in the final match Portland won 15-1, but after the scores of the first few games it's hard to imagine a world in which Whitman actually lost by fourteen goals. Regardless of context, they have demonstrated the ability to go toe to toe with Portland, and could have potentially gotten out of the Northwest as the one seed.
Whitman have a chance to make a serious run in this tournament, and a real shot at upsetting Wellesley to win the pool. Whitman just need to find a way to win in key moments. It's clear they have what it takes to not slip up against teams they should beat, but they have yet to demonstrate they can convert chances to wins against elite teams.
Another consideration for Whitman is the team has only rostered 14 players. They'll be missing some of their roster, forcing more weight on Gemma Munck and deep threat Claire Jenkins. Hopefully, they have all gotten used to playing a lot of points and staying conditioned, because making a deep run at Nationals means playing a lot of high intensity games against good opponents. It'll be interesting to see how the smaller squad responds to the demanding nature of the tournament.
Occidental WAC
Seeding: B3; overall no. 11
Power Ranking: #15
Path to Nationals: Defeated Claremont in the Southwest ConfRegional game
Past Nationals Appearances: 2011, 2019, 2021, 2022
Location: Los Angeles, CA
The Women's Air Core are certainly flying high as Occidental make it out of the Southwest cleanly for a fourth-straight Nationals appearance. We mentioned last year that the script had been flipped on Occidental falling short of Nationals to Claremont, and Occidental made sure to keep the record straight.
The WAC didn't win every game against regional rival Claremont this season, losing 7-6 in their first two matchups this season at Santa Clara Rage and Claremont Classic. However, Occidental won when it mattered, beating Claremont 9-5 in the Southwest ConfRegionals. Occidental also had a clean sweep at the Southwest Showdown, winning every game by a margin of at least eight.
Occidental have also been given a blood transfusion, adding a lot of new faces to their roster since last year's Nationals appearance. They have also jumped up in overall seed and power rankings by two places. Occidental will be looking to make a name for themselves and secure their first quarterfinal appearance in over a decade.
They'll have to trust some of these rookies in order to make any sort of a run against easily the stiffest competition they'll have seen all season. It'll be interesting to see if the relative lack of experience is a factor in Occidental's success.
Union Jillz
Seeding: B4; overall no. 14
Power Ranking: #24
Path to Nationals: SE 2, Berry dropout due to injuries
Past Nationals Appearances: 2021
Location: Jackson, Tennessee
Union may have gotten in on a dropout from Berry, but that doesn't mean Union don't deserve to be here. They spent the early part of the 2023 season playing a lot of ultimate to earn the bid for the Southeast. In the sole ConfRegionals game, the Jillz fell short by only two points to the Berry Valkyries, a close game that very easily could have gone the other way.
The Jillz played similarly close games against D-I opponents Alabama, Alabama-Huntsville, Kentucky, and Tennessee earlier in the season. They also played no.9 seed St. Olaf Vortex to a one point game at Needle in a Ho Stack in late March. The Jillz have all the pieces they need to win games, but haven't found a way to put them together.
Union by rights shouldn't be here, which means they have nothing to lose and everything to prove. They are not strangers to this stage, and there's also nothing like the feeling of having nothing to lose that brings out the best in a team. Center handler Tori Green and the other vets will have some useful experience. The Jillz will absolutely be looking to take advantage of the situation and will come out firing on all cylinders. They've proven that the can hang close with good teams, and should be on everyone's upset watch.
---
All Division-I Nationals appearances. ↩