Carolina avenged an earlier loss to Atlanta, and Oakland completed an impressive two game sweep out west.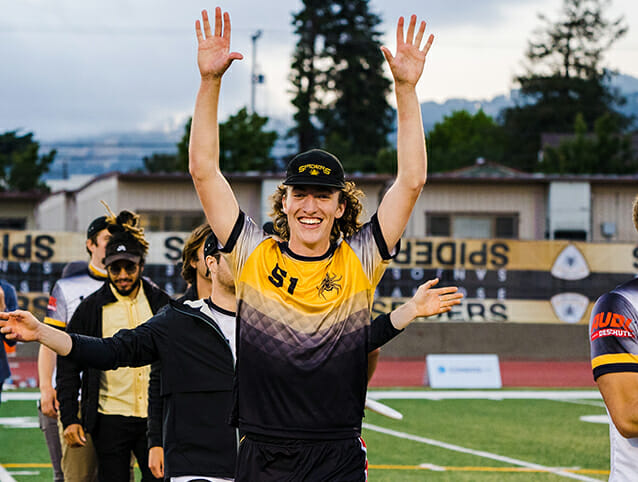 Somehow, the Phoenix have put together great games against New York and DC but still find themselves winless. Ditto goes for the Cascades and Nitro, who probably liked their chances against a Spiders team traveling for a double header–but both lost again. Meanwhile, a closer-to-full-strength Carolina took down Atlanta, earning revenge from an earlier loss, Indianapolis needed every second of the game to defend home turf against Madison, and Boston won again to enter next week's showdown against New York undefeated. Here's what you need to know about Week 4:
Scores and Standings through Week 4


Spiders Spinning Together Wins
For all you readers looking for some East-Coast Biased reporting about New York, DC, and Carolina, this east-coast reporter will spend time below on all of those teams. For now, the story of the week is what's happening out west after the Oakland Spiders rolled through an undefeated road trip to Portland and Seattle. No matter that their opponents were two of the most inconsistent and disappointing teams in the league relative to their potential, the Spiders have not been the kind of team who can win both games of a road double header in recent years. Their focus on youth since 2021 is starting to pay dividends as young stars like Keenan Laurence, Evan Magsig, Chris Lung, and Dexter Clyburn are no longer just fan favorites but also bona fide AUDL difference makers.
The most interesting part of this Spiders team is that it isn't one standout performer; it's a generation of players all growing into their roles at the same time, reminiscent of the Austin Sol's ascent to the league's upper crust back in 2021. Like Evan Swiatek, Kyle Henke, Ellior Moore, and Joey Wylie a few years ago, this year's Spiders team is growing together and making a play for a playoff spot in the West. One game we see Gavin May notching four blocks. Another time it's Mac Hecht's 62 completions and nine assists. Walker Frankenberg has a three goal/six assist game from Week 2, and Lung has a six goal/two block game from the season's opener. The Spiders have unearthed defenders like Robin Vickers Batzdorf and Raymond Mendoza who have been giving opponents fits. This isn't one player carrying a team so much as it is one player at a time elevating a team full of improving, eager players ready to prove themselves on a big stage.
Given Coach Dan Silverstein's dual roles coaching the Spiders and the Cal men's ultimate team, it's no surprise that Ursa Major stars of the past two years like May, Magsig, Clyburn, Williams, and Kushal Khangaonkar have 'graduated' to lead the Spiders. Other recent Cal grads like Lung and Munis Thahir are playing key roles as well, but the two biggest difference makers have both been imports from New England. Hecht and Frankenberg are opening up new possibilities for the offense and are propelling the Spiders down a path towards their first playoff appearance in recent memory. Specifically, Hecht can both handle a high volume of throws, and has a throwing range on par with the best throwers in the league. Cutters can get open in tight breakside windows and can run deep even when starting 30 yards downfield. He's second in the league right now in both completions and throwing yards. Frankenberg meanwhile can slot into a handler role, but is currently sitting in 4th place as a league leader in goals and tied for 6th in plus/minus. Laurence, Lung, and the Spiders who have stuck it through the past half-decade of few wins had a great start brewing for Oakland's rebuild, but the additions of Hecht and Frankenberg have pushed the offense over the edge and brought the Spiders back into legitimate contention.
It's time to start thinking about the Spiders as playoff contenders. They'll likely be battling the Aviators for that spot and though they still have two games remaining against Colorado (two games LA has already played, potentially accounting for the two-game difference between these teams in the standings), the Spiders have to like their chances. After taking the Shred to overtime and winning two tough games on the road, Oakland has won the kind of games that Los Angeles hasn't yet this year. The two games between Oakland and LA do not occur until weeks 12 and 13. By then plenty of things could change, but it is likely that we will see two teams desperate to return to the playoffs needing to go through each other. Rather than wait until the end of the season, I'll be keeping an eye on these ascending Spiders to see how far their eight legs can carry them.
Mailbag
Have a question about the AUDL? Send it in to [email protected] with AUDL Mailbag in the subject line. You can also message me on Twitter at @StallSeven.
Which version of Carolina is for real? The one that just beat Austin and Atlanta in back-to-back weeks, or the one that didn't look particularly competitive during the first two weeks of the season? – Me again because everyone is too focused on the D-III College Championships to think too hard about the AUDL. 7500 club for life!
I wrote last week that the Carolina Flyers were probably a good team but that we haven't seen everything click for them yet. Well now it's clicking. Like you mention, the Flyers have wins over Atlanta and Austin in their past two games. While they still sit third–behind those two–in the standings, the Flyers are absolutely in contention to win the division again.
After trading holds with Atlanta for the opening frame, the Flyers busted out a 4-0 run to take control before halftime, and similarly ended the game on a 5-1 run. Overall, their D-line conversion percentage was 70% (compared to Atlanta's 22%). That's the kind of take-over-ability reminiscent of their 2021 title run. There are certainly tests ahead, but a winnable game against Houston next week should have the Flyers cruising along the right path before a tough double-header weekend against DC and Philadelphia in Week 6. Their home-and-home series against Atlanta to close out the regular season could end up deciding the division winner, but the Flyers just proved that those are winnable games.
News and Notes
New York is once again at the forefront of AUDL action, overcoming a two-goal deficit in Philadelphia to stay undefeated and bring the Phoenix winless through the first third of their season. The Empire's run continues to feel inevitable. They're off next week before facing a surging Boston team. 

Cam Brock's catch with just one second left on the clock secured Indianapolis's win over Madison. 

Colorado and Salt Lake tag-teamed a beatdown of the Aviators who fall to 1-3 after a winless road trip with a -16 point differential. 

The San Diego Growlers, meanwhile, split their Texas road trip, notching the W against Houston before falling to Austin. 

A short-handed Breeze team took down Toronto by seven with ease.

Boston could only beat Montreal by two, but don't look now because the Glory are undefeated.

The Phoenix hope to get their first win of the season next week when they face Pittsburgh in the first Commonwealth Cup game since 2021. 
Power Rankings
Carolina and Atlanta flip-flop once more with the Flyers winning the more recent matchup between the two teams.

Oakland slides ahead of Los Angeles after a stellar 2-0 roadtrip.

Boston jumps a few spots with another win. Their trip across the border was fruitful and leaves the Glory in playoff position for the first time in team history.