Philly's statement win, rain in Boston, and the latest SoCal classic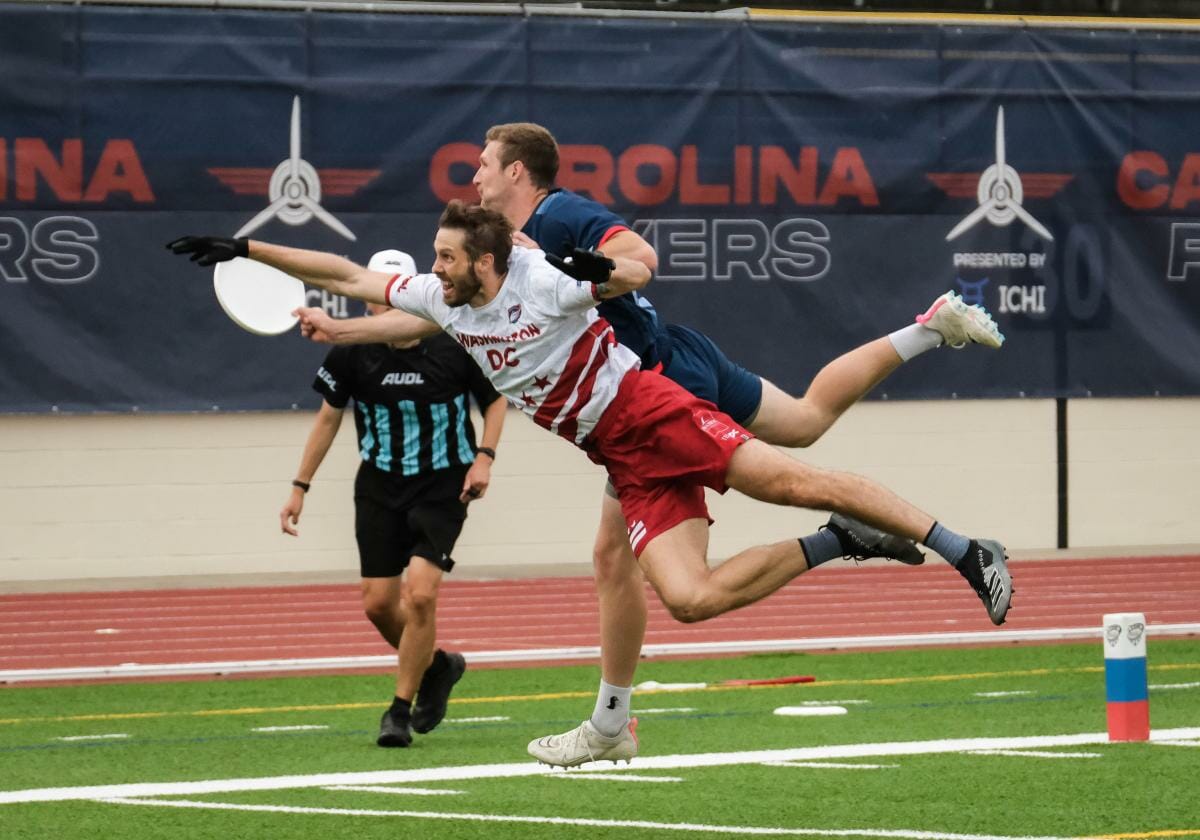 We're well into the swing of the 2023 AUDL season, with some teams having already played more than half of their regular season games for the year. With a 13 game slate this weekend — and another 13 on deck next weekend — there is plenty to talk about. This week, we'll focus on the Carolina Flyers and their fascinating two-game road trip to DC and Philly.
Scores and Standings through Week 6


Carolina Flying High and Dropping Low
Double-header road trip weekends can make or break AUDL seasons. The Carolina Flyers are no stranger to the task, having competed against the Austin Sol and Dallas Legion for years in the South Division, and sprinkling in contests against Atlanta and Nashville on back-to-backs as well. Though they've become somewhat less common as the schedule was reduced from 16 to 12 games and the league has payed more attention to the player experience, there are still some weekends when a team has to play twice on the road while their opponents can rest at home, knowing they have but a single game.
The common theory is that a 1-1 road trip is a success (assuming the relative strengths of the teams are equal), and most often the best way to accomplish that is by trying hard to win the first game knowing that the second game is a bonus. However, this road trip for Carolina presented an interesting dilemma. When the Breeze and Flyers first faced off this season, Carolina was shorthanded and lost by five. Philadelphia should be the easier opponent; the Phoenix started the season 0-4 before notching a win over Pittsburgh last week. Carolina might have played the DC game lightly and then gone all-out to win the Philadelphia game, but the Flyers expect to be the favorite in any match-up they play and played to win both games.
Let's start in DC, where Carolina took home a 20-19 upset win. The Flyers got a key break early in the game when Alex Davis outran Christian Boxley to knock down a huck. Davis is one of the few players with the speed and shiftiness to contain Boxley, who has been enjoying a stellar season. The other Flyers standout on Friday night was Joe White, a key addition to the Flyers offense with his capacity for break throws and quick thinking. He finished with 10 assists and three goals while completing 51 of his 53 passes. In the first game against DC, White had limited impact playing for the D-line, but in this rematch, he was the catalyst putting together a magnificent offensive showcase.
DC's Luke Rehfuss got an amazing block poaching in the double team sideline trap set before halftime, and the Breeze broke to tie it up, but DC left about 40 seconds left on the clock–too much time for the Flyers, who scored in just 30 of them on a White flip to Anders Juengst to keep a one goal halftime lead, which proved to be the margin of victory.
The Breeze managed to make it interesting at the end. Liam Searles-Bohs got stalled out and the Breeze attacked the break side in the end zone set to get within one, but Carolina played keep away on the ensuing possession to eke out a much-needed tight win. This was one of the cleaner regular season contests in the league, with just 29 combined turnovers and a 95% completion percent from both sides.
In the second game, Carolina's offense wasn't clicking in the same way. They threw 18 turnovers, but the big difference in this game was hucks. Surprise!
Philadelphia, who lives by the long ball, completed 12 of their 18 hucks, good for 67%, while Carolina who prefers small-ball and isolated short or intermediate routes only connected on 4our of their 11 hucks (38%). While DC also tossed plenty of long balls, especially between Jonny Malks and Ben Oort, Philadelphia has a devastating lineup of deep threats with James Pollard (2 goals, 188 receiving yards), Greg Martin (4 goals, 185 receiving yards), CJ Colicchio (1 goal, 160 receiving yards), and Sean Mott (1 goal, 274 receiving yards, 3 assists). On the offensive end, Triangle native Calvin Trisolini played his best game as a professional, with 3 assists, 2 goals, 275 yards throwing, and a game-high 48 completions.
Philadelphia took an early 2-0 lead courtesy of a Thomas Nye1 block and never looked back. The Flyers tied the game at 5s, 6s, and 7s in the second quarter, but other than that the Phoenix maintained a 1-2 goal cushion until they blew the game open with a four-goal run midway through the final frame. Carolina's tired legs simply couldn't keep up with a Phoenix offense looking to stretch the field deep at every opportunity.
The 1-1 weekend leaves Carolina third in the South division, behind Atlanta (who will have to face New York next week) and Austin, fresh off a win over Houston. Carolina still controls their own fate: a classic road trip to Texas this week will see them face Austin with a chance to jump ahead of the Sol in the standings. The Flyers end the year with two games against Atlanta, which could determine playoff seeding.
Philadelphia, meanwhile, has to be thrilled with their statement win. After starting the year with close losses to the Breeze and Empire, the Phoenix now have won two close games in a row and are out of the basement in the East standings. All of their remaining games are winnable, including a home date with DC. For Philadelphia to make the playoffs, that one isn't a must-win, but games at home against Boston, Montreal, and Toronto certainly are. The team travels to Toronto next week with a chance to leapfrog the Rush in the standings.
The Breeze should not be too perturbed with the loss. Of course, it sucks to lose a winnable game at home, and DC was still in contention to win the division and host New York in the East playoff game. Now the team sits in third place with little hope to win the division. Though they could leapfrog Boston into second, given that the teams are separated by just a half game in the standings and play each other twice, the two games they're behind New York in the loss column means their trip to the Big Apple is looking like it might be just as much for scouting ahead of a potential playoff rematch rather than the top-of-the-division showdown it was looking to be when the schedule was released.
This unexpected set of results has two divisions with upended standings and sets up the second half of the season for an exciting race to the finish line.
Mailbag
Have a question about the AUDL? Send it in to [email protected] with AUDL Mailbag in the subject line. You can also message me on Twitter at @StallSeven.
Q: Hello, saw the article about college players in the AUDL. Perhaps you know about Miles Grovic and Fred Farah, but I figured I would mention them anyway. Full Disclosure: I'm a follower/fan/dad of UMD Ultimate.
Thanks,
Scott
A: Thanks for writing in, Scott. I did leave out a few college stars simply because I wanted to keep the column to a readable length and there wasn't enough space to list everybody. Here is an incomplete list of honorable mentions (in addition to the DC Breeze's Grovic and Farah) who I left out last week:
Paul Krenik (Minnesota Grey Duck, Minnesota Wind Chill)
Xavier Fuzat (Texas Tuff, Houston Havoc)
Trip Crowley (South Carolina Gamecock Ultimate, Atlanta Hustle)
Justin Burnett (Emory Juice, Atlanta Hustle, 2023 Callahan Award Winner)
Oscar Graff (Tufts E-men, Boston Glory)
Peter Boerth (Northeastern Huskies, Boston Glory)
Nico Ranabhat (Wisconsin Hodags, Madison Radicals)
Dexter Clyburn (Cal Ursa Major, Oakland Spiders)
Max Dehlin (Minnesota Grey Duck, Salt Lake Shred)
Ben and Johnny Hoffman (Utah State, Salt Lake Shred)
News and Notes
Minnesota avenged their loss last week and took down Chicago to regain the top spot in the Central Division standings. Tristan Van de Moortele was a stellar 76/76 throwing for four assists and 188 yards.
In a long-delayed rainy slop of a game in Boston, the New York Empire took an 8-5 halftime lead over the Glory before the game was called. Because the game reached halftime, the result will stand. Condolences to anyone who had players on either team in their fantasy lineups.
The Seattle Cascades earned their first win of the season, taking down the Portland Nitro. Khalif El-Salaam and Garrett Martin each notched a +10.
Los Angeles won the first game in their SoCal rivalry series against the San Diego Growlers, drawing them just a half game out of a playoff spot. Sean McDougall put together a throwback MVP-level performance with a 6 goal/2 assist/3 block effort. Pawel Janas totaled 818 yards.
Madison beat Pittsburgh in a grudge match, a few weeks after the Thunderbirds' buzzer-beating win in Week 1.
The Game of the Week next week is shaping up to be a good one: Atlanta travels to take on New York in a rematch of their 2021 playoff game, which has aged into an all-time classic.
Power Rankings
What to do about DC? Their home loss to the Flyers ought to knock them down a few pegs, but they clearly have the talent of a Top 2 team.
Similarly, Carolina jumps ahead of DC. Rather than knock the Flyers for their loss to Philadelphia on day two of a double-header weekend, the Phoenix rise up a few spots. This seems to be the promise that Philly has shown all season…but they are still 2-4 and were troubled by Pittsburgh last week.
Madison scoots ahead of Pittsburgh after a solid win. Though the teams have split their matchups this season, the Thunderbirds needed a buzzer-beating catch to win their first matchup at home, giving the Rads the overall advantage.
---
Nye also has connections to Carolina, playing his college years at South Carolina ↩