The mixed division was crazy all day, with some tight games and a couple of upsets!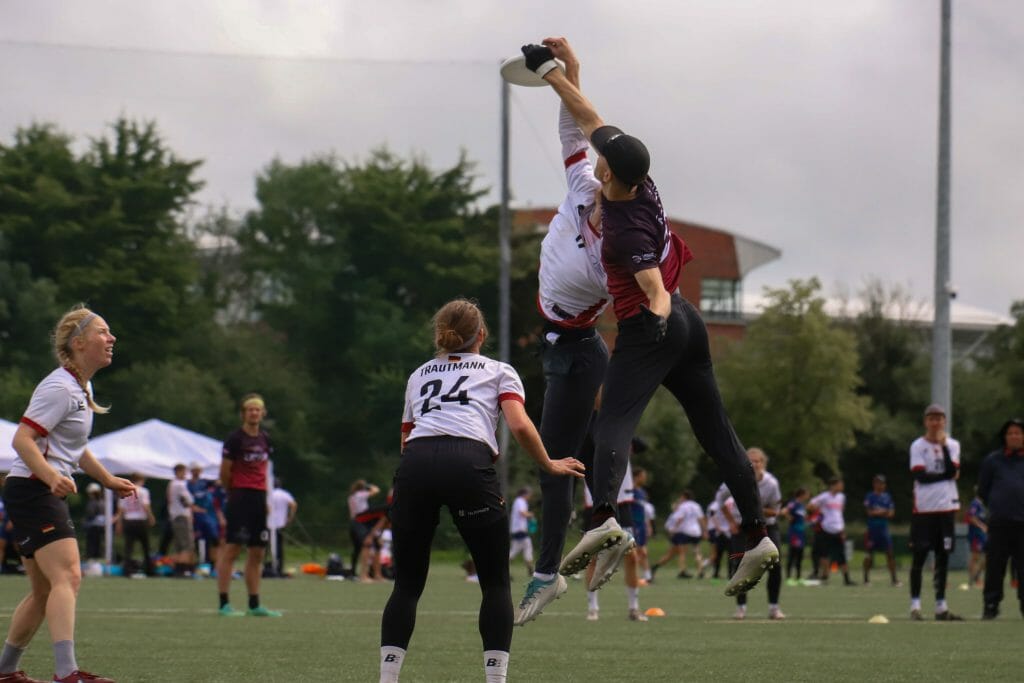 Power pools were in full force in mixed, and the division really hit its stride and stood out ahead of the others as the one to pay attention to with some wild games throughout the day. There were seven games that ended with a one or two point difference, including several contests between the top teams that have shifted the standings quite significantly.
This morning as Great Britain faced Ireland. The two teams have met a few times this year and are both very good, so it was a very tight game with intense, physical D from both teams. GB took the first break to go ahead 2-3, but Ireland broke back twice immediately and kept that margin for much of the game.
Ireland played a number of zone and transition looks that slowed GB's O line and made them think, forcing some turns on miscommunications and options that were a little too aggressive. The latter part of the first half was where the damage was done with Ireland going on a 6-2 run from the point of GB's break. They took half 8-5 with a huge sky by Tadhg Deevy over Connor McHale.
GB managed to take a break back early in the second half with a great pull and chase forcing a dump throwaway. Captain Cameron Agnew capitalized on the chance with a perfect push pass over his mark for a score to Becky Thompson to make the score 8-9. Ireland gathered themselves again, though, ground out a couple of holds either side of one for GB and then took back the break. Lotte Inkenhaag notched a layout point block and Clare Gilheany arrowed a flick to Inkenhaag for the double happiness and a 13-10 lead.
GB took a timeout, knowing that there was now very little margin for error. They executed on the next point, taking advantage of Irish poaching downfield, and put on intense pressure again for the next D point. After some calls and discussions, Ireland produced a good, tough hold. GB held after an excellent, field-opening throw from Andy Lewis, and then got closer with another break after a throwaway. McHale found Agnew with a huge, crossfield scoober for 14-13.
GB kept some of the defensive stars on the field for the next point and played good D, making Ireland take lots of passes to work it up the field. Eventually, though, Àine Gilheany spotted Shane Corcoran in the back of the endzone and the scoober won the day for the Irish, 15-13.
Both teams will take things from the contest. GB had moments of good offense but seemed to struggle with the zone and poach looks that Ireland threw at them, sometimes losing the connection between the handlers and cutters. Bailey Melvin-Teng and Alice Beeching both did excellent jobs on Sarah Melvin, making everything as hard as possible for her1. McHale and Agnew were both excellent offensively, as was captain Fi Kwan.
For Ireland, their defensive versatility looks to be very impressive. They move the disc well but the cross-gender resets were their biggest point of contention here with a few turns on miscommunications and simple throwaways. Rory Keogh played both ways and was very solid and consistent, Ferdia Rogers did well in finding small spaces despite being marked incredibly tightly by Andy Boxall and Nikita Kovshov2 and Clare Gilheany made some great defensive plays and was aggressive after the turn.
The positivity of the win was evident in the squad according to Irish captain Stephen Jones: "The bottom line for us is that it's just another box ticked in the grand scheme of this tournament and we still have a lot of games to go, so the focus is on recovering, parking those good feelings and getting ready for [the next games]. In the lead up to half time when we were getting high we had a mental check-in to bring it back to a controlled level of intensity, get some focus, we were positive and we were enjoying it but we weren't going to get too high and exhaust ourselves before the second half. We knew there was a long way to go and we really needed to take two deep breaths and get ready for the second half as a clean slate."
Kwan was sanguine after the game: "It was really tight, but we're good. It was nice to play them with a full squad, we've played them when we didn't have our full squad. It was nice to play them at full strength. We learned a lot in that game and we're ready to take them on again."
Going in down at half, the team talked about keeping energy levels high in the second: "We just wanted to bring the intensity, work the unders or the deeps based on what they're giving us and just working hard really, not giving up and working together as a unit."
Both teams spoke about the level of physicality in the game. Kwan said: "I think the physicality was mixed, they told us at the beginning they were going to be quite a physical team. We're not a not physical team so we expected to work a little bit through the first half to find that level that everyone could agree with. That was more successful in some pairings than others but overall it was a good level of spirit regardless of that."
Jones largely agreed: "The comments in the spirit circle were that it was physical watching it, spectating and looking in it did seem physical, but it appeared that those involved in the matchups enjoyed it. I think each matchup found their level and it never got outside the range that people were ready and willing to call and have a discussion about. We really appreciated that from their side, we had discussions and adjusted accordingly after talking about it at half time. We felt it got to a nicer level in the second half."
Germany were pushed very hard by Latvia in the same timeslot as the GB vs Ireland game, eventually running out 15-13 winners with a final point break. Latvia struggled against GB so the tight game was something of a surprise, although when Arvīds Orlovskis has a game like the one he had3 he's able to keep any team in a game.
That was in full evidence again later in the day when Latvia played Ireland. The Irish started on O and the teams traded to 6-6 before Latvia took the first two breaks of the game to take half. Ireland had opportunities to get their noses in front but couldn't quite connect on the D line offense, while Latvia were playing loose and taking shots at the endzone.
The second half saw Ireland come back into the game. Holds to 8-10 put Ireland out on D, and they took two breaks in a row to level the game 10-10. Latvia held on a Callahan after a turn and took another break, going ahead 10-12 and seemingly playing with huge confidence. The wind started to pick back up a bit, though, and Latvia started getting a bit tight. At 12-13 Ireland sent out a D line featuring O line players Tadhg Deevy, Sarah Melvin and Ferdia Rogers. The latter two connected for a goal after a turn. All three stayed on the field for the next D point and Rogers was on the receiving end of an assist from Jack MacNamara to put the Irish up for the first time in nearly an hour.
Latvia held after some turns, and went out with a stacked line on D. Ireland threw too far and gave Latvia an opportunity to get the break to win the game. Orlovskis went deep but the throw dropped in the wind and Deevy was able to get a hand up to knock it away. A drop just outside Ireland's own brick mark gave Latvia another opportunity on a short field but Orlovskis threw a hammer just over Toms Ābeltiņš in the back corner of the endzone. The Irish didn't let another opportunity pass and worked it down the field before Deevy found Melvin. Ireland celebrated, Latvia dropped to the deck after experiencing their second heart-breaking loss of the day.
Meanwhile, Italy were playing Germany in a tight, somewhat contentious game. The Germans took half 6-8 after securing two breaks to Italy's one in the first half. Italy came out in the second half with a renewed focus, though, and snatched two breaks early on to edge ahead 10-9, David Barzasi throwing both goals. The teams traded to 13-12 before Italy took another break for 14-12. Germany held and then had several opportunities on the final point after getting blocks. They were too aggressive, though, with some risky long shots not coming off. Italy eventually worked it in after a German defender was caught in two minds about leaving their mark to get a block, leaving late and instead of getting a D was marking no-one. 15-13 to Italy and they celebrated wildly.
Italy captain Andrea Fantini said: "It was a very tough match because Germany's women are very good and their handlers are very, very good. In the first match of the day we had an easy game, and Germany had a [difficult] match against Latvia. It might have been an advantage for us and we were able to play with 10 or 12 players in the final points. We are very proud, but tomorrow there is Ireland. Ireland beat GB and Latvia so they are good. There is a chance to catch the first position in the pool, and that is a good chance for us. We'll focus on Ireland tomorrow."
Power pool F has become quite messy and tomorrow morning's games could see the pool end in a variety of ways. Italy, Ireland, Germany and Great Britain could all qualify in several spots and the pre-quarters bye for top spot is still up in the air.
In the other pool, France finally received a test. Poland were ahead for pretty much the whole game after starting on O and grabbing two early breaks to lead 2-5. The French kept plugging away but Poland kept coming up with scoring shots. They took half 6-8 and responded every time France threw a metaphorical punch. France broke out of half, but Poland broke right back. France responded with another break, so Poland did likewise. The teams traded to 12-13 and France took another break, pushing the game to 13-13, and put on a power line to try and press their advantage and take the lead. Poland held tough though, with Krzysztof Zając throwing his second assist to go with five goals and put his team up 13-14.
France held and sent out a power line for universe point. Poland took a shot at the endzone, Michał Rudy trying to keep the level of aggression they had been showing, but it was blocked. France worked it downfield and scored with an under, Pauline Berte beating her mark and putting France ahead for the first time in the entire game.
Lithuania lost to Slovakia in a slight surprise, 14-13, but it still looks like Lithuania will be able to advance. They play France tomorrow, which will be a tough game for them, but Austria and Poland look to be capable of beating Finland and Slovakia respectively. If they can do so, they'll both go ahead of Lithuania but keep the Baltic team ahead of the other two.
It was a wild day. Tomorrow morning we'll see the pre-quarters set and have an idea what things will look like in the business end of the tournament. Hopefully we have more days with this kind of excitement.
---
Melvin, though, remains one of the best players in the division and still walked away with two assists and four goals. Slowing her and stopping her are two very different propositions. ↩

Kovshov and Rogers, in particular, had quite a physical battle all game. ↩

Six assists and three goals. ↩